Bacon desserts maybe aren't the first thing people think of when they want something sweet to finish their meal. I'm a huge bacon lover and even I don't think of the two together. Well that all changed in Lancaster County, Pennsylvania. The heart of Amish country USA and home to plenty of bacon desserts.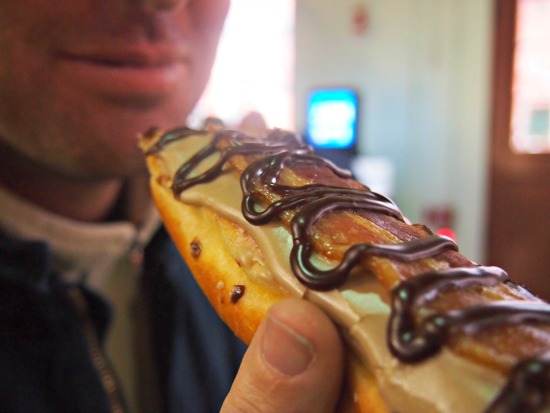 The central market building in Lancaster town plays host to the large farmer's market on Friday and Saturday mornings. Stalls are overflowing with quality, locally grown produce ranging from beef and vegetables to jams and preserves. A chefs' paradise to explore, the quality was amazing..
But what caught my eye wasn't the sides of organic hand reared pork belly or center cut tenderloin but the glazed donuts with a strip of crispy bacon across the top, complete with chocolate sauce.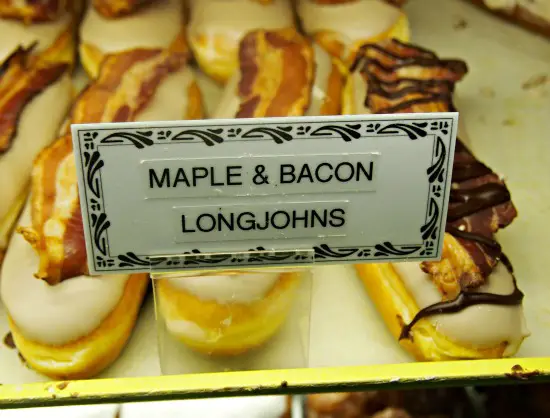 Let me stress at this point that the American bacon isn't like the rashers you would find in either the UK or Australia. No big eye of meat with the fattier tail. American bacon is usually maple smoked streaky bacon slices that have been cooked till they are perfectly crispy.
I was sold and wanted to try one.
Alyson, my wife, isn't a meat-eater and so I wasn't sure how I was going to get this one across the line, spending $2 on an experiment. To my surprise she came to the party and we were in business. Handing over the money we walked away to try this bacon dessert. Alyson and the kids wanted some so it was going to have to be split 3 ways. I had the first taste and it was delicious. No two ways about it. Divine in every way imaginable. We all agreed, including the non meat-eater, that it was a revelation. In fact in the end I only got a small bite. I wasn't allowed back to buy another.  I Snuck past later without the kids but they were sold out! Rats.
Later that day I drove us to Intercourse. Still on the high from our earlier bacon dessert you can imagine my sheer delight when I spotted a lady dipping crispy bacon into chocolate at the farmer's market. I made us wait 10 minutes 'till they were ready and forked out $2 for a slice.
Is that the correct term for chocolate covered bacon? Or is it a rasher?  I don't know but am going to go with it.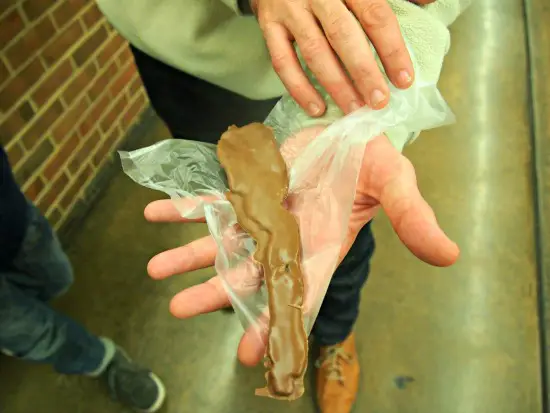 This was fought over again by Alyson, the kids and myself. Thumbs up for this bacon dessert. I am really wondering if moving to Lancaster, Pennsylvania is on the cards. I love this place.
Alyson beat me to it with her chocolate coated bacon post.
Ollie has reminded me to be on the look out for the bacon smoothie which we saw on Discovery Channel way back in Asia. If we find one I'll let you know how it goes.
Has anyone else out there tried any great bacon desserts?