This post may contain affiliate links.
One of the most travelled journeys across Southeast Asia is from Bangkok to Siem Reap. Siem Reap is the town closest to the UNESCO World Heritage site of Angkor Wat in North-Eastern Cambodia. A sprawling ancient city of deserted temples dating back to the 12th century Khmer Empire. Here we discuss how to get from Bangkok to Siem Reap, by bus, boat, plane, train and more.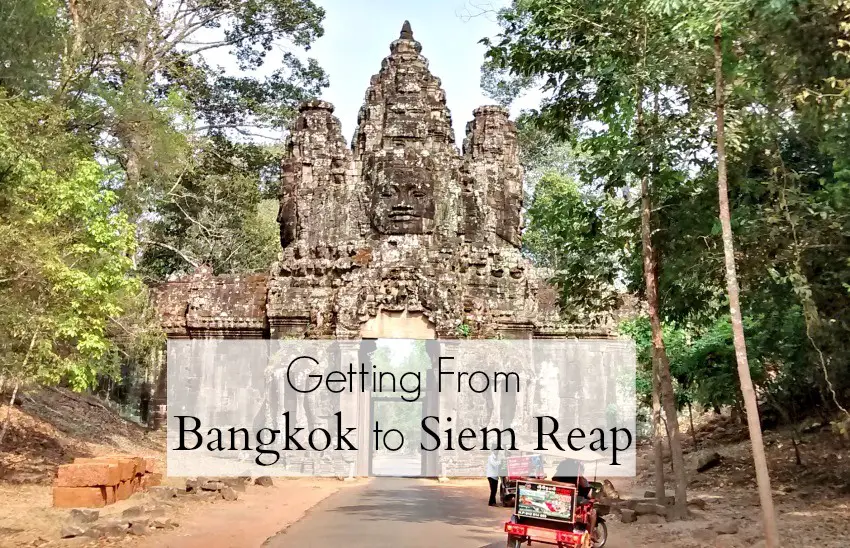 In this post we cover the following information on travel from Bangkok to Siem Reap.
Bangkok to Siem Reap
Siem Reap is located approximately 7.5 km from the entrance to Angkor Wat Temple Complex. A short ride in a taxi or tuk tuk.
Travel between Bangkok and Siem Reap was limited to a dusty dirt road until 2009 when roads were sealed from the border to Siem Reap. 2013 saw government-owned bus companies connecting Bangkok and Siem Reap directly with no need to change buses at the border (you still need to exit and walk across but your luggage stays on the bus). An international airport in Siem Reap has also changed the way people travel here. The only way you can't travel is by rail from the Thai border to Siem Reap as there is little to no rail infrastructure left in Cambodia after the Khmer Rouge era.
This post may contain affiliate links. These cost you nothing extra, we simply earn a commission if you use our links. We are not paid to promote particular hotels or companies, we recommend as we see fit and according to our experience.
Booking Tickets From Bangkok to Siem Reap
There are at least 3 ways of booking train or bus tickets in Thailand:
Pay an agent or tout a fee.
Go to the train or bus station yourself
Use 12Go Asia to book online here , tiny fee, tickets can even be delivered internationally.
Pay for a private transfer, car or tour
Bangkok To Siem Reap, Transport Options
Bangkok to Siem Reap Bus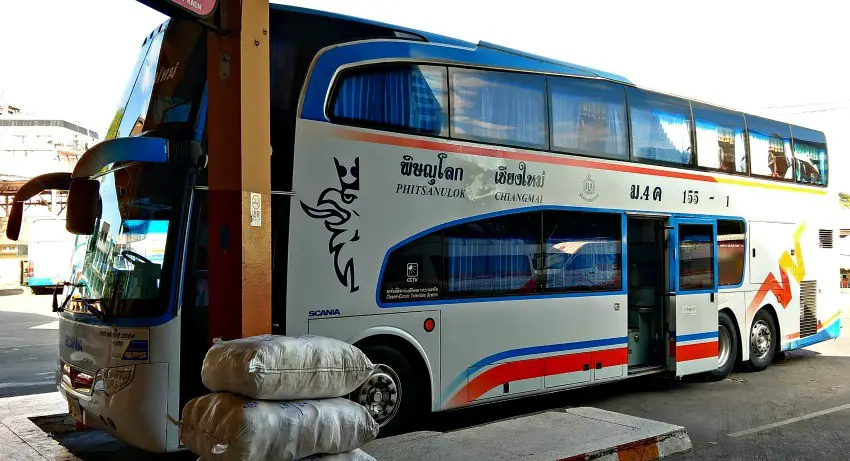 You can now buy bus tickets from Bangkok right through to Siem Reap. We highly recommend 12Go Asia which we use ourselves when booking tickets. You can check out there tickets here.  You will have to get off and walk through the border like everyone else for visas and stamps but it saves organising the onward journey when you are at the Cambodian border with limited options and high prices to get the rest of the way to Siem Reap.
There are numerous bus companies on this route with convenient locations across Bangkok. Khao San Road being the most popular area that the buses leave from. This makes it extremely easy to find one near your accommodation to avoid the hassle of getting across Bangkok to a departure point like Mo Chit Bus Terminal in Northern Bangkok. You can pre book tickets here for all methods of travel.
If you're so inclined and are close to Mo Chit you can just turn up at Mo Chit Bus Station and try your luck buying a ticket on the day. It is possible if you get there early enough. Most buses leave at either 8 am or 9 am and take approximately 9 hours depending on border crossing formalities.
As with most land border crossings by land you'll need to wait until everyone has passed through customs and immigration which can hold up the bus for up to or even over an hour depending on how busy the border is.
Tickets start at 1000 Baht ($32 US) and will increase depending on level of luxury. All buses take roughly the same time and follow the same road so the only difference with a more expensive ticket is the quality of the bus.
Buses all drop off in the centre of Siem Reap unless otherwise specified. Siem Reap isn't a large town and everything is either a short walk or tuk-tuk ride away. There will be tuk-tuks there waiting for the buses to arrive. Expect hard sell.
Bangkok and Siem Reap by Air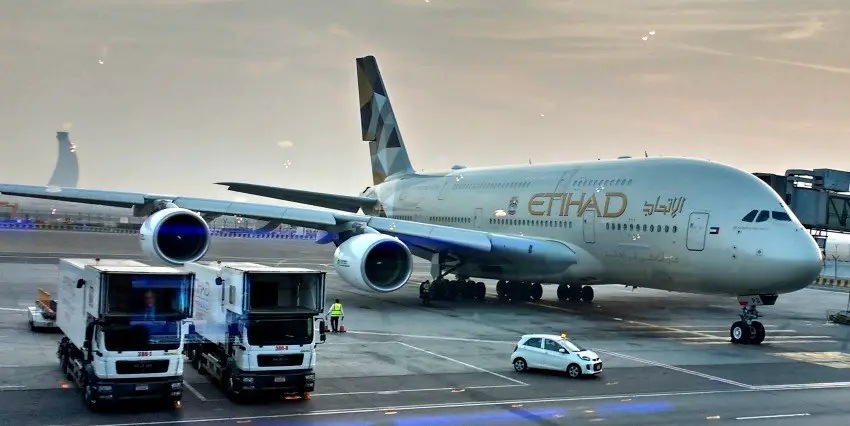 By far the quickest way from Bangkok to Siem Reap is to fly. Flights take 1 hour of flying time.
Air Asia is a popular airline choice on this route and leaves from Don Mueang Airport in Northern Bangkok. Siem Reap only has one airport which is approximately 7 km from the city centre. There are usually 3 direct flights a day.
Costs range from $85 – $100 US depending on flight times and availability. As usual booking early, flexibility and keeping an eye on ticket price fluctuations will get you the best deal. Check the latest prices here for the airlines.
Bangkok Air leaves from Suvarnabhumi Airport and flight times are the same with more departures each day. The cost is slightly more expensive on average although if you hunt around you could get a cheap price with enough notice and early morning or late evening departures.
Getting to Suvarnabhumi Airport is easier with the rail connection making the journey time the same regardless of traffic. Big bags aren't easy to take though during peak hour when the trains are packed.
Other airlines do this same route but don't have many direct flights meaning either a layover in Phnom Penh or China which could take as long as the bus.
The only drawback besides price is having to get up to Don Mueang Airport in Bangkok. Depending on the time of day it can be a long traffic-filled journey. The cost is about 450 Baht ($14 US) if you take the toll roads.  Having to be there 2 hours before your flight also cuts into the advantage of it being a quicker journey. In reality it will take a minimum of 4 hours door to door or just under half the time of the bus. Immigration is easier at the airport where you won't have to get on and off buses.
There really isn't much of interest to see from the window of a bus, so you won't miss out on this aspect of bus travel if you fly.
Bangkok to Sien Meap by Minibus or Van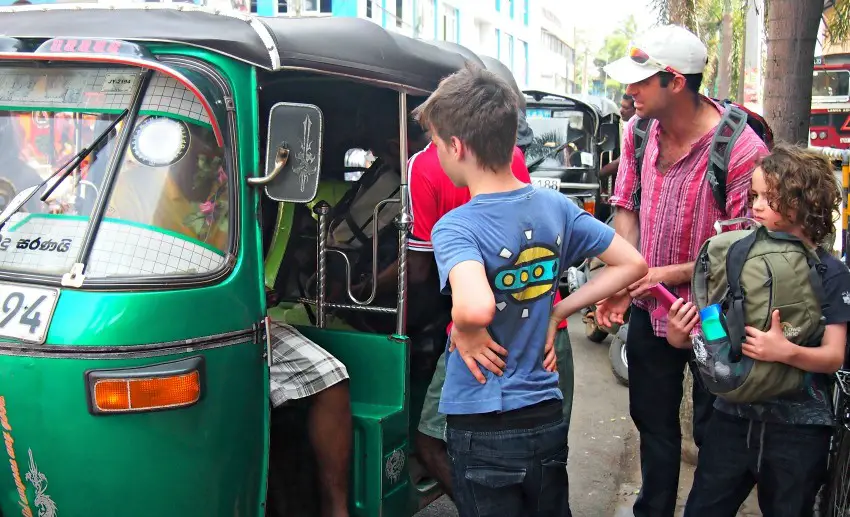 This was the method of choice when we first started travelling 20 years ago and with a lack of large coaches, it was in most cases the only way to get around. Now it isn't nearly as common for the longer journeys to neighboring countries.
One main reason that minibusses aren't a great choice is that they are small and not any cheaper or faster than the bigger coaches. Anyone over about 165 cm in height isn't going to be happy with no legroom for 7 hours or more. There safety record isn't as good as the big buses either so with kids in tow I feel safer in the bigger coaches where your protection is significantly higher.
A big plus is being smal,l they will pick you up at your hotel and drop you at a chosen hotel at your destination. Immigration and customs is potentially quicker with fewer people (but if one gets held up you all do) to get through the queues.
I've haven't done this journey for many years, since both the road was sealed and the coaches started running directly from Bangkok to Siem Reap.
If this sounds like your way of doing things you can have a look at some of the options and costs here.
Bangkok to Siem Reap Train and Bus Combination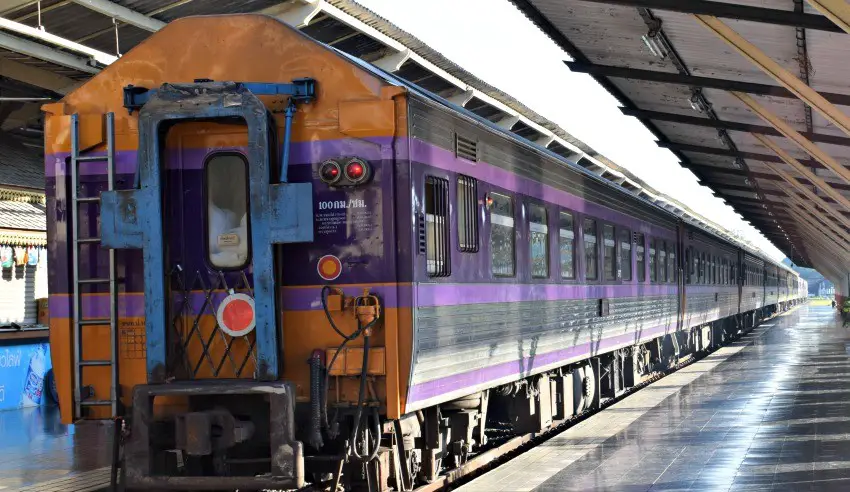 There isn't a direct train line into Cambodia from Thailand, in fact, there is very little train travel in Cambodia besides the bamboo railway in Battambang which doesn't actually go anywhere, and the train to Phnom Penh. This train line is newly opened and availability seems erratic, We're looking into taking this train right now and finding accurate up to date information on it is hard. If we can get a ticket, we'll tell you all about it. This train line doesn't, as far as we can see, help you in getting to Siem Reap as it passes south of Tonle Sap lake.
Thailand on the other hand has an extensive and great train network and infrastructure. If you like, you can catch the train to within 6 km of the border with Cambodia and then catch a tuk-tuk to the border and walk across.
Trains ( at the time of writing) leave twice a day from Bangkok Hua Lamphong and head to Aranyaprathet which is 6 km from Poipet, the Cambodian border town. It is 255 km and the trains leave at 5.55 am arriving at 11.35 am and 13.05 pm arriving at 17.35 pm. The border is open until 22:00 hours now although if you caught the afternoon train you wouldn't be getting into Siem Reap till close to midnight after you've pass immigration and sorted out an onward journey. Obviously double check these times and availability, the railway companies can and do change things regularly.
The trains are both 3rd class seats only but are of a good standard as our most Thai trains. This is the longest way to get there but if you really like trains or dislike buses it may work for you. Price-wise it was only 48 Baht last time I checked, which is about ($1.55 US). There was no way to book in advance and you could just turn up and buy a ticket. I don't think they actually stop selling them as seats aren't assigned. Get there early to grab a seat, would be my advice.
I've not done this route myself as it seems more hassle and time than it is worth. While I love trains it's too much work for me with getting to the train station so early and then also getting a ride to Siem Reap on the other side of the border. On the plus side, you will get time to stop for food and drinks with the constant interchanges. If you are hungry you can see what Cambodians eat here.
From the border it is 150 km to Siem Reap on a sealed road. Drive time is now under 3 hours if everything goes smoothly and if you want you can catch a taxi and share the cost. There are government buses going to Siem Reap but take longer but cost significantly less.
As usual make sure you have a hotel (even if you don't stay there but it is in the area you want to stay in) to go to so that the touts don't take advantage of you as soon as you arrive in Siem Reap.
Bangkok to Siem Reap Private Transfer By Car
This was only for the very rich up until a few years ago but with the competition on this route now prices are becoming much more competitive.
Just make sure that your hire car is allowed into Cambodia. We took a taxi from Cambodia which was to take us right through the border with Thailand further south but had to stop short as the car wasn't allowed onto Thai soil. Lesson learned the hard way.
The more in your group the cheaper per person it gets. For approximately ( at time of writing) $285 US you can get a 9 seat bus from Bangkok to Siem Reap. That is $32 US per person which for a private transfer door to door is very good. Basically the same as the government bus.
If there are only 4 of you and you're not getting a minibus then the price isn't so cheap per person but still good. $200 is a rough guide door to door.
If you're struggling to find a hire car to go the whole distance you can catch a car to Poiphet from Bangkok and then walk across and catch another taxi the other side to your destination in Siem Reap. Bangkok to Poipet (Cambodian border) is about $95 US and from Poiphet to Siem Reap is approximately $60 US depending on your negotiating skills.
Where to Stay in Siem Reap on Arrival
Hostel or Guest House in Siem Reap
We've used this guest house in Siem Reap, we were there weeks, in a private room with our own bathroom, and found it to be good.It had a pool which we enjoyed using and good food.I believe it also has dorms for budget backpackers, but look for yourself. See Garden Village Guest House Here.
Resorts, Luxury Hotels and All-Inclusive in Siem Reap
There are quite a few good hotels with luxury features and spas in and around Siem Reap now too. This being Cambodia, prices are pretty amazing. Luxury holiday makers are able to fly in to see Angkor Wat and make a nice holiday of it. Check out the Borei Angkor, it gets seriously good reviews on many platforms.
Booking Tickets from Bangkok to Siem Reap
There are only 3 ways of booking travel tickets in Thailand and Cambodia:
Pay an agent or tout a fee.
Go to the train or bus station yourself
Use 12Go Asia to book online here , tiny fee, tickets can even be delivered internationally.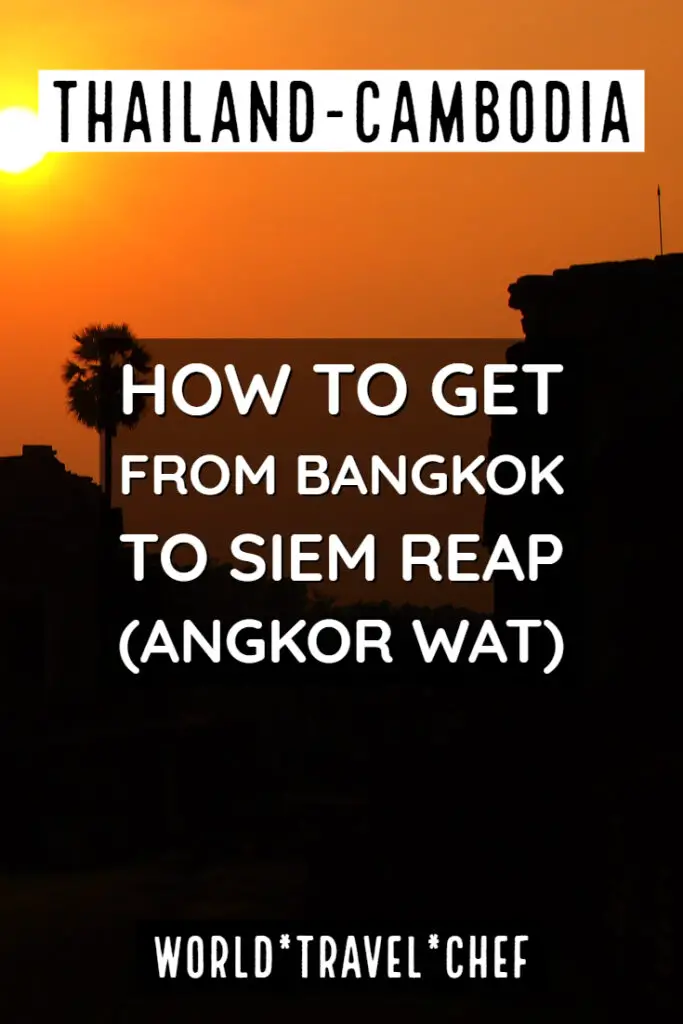 Bangkok to Siem Reap, Which Way is Best?
Unless you fly between Bangkok and Siem Reap you'll be treading the same path as countless others on any given day, especially at the bottleneck which is the border crossing. How easy and luxurious you make it depends on you and your budget.
My one travel tip would be to avoid doing the border crossing on the weekends where it can get insanely busy with everyone doing visa runs and heading to the casinos on the border. Besides these days it should be an OK but long travel day between two of Asia's greatest destinations.
If you'd like to hire a car during your stay, use this car rental comparison tool to find the best deal!

Please check out our Pinterest account for loads of food and recipes from around the world!