Food in Thailand is amazing! But what are the 10 best food to try in Thailand? These top 10 Thai foods would be my choice. You'll need to enjoy spicy Thai food, but the incredible light, fresh flavours of Thailand will still shine through!
1. Tom Yum Goong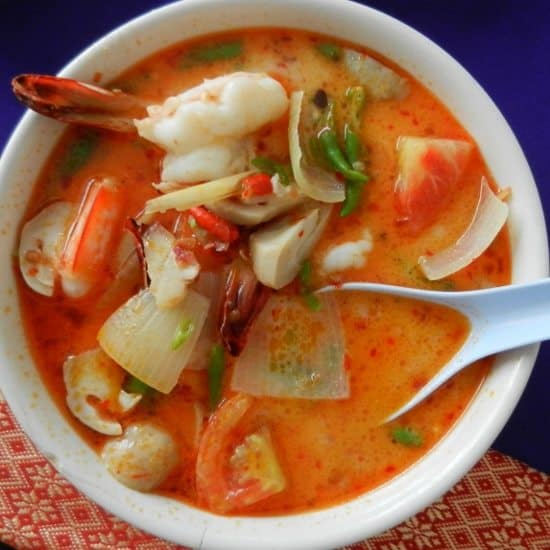 Tom Tum Goong is one of the best soups in the world and one of Thailand's best dishes. Tom Yum is a fiery-hot flavourful dish, I I think it works best with prawns (shrimp to our American friends), in Thai, Goong. A bowl of Tom Yum Goong is a meal in itself and if you can find a good one you'll be in Thai food heaven!
Tom yum is hot with chillies and sour with lime. It doesn't normally contain coconut, the stock is almost clear sometimes.
2.Tom Ka Gai (Tom Kha Gai)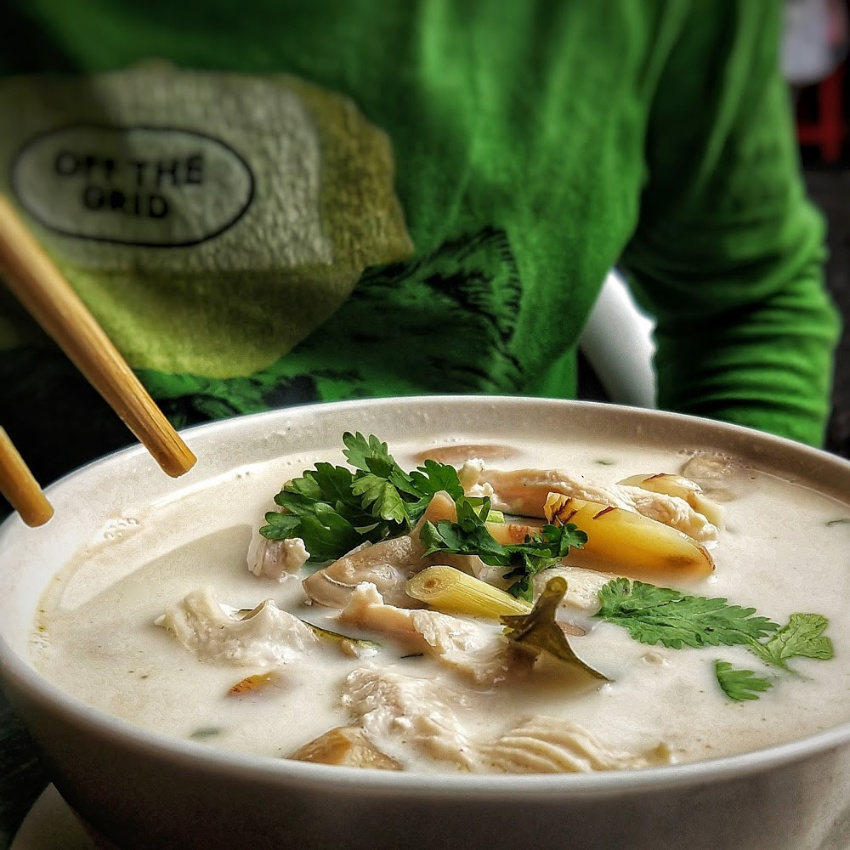 Tom Ka Gai is a highly fragrant, not too spicy, thin coconut chicken soup. It can be totally spice and chilli-free, my young family love it that way and it's a good Thai meal to start children on in Thailand. Sometimes it has chillies and can be a little spicy, but that seems rare in Thailand.
The key ingredients in Tom Kha Gai are chicken (gai) and then galangal and lemongrass. Kaffir lime leaves and fresh Thai basil add more fragrance.
Tom Ka often features delicious Asian mushrooms. Our current favourite restaurant uses celery leaf, they're a great addition. Tom kha gai or khai is chicken tom ka soup, but you also should be able to find tofu, vegetable or prawn (shrimp) versions of tom kha in Thai restaurants.
3.Pad Siew (or Pad See Ew) Pork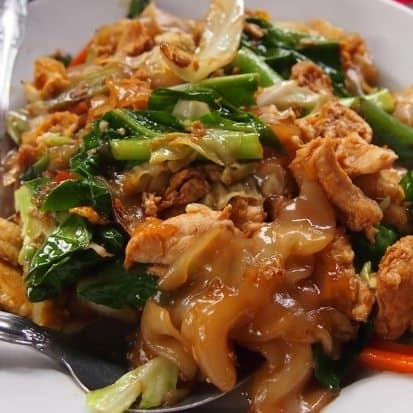 I have seen this dish spelled in many waysways. Spelling for everything varies immensely in Thailand. Pad Siew is one is possibly my favourite noodle dish in Thailand and the pork version, to me, is the best.
Fat, slippery, wide rice noodles fried with soy sauce (the siew) and vegetables, with or tasty pork meat. Good pad siew contains greens, kale, Chinese broccoli, or similar. The trick with pad siew is to use a blisteringly hot pan.
4. Pad Thai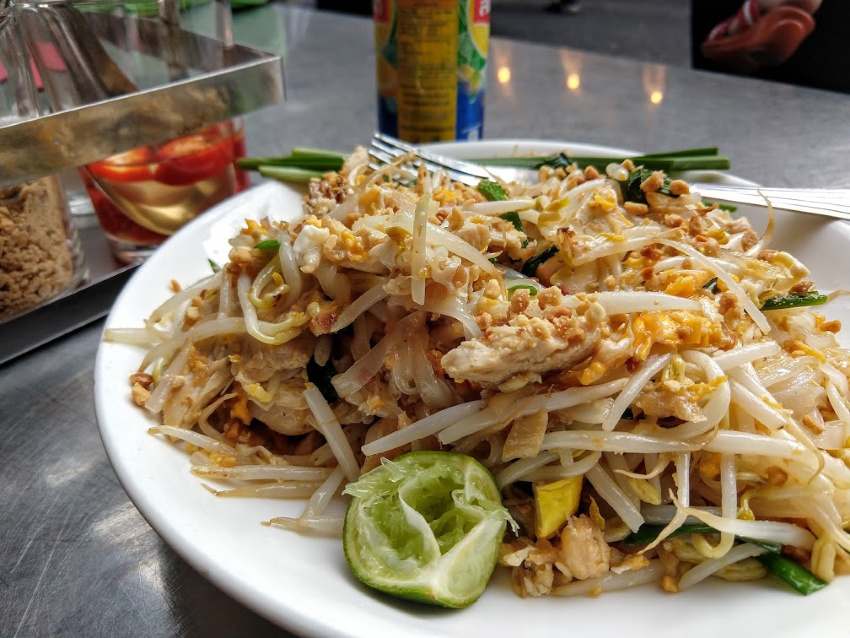 Probably the food most often consumed by tourists in Thailand and certainly a Thai food for people new to Thai dishes. Pad Thai can be delicious or, not so good.
The pad Thai dish above, from a street-side restaurant in Bangkok was incredibly good. I've also had some that I just couldn't eat, greasy with pig fat and some sort of toxic orange sauce.
A real Pad Thai has thin rice noodles stir-fried with eggs and small pieces of firm tofu.  Its flavored comes from tamarind, fish sauce, tiny dried shrimps, garlic or shallots, chilies, and sugar. It should be served with lime and peanuts.
Sometimes there are vegetables, I think the best Pad Thai has plenty of bean sprouts. You can usually order it with meat, tofu or prawns. With prawn pad Thai being my favourite. When prepared well, pad thai is a noodle dish you'll want to eat every day in Thailand.
5. Thai Omelette Rice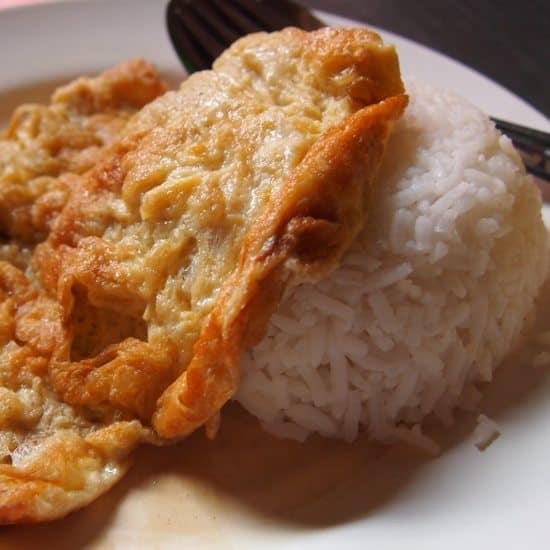 Thai-style omelets are one of my favourites. Filled Thai Omelettes stuffed with ground meat, oysters, veg or tofu are delicious but the basic version above is cheap and tasty.
Omelette rice is the budget traveller's friend. It's often the cheapest thing on the menu. It may not sound very exciting but it's good when you hit it with the condiments (Prik Nam Pla especialy
6. Thai Green Curry Tofu or Chicken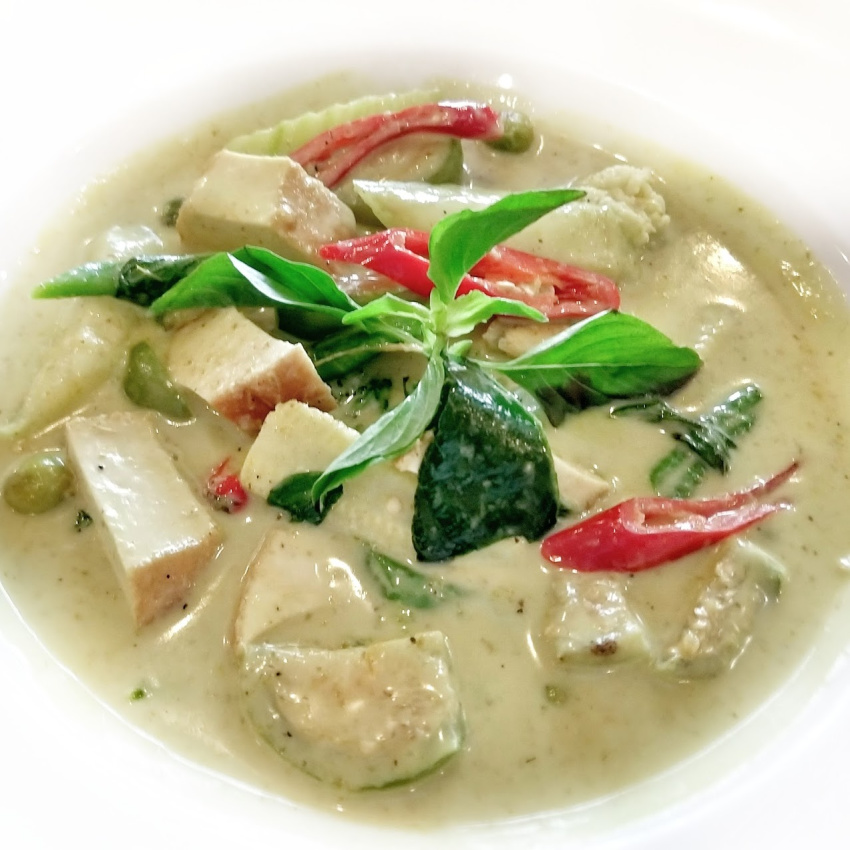 Thai green curry is best with tofu or chicken, you can also find versions with just vegetables.
The green curry paste is green because of the green chili content. Green curry is normally sweeter than red curry. Fresh coriander, basil and kaffir lime leaf can enhance the paste's greenness. Thai green curry almost always features various small round green aubergines (eggplants), sometimes quartered, sometimes whole. The vegetables can vary, but should always be fresh and seasonal.
7. Thai Fish Cakes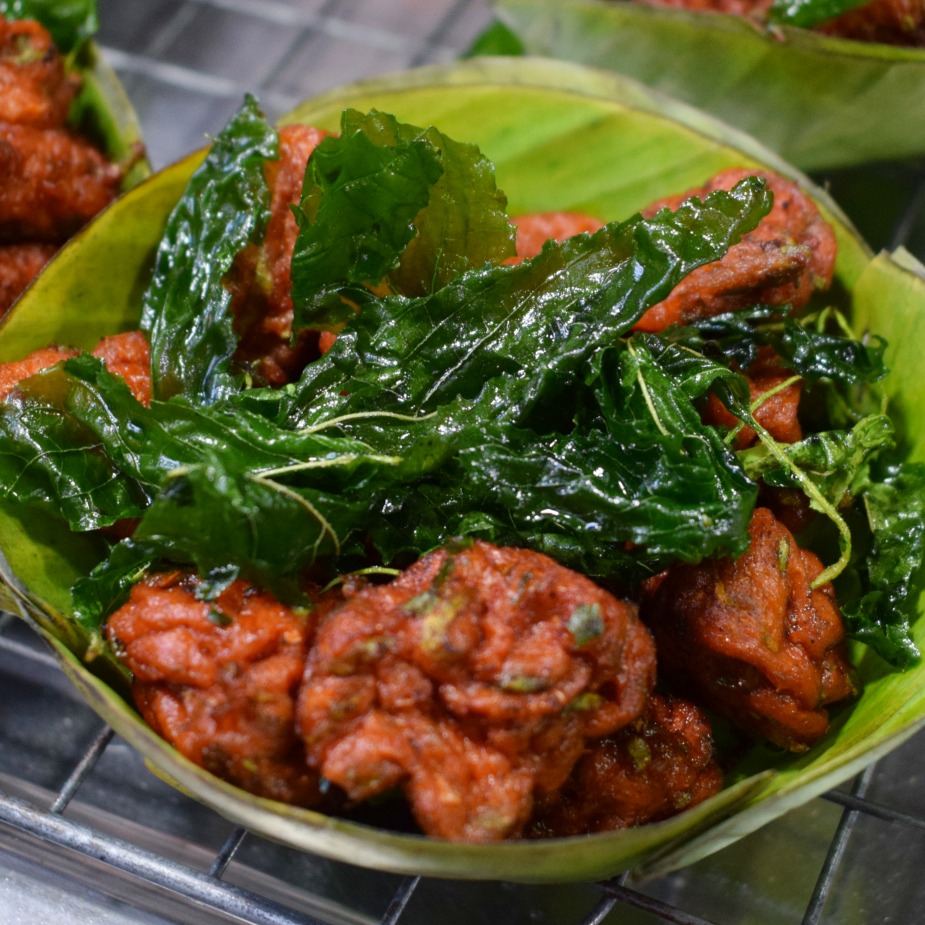 The fish ingredients in Thai dishes can be unusual or taste bad to a western palette. Fish sauce is used similarly to soy sauce, as salt. It's made from fermented fish and is an acquired and pungent, strong taste.
Other fish ingredients like shrimp and fish pastes can taste and smell bad to us too. There are also tiny dried shrimp that can be found in dishes such as pad Thai often. Food sold to tourists generally doesn't contain these ingredients.
8. Thai Spring Rolls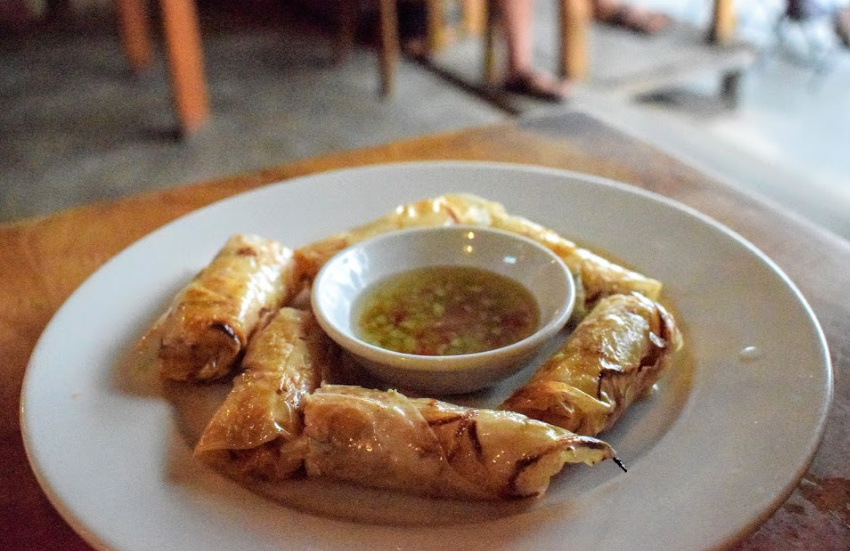 Thai spring rolls generally contain fine clear noodles. These are glass noodles or cellophane noodles. The fried roll will also contain finely shredded vegetables such as carrot, bean sprouts and cabbage. Vegetable spring rolls are common but shrimp, chicken, pork or tofu versions exist. They taste best with prik nam pla but sometimes come with syrupy commercial sweet chilli sauce.
9. Larp or Larb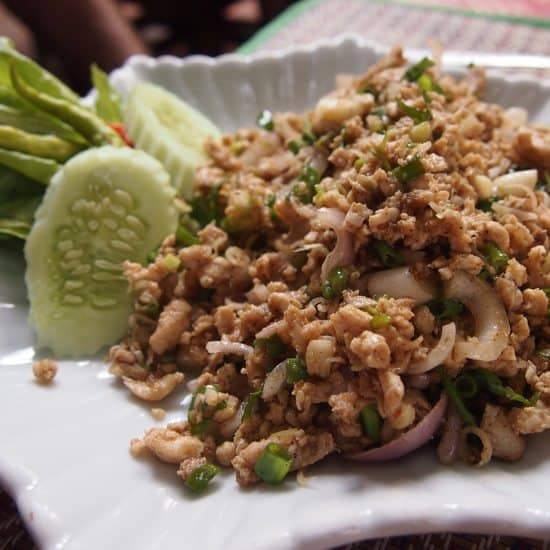 Larb is a meat salad. Finely chopped meat (or tofu or mushrooms for a vegetarian version), usually cooked, mixed with herbs. This dish sometimes contains raw meat. I had raw minced pork this way years ago, which wasn't clever.
Larb is really zingy with mint, lime juice, and fish sauce. If your larp is crunchy or grainy, it contains chopped toasted rice.  You normally have sticky rice and raw vegetables and chilies served on the side. They do great laarp in Laos if you can find a good restaurant.
10. Thai Green Papaya Salad (Som Tam)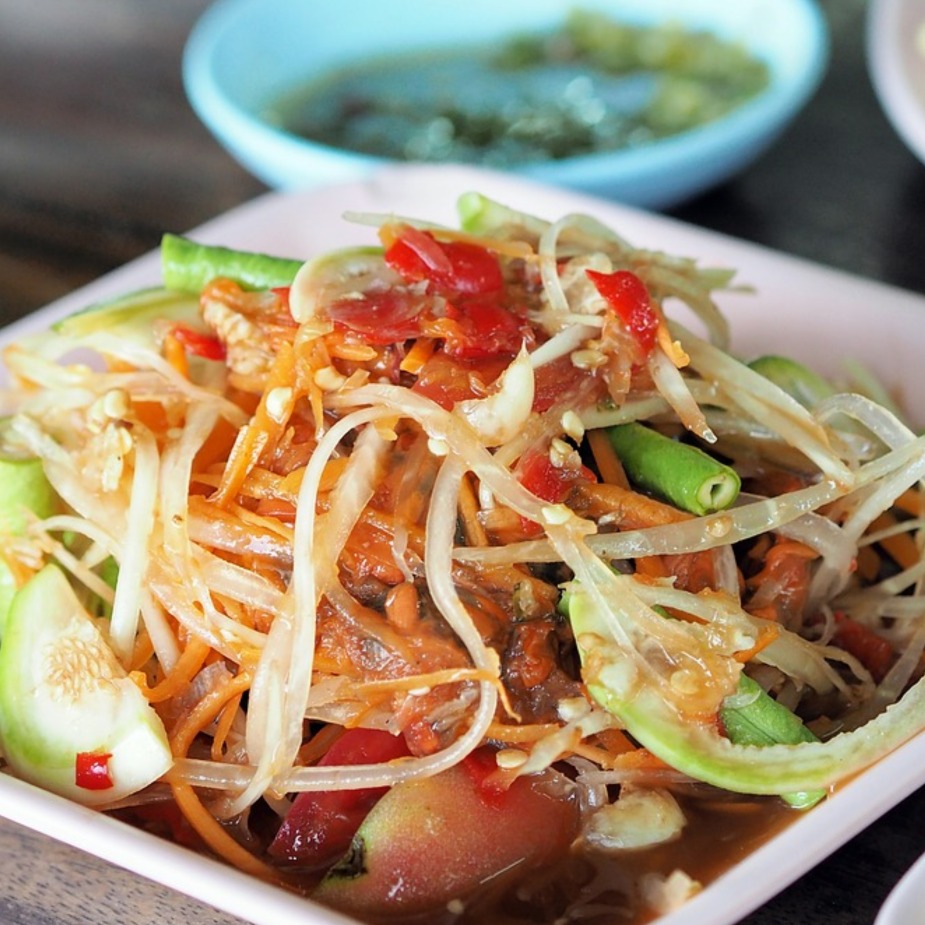 Fresh Thai salads are great but I love the soups and curries so much that I rarely order them! We have made Thai salads on cookery courses and they were an absolute revelation. Shredded green papaya is a major ingredient, along with fish sauce, lime, and sometimes fearsome little dried shrimp. People will often call these dishes green papaya salads. Look for som tam on menus.
We now make these Thai green papaya salads at home with our home grown green papayas. In Australia papayas are often called paw paws.
11. Khao Soi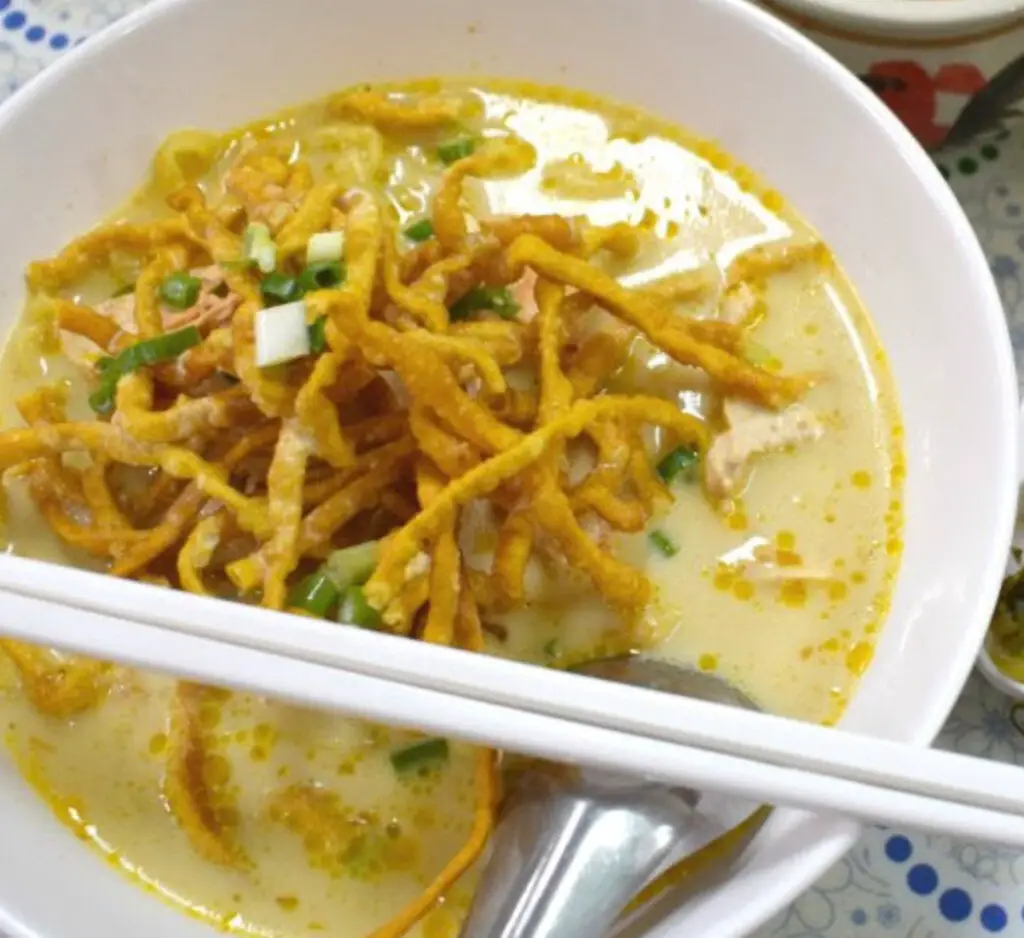 Khao Soi is a delicious curry noodle soup associated with northern Thailand, particularly the city of Chiang Mai. Khao Soi contains soft white rice noodles in the soup, and is topped with crispy fried noodles. It is usually accompanied with a squeeze of lemon and some tangy pickles. This is another of the very finest foods in Thailand and it has it's roots in Muslim curries.
We went on a mission to find the best Khao Soi in Chiang Mai, we also sampled Khao Soi in Bangkok and on Phuket. We couldn't pick the best, but there were many variations. We have a Khao Soi recipe on our site for you to cook at home.
12. Chicken with basil and chilli.
Don't ask for this without heat, the chilli makes the dish. Stir fried chicken with basil and chili is a Thai classic dish, sometimes you will order this "over rice" sometimes it comes as is. Thai basil is similar to European but the leaf is smaller and has a flavour that is slightly more like aniseed than sweet or European basil. Beef or pork can be served the same way. You probably should order this Thai food with rice as it's too hot to eat alone. Sometimes people order a fried egg served on the top of these dishes.
Chicken with ginger
This is a family favourite with us and contains loads of shredded fresh ginger, as a vegetable, not a flavouring. You'll also have a lot of onion and sometimes other vegetables
Most Thai dishes contain a lot of vegetables so Thai side dishes aren't so common. You could consider rice, plain, or sticky rice to be a side dish of course. One Thai side dish that we order often is stir-fried morning glory.
This green vegetable is usually stirfried with garlic and soy sauce and is rarely "spicy". You can treat any green vegetable in the same way, think water spinach (kang kong) or even pumpkin shoots.
You could order a fried rice instead of plain rice, in which case it is likely to contain egg, vegetables or meat. Coconut fried rice is another variation.
We made this video to show some Thai dishes and foods, in Thailand.
Much of the footage we filmed in markets and floating markets, along with cookery courses we've attended over the years. You'll see the insects and arachnids, along with which dishes Thai people really eat.
If you'd like to hire a car during your stay, use this car rental comparison tool to find the best deal!
Please check out our Pinterest account for loads of food and recipes from around the world!