When people think of getting around New York they think of bumper to bumper traffic jams and endless honking cars. They would be right in a lot of instances but we found we could avoid all the traffic and hassles normally associated with a big city pretty easily in New York.
There are five main ways to get around New York City. Subway, bus, taxi, hire car and, of course, walking. Pick the one that suits your needs.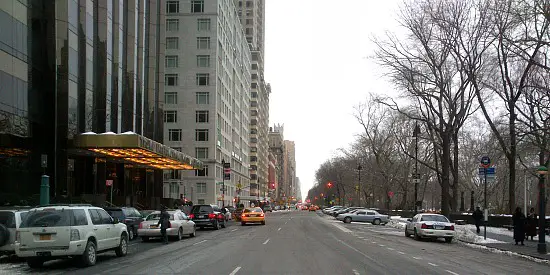 Getting Around New York

Getting Around New York by Subway
A few years back the New York Subway had a pretty bad reputation with murders, muggings and overcrowding.
Fast forward to today and that seems to be a thing of the past. Over-crowding during peak hours still sucks, but you can't have everything.
With a metro card travel is cheap. You can catch a train across town or use cards for an entire week's stay. Buying tickets is easy. No ID cards or Oyster Cards like the London underground, simply buy the metro card from the station machines and you're away. I took two single journeys across Manhattan and also across to Queens and each journey only cost $2.75. Not bad when you consider the distance travelled. The trains run frequently to all destinations so wait times are minimal regardless of where or how far you are traveling.
Getting Around New York by Bus
The bus network in New York is great. Easy signposts and using the same metro card you used on the subway allow you to hop on and continue by bus. Metro Cards give you 2 hours from the time you purchased the ticket to complete your journey.
In Queens, heading to Le Guardia airport I stuffed up,  I didn't realise that I needed to buy another ticket to catch an express bus to the airport. The lovely bus driver let me on regardless. Who said everyone in New York City was tough and gruff?
 Getting Around New York by Taxi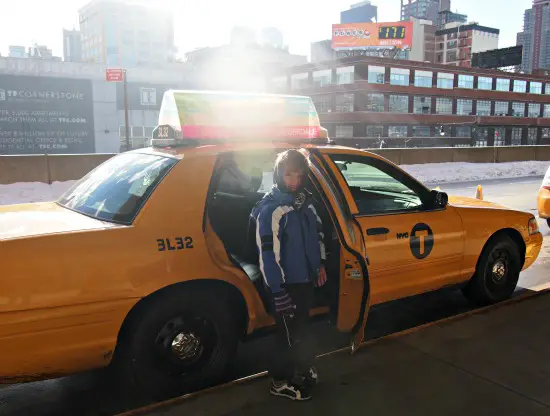 Normally I avoid taxis like the plague, unless I'm in Asia and I know they are cheap.
Not in New York City, here they are good value. For four of us, on short trips, taxis were cheaper than the subway.
The trick with catching a taxi is to walk to an avenue that goes straight down or up to your destination. That way you save time and money on one-way systems.
If you walk as far as 9th or 10th avenue the traffic is less, reducing the journey time and fare.
Getting Around New York on Foot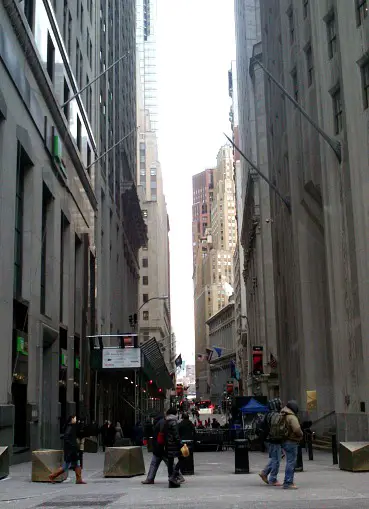 For those of you that don't know me, I set a mean walking pace. When I went out exploring solo I did the bulk of it on foot. This gave me the chance to see everything up close and soak up the atmosphere. This was especially true for us, as we were in New York right before Super Bowl time. It was happening across the Hudson in New Jersey. New York was Super Bowl mad.
I explored lower Manhattan by foot while the family stayed in the warm hotel room. Heading straight down 8th Avenue from West 39th took me past all the major highlights such as Madison Square Garden and Greenwich Village. Manhattan curves in toward The Battery, my final destination. Including stops, it only took an hour of fast-paced walking, seeing the everyday streets of districts of New York.
Walking is my preferred way to travel, but it's not so practical with two kids in tow at -11c .
Getting Around New York in a Hire/Rental Car
We hired a car to travel on from New York, we headed north first, just into Canada's Clifton Hill (Niagara Falls), before heading south all the way to The Florida Keys via New Orleans for some good southern cooking. Food and travel are my passions, I'm a chef, if you're new around here. In New York we indulged in pizza and decided that, generally speaking, the US has the best junk food in the world!
It was easier for me to head out-of-town to pick the car up solo and return for the bags and family later. This wouldn't be everyone's preferred method of getting around one of the most densely populated cities on earth but it was good for us.
If  I was staying within the metro system area I wouldn't even think of hiring a car, parking is almost impossible or could cost more than the car hire.
E-Z pass is an automated toll pay-as-you-go system. Getting an E-Z Pass isn't necessary but saves money and you don't have to be a resident to get one. Tolls are numerous and add up. We paid cash at the toll booths. Some tolls require you to buy an E-Z pass or send a cheque for payment. Look at the MTS website.
Our trip to Lancaster PA cost $28 in tolls from Le Guardia Airport, New York.
In New York, nearly all the streets are numbered and most are one way, this makes driving easy without GPS or a map.
Avoiding Times Square and 5th Avenue areas will save time and stress.
All busy intersections had police, although I'm not sure if this was just for Super Bowl.
From the airport into west 39th Street only took 30 minutes including the terrible traffic through Times Square, I know I should follow my own advice but unfortunately, our hotel was there so I was stuck.
That's it, my take on getting around New York City. We found it pretty easy, what about you?
If you'd like to hire a car during your stay, use this car rental comparison tool to find the best deal!
Please check out our Pinterest account for loads of food and recipes from around the world!