Colombo, the busy and often chaotic Capital of Sri Lanka is most people's arrival destination. While there are a few sights to see in and around Colombo you'll soon want to head out and one of the more popular routes sees you getting from Colombo down to Galle. On the south western tip of Sri Lanka,Galle is the provincial capital of the aptly named Southern Province. Long a popular destination for the Dutch, Portuguese and British explorers and traders it has found renewed fame with tourists. There are multiple ways to get to Galle from Colombo, including bus, train and road, we look at how to get to Galle, costs and where to stay in Galle on arrival.
Getting From Colombo to Galle by Bus, Train, Plane or Taxi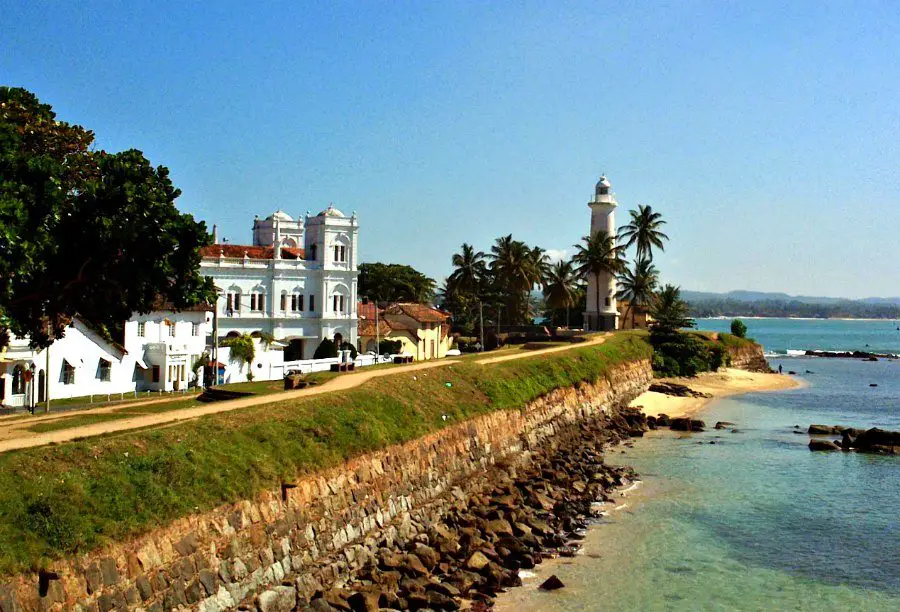 Getting From Colombo to Galle by Bus
One of the easiest and quick ways to get to Galle is by the local bus. With the new expressway you have two options as opposed to just the coastal road. The coastal road takes longer but is much more scenic and the journey is on older buses. The express buses which, as the name suggests, follows the expressway to the south has new buses that are more comfortable and have A/C.
Bastian Mawatha Bus Station
Bastian Mawatha Bus station is centrally located just down from Fort railway station in central Colombo. Most long distance buses leave from here and for both mini buses and the larger public buses you will find a ride here. The frequency is about every 20 minutes from 5 am. During peak hours this will increase as will the number of people trying to get on.
The cheapest are the government run buses followed by private buses and then the mini vans. The government buses are probably in the worst condition followed by the private buses and mini vans. Its worth noting that if you're over 6 foot tall the mini vans are very crowded with the middle seats folding down. Leg room can be non existent which can make a 3 hour trip terrible. We tend to gravitate towards the larger private buses although have caught mini buses for shorter trips.
Costs for the trip are as follows and these figures were accurate at the time this post was published. It isn't uncommon for drivers to try and charge more and these are approximate. As you can see public transport in Sri Lanka is ridiculously cheap so it isn't worth worrying about 50 cents here or there. More important to make sure you're happy with the bus and the driver.
Normal fare Rs.155 , $1.00usd
Private buses Rs.230 , $1.50 usd
Air Conditioned buses and mini vans Rs.300, $2.00usd
Maharagama Bus Station
Maharagama bus station isn't near the city centre, in fact its 15 km to the south. This can make getting there a real issue and this may take as long as the trip to Galle. Peak hour traffic is to be avoided at all costs in Colombo. From Fort railway station you can catch bus 138 for Rs.35 , 25 cents but be warned they don't like bulky luggage and the journey can take at best 30 minutes or worst up to 3 hours. Getting a taxi can be a better option, especially if you're not at Fort station. Uber plus a host of taxi companies operate in and around Colombo so it won't be hard to find one.
The bus station gets a bad reputation as there is no shelter from either the sun or the rain. Both are likely depending on when you go. Food vendors are also thin on the ground. The bus won't stop so stock up before you leave.
From the bus station the express buses head south on the Expressway. There isn't much to see as the road heads inland and straight down. It is approximately 90 minutes to Galle via this road. Significantly quicker than the coastal road but not nearly as scenic or satisfying. The buses are of a better quality and the cost will reflect this.
A lot of commuters will use this to travel daily to Colombo for work. Avoid peak times to make sure you get on the bus. Frequency is similar to the coastal route. A 5 am start with 20 minute intervals.
Cost to Galle via Expressway
Upwards of Rs. 400 , $3 usd. Still ridiculously cheap.
Getting From Colombo to Galle by Car
With the new inland highway this is the quickest way but it is up to you whether you take it or the more scenic coastal road. Both have pros and cons and it come down to personal choice.
This is by far the most expensive way of getting from Colombo to Galle but if time is limited can be the best way. My first time here we arrived close to midnight and weren't stopping in Colombo so headed straight from the airport to Galle via the coastal road (the new expressway wasn't built). You will need to pre-arrange a car to take you from either the airport or Colombo. The airport has a desk where you can do this and the price is set. Hotels can arrange this in Colombo or you can use one of the many apps or websites that are now available. Currently Uber only operates in a 30 km radius of Colombo. Kangaroo cabs often comes up as a company that covers the whole island. Specify if you want to go via the coast as most will use the expressway and price accordingly. The coastal road will quite likely cost more due to the added time.
Costs are still competitive but not like the public transport. This is for the expressway route.
Expect to pay Rs.10000 , $65 usd from Colombo City centre to Galle
Expect to pay Rs.12200 , $78 usd from Colombo airport to Galle
Getting From Colombo to Galle by Train
The train journey along the coast is beautiful and takes you through the coastal villages that dot the coast.  The train also passes through a number of major cities and towns like Kalutara, Beruwala, Aluthgama, Bentota, Balapitiya, and Hikkaduwa and offers views of modern and colonial Sri Lanka from the comfort of your seat.

This is definitely my preferred way of travel in Sri Lanka and especially the Colombo to Galle route. You don't have to worry about the peak hour traffic but be mindful you may not get a seat if the train you catch has come down from Kandy or further north.
There are now tourist carriages that operate on the interstate and express trains. Offering food, wifi and allocated comfortable seats the carriages are part of the normal train but come with an increased fair and in someways isolation from the joys of train travel in Sri Lanka. They are all run by 3rd parties contracted to Sri Lankan rail.
The following are the costs for a ticket from Colombo Fort to Galle. There are 3 classes although you'd not want to travel in 3rd as it is extremely crowded and stops and all stations making the journey too long. The prices like the bus are incredibly cheap. If you want first class it pays to book as early as possible as there aren't many seats and they go quickly.
Its worth noting that nearly all the trains continue on to Matara which is about 90 minutes along the coast past Galle. If you're staying on that side of Galle the stations after Galle may be better suited to alight. Just make sure that the train stops.
Rajadhani car Rs.990 , $9 USD. ( Only one a day currently)
2nd Class Rs.180 , $1.30 USD
3rd Class Rs.100 , $0.75 USD
Getting From Colombo to Galle by Plane
There isn't an airport close to Galle. The nearest besides Colombo (which is actually the closest) would be Mattala Rajapaksa International Airport in Mattala. That is  150km due east with Colombo only 120km north. It has  been named the emptiest international airport. Few flights operate from here and most still fly via Colombo.
Best Places to Stay in Galle
Galle has a host of accomodation options at nearly every price point. From five star resorts to simple home stays and everything in between. There are a few boutique hotels within the Fort itself, some hotels and hostels in Galle town and some lovely villas in the hills around Galle.
We use various hotel booking engines to find the best deals. Agoda are the experts for Asia and we find they usually have the best selection. To see all the hotels Agoda offers in and around Galle Click Here  If you prefer Booking.com please Click Here . Hotels Combined is a comparison site, it will check multiple online booking engines ( not Agoda, check them separately) if you'd like to give them a try, Click Here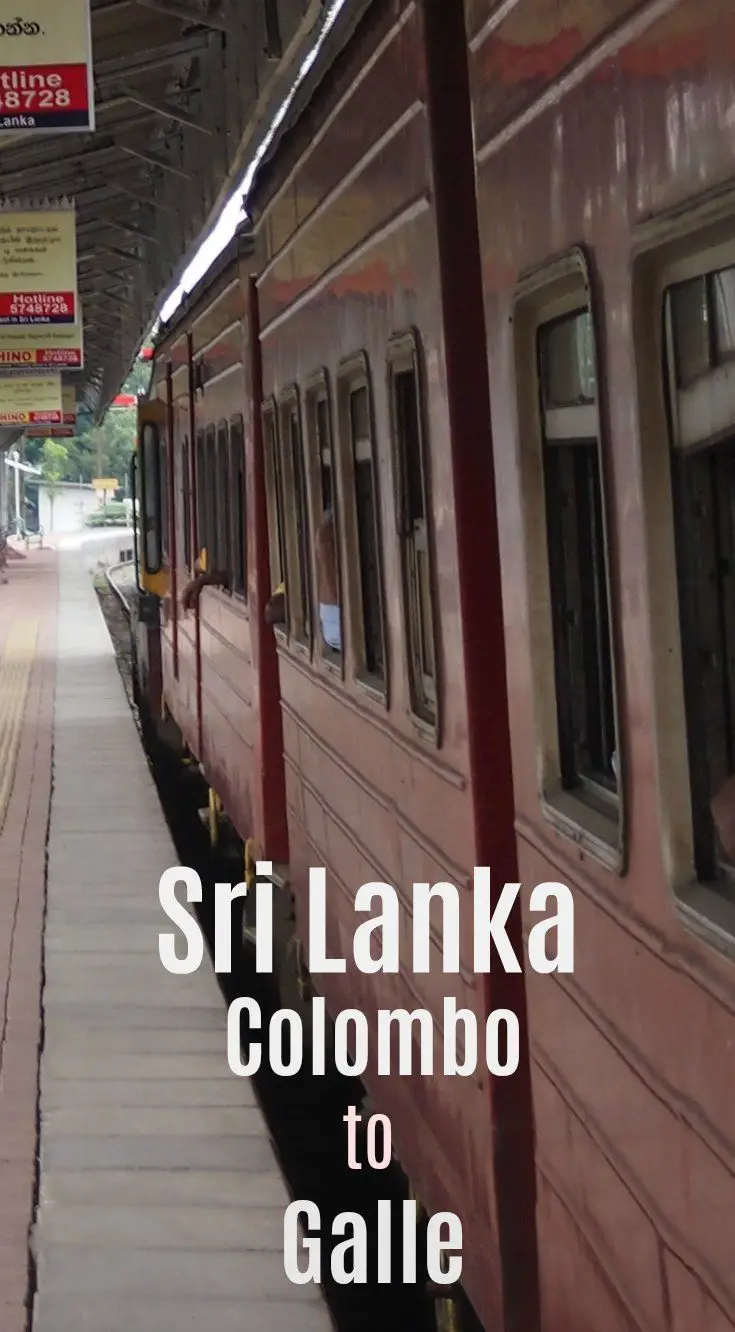 We hope you enjoy Sri Lanka, it's one of our favourite travel destinations. We'd really recommend the train, but whichever method of getting to Galle from Colombo you pick, try to enjoy the journey and the views along the way.