Having done and immensely enjoyed Legoland Malaysia near Johor Bahru yesterday, I was like a kid in a candy store today. I couldn't get to the Legoland water park fast enough.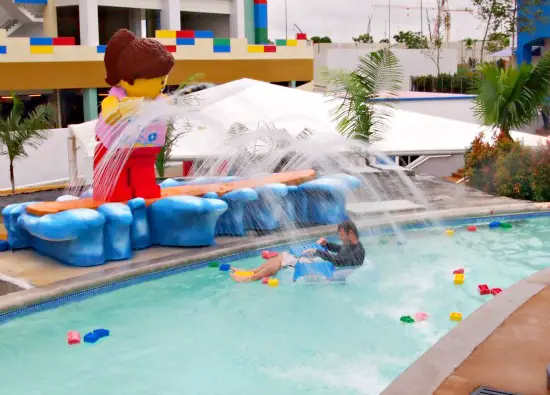 Leaving the hostel in southern Malaysia, the rain was lightly falling and our taxi driver questioned our choice. This was our only day, our only chance, it was go in the rain or not at all. We had a great hostel ( Warm Blanket, we recommend it) but there was no food available other than in the hawker stalls downstairs and they weren't open for our early departure.
We needed coffee and breakfast before we hit up the Legoland Water Park rides. First we needed an ATM. The hostel wasn't remotely close to any, the park, on the other hand, had 2 on the outside and 1 inside. The outside 2 were broken. Fingers crossed for the one inside.
Alyson had done a great job outside Legoland Water Park of finding breakfast and coffee for us. The cheesy egg burger was a little suspect but the coffee wasn't sweet and was quite drinkable. We really struggled in Malaysia to find straight black coffee, no milk, no sugar, it was pure joy every time we tracked down the real thing not pre-sweetened, pre-creamered  versions. By the time we'd polished off the cheesy greasy goodness, it was time to pick up our much fabled media pass.

A big issue with water parks is where to store valuables when on the slides. Legoland Water Park had thought of this with a mass of fingerprint activated lockers. Some may worry about security but no names are recorded with the prints. We thought this facility was great.
We started our experience in the park by doing a few laps of the river which flowed around the outside. Good fun, but only a warm up for the bigger slides.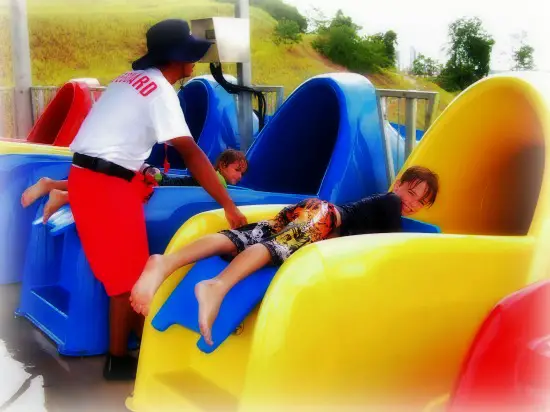 Legoland Water Park had an immense kids aqua playground right in the middle that was constantly being bombarded with gallons of water. It was the biggest of it's kind that I have ever seen. Unfortunately it was here that we had our first run in with the not-so-great lifeguards.  I was a lifeguard and surf lifesaver in my younger days, so I have a professional interest. Dylan was made to take off his long sleeve t-shirt, in what was now full glorious sun. We weren't pleased, especially as others were wearing t-shirts. Some even had on tracksuit pants.  Being an Islamic country 80% were covered up which made the situation confusing. Apparently the rule is no cotton, only synthetic clothes allowed, some lifeguards knew what nylon and lycra were, some didn't have a clue. My wife was in a cotton lycra rashie, at one point even she was asked to remove it. She refused and the lifeguard backed down.
We left the playground and headed up to the bigger rides which used rafts to descend. We did both the rides numerous times and loved both. Sometimes we had to take off shirts, sometimes not. One women just left hers around her neck with her arms out. Not exactly safe!
When we went on the two biggest slides without rafts I took off Dylan's shirt but was allowed to keep my own. As luck would have it I got stuck. My boardies and rashy had never had this problem 'till here. I had to strip mid ride to continue down. Later I would strip before each ride in protest. The end result was that the slides lacked the excitement I've had elsewhere. Not steep or fast flowing but ok for kids up to their teens.
Slippery is one word that describes Legoland Water Park. They haven't applied an effective anti slip coat to the concrete which makes for a potentially dangerous time walking up and down the parks area. Pushing the 3 man rafts up 4 flights of narrow stairs was tough and dangerous, risking a serious injury to someone using the stairs below. Perhaps the biggest worry though, was the huge hole that was appearing in the concrete of the kids Playground pool. A foot across and inches deep it was especially worrying as the park was but a mere 3 weeks old.
The park has only just opened, it will take time to iron out the issues that will inevitably arise.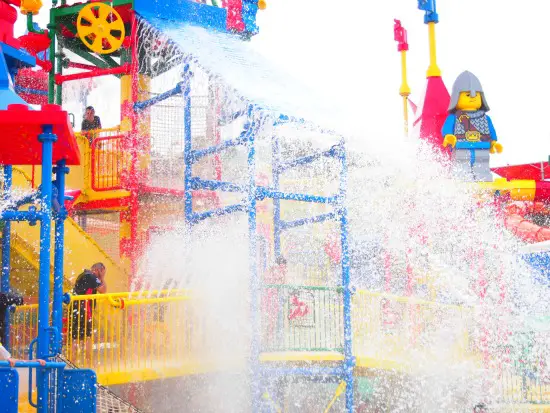 One of the highlights of both days was the food vouchers we were given for either Legoland Malaysia or Legoland Water Park. As expected, junk food was the order of the day and all 4 of us relished that. The kids loved the Ribena while Alyson and myself had loads of potato wedges with squirty cheese and mayonnaise. Delicious and just what the theme parks ordered.
Luckily the inside cash point was working which meant we could afford the taxi ride home. Again we had an awesome time and have come away with great memories of the Legoland theme parks although they do have a few teething problems that need ironing out, the basic structure and Lego theming, is excellent.