Besides seeing glimpses of the New York delis on numerous TV shows I confess to not knowing much about the deli scene. 
Across Asia we didn't worry much about getting food as we travelled, every street corner had stalls that were cheap and great quality. 
In the UK we knew that Tesco's was always around the corner. New York though, is an extremely expensive city and staying in mid-town Manhattan, supermarkets weren't going to be around.  We noticed how many delis there were as we wandered around. They were everywhere, and all different .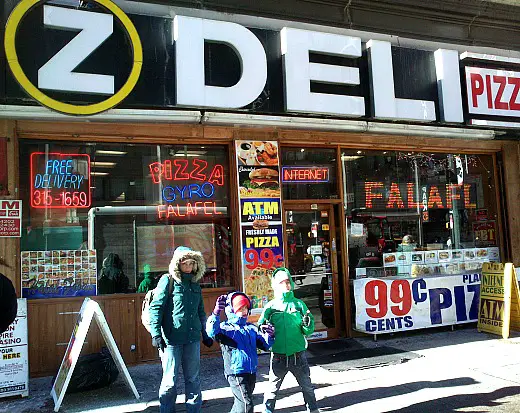 What Does the Average New York Deli Sell?
What don't they sell? Staying at the edge of the once notorious Hell's Kitchen, home to the gopher gang in the early 19th century then later the Irish-American Westies gang, each deli served up a totally different selection. Common amongst them all was stock that most corner shops would sell but with the added bonus of a small eatery .
 Nearly all sold pizza either by the piece or whole. Each slice being massive. More like a small pizza than a slice. Then it would depend on what ethnic background the owner had. Anything from Turkish, Pakistani, Middle Eastern or Chinese. It was all off to one side buffet style, either served or self-service.
Some, I'm sure, aren't up to much but all the ones I went into were great and I went into quite a few just for a nosey.  The smells in New York really grabbed my attention. I love cities, but generally they're not known for smelling like roses. Neither does NY, instead it smells like freshly cooked food and pizza in particular. As you walk up the streets the smells assault you, daring you to walk in and buy the hot food on offer. A hard temptation to avoid when it's minus 11c outside.
Does it Taste Great and is it Affordable?
Yes, all the food we had tasted great, bar one cold slice of pizza. Not bad after going to nearly a dozen delis in and around the Hell's Kitchen area. 
 It was my task each night to brave the cold and come back with food for the family. A task that is normally tricky, to get all four people fed and happy within budget. Tonight I got 4 slices of lovely pizza, enough for 4 of us, and it cost $5 which is great. Had we eaten in the store we could have had our choice of Turkish or Middle Eastern as well. Unfortunately the minus 11c weather kept my family hotel bound more than once.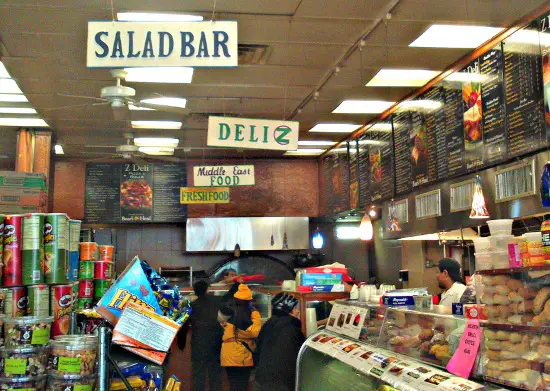 Eating in New York on a Budget has Been OK.
 I admit to being a little concerned about the food on our USA leg of the trip.
The US has some great restaurants but on our small budget we won't see the inside of many this time around. At our budget level will we be left with only junk food?  Please no. I've already got to lose the 6kg I've put on since South East Asia!. Christmas in the UK and 10 days on a Trans-Atlantic cruise was hard on my waistline.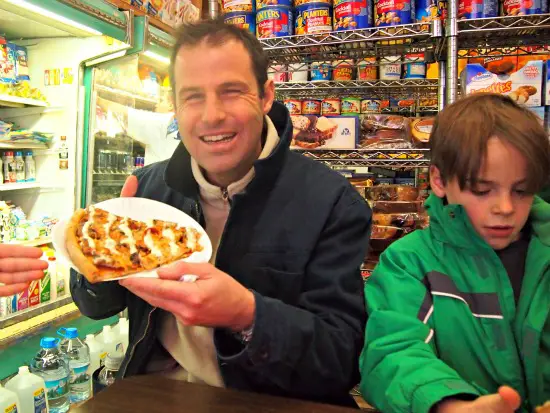 The New York deli was the unsung hero and highlight of our short stay, for me especially. Having so much great and diverse food right on our door step was simply awesome. It turned what could have been a burden into a mission we looked forward to each day. They say you can get anything you want in New York, and they're right. More than that, it is affordable and worth having, more so than in any other big city I've been to or lived in so far. 
What's your best food tip for us in The USA??