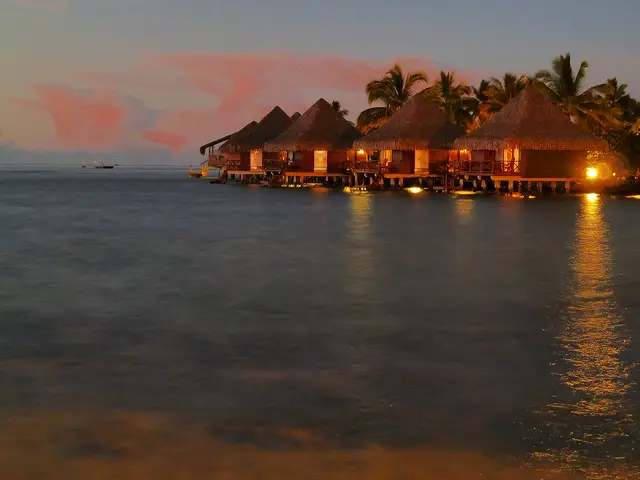 Back in the days before kids, we did our fair share of romantic, and fairly luxurious, couple travel.
We backpacked too, we've both always loved the backpacking style for the freedom it gives us and the amount of travel per dollar, but sometimes it's nice to have a splurge on beautiful surroundings and the sort of locations most people dream of.
Our ultimate luxury vacation came with
our wedding in Sri Lanka
and honeymoon in Maldives, it was couple travel at its best in some incredibly luxurious resort hotels.
Sure, we'd love to do it again and sure, we'd take the kids, can you imagine how much they'd love it?
The only problem is, a family of four and one salary doesn't give us the same financial clout we had when we were two people with two good incomes. But that's the price you pay. Having a family is amazing, these two boys are the best thing we ever did and we wouldn't change that for a second. Finding the freedom to travel with them has been a life changing and incredible experience. We're just not going to be rich any day soon.
So Grab it While You Can!
If you're still at the pre-kids stage, treat yourself, take advantage of the spare cash you probably won't have again for 18 years or so and try the luxury route for size.
We love seeing all of the world, but we're not travel snobs, you don't have to take off with backpack and hiking boots to get the most out of your explorations. Try it, try everything while you can, grab it today because tomorrow might not be what you expected.
What's The Ultimate in Luxury Romantic Breaks?
Can accommodation get any better than an over-water bungalow? Nothing can beat waking up to a gently lapping clear blue ocean just steps from your bed.
Perfect for active divers and snorkellers like us, or for those of you who want to totally relax in some of the most stunning locations on the planet.
Did you know you can experience this style of accommodation in Australia?
No? Neither did I, but it's something I'd love to try.
For something a little more tropical head for Maldives, Tahiti, Vanuatu or Fiji where the bungalows go by their traditional name, bures.
I'd be more than happy to try any of these trips, the rest of the family would be over the moon too. But we've done it once and for now that's enough. Maybe one day we'll get another chance.
We experienced this top – end treat on our honeymoon in Maldives, just one special week to mark a very special event. A treat like this is well worth the cash, it's a memory that will stay with us forever.
Our friends and colleagues at Travel Associates ( click through to see their over-water bungalows) have put this quiz together to make us drool.
Photo Credit Michael R Perry Intercontinental Hotel Tahiti under Creative Commons license 2.0