Sail Rock is located in the Gulf of Thailand and according to some, is one of the top two dive sites in the whole of Thailand. With such lofty claims it was a must that I would be scuba diving sail rock while visiting the beautiful island of Koh Phangan.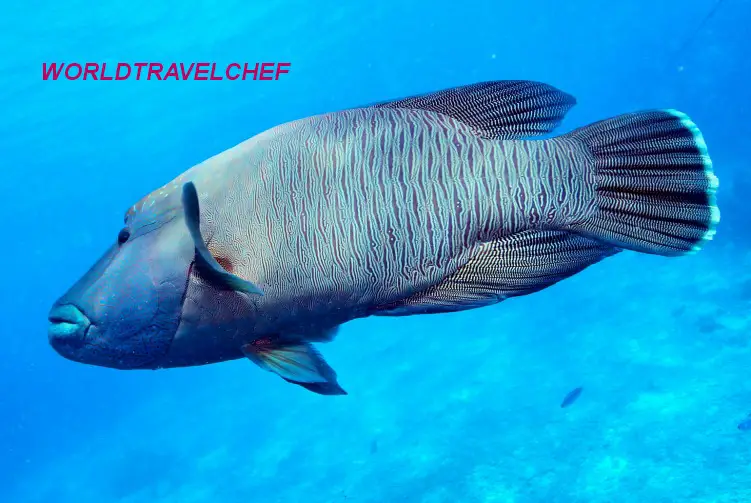 Where We Stayed while scuba diving Sail Rock
Based off Haad Salad Beach in the aptly named Haad Salad Villas we were about half an hour south from the boat port that serves Sail Rock from Koh Phangan.
Haad Salad Villas have an on-site dive school which is run by a French man and caters for the French market. Still, nobody speaks underwater and the instructor was actually from Norway. They organise everything from gear rental to transport and lunch. A quick discussion saw me heading to Sail Rock the next day for well under a $100. A bargain especially as there were only 3 in the group. They do have minimum numbers but I think they also team up with other dive companies and use the same boat.
Getting To Sail Rock
We piled into an old ute complete with 9 tanks of air, making sure our feet were above the rolling tanks we arrived at the fishing port and boat to head out into the Gulf. All of our gear was taken with us from the dive shop at Haad Salad so it pays to check it all out and make sure you're comfortable with everything. While they took spare weights they didn't take spare of everything as this isn't possible.
The boat ride takes roughly an hour in a traditional boat or if you're in a speed boat (we weren't) about 20 minutes. An uneventful boat ride out to the site was great with a lovely breakfast and coffee served on the way. I have to say, balancing a hot coffee up a moving ladder was particularly tricky but I managed without 3rd degree burns!
Koh Tao may be known as the dive island but it is actually further away and more expensive to dive Sail Rock from here compared to Koh Phangan. Koh Samui is even further away still (on the other side of Koh Phangan) and few operators will do day trips opting instead for overnight liveaboard tours.
Diving Sail Rock
As the name suggests, Sail Rock is a large rock that juts straight out of the sea. Nothing grows on the rock above water which could be explained by the military using it as a target. Hopefully not while we scuba dive!
After the usual gear checks, we bailed over the side. The view was spectacular, the colours vivid and the fish more than plentiful. We descended to 30 metres and cut across to where another bommie was located. Here the current was strong and all the great schools of fish were gathered to feed.
We swam around the rock and finished at the chimney, a vertical 8 metre swim-through. Too many fish to list but unfortunately, we didn't see whale sharks as they had the previous week. I must rate this as up there with the SS Yongala which was my best dive to date.
Unlike the SS Yongala though this was a relatively easy dive. The currents weren't strong and you could easily go around the rock and not get disorientated. The depth was also no more than 20-30 metres for all the best views and fish. The seabed was at 40 metres but there wasn't anything there to see besides sand.
After two dives and a delicious lunch, our time was up and our scuba diving day was finished.
Heading Home
The usual post dive scene on the boat as people sun baked or chilled out with a beer. The wind picked up in the afternoon a little but it was still a pleasant ride back to the port where we'd started from.
Returning to the wharf we unloaded the boat and packed the empty tanks into the ute. Dodging the empty tanks was tougher than the full on the islands winding hill roads.
A little bet we had with our instructor was if NO whales sharks were seen while scuba diving he buys the first beer. Changs all round topped off an awesome day and one I would love to do again.
If you'd like to hire a car during your stay, use this car rental comparison tool to find the best deal!
Please check out our Pinterest account for loads of food and recipes from around the world!