This post may contain affiliate links.
Australia has some amazing camping opportunities and Australians of all ages love to camp. Australia also has some of the most hazardous and difficult camping conditions in the world. Safety must always be your first thought, particularly if you're heading into the bush or anywhere off the beaten track or remote. I'm here to give you some tips to make your camping trip safe and enjoyable, particularly if you're new to camping in Australia or setting off on your first camping trip, Downunder.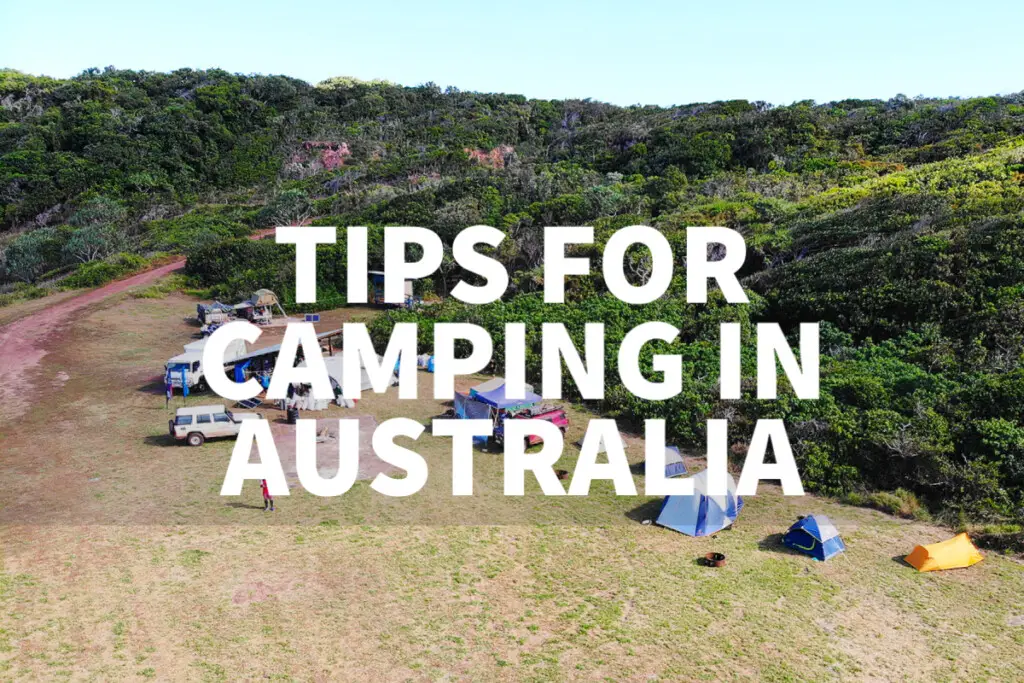 Chef James is not only a professional Chef, he's a Queen's Scout. He grew up camping, hiking, and bush-bashing in New South Wales, Canberra (ACT), South Australia, and Tasmania. On meeting his now-wife, he dragged her all over Australia with just a two-man tent. When his children were born, family camping in Queensland took over. Today he camps extensively, off-grid, using small tents and swags in the sort of places where you haul everything in, and everything out. Hopefully, his tips will give you some good advice for camping in Australia, his home country.
Tips For Camping in Australia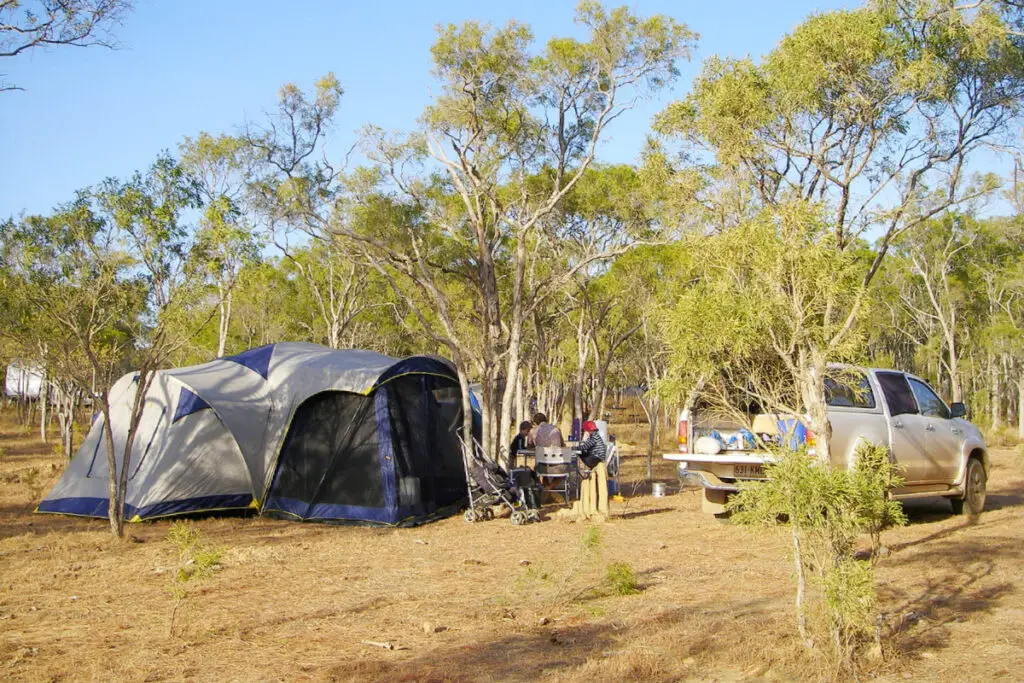 Will you be free camping in the bush or using one of Australia's many tourist camping resorts? Will you be camping in a tent, swag, caravan, or motorhome (camper van)?
For either, both, or anything in between, these tips for camping in Australia should be helpful to you.
You'll find some useful travel tips in our "tips for new travelers" post. Those tips, particularly relating to money, theft, and security, could be useful too. If you're staying in a tent you do need to be careful and take anti-theft precautions.
Know What Weather To Expect
Australia is vast and has weather and climates of all kinds. Snow in winter in Tasmania, Victoria, and New South Wales, scorching deserts, and tropical rainforests. All at the same time.
Know where you're going to be camping and visiting and prepare yourselves properly.
Your car might be warm and dry inside but if it breaks down in a snowy blizzard you'll realise you need clothing and equipment for those conditions.
Snowfall can be unpredictable in Australia with the season ranging from June through to September. But early or late snowfalls are common and catch many people out.
Likewise, if you're driving across Australia there are huge stretches of absolutely nothing but intolerable heat, sand, and wind. Having both the gear, and knowledge to survive is critical when help is often hundreds of km away.
Do your research well, know what sort of climatic conditions to expect. Encountering unexpected weather conditions and not having the right camping gear or clothing to cope with it, can be dangerous in Australia, not just uncomfortable.
Choose The Right Gear
If you're doing a lap of Australia this can be tricky depending on the time of year and length of time taken. Far northern Australia will rarely drop below 20 degrees C where southern states routinely get below zero.
You'll likely experience both. Maybe if you start your tour in winter down south you could sell those bulky clothes as you head north. Be ready for tropical summers, try to only camp in the tropics in winter.
Be prepared for weather changes that might not be expected. Snow in the Victorian highlands before or after winter isn't out of the question and having clothes and equipment for those eventualities will make your camping trip so much more enjoyable.
Proper footwear is important if you do get out of your 4wd into the snow. Running shoes won't last 5 minutes in deep snow.
Northern Australia has a wet and dry season more so than the 4 traditional seasons. The dry season (winter) is the most popular for camping for the simple reason it has the nicest weather. Not too hot and little to no rain.
The wet season is the opposite. Loads of rain, normally measured in meters (not mm) fall in hot, humid summer weather.
Camping in the wet season is possible but not that enjoyable if you don't have the right setup. Think big airy tents to keep as cool as possible. You'll need screens to keep out the bugs and allow full air-flow.
Drying any washing is particularly hard without a dryer in the intense humidity of the wet season. Most big campsites should provide these.
Always Let Somebody Know Where You Are
The most important part of any camping trip is to make sure someone knows not just where you're going but how you're going to get there and back. Tell them your route.
Also, give somebody your rough itinerary of timings to be at certain places. If you can periodically check in that makes everything so much easier.
If things go wrong it is much quicker to find someone if the area to search isn't the size of a small European country.
Some apps will let you be tracked but most rely on having a telephone signal which is pretty rare once you're off the beaten path. A personal Eperb is a great item if you can afford it and will be doing high-risk activities.
UHF radios are a great way to communicate with other campers and travelers. Satellite phones, although they're much more expensive than the UHF they do work literally everywhere.
Think About Possible Dangers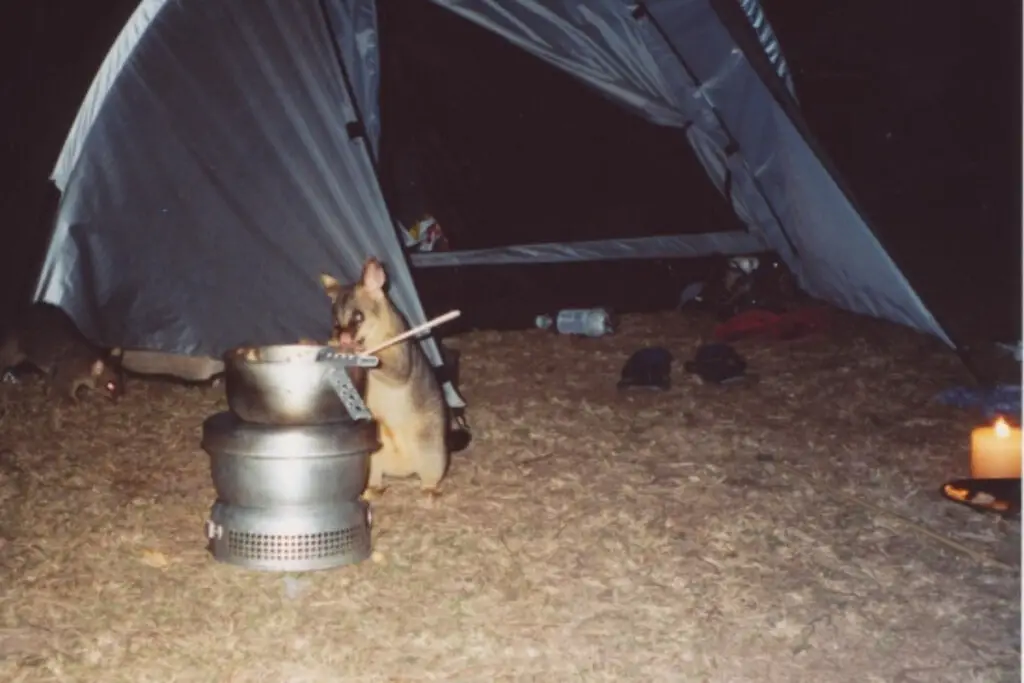 Australia has its fair share of things that will be able to kill you but the reality is if you're careful and smart the chances are actually quite small.
Basic first aid knowledge is important. Having things like a snake bandage and knowing how to use it could certainly save a life.
Be particularly careful near any body of water that might contain crocodiles and think about the possibilities of snakes, scorpions, poisonous spiders, cassowaries, and anything else! In reality, we've never had any issues camping in Australia with wildlife. Other than thieving kookaburras and possums!
Respect the flora and fauna and know what is and isn't dangerous before you go. Ask locals if you don't know and avoid touching anything if you're not sure. There are lots of plants that look nice that will give you a nasty surprise.
Also be mindful of the possibilities of flooding, bush fires, and other natural hazards.
Be Ultra Careful With Fire
Australia suffers from seasonal fires and while this has always been the case you don't want to be starting any fires that get out of control.
Most national parks will have a fire rating at their entrances which will give you the fire danger warning. If it says no fires then please don't light a fire.
With Australia's very flammable trees and undergrowth, fires that are started with all good intentions can quickly get out of hand and cause massive damage to both fauna and flora. Have water or some other way of extinguishing a fire handy.
Towards the end of summer months in the southern states, fire risk is particularly bad and you may find total fire bans in place across the state.
Trying to put a beach fire out with sand is particularly hazardous. That fire will likely still be there, under the sand, when a child walks over it bare-foot.
Have a Check-List
A camping checklist and printable planner will make sure you don't forget things. Remote camping means you won't have a shop nearby and if that one packet of matches gets wet, what will you do?
A checklist lets you see if you've missed anything and gives you peace of mind both before and during your camping trip. Work on your checklist every time you go camping.
If you found you needed a particular unexpected item to your list, add it to the list. If you took something and didn't use it, scratch it off.
Packing for a camping trip, be it your car, trailer, or backpack, is crucially important and can also be tedious. You don't want to waste time, money, and space on packing camping gear and equipment that you don't actually need.
Always Have Emergency Supplies
If you're going off-grid for 4 days make sure you have supplies for 6. Accidents happen and if you measure it exactly you could end up having difficulties that could have been avoided.
Emergency supplies aren't just limited to you and your food, think about how you'd fix a tent if a pole broke or the fly ripped in a storm.
Have The Right Emergency First-Aid Gear
Make sure the equipment fits the environment. Some items will be standard items across the country such as snake bandages, plasters, rehydration tablets, pain killers, and iodine. Others may be more specific.
Know who is in your group and make sure everyone is covered. Diabetics and anaphylactic people will need insulin and an Epi-pen. Make sure you have enough of either.
If you're a long way from help then 2 EpiPens would be wise. Likewise have more than enough insulin for days away.
Tips to Save Money on Camping in Australia
Australia is expensive. There isn't an easy way to avoid that but you can reduce those costs significantly in places. The most expensive things will be accommodation (even camping sites normally charge high prices), fuel, and food.
Traveling out of season or on the shoulder of peak seasons can save a lot of money on campsites with a bonus being they'll not be packed to the rafters. You'll need to balance whether it is possible or worth it. Camping in the wet season is cheaper but it is for a reason!
Fuel is expensive and while the more remote you go the more expensive it gets you can find bargains around. Plenty of apps will check all the prices in a set area and find you the cheapest.
There can often be a 5-10% difference in fuel prices even in the same town. Never pull in at the first service station unless you're running on fumes.
Food wise you can save by cooking everything yourself. If remote camping then this is obviously going to be what you do anyway. Try shopping in the supermarkets on a Sunday night to grab those specials. Often they'll be trying to get rid of stuff that is good but with new stock arriving needs shifting.
There is cheap, free, and low-cost camping available all over Australia if you know where to look. Try the following sites to find cheap or free places to camp, with a tent, caravan, or mobile home.
General Safety Tips To Allways Follow When Camping in Australia
General no-nonsense tips for camping in Australia.
Stay out of the sun, wear a hat and suitable clothes, plus sunscreen as needed.
Take mosquito repellent.
Always have water and a snack handy.
Avoid snakes, crocodiles, cassowarries, wild pigs, and angry kangaroos.
Kookaburras will steal the food off your plate sometimes.
Know what toxic plants, like gympie-gympie look like.
Small marsuppials will come into non-sealed parts of your tent looking for food. Likewise, your car.
Stamp as you walk to scare off snakes.
Look out for ticks and leeches.
Be aware of possible dangers such as flash-flooding, cyclones, and bush fires.
Don't hitch-hike.
Don't leave your drash behind.
Clear up any plastics you may find.
Never leave broken glass.
Put out camp fires thoroughly.
Be courteaous and quiet around other campers.
Best of luck with your new interest in camping. Camping, be it in a swag, small tent, family camping set-up, caravan, or motorhome can be great fun for the whole family. It really gets you out there in nature or can put you close to Australia's big cities and attractions. These tips for camping in Australia, for new campers and overseas travelers, should help you enjoy this huge country of ours. Enjoy your camping, and stay safe!
If you'd like to hire a car during your stay, use this car rental comparison tool to find the best deal!

Please check out our Pinterest account for loads of food and recipes from around the world!