This post may contain affiliate links.
With the sensational scenery surrounding  South Queensland, it's no surprise that people here love the great outdoors. From the many islands off the coast near Brisbane to the Glasshouse Mountains and rainforests, South East Queensland has it all. In this post we look at the best South Queensland island escapes for you to enjoy.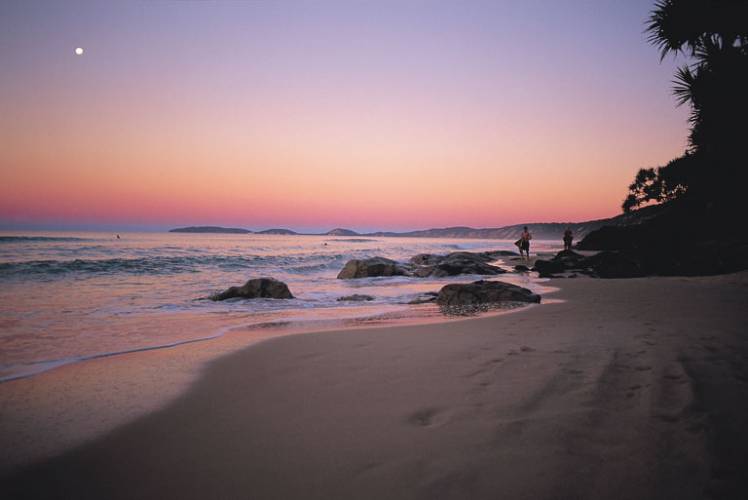 You don't even need to head far from Brisbane's CBD to explore the rich surroundings. But if you're a little more adventurous, how about driving off that car ferry and onto the beach to explore the likes of North or South Stradbroke Island and Moreton Island to find total freedom for you and your vehicle?
A little further north is the world-famous Fraser Island, now K'gari, the largest sand island in the world, another amazing destination.
South Queensland Island Escapes
Moreton Island
This is my personal favourite island on the Australian coast. The third largest sand island in the world is immensely popular with the Brisbane locals at only 58km northeast of the city.
This South Queensland island boasts some of the best diving around with several wrecks making diving fantastic for sea life viewing.
Moreton Island is particularly suited for camping and exploring by 4WD. In fact, like most of the islands around QLD, there are no sealed roads, the car ferry drops you off at the beach to drive across sandy tracks to your campsite.
The massive freshwater lake in the middle of the island, surrounded by towering sand dunes, is also a great experience if swimming in the ocean isn't for you. Sand tobogganing into the lake is a special experience not to be missed.
Fraser Island, Now K'gari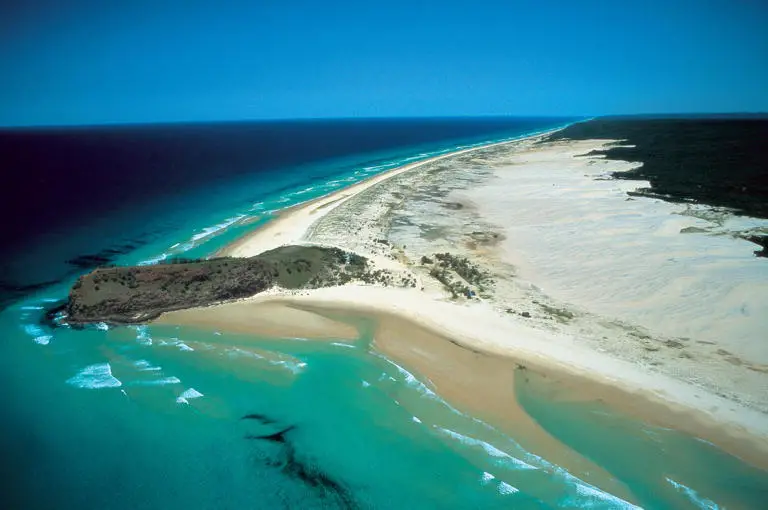 The largest sand island in the world is a short 200km drive north of Queensland,off the coast at Hervey Bay.
At 120KM long and 45KM wide, it isn't a small island but again doesn't have sealed roads and even the airport runway is actually the main beach at low tide.
Thousands flock to the island both local and from abroad. A unique aspect of the island is that it has the second highest concentration of freshwater lakes after Tasmania, over 100 in fact.
Another of the main attractions on the island is the large dingo population. They are wild animals, it is advisable to keep your distance as attacks have been known to happen.
If you don't have your own transport, you can experience Fraser Island by taking a day tour from Brisbane with numerous tour companies such as Sunset Safaris.
Stradbroke Islands
Split into two islands, North and South, these two don't get the same number of visitors as their two northern cousins. Stradbroke was 1 island back in 1894 when the combination of strong storms, a shipwreck and the detonation of explosives destroyed the sand dunes creating the channel.
North Stradie, as it is known, has sealed roads and is quite developed with services and shops on the island. South Island has less facilities.
Some may argue that the lack of development makes it much more fun to camp and explore compared to the northern island.
Bribie Island
This smaller island differs from the others in two ways. It is connected to the mainland via a bridge and is heavily urbanised on the southern corner forming a satellite suburb of Brisbane.
Getting past those things, the island has lots to offer with particularly good bird watching to be had across the national park that makes up nearly 1/3rd of the island.
The southern part of Bribie Island is much more protected that the others making the seas perfect for younger visitors.
Getting To The South Queensland Islands
All of these south Queensland island escapes are easily accessible to anybody who has a 4WD and basic camping knowledge.
We have spent many nights traveling across QLD and camping in our stock standard Hilux, and every time it was a great experience. Make sure that you are prepared for all eventualities as the Australian outback and bush can really turn harsh extremely quickly.
If you're visiting from overseas or interstate and don't have your 4WD with you, there are numerous companies that do everything from renting out equipment to doing full-service tours in style.
Look at what you want to do and how much you have to spend and there is sure to be a company with your name on it. Also, be aware of stinger season in Queensland before you book your travel. Now hop on over to our post on Australian food and find out what we all eat here Downunder!
Photo credit: Sunset Safaris
If you'd like to hire a car during your stay, use this car rental comparison tool to find the best deal!

Please check out our Pinterest account for loads of food and recipes from around the world!