This post may contain affiliate links.
Have you ever wanted to know what goes on behind the scenes in 5-star kitchens? I've worked in many, on two continents, for 20 years+. I was executive ( head) chef of one, before I quit to travel more, work less. Here are a few things that may surprise you about a chef's working life, the secret life of chefs. I can't spill the beans too much, I still may need a job, but I can tell you a little about the way chefs really work and it's nothing like the TV shows.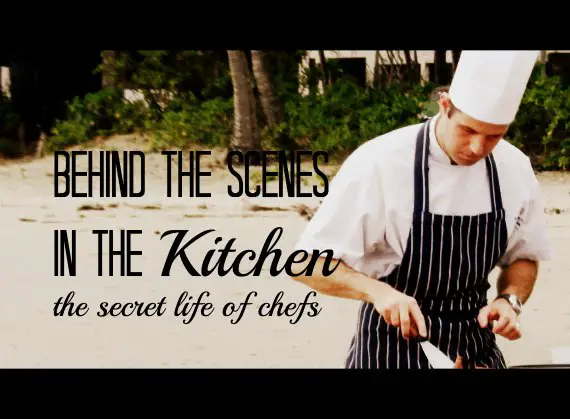 Chefs Don't Yell and Scream 24/7
This may surprise you, but the kitchen isn't a vocal battlefield. Good professional kitchens are ordered chaos. Everyone knows what they are doing and when it has to be done.
In fact, most top chefs use the silent treatment over yelling as it's much more effective.
Last Minute Customers Get Fast Food
Countless customers turn up at closing time expecting a 3 course meal. Bad news on this front.
While most restaurants will take these people and their orders, out-back in the kitchen the chefs aren't impressed after what could well have been a 14-hour shift.
When that late order comes in everything is thrown into the oven as quickly as possible and, in some cases, plated ready to go as the starters are leaving the kitchen. If you want the chefs on top form, turn up with time to spare.
Never Order Well Done Steak
A pet hate of all chefs is a steak requested well done. Not only is it cooked past any resemblance of edible but you won't ever get the great cuts.
Even a fillet has the end bits which just aren't as good, they go to the well-done steak murderer. To add insult to injury, don't expect your 10 oz rib eye well done to be coming out any time soon.
Destroying great wagyu takes time and causes the chef an immense amount of pain.
Pre-cooked Food
The majority of preparation is complete before the restaurant has even opened its doors to the first customers. Come service time dishes like gratin and mash potato are kept hot ready to serve.
Even meats will be sealed off ready to be finished in the oven. None of this affects the food quality and improves service, but when you place your order it's unlikely that we haven't started cooking it yet.
Good Chefs Always Have a Spoon in Their Back Pocket
Any chef worth their weight will have a spoon in their back pocket. This is for tasting everything that's made.
We have to make sure the seasoning is correct and the flavour is spot on. Because of this, chefs can eat nearly any meal with said spoon and I've never seen a chef use a knife and fork in the kitchens or canteens.
Fish Isn't Fresh on Monday
As a rule of thumb fishermen don't fish across the weekend and Monday markets aren't packed with fresh fish.
Tuesdays and Fridays are the best days to get fresh seafood. As such avoid having any fish specials on Monday. It's special for a reason and often the restaurant is trying to get rid of it.
And yes, prawns are pretty much always bought frozen as they are frozen at sea for transportation.
All Big Banqueting Meals are Regen.
Basically the food is cooked previously to 90%, plated up and put onto special oven trolleys depending on the size of the operation. It is then flashed right before service with sauce and garnish added last minute.
Smaller places will also add the meat or fish if banqueting numbers are low. Starters and dessert are normally plated up in the afternoon and left on jack-stacks in the walk-in fridges.
This doesn't affect food quality but allows 1000+ people to be served a 3 course meal inside of 90 minutes including coffee and petit fours.
Chefs Have Terrible Diets
As most top chefs know, cooking the greatest food often leaves you short of both time and energy. The amount of top chefs that have terrible diets is remarkably high. Not just the bad food we eat but the times we eat it.
After all, what's open at midnight on a Wednesday after we finish work? Nothing healthy that's for sure.
The old saying, don't trust a skinny chef, certainly isn't true. Nearly all chefs are skinny as our hours are long and our job is ultra physical.
Another secret? I never cook at home. I help out occasionally and I may have cooked for my wife on her birthday once, but if we want fancy food we eat out. I don't want to cook at home as well as in work.
For the record, never be afraid to cook for a chef, we are very grateful to be served something prepared by somebody else, no matter how simple.
I'm winding down now, ready for my ironman event, it's in just under 2 weeks so I'm tapering not just my training, but my working hours. I'll need more rest, less work immediately before the race and then that's me done, no more work for a while. Back on the road with my family.
Stick around to see where we go next.
If you'd like to hire a car during your stay, use this car rental comparison tool to find the best deal!

Please check out our Pinterest account for loads of food and recipes from around the world!