This post may contain affiliate links.
Hi, I'm James, a professional chef and world foodist with a career spanning 20 years and 2 hemispheres. When I'm out of the kitchens, I run this recipe, world food and travel blog as I've travelled the world broadening my culinary expertise and learning new and traditional ways with food. As a travelling chef, I learned a lot, and tasted some of the best, and worst, food in the world, while working in two continents.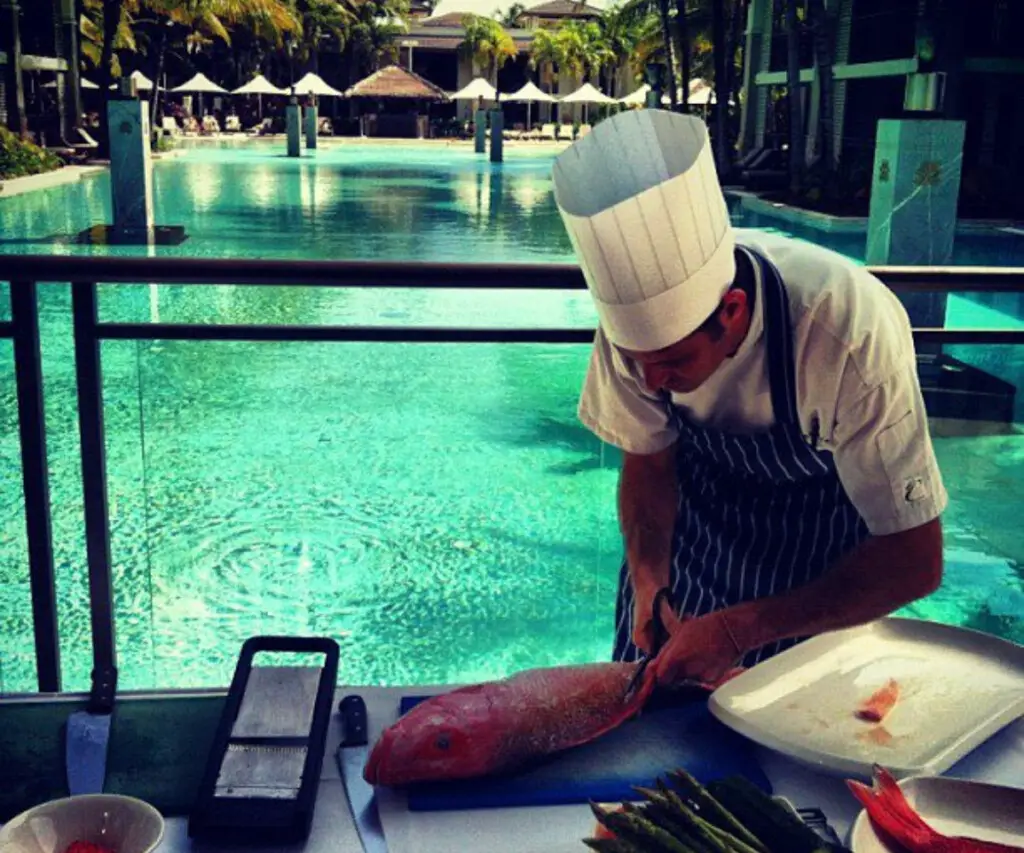 Prior to becoming location-independent or nomadic, I worked in 5-star hotels in London, some of the city's top restaurants, and was an executive chef at a luxury resort in Port Douglas Queensland.
Today I sometimes work as a private chef on luxury yachts, villas, and private parties near me. A few days a week I keep my skills sharp in a small restaurant in Port Douglas Australia. You'll usually find me around the marina if I'm not at sea.
I also have experience as a deckhand on the Great Barrier Reef, and as a surf lifesaver.
If you reach out, I may be able to cook for your party, cruise, BBQ, or special event. My contact email is below.
My Years Of Travel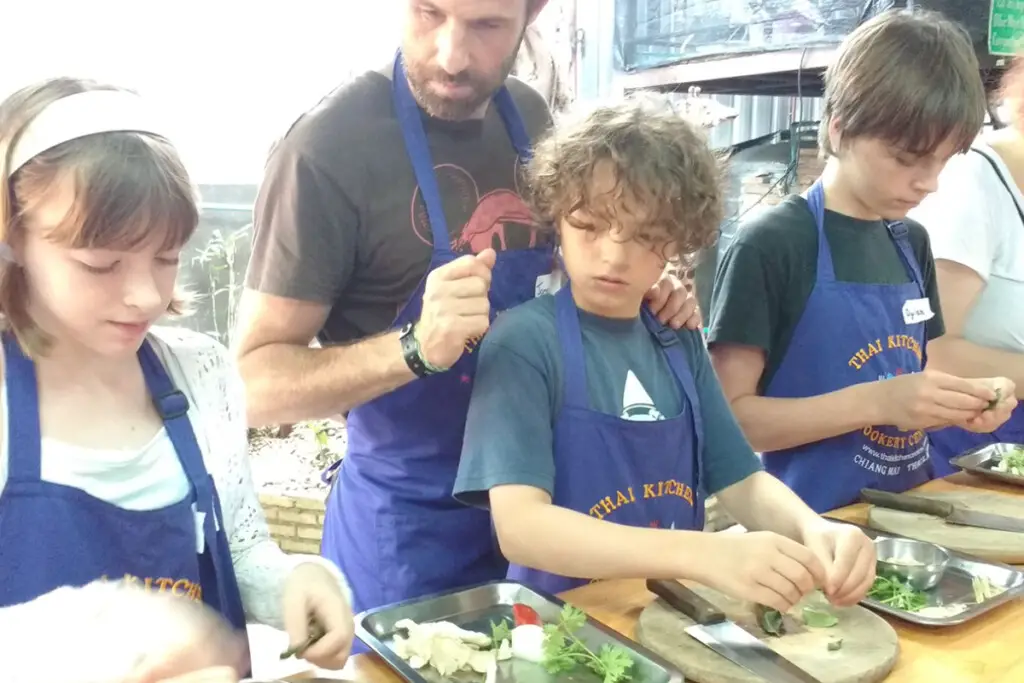 I've visited well over 50 countries with my wife and kids alongside me. We travelled for 6+ years with our children, prior to that we took a 12 month RTW as a young couple. I am the dad at World Travel Family travel blog.
My wife runs our family travel blog and covers many aspects of travel, most related to children. I have some skills in website and content creation too.
We will continue to travel until there's nowhere left to go, just as soon as the world opens again.
What Do We Cover on World Travel Chef Blog?
This site will help you know what to eat and where, we also like to explain what dishes are, because people aren't born knowing what idli or mo mo are.
We can help you with foodie travel practicalities too plus tips on becoming a travelling chef.
Alternatively, indulge in armchair food travel or get busy in your kitchen, recreating the dishes we discover and share with you as we travel the world using our recommended Chef's gadgets.
I'm passionate about food and fitness as well as being my family's travel organiser.
I take care of the nuts and bolts of how to get from a to b, currencies, visas, and all the usual dad stuff. I'm dad and husband first, foodie and sportsman second.
World Travel Chef, the website, covers:
So the World Travel Chef is a bit of a weird mix of topics, but rendering it down, the base of this dish is world food and travel.
My Story as a Travelling Chef
Travel has been a huge part of my life, I took my first RTW (round the world trip) back in 2000 and in 2013 I became a full-time traveller.
My family and I were on the road, more or less continuously, from 2013 to lockdown in 2020.
My wife is a travel blogger, my children are homeschooled. It's a great lifestyle and learning environment for the kids.
My wife runs the family travel site, this is my angle on travel and world food, recipes and travel tips. Hi from World Travel Chef, welcome!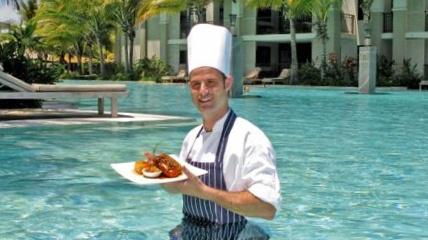 Welcome to World Travel Chef!
A travelling chef gets to work and learn in diverse locations, but mostly my lifestyle is about having fun, learning as much as I can about food and cooking, seeing the world and spending more time with my family.
That and a huge helping of sport. I'm an Ironman triathlete and a marathon runner.
I've competed in the Cairns Ironman, Ironman Malaysia, Thailand half Ironman, Wales Ironman (twice), and the Brasov international marathon.
These days I'm ultrarunning as transporting a triathlon bike around the world is hard. Which ironman to choose really depends on your location, but colder climate ironman events are easier for me. Wales ironman is my favourite.
I'm learning new cooking techniques and trying new dishes along the way and, of course, I'll share the world's food with you.
As Dad of our travelling crew, I take care of routes, visas, practicalities and making sure my family is safe. On this site, I give you a Dad's perspective on travel. Sure, plenty of women handle this stuff too, but in my family, I'm the organiser because I enjoy it and my wife doesn't.
Where have we been so far? We've visited over 50 countries in Southeast Asia, Europe, Australia, and the Americas. I can talk to you about Thai Food, Romanian food, Vietnamese food, Nepali food (dal baht is my favourite but I'm a huge momo fan too), Indian food, Egyptian Food, Sri Lankan food, just about any cuisine you name, or even, the classic French-inspired dishes that I cook professionally. Australian food is my home turf, of course, we cover that too.
A Travelling Chef Career
Food has been my passion for as long as I can remember. Like a lot of chefs, it started with helping to cook the family meals at home.
After numerous work experience stints in kitchens, while I was still in school, I landed my first job washing dishes at a  hotel.  The big city apprenticeship followed, then the one way ticket to London.
In London my eyes were really opened to the culinary world.
The 16 hour days and 6 day weeks meant that there was ample time to hone my skills and learn some new ones.  My apprenticeship taught be enough to be dangerous, but not to be a polished chef.
London was also where I started my travels around the globe. What could be better than travel and food experiences all rolled into one?
Travel became part of my professional career as a chef.  The guinea pigs of Peru, the mouth-numbing chicken skewers of China and the Thai, Indian, Vietnamese, and Cambodian cookery courses I've attended.
The world is a constant source of culinary delights to amaze and tantalise your taste buds.
Our most recent long-term location, Far North Queensland, offered an abundance of fresh and delicious food experiences.  
As an Executive Chef at a resort hotel, I was able to really take advantage of this and expose our customers to local delights, from fresh prawns from the trawler to the volcanic, grass-fed beef from the tablelands.  
The local cheesemaker and herb growers had a starring role on our menu, too.
This brings us to the blog, World Travel Chef.  Why, after another busy day, will I sit down and write about all things food, fitness, and travel?
The food landscape is changing. Social media and television programs are altering the ways in which we interact and access information on culinary topics.
I can now share my passion, experience, and recipes with everyone at the touch of a button.
Who wouldn't take advantage of that?
Also, of course blogging is lucrative, it earns us an income and gives us an amazing lifestyle.
How To Partner with World Travel Chef
There are a number of flexible ways you can partner with the World Travel Chef website:
Press Trips
Competitions & Product Reviews
Sponsored Posts
Travel Related Reviews and Promotions
Fitness and Sport Related Reviews and Promotions
Food Related Reviews and Promotions
Hotel and Other Accommodation Partnerships
I'll cook for you!
 Easiest Contact:  email theworldtravelchef@gmail.com
Other than being a triathlete, ultra-runner, and full-distance Ironman. I'm also fanatical about trekking, skiing, and scuba diving, I like to share my hobbies and my passions with the world to help others get involved in sport or stay fit as they travel.
If you'd like to work with the World Travel Chef website, please contact us using the email address above.
If you'd like to hire a car during your stay, use this car rental comparison tool to find the best deal!

Please check out our Pinterest account for loads of food and recipes from around the world!