This post may contain affiliate links.
As a professional Chef, and a husband and dad, I cook at home for my family fairly often. My Chef's tools usually stay in my commercial kitchen, but our home kitchen is also well-equipped. Here are a few favorites, useful, maybe more unusual Chef's gadgets to use at home. These make great gifts for the home chef or cook!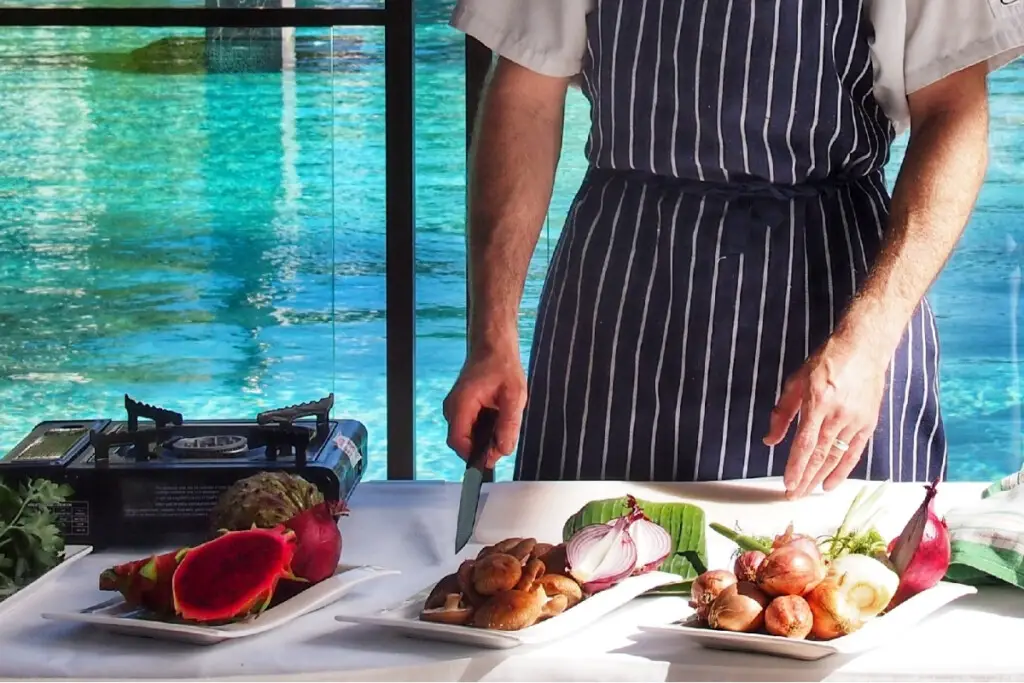 Best Gadgets For The Home Chef or Kitchen
This post will highlight the best gadgets I've tried for my home kitchen. These kitchen products are useful, practical, labour-saving, and fun to use. In most cases, we've tried multiple brands before deciding on a favorite device.
These chef gadgets are great for new cooks, home chefs or kids learning to cook (with close supervision).
A Good Pastry Bowl
Young chefs and new cooks, will likely want to start out making cakes and bread.
A beautiful, practical, large mixing bowl or pastry bowl is the first tool I'd buy for any wannabee pastry chef. We love the Mason Cash brand of earthenware or stone wear bowls, jugs, and mugs. It has solid, traditional good-looks and hopefully will become a family heirloom.
We don't use bowls like this in commercial kitchens, but these are wonderful for home use. For smaller children I recommend a good set of stainless steel mixing bowls. My kids aren't allowed to touch the good stuff yet!
A Labour-Saving Mini Pull Chopper
These hand-pull small choppers are perfect for making guacamole, hummus, or salsa, they're also good for quickly rough-chopping eggs, onions, garlic, really, these devices have many uses in a domestic kitchen.
You can even make a quick coleslaw or any chopped salad or sandwich filler in these and I've used it to turn hard parmesan cheese into almost powder. It certainly copes well with just about everything I've tried, even nuts.
We've tried 3 brands now and this one, we think, has been most durable. We dropped two and broke the bowls, over several years. We always replace them because they're so useful.
These are a great kitchen or cook's gift for under $20 or so, a perfect stocking-stuffer.
A small hand chopper like this is easier to get out and use than a blender for most of the recipes and food-prep ideas above and is easy to clean. The blades are sharp, take care! I wouldn't give these to young kids to use.
These things are likely too small for a very large family, and not powerful enough to make pastes for Thai foods, but we find we can easily make enough guacamole or hummus for a family of 4 in ours.
Muslin Cloth
Muslin is what you need for straining yogurt for, for example, tzatziki, but you can also find many other uses for it, including straining home made coconut milk.
It is basically "cheese cloth" and cooks and chefs have been using it for centuries.
We also use it to strain and remove juice from cucumbers or tomatoes, even salted aubergine prior to cooking.
We cut it into pieces to use as a more eco-friendly, washable (boilable) dishcloth for washing up. It's also useful for covering a jar that needs to "breath" but that doesn't need flies and dust in it.
It's slightly abrasive because of the strong, loose-weave fibres, so makes a better cleaning cloth for dishes or surfaces than most synthetic products.
We buy a roll, or good length of muslin, unbleached, like this. It's extremely affordable and cuts kitchen plastic use.
A Good Quality Salad Spinner
Salad spinners are a must particularly if, like us, you grow a lot of your own salad leaves. They can be used to wash and dry your vegetables fast, but this one is also useful for storage in the fridge.
We really enjoy using the OXO Good Grips range of products, but this tough, large, salad spinner is a particular favourite. The basket also makes a handy light colander or harvesting basket, the stainless steel bowl is handy too.
This salad spinner also looks super-stylish on your shelf. Why use cheap plastic when steel is better?
Peelers
My wife is not a chef, I am. She liked to peel with a small knife, I always use a peeler. I've won her round, finally. These peelers are kitchen essentials, I'm never without at least one Y peeler.
A lot of peelers are flimsy and rust or break easily. We once tried a peeler with a plastic blade, never again! It snapped within weeks and was such a waste of plastic.
Again, I'm going to recommend OXO Good Grips. This set of three peelers is proving highly durable at home.
These peelers are also great for finely slicing cheese!
A Mandoline
What to get for the home chef who has everything? A mandoline is a useful kitchen gadget for sure. I use one at work, and actually, take it home sometimes to bulk prepare vegetables for fermentation.
These are a real pro-chef secret weapon to speed up bulk chopping.
You can use a mandolin to finely slice pretty much any vegetable for, ferments, coleslaw, salads and garnishes. In Thai food, and Vietnamese, these are pretty much essential for the preparation of green papaya salads and spring rolls.
Mandolins are sharp, and you get what you pay for. This mandoline is well-priced for domestic use, without going for a super-expensive professional version. The Japanese blades are what to look out for in buying a mandoline. Go for a good quality one to last you well.
I would not, ever, let kids use a mandoline. They are extremely sharp.
That's it for today, I'm going to add to this list of chef gadgets regularly to help out with equipping your home kitchen, buying gifts for keen home cooks, or give you ideas for Christmas or holiday gifts for kids learning to cook, aspiring home chefs, and young people in their first homes. If you have any favorite kitchen essential chef gadgets, tell me in the comments!
If you'd like to hire a car during your stay, use this car rental comparison tool to find the best deal!

Please check out our Pinterest account for loads of food and recipes from around the world!