One thing you notice quickly on arrival is that the Laos food experience won't be like any other. First off, the French influence is clearly more prevalent than anywhere else in Indochina, Baguettes abound and suddenly you can get steak, chips and cheese. The European influence is a bonus as the Laos and other Asian foods are still there.
Laos Food
Laos Food in Vang Vieng
We skipped the capital and headed up north to a little river-side town of Vang Vieng, popular with backpackers for its tubing, kayaking and party atmosphere.
Most restaurants overhang the river and most either show the TV shows Friends or South Park. Not 1 or 2 episodes but non-stop all day, every day.
Finding a part of the restaurant that doesn't have TVs is easy and soon you open the menu.
Now it would seem that the menus have all been written by the same person as most are identical.
Don't worry though the menus are huge, from pizza, baguettes, burgers to of course all the Asian dishes including the Laos national dish Larp.
From a chef's perspective, I am always worried when a menu is huge and diverse, the establishment will be over-stretching themselves.
Rule of thumb from me is eat local food as that is what they do best.
Italian in Asia tends to end in tears. That isn't so much the case here.
While not winning chefs hats for the pizza and pasta the food was good and my kids loved it. I have certainly seen worse in the west!
Laos Food Costs
Price wise Laos food really is a bargain.
Even with the Aussie dollar heading south fast.
The most expensive dishes tend to be 40000 kip which is about $5.55 AUD.
Most meals though are around 25000-30000 kip or $3.40 AUD which is great value in any language.
Laos Street Food
There is an abundance of street food available in Laos, much of it aimed solely at tourists.
Delicious street foods to try include filled baguettes, roti, Laos doughnuts and meat on a stick.
We have a full post on Laos street food here.
Favourite Dishes in Laos
I always order the chicken Larp or Thai green curry. Both delicious and full of flavour.
The curry is packed with mini aubergines and fresh-picked kafir lime leaves. A thick rich sauce which goes so well with the bamboo basket steamed sticky rice.
Larp is the other favourite with its fresh shredded mint, shaved shallots, smashed lemongrass and of course chili minced chicken.
It always comes with sticky rice in the little steamer. I have mine quite hot although you can adjust as your needs suit.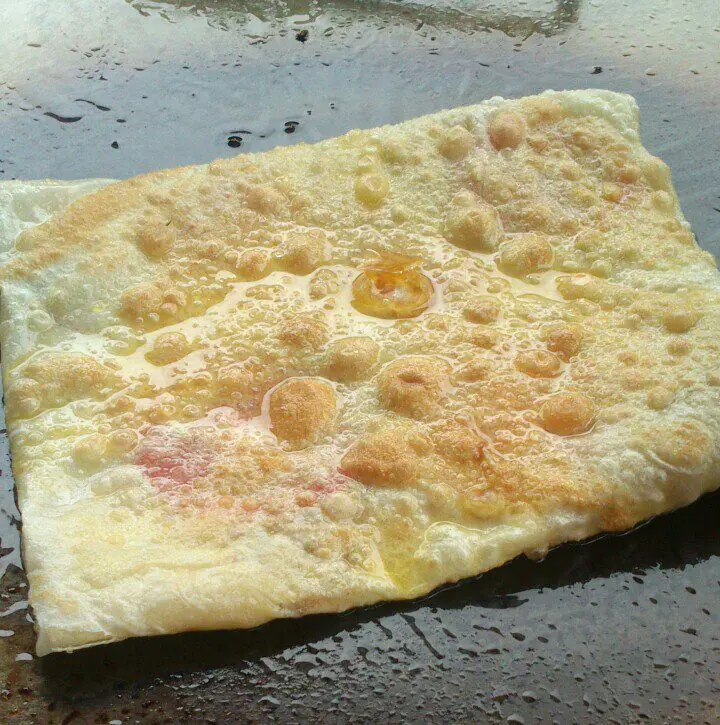 Another great thing in Laos is the abundant street food. Great roti, baguettes, noodle soups, shakes, coffees and even burgers, cheap and tasty right on your doorstep. Just avoid that almost-cold buffet, I was sick as a dog!
If you'd like to hire a car during your stay, use this car rental comparison tool to find the best deal!
Please check out our Pinterest account for loads of food and recipes from around the world!