This post is about tzatziki, a Greek favourite that's now popular all over the world. You can easily buy tzatziki in stores and supermarkets but home made is nicer. We talk about tzatziki, what is tzatziki and variations on tzatziki and I give you my recipe and tips on how to make real tzatziki. Tzatziki contains cucumber and Greek yogurt, but what else? Garlic, of course, this dish has a lot of garlic. Some authentic greek tzatziki recipes contain no herbs, some contain dill, others mint. Likewise tzatziki can be made with vinegar or lemon juice. We give you the easy tzatziki recipe we use at home, plus a few chef's tricks to stop your tzatziki being too runny.
Is tzatziki a sauce, a salad or a dip? It is variously referred to as each. I've even seen it called a spread. We'll just call it tzatziki in this post.
Tzatziki
What is Tzatziki?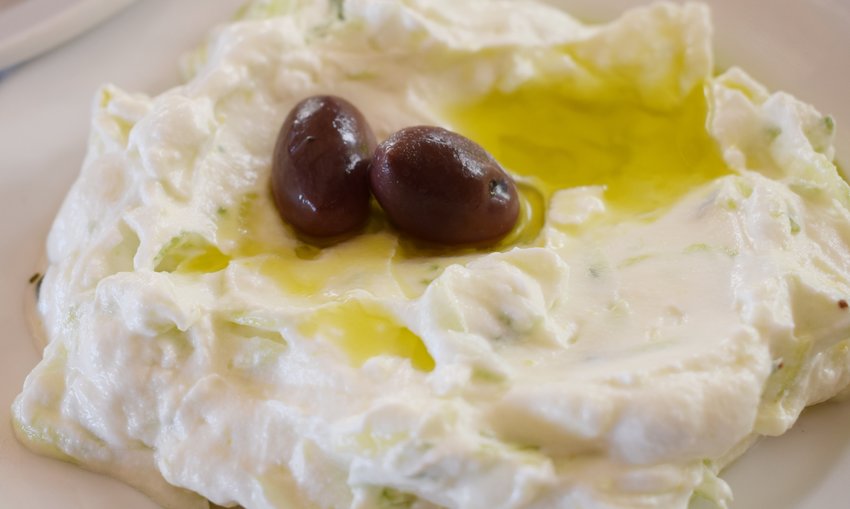 Tzatziki can trace its roots back to the Ottoman Empire although there are many variations depending on where you find the dish.
It is common in various forms across Southeastern Europe and the Middle East.
You'll find tzatziki as part of a meze dish, a side dish for meats and even as a cold soup in Bulgaria.
Name variations are also common as languages differ across the region.
Txatziki is a dish made from strained yogurt (or lebneh), cucumber, garlic, salt, and olive oil.
Variations will include, mint, parsley, or dill. Lemon juice or vinegar are commonly used in tzatziki for acidity.
Tzatziki is common in Greece and several other countries, you'll find it in our post on what to eat in Greece.
How to Use Tzatziki?
Depending on which variation you make there are many uses and applications for tzatziki. From the cold soup variety of the Balkans and parts of Turkey to the more solid dips of Greece and Cyprus via a meze or even as a salad to accompany meat dishes.
Tzatziki Preparation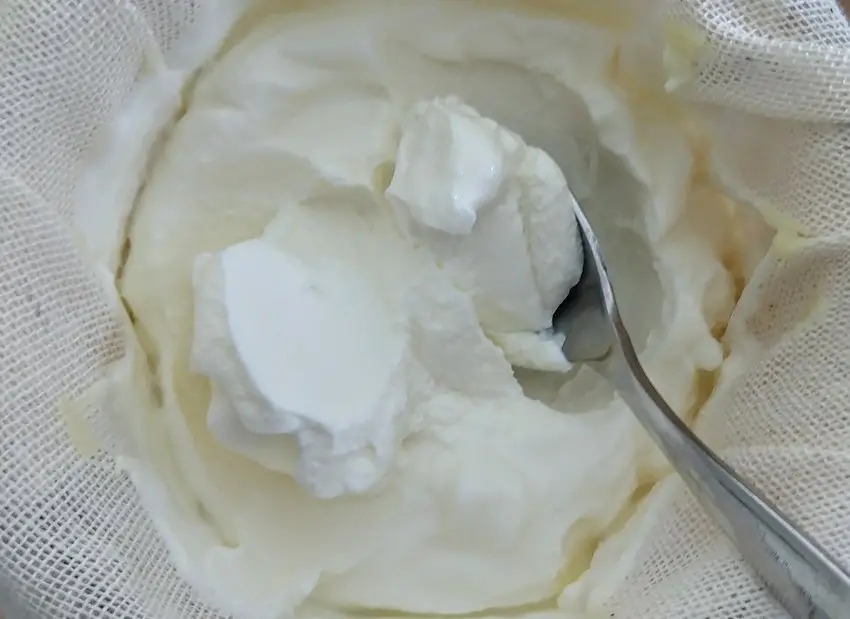 This has to be one of the easiest dishes to prepare.
Tzatziki has just a few ingredients that are available almost anywhere, there is no cooking and you can make it with no waiting time.
(Authentic Greek tzatziki can be left overnight as part of preparation but it's not essential.)
If you want to strain your yoghurt buy a length of unbleached natural cotton muslin.
Every chef uses this in their kitchens. It can be washed and reused and there are a million culinary and domestic uses. You'll want to buy something like this.
You can also gently squeeze your grated cucumber dry using muslin.
Tzatziki is a perfect dish to throw together for a quick and easy meal or as part of a larger meal plan, party or barbecue. The time you put into it and the quality of the ingredients will determine your results.
Straining the yogurt and fully drying the cucumber adds time, steps and authenticity.
Tzatziki Making Tips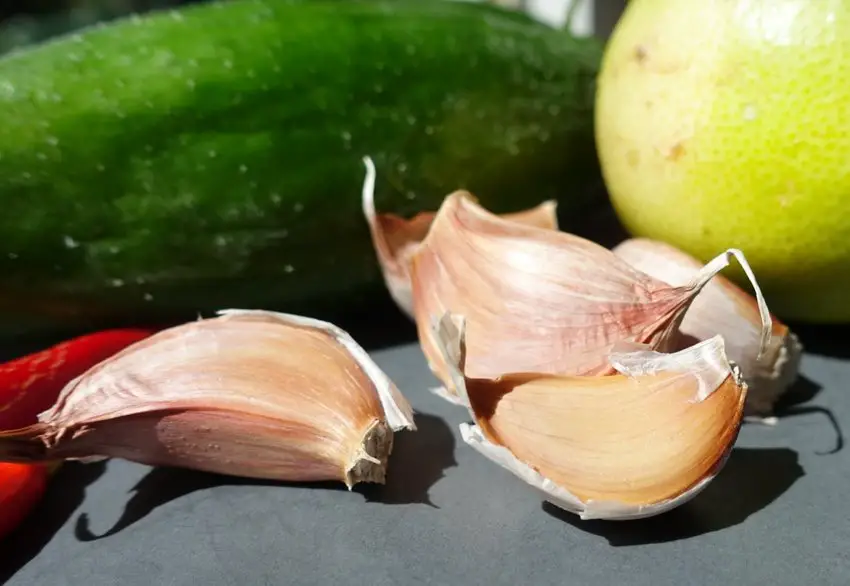 A few tips will go a long way to making sure you have the best tzatziki you can have.
Take the pips or central core out of your cucumber if the center isn't firm.
Peel the cucumbers. This isn't always essential but this gives a much smoother finish.
Grate the cucumbers with a cheese grater
Your tzatziki dip or salad should be thick and creamy. To achieve this it is important to get as much liquid out of the cucumbers as you can. Either squeeze the moisture out or leave them to drain overnight in the fridge.
Use the best quality Greek yoghurt you can find. If it has liquid on the top at least pour it off. To make your yogurt thicker, strain it. You can strain the yogurt using muslin, a coffee filter or a super fine strainer if you really want to get rid of all the whey ( the liquid)
Do not salt the tzatziki until you're ready to use it. Salt will affect the liquid balance.
If you were making the soup version then you wouldn't need to worry about draining off excess liquid. The consistency required is far more watery.
Crush the garlic to get more of a paste than just chopping. Chopped garlic will be too lumpy and I'm convinced chopped and crushed garlic tastes different. You can even blend the garlic with a little of the yogurt in a blender so long as you keep everything cold. Blenders can heat things up.
You can use dried dill or dried mint. We prefer to use fresh mint because we have it fresh in our garden all year round.
Fresh is best so make sure all your ingredients are as fresh as possible.
Can You Use Lime Juice Instead of Lemon in Tzatziki?
Because we grow limes, and not lemons, yes, we often make tzatziki with lime juice.
We think the lime tzatziki is delicious but lemon is better.
As mentioned above, authentic tzatziki can be made with vinegar.
Vegan Tzatziki
Yes, we have made vegan tzatziki using coconut yoghurt. It's delicious but obviously not authentic.
I haven't tried to strain coconut yoghurt yet, but I will and I'll update this post with results.
Tzatziki With Moringa
Moringa is a superfood and we have a moringa tree in our garden.
We just add a few moringa leaves sometimes for the health benefits.
Who knows, maybe the ancient Greeks had moringa too?
Should Tzatziki Contain Mint, Dill, or Without Herbs?
We like to make our tzatziki with fresh mint because we like mint and because it grows in huge quantities in our garden.
Dill is probably more common but either make good tzatziki-style sauces or dips.
We also make a tzatziki style cucumber Greek yogurt sauce with chives or garlic chives. I'm sure tzatziki purists would be horrified.
Some traditional recipes contain no herbs at all. Tzatziki with mint is more similar to Cypriot versions (talatouri) whereas in Greece you'll find mainly dill or no herbs with your tzatziki.
For me, it is a personal choice and if it tastes good, it works.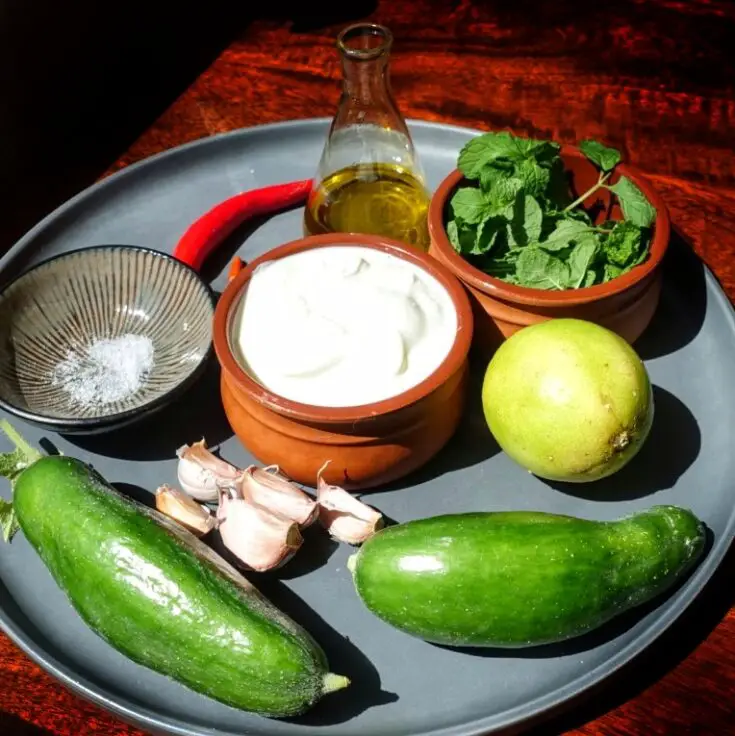 Tzatziki - Greek yogurt cucumber sauce, salad or dip. The easy, quick way to make tzatziki and the traditional authentic way. Variations on tzatziki using mint, dill, no herbs, lemon, vinegar and so on. The tzatziki recipe we use at home.
Additional Time
15 minutes
Ingredients
1 cup Greek yogurt, strained if you want a thick sauce
1/2 a lemon, juiced
1/2 cup lightly compressed fresh mint leaves (optional)
1 1/2 tablespoons good extra virgin olive oil
1 large Lebanese cucumber or 3/4 -1 European cucumber depending on size and seed content ( should make 1/2 cup squeezed, grated cucumber)
Sea salt to taste
3 cloves garlic, or more, to taste
Instructions
1. Drain any excess liquid off the Greek yoghurt or, strain for a thicker result

2.Peel and grate the cucumber. Set aside in a strainer to drain for as long as you have, or overnight if you prefer.

3. Crush garlic with the flat side of a knife. Then peel and crush. to a fine paste.

4. Juice lemon

5. Chop mint or dill if using dill

6. Gently combine all ingredients together in a mixing bowl. Only use half the olive oil. Keep the rest for drizzling over the finished dish afterward. Season to taste. You may prefer more or less salt.

7. Place into your chosen serving dish before drizzling the remaining olive oil across the top.
Notes
Make sure you drain the cucumber properly. I don't add salt as it isn't really necessary. I do however give the cucumber a firm squeeze after I strain them to get any last bits of water out. Keep everything cold.
Nutrition Information:
Yield:
4
Serving Size:
1
Amount Per Serving:
Calories:

104
Total Fat:

5g
Saturated Fat:

1g
Trans Fat:

0g
Unsaturated Fat:

4g
Cholesterol:

3mg
Sodium:

607mg
Carbohydrates:

8g
Fiber:

1g
Sugar:

4g
Protein:

7g
The information shown is an estimate provided by an online nutrition calculator. It should be considered as a guide only.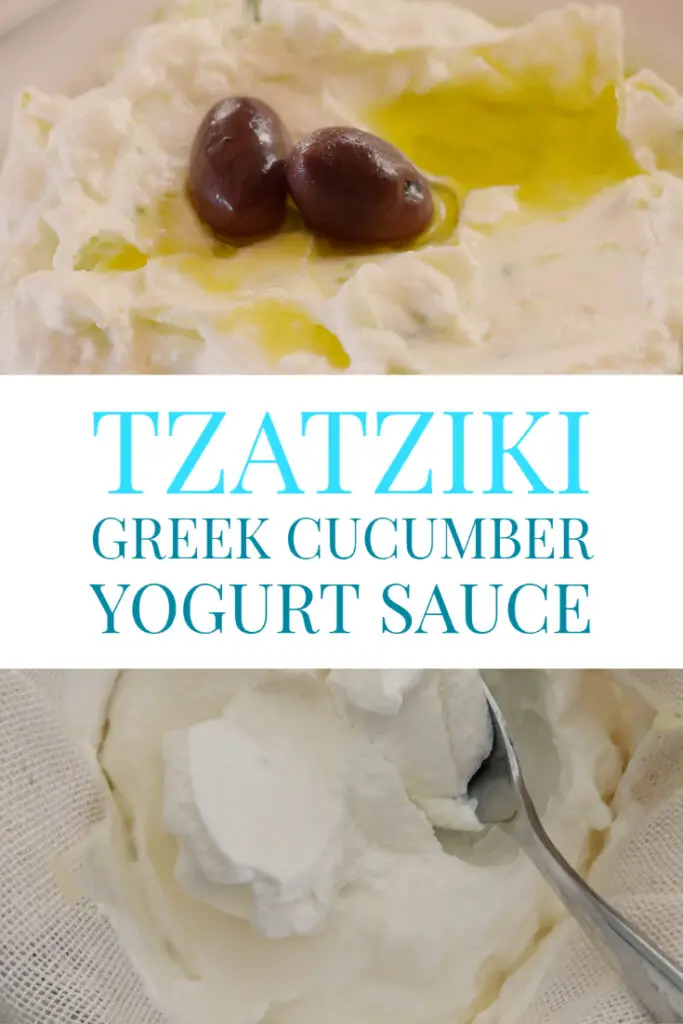 So there you go. How we make tzatziki at home, as you can see you can make it simply if you're in a hurry, or go to more trouble and make it thicker and drier by straining the yogurt and drying the cucumber for hours overnight. If you just need a quick sour garlic yogurt sauce for lunch, just make an easy version. To make it authentic is more involved. Of course, you can make it to your own taste, add more garlic, more or fewer herbs, the best tzatziki is the version you enjoy most. We hope you stick around on this blog, here I combine my loves of food and travel.
If you'd like to hire a car during your stay, use this car rental comparison tool to find the best deal!
Please check out our Pinterest account for loads of food and recipes from around the world!