Facts about Sri Lankan food – Is Sri Lankan cuisine spicy? What are shorties? Blog about famous traditional Sri Lankan dishes, rice and curry to short eats
Sri Lanka is a beautiful island off the southeast coast of India, yet despite the close links, Sri Lankan food is quite different to that found in India in some ways, and similar in others. The Sri Lankan traditional diet revolves around rice and curry, but there are plenty more facts about Sri Lankan food that I can share here.
Sri Lankan curries really are hot, seafood is abundant and varied, restaurants and eating out aren't as common as in most other south Asian countries and Sri Lanka has its own unique dishes.
String hoppers or plain hoppers are unique to Sri Lanka and southern India along with a group of foods called short eats or just shorties. This term normally refers to baked goods and snacks.  There is plenty to find out about Sri Lankan food below.
Facts About Sri Lankan Food
Our short video gives you some facts about Sri Lankan food, plus some examples of Sri Lankan dishes to try.
Sri Lankan Curries Really Are Hot
In South Asia, spicy or hot food often comes tempered down for a western palate, in Sri Lanka this normally doesn't happen.
In Sri Lanka, if you tell your waiter you are happy to have spicy food you'd better really mean it.
Yet here the depth of flavour and heat go hand in hand to make a delicious complete dish.
You'll see similar ingredients to those used in Indian curries but with both pepper and chilli (or chili powder) to give your food an extra kick.
Of course, you can find reduced heat curries in the tourist areas, if you ask for them.
The most common blend of curry powder in Sri Lanka is made with chilli, coriander, fenugreek, cumin, fennel seed, curry leaves, turmeric, black pepper, cloves and cinnamon.
There are a few variations on this base with black curry powder being made without chillies so that the dish is less red, more black from the pepper.
Another variation is Jaffna curry powder which again uses different ingredients such as coriander, cumin and fennel seeds as the major ingredients and lacks the chillies that the Sri Lankan curry base has.
One very famous food from Sri Lanka is ambul thiyal (ambulthiyal, sour fish curry), this Sri Lankan curry dish contains goraka, a sour ingredient similar to tamarind paste and the resulting fish is blackened by the unique spice combination. Pandan leaved, curry leaves. cloves, chili powder and cardamom pods are also needed for this special Sri Lankan dish.
Seafood is a Massive Part of Sri Lanka Cuisine
Unsurprisingly, being an island and with an abundance of seafood on their doorstep, Sri Lankans obtain a large portion of their diet from the ocean.
Walk along any of the beaches at night and you will see that each restaurant has an ice-covered table packed with the day's catch.
Everything from parrotfish to squid and octopus abounds and you can pick the fish you want and how you'd like it cooked. Perfect for seafood lovers.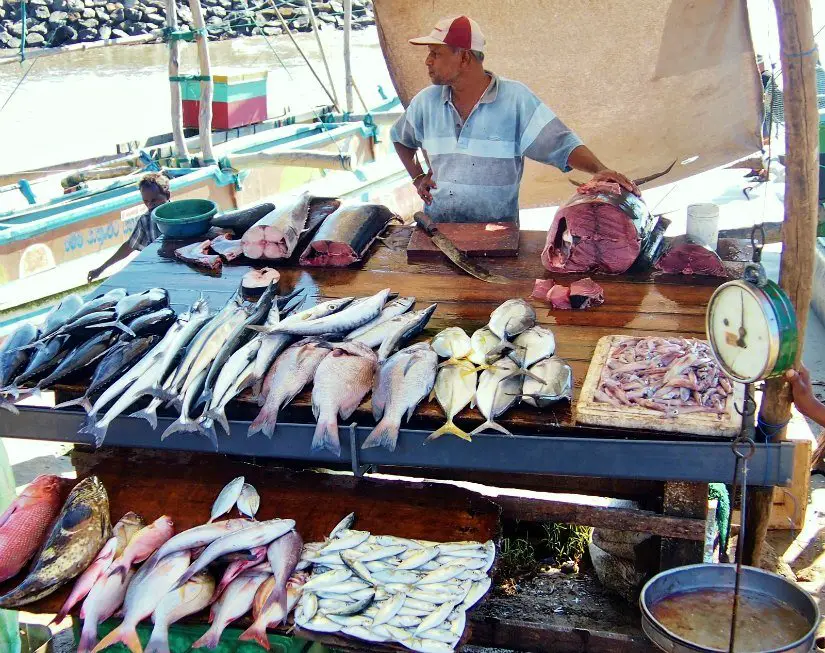 A word of warning, if it isn't the busy season and if the fish isn't sold that night there is a good chance it will come out again the next night.
Double-check the freshness and do your research on what is and isn't a sign of fresh fish. Sunken and glassy eyes along with strong odour are to be avoided, for instance.

The local food markets are also heavy on the fish.
While you are unlikely to cook for yourself when you are in Sri Lanka the markets are interesting to see and make for some great photos. 
Galle in the Southern Province is particularly famous for its fish, spice and produce markets.
Maldive fish is an important ingredient in many Sri Lankan dishes, it can add flavour, thicken dishes, or be the main protein source in a simple recipe. Maldive fish is dried, cured fish, often tuna, that is sometimes sold as Maldive chips. It is used in a similar way to dried shrimp and anchovy in Southeast Asian cuisines.
Restaurants Outside of the Tourist Areas Aren't Common
In the tourist regions such as Galle, Hikkaduwa, Bentota and Kandy the amount of restaurants is more than adequate and you'll find the food you want at whichever price point you want.
Colombo will even have a few of the western fast-food chains that have unfortunately crept into Sri Lanka.
It pays to look around when choosing a restaurant, especially at the tourist beaches as some of the restaurants won't be great.
Mirissa has a beach lined with restaurants but in all honesty half of them, I'd consider average.
If you find a good one it may be best to stick to it and always get recommendations about restaurants and food in advance if you can.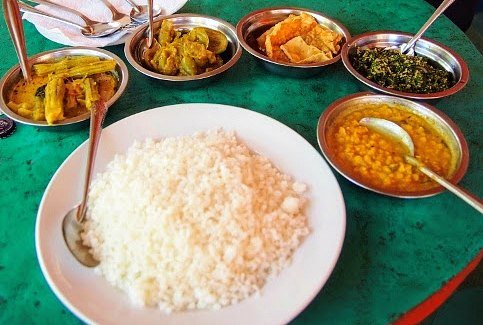 Sri Lankans don't eat out in the same way as for example, the Thais or Vietnamese. Restaurants and street food are much more a part of life in other south Asian countries.
Sri Lankan food is based on home cooking and local people will mostly eat at home not at a restaurant. Unfortunately, this can give Sri Lanka a bad name when visitors fail to find great food or pick an average restaurant that doesn't live up to expectations.
A few smaller boutique hotels will ask if you want dinner prepared at breakfast or lunch. It is advisable to say yes if you think you will.
Asking for food at 5 pm for a dinner or ordering breakfast on waking often just won't work as the normal selection of dishes takes hours to prepare.
Local style restaurants are often called "hotels" and are more a collection of street food stalls housed under one roof. These hotels are aimed at locals, not tourists and you need to visit one of these eateries to try local speciality, kottu roti.
Kotu roti, cooked for the locals, can be incredibly spicy!
Sri Lanka Has Many Side Dishes
Sri Lankan side dishes are many and varied. They include such items as freshly made coconut sambol (pol sambol), or the spicy chili paste, Lunu Miris, made with red onion, lime juice, and chilli.
Aubergine or eggplant pickle is also found in Sri Lanka, Wambatu moju, brinjal pickle is a sweet and sour accompaniment or condiment on the Sri Lankan table. The fried brinjal are combined with spices, sugar and vinegar to make this Sri Lankan pickle.
Onion fry (Seeni sambol) also adds flavour and sweetness to plane food like rice, milk rice or hoppers. The onion fry contains sugar as well as caremelised onions.
Vegetable pickles, Sinhala achcharu, may also be served alongside your Sri Lankan meal.
Mango chutney, spicy lime pickle, and Malay pickle are also eaten in Sri Lanka. Popadoms (pupadum) green leaves blended with coconut, and curd, buffalo yoghurt, may also be served as side dishes in Sri Lanka.
Sri Lankan Breakfast is Unique
One of my favourite meals is breakfast and a Sri Lankan breakfast is one of the best in the world.
Curries and fresh coconut sambals abound but it is what goes with them that makes them unique. String hoppers are the normal accompaniment at breakfast but you'll also sometimes find egg hoppers, plain hoppers and Sri Lankan roti.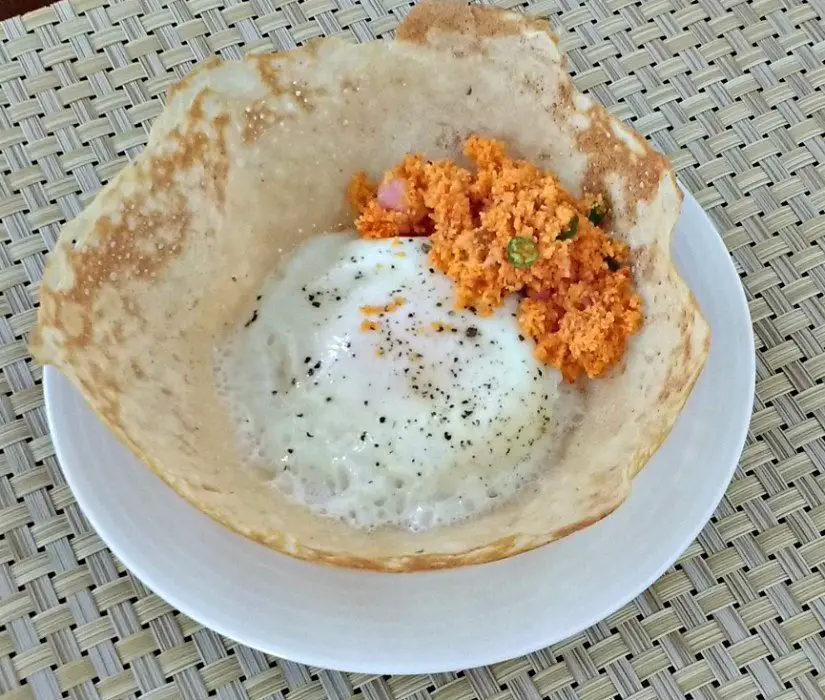 Egg hoppers are made in a special little frying pan that looks more like a mini wok with a lid. 
The resulting pancake takes the shape of the pan. For an egg hopper, the egg is cracked into the centre of the pancake and the lid put on to allow it to cook.
These are best eaten freshly cooked from the roadside food stalls.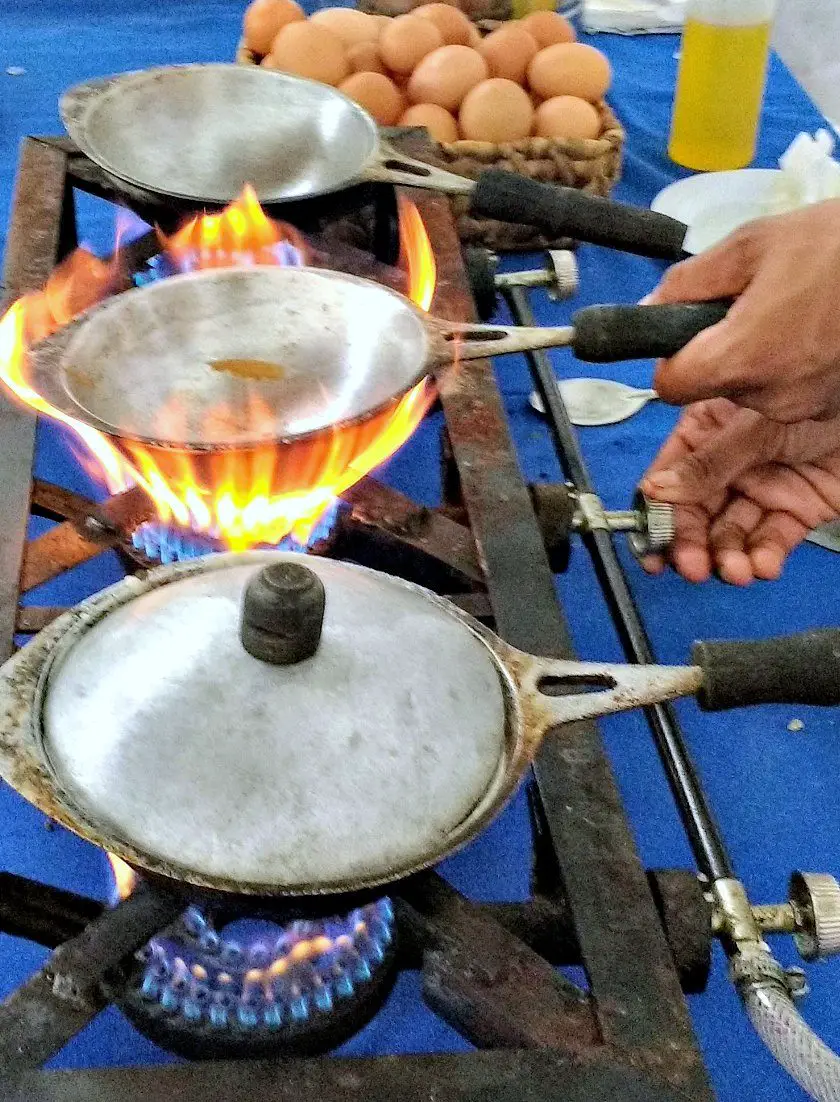 Idiyappam or String Hoppers in English is 'broken down pancakes' made using rice flour, salt and water.
Made using a special idiyappam machine that forces the mix through tiny holes to make the 'strings' they are then put into little dishes to be steamed.
It is a very labour intensive dish although with the advent of technology you can buy automatic machines that do this job for large establishments.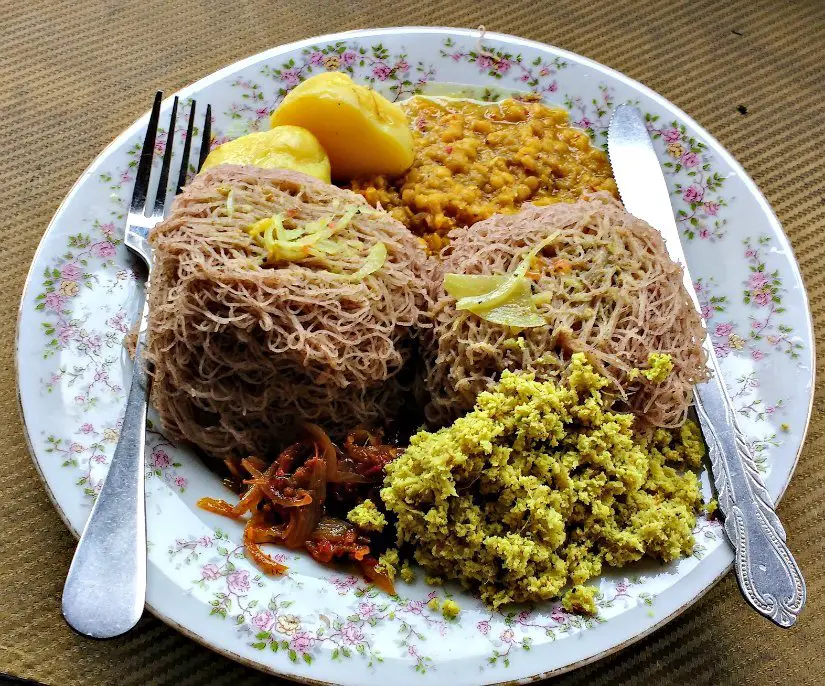 Idiyappam are served with curries and coconut sambal.
Egg, potato, fish or meat curries all go well with the hoppers and establishments will normally serve a couple of varieties.
Sri Lankan Short Eats or Shorties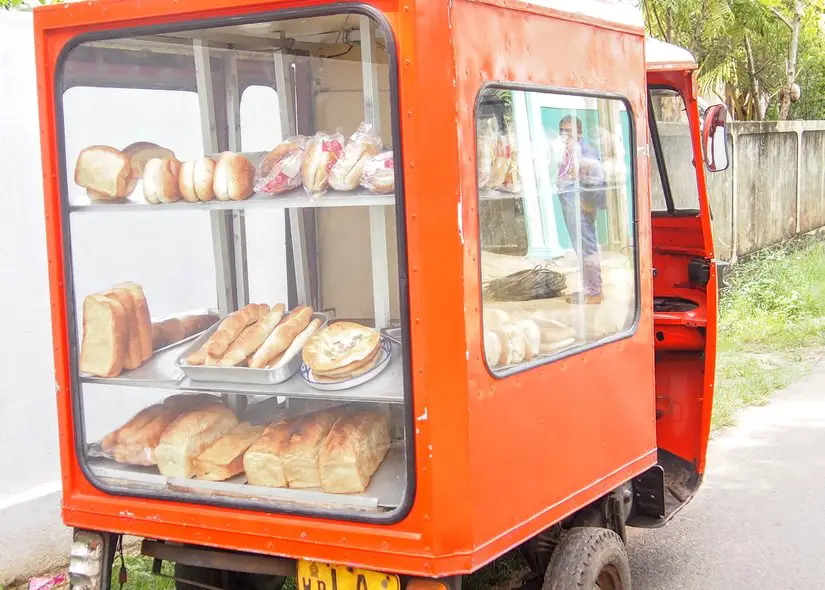 You can find these in some restaurants and street stalls but often they are found on the back of a moving vehicle. These short eats trucks can be similar to western ice cream vans in that they drive around playing music to attract attention. 
Referred to as shorties, these tasty snacks are cheap and only a few mouthfuls of goodness.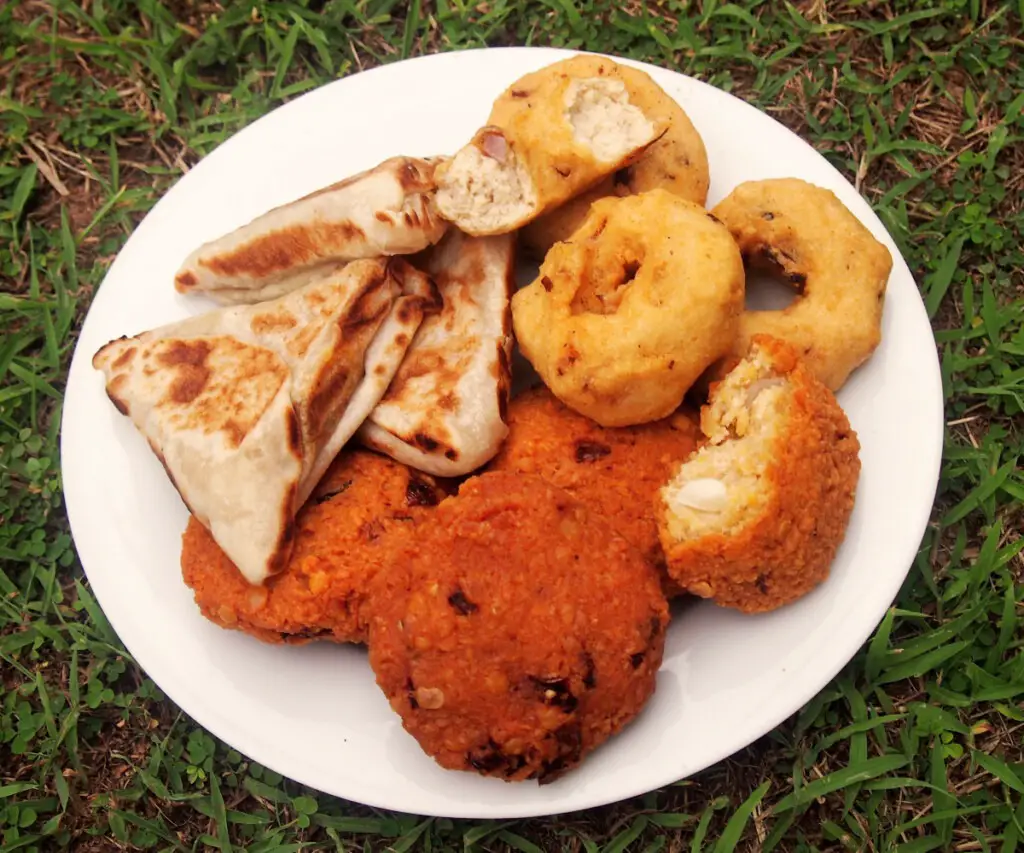 Snacks like these are also what you'll find on trains and buses from vendors selling their goods as the train moves along. Some short eats will be baked, others deep fried, for instance Sri Lankan cutlets, balls of mashed potato, fish or meat which are breaded before frying.
Chinese rolls are another Sri Lankan short eat which is deep fried. Similar to the fried spring rolls of China or Southeast Asia, a Sri Lankan Chinese roll uses roti as the wrapper for a savoury filling. Vada, shrimp vadai, ulundu vada and samosas are also tasty Sri Lankan snacks.
Originally based on the mid afternoon snacks that the Europeans ate, short eats have now become mainstream and very Sri Lankan in flavour. You won't find cucumber sandwiches on a vendor's trolley now.
The shorties range is extensive and varies depending on what part of the country you are in.
Prawn cutlets are a popular type, especially on the trains.  They are in fact fritters with whole unpeeled small prawns in them. Not great if you have a desire to peel prawns before eating them.
Vadai is another favourite. They look like a doughnut but are in fact hard on the outside and soft and moist in the middle. They can be incredibly spicy and studded with red chillies.
Flavours range from plain lentil to meat or seafood.
Roti is a brilliant one to buy if you want to save them for later. Roti comes with a variety of fillings from vegetarian to meat or seafood, even chocolate, all wrapped up in a little roti package. 
Samosas would be the most recognised snack to a western visitor and you'll find them everywhere and in numerous flavours.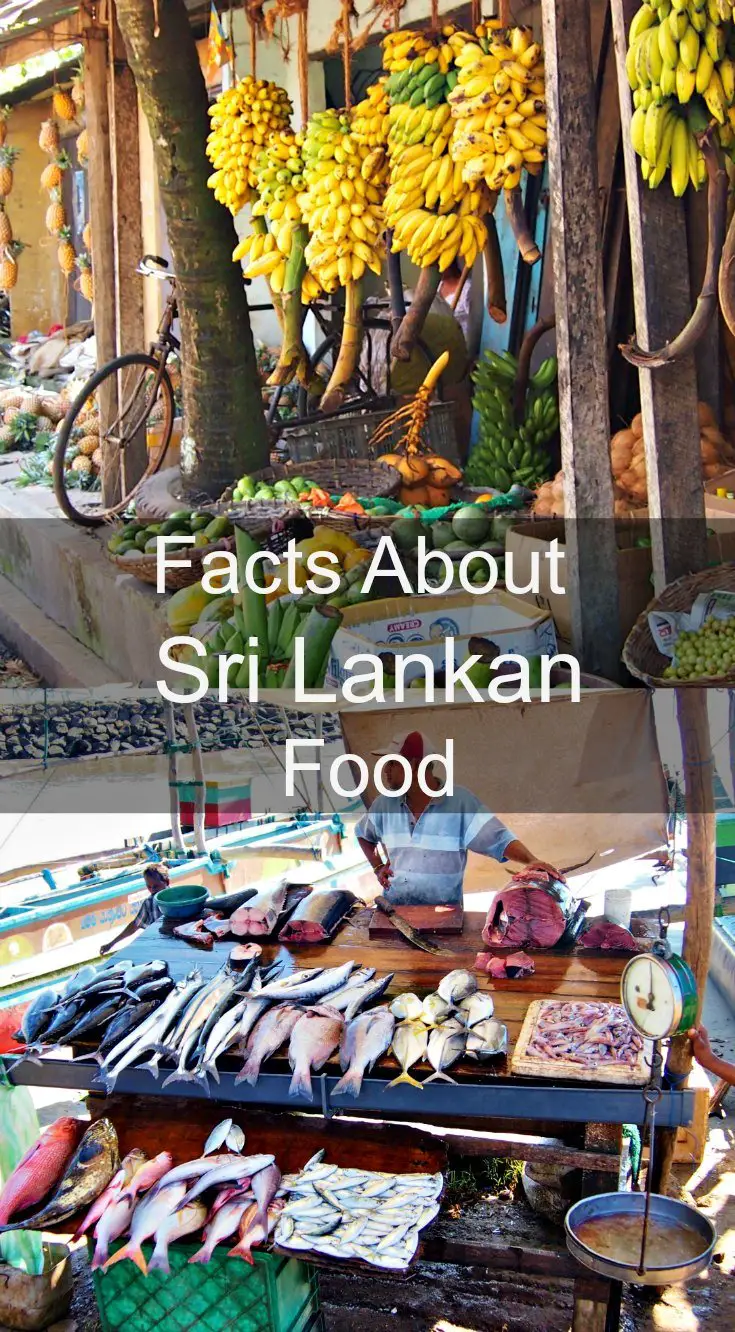 So there you have some facts about Sri Lankan food. Not an exhaustive list but it gives you an idea of what you can expect to find on this wonderful island. You certainly won't go hungry but you might need to look a little harder here for good food than you might expect.
If you'd like to hire a car during your stay, use this car rental comparison tool to find the best deal!
Please check out our Pinterest account for loads of food and recipes from around the world!