Sri Lanka is famous as a fruit-producing destination and you will certainly sample some amazing and delicious Sri Lankan fruits during your stay. Expect a selection of fruit on your hotel's buffet every morning, each perfectly ripe and sweet from the fertile soil, abundant water, and tropical sun. Sri Lankan fruits are tropical, of course, and similar to those found in all other tropical regions but there are a few fruits Sri Lanka is particularly famous for. Don't forget to visit a fresh produce market during your time on the island to check out and maybe buy a few Sri Lankan fruits of your own. You will also find little fruit stalls lining the roads, don't be afraid to stop and buy, your driver should be able to negotiate for you.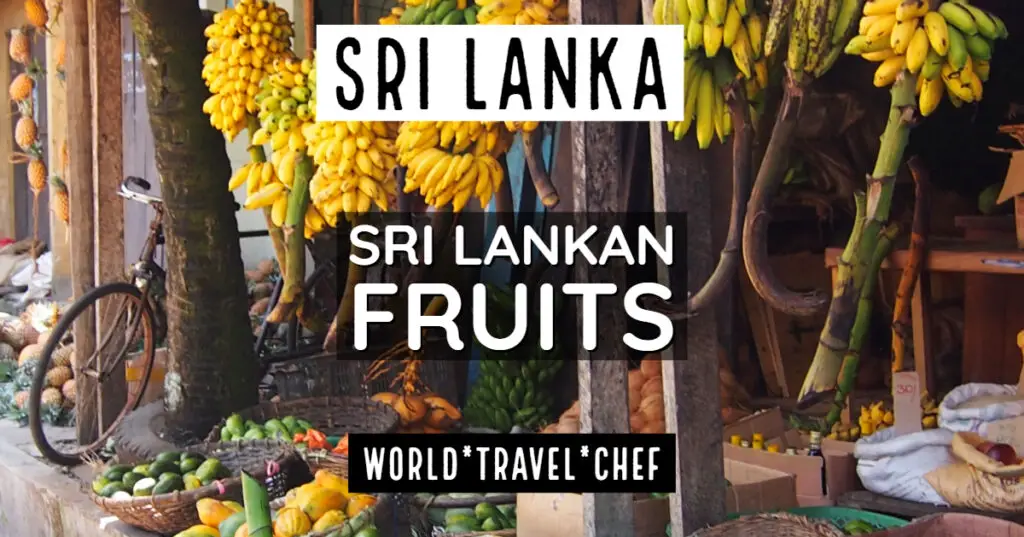 Is it Safe to Eat Fruit in Sri Lanka?
Don't be too nervous about eating fruit in Sri Lanka, most require peeling so should be safe to eat.
You will also find the fruit in smoothies, milkshakes and cocktails, use common sense, but we've never had any tummy problems after eating fruit in Sri Lanka.
We usually carry a small Swiss Army knife to peel any fruit we buy.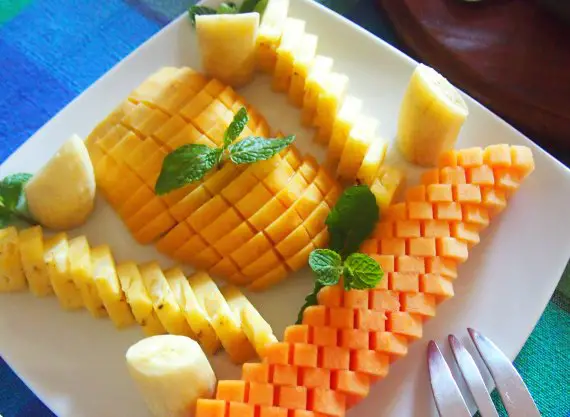 Trying the food on offer on this beautiful island has to be one of the best things to do in Sri Lanka, so come prepared to try all of these new, exotic, tropical fruits along with rice and curry, hoppers, kotu roti and amazing seafood.
Fruit Markets in Sri Lanka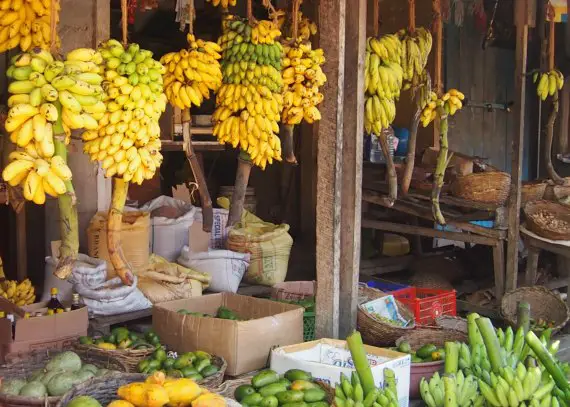 We highly recommend a visit to the old Dutch markets in Galle, the southern capital, where you will find succulent fruit displays.
Don't miss out of the nearby fish, vegetables and spices too.
Most tourists can easily visit from the beach resorts by bus, train, car or tuk-tuk.
Roadside Fruit Stalls in Sri Lanka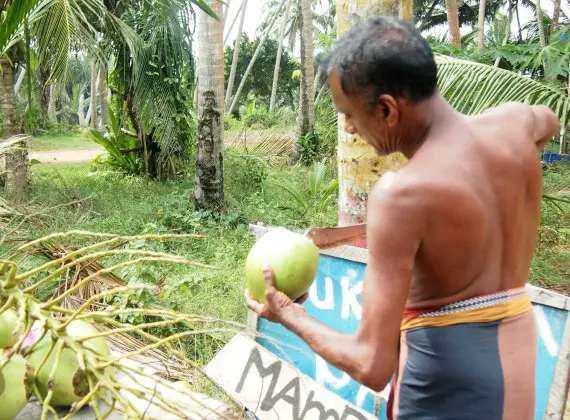 You're likely to see small roadside fruit stalls. These might be run by a home-owner or small farmer.
Ask your tuk tuk or taxi driver to stop and he should be able to negotiate price for you. Drinking coconuts are a great choice!
What Fruit is Sri Lanka Famous For?
The most famous of the Sri Lankan fruits is surely the mangosteen. So partial was Queen Victoria to them, that according to legend, she asked for them to be specially shipped to her direct from Sri Lanka and rewarded the delivery with one hundred pounds.
So that is where we will start, with the mangosteen.
Mangosteens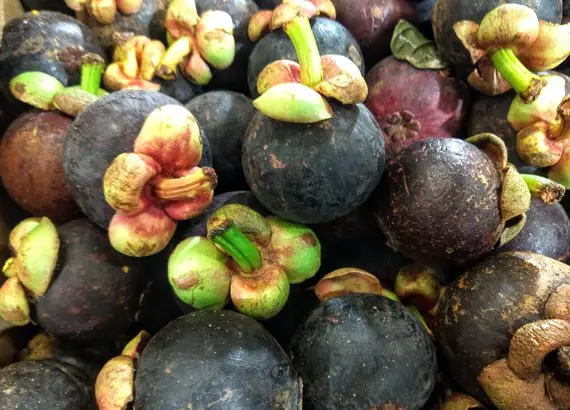 A hard purple case holds a sweet secret, white segments, each with its own pip. Not the easiest fruit to eat, but absolutely delicious.
Durian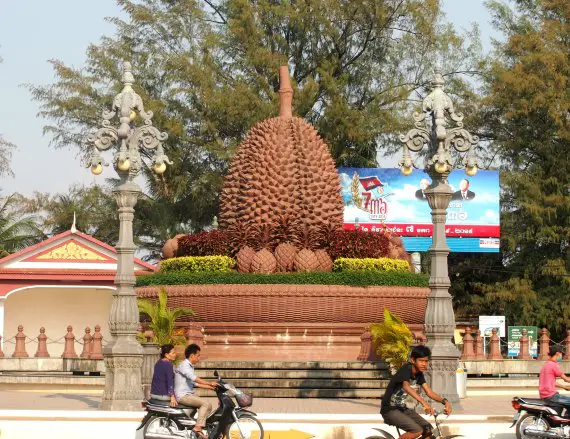 Mangosteen is known as the queen of fruits, durian is the king.
Only a small area in southern Sri Lanka produces durian and the season is normally July-August although it is highly weather dependent.
Durian is famous for its bad smell but it is a fruit that really gets people excited, so much so that you'll find whole websites devoted to the durian fruit.
Custard Apples, Anoda, Sugar Apple, Katu Atha or Sweetsop
Sri Lanka is particularly famous for sweet, soft, custardy custard apples. There are four varieties grown in Sri Lanka and they each have a unique flavour.
Jack Fruit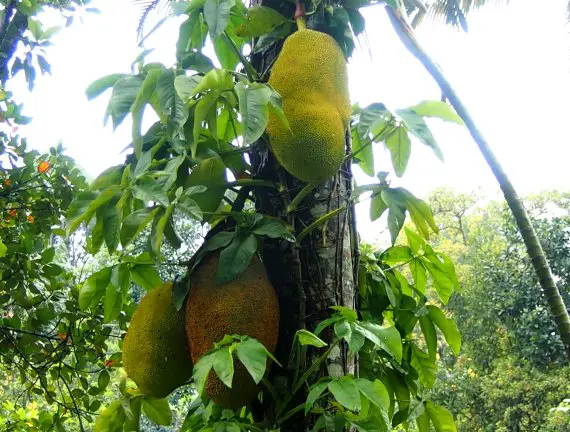 Jack, the biggest fruit in the world, grows abundantly in Sri Lanka.
When ripe it is bubble-gum sweet but immature fruits can be used to make Sri Lankan jackfruit curry.
We sampled this at the Villa Templeberg near Galle, where our chef picked and prepared jackfruit for an amazing evening of dining by candlelight and flaming torch in the tropical garden.
We used to grow jack fruit back in our garden in Queensland Australia. The climate is similar. The heaviest jack fruit recorded weighed in at a monstrous 275Kg.
Cashew Apple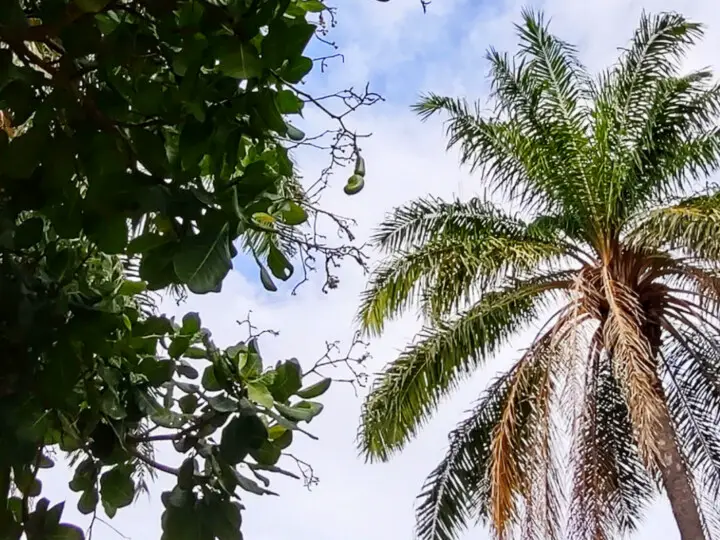 The cashew nut is widely grown and produced in Sri Lanka and the cashew apple is a by-product. It's not good to eat, but in Goa, India, the apple (actually the swollen stem) is used to make a fiery alcoholic drink, cashew feni.
We have seen them being sold in Antigua Guatemala, where women were selling them at the roadside. Maybe they were trying to catch out unsuspecting tourists or maybe they were selling it to make non-alcoholic cashew fruit juice.
Cashew trees grow in Sri Lanka and also in places with similar tropical climates, such as Far North Queensland, Australia
Bananas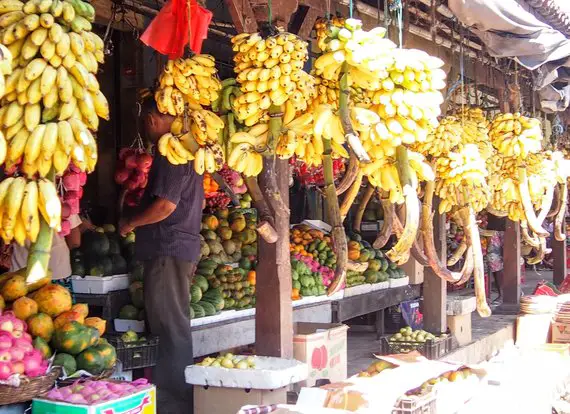 So many different types of bananas, from tiny finger varieties to monstrous fruits hanging from roofs in huge bunches from small stalls.
They come in red, green, almost-brown and traditional yellow. You will find a comprehensive guide to Sri Lankan bananas here.
Mango
My personal favourite, the sweetest of the sweet and with a heavenly perfume. When perfectly ripe, best eaten in the shower to avoid the mess!
Try the different types of mango and see which is your favourite.
Lychee
Lychee can be confused with rambutan but they aren't the same fruit even if they look similar at first glance. Lychees are small round fruits with a nobbled skin and no spikes and contain a small seed inside.
White flesh inside between the skin and the seed is crisp and sweet although not as sweet as the rambutan some say.
They can be found all over south-east Asia with Sri Lanka being an ideal place to grow them. During the season you'll find street stalls selling lychees from Kandy to Colombo and down the coast towards Galle.
If you can't get fresh ones you'll find lychee juice, cans of lychees and even cocktails made from lychees across not just Sri Lanka but all of Asia.
Rambutan
Larger than lychees and said to be sweeter, this fruit has a reddish skin with tiny hairs/spikes all over it. The seed in the middle can be cooked and eaten but this isn't particularly common.
The Sri Lankan season for rambutan is normally May, June, and July where you'll see stalls set up on the side of the road sell bunches and bunches of this wonderful fruit.
Rambutan doesn't ripen off the tree so outside of picking season it is very hard to source them unless they came from an international source like Thailand or Indonesia which make up the bulk of the world's exporters.
Pineapple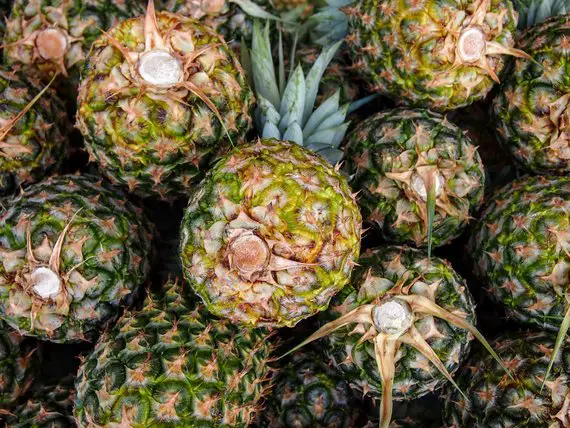 If you've never seen pineapples growing, it may come as a shock to see fields of large fruit perched on top of their spiky plants.
In Sri Lanka, several types or pineapple are grown including the tiny pink variety, thought to aid weight loss.
Papaya or PawPaw
Papaya grows like weeds where the abundant black pips are discarded.
You will literally see the tall plants, crowned with fruit, everywhere. Papayas can be male or female, so it's quite likely, if you see a papaya tree without fruit, it will be male.
Australians tend to call papayas paw paws, they're not. A paw paw is a different plant.
Would you save this to Pinterest? Click the red sharing button. Thanks.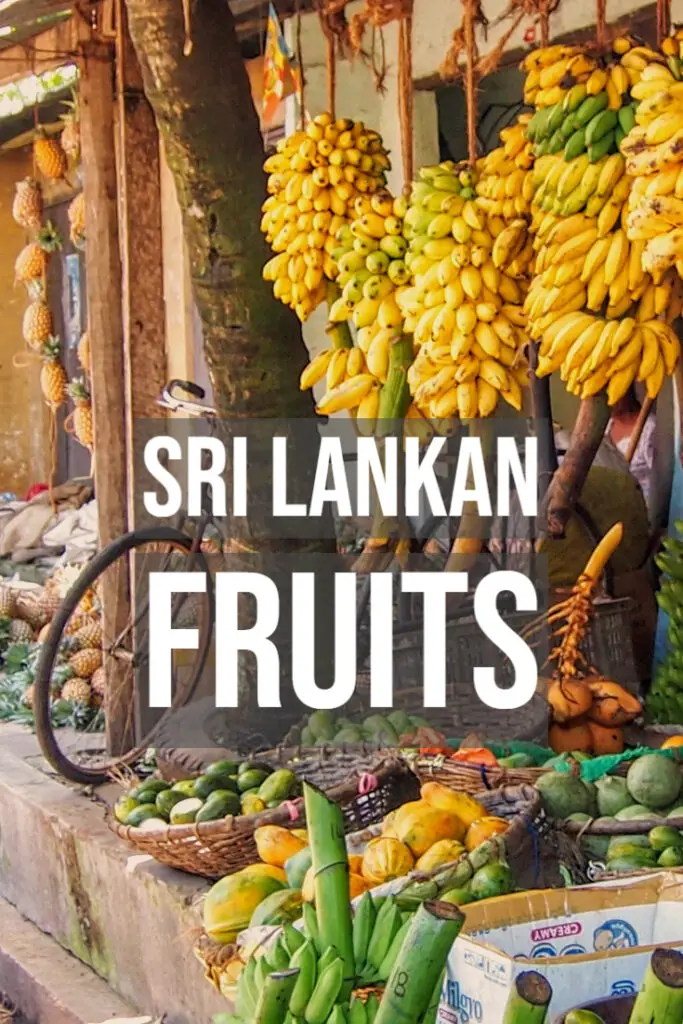 Other, more unusual fruits you will find in Sri Lanka are naminams, uguressa, wood apple, thambili ( king coconut) and stunning, pink dragon fruit.
It is certainly possible to grow subtropical fruits in Sri Lanka, a grapefruit tree, lemon tree or orange should be a possibility, but we've not often seen these trees growing.
You'll likely find an array of prepared fresh Sri Lankan fruits served alongside other Sri Lankan breakfast foods, otherwise, stop at a fruit market or stall and grab some local Sri Lankan fruits.
Thanks for reading and I hope you found the information you were looking for about Sri Lankan fruits. If not, tell us your questions in the comments section below and we'll fill any gaps in this post.