If you want to make string hoppers, you need an idyappam maker of some sort.  String hoppers (idiyappam) are long, thin strands created by pressing idyappam dough through small holes. Idyappam making machines are predominantely hand-operated, requiring some force to extrude the fine noodles. When I tried my hand at making string hoppers in Sri Lanka, we used a wooden idiyappam press but modern chefs can order their string hopper machines online and get something far more sophisticated in modern stainless steel or even classic brass. The strands of string hoppers then need steaming, so a second piece of equipment, a steamer with suitable stands or trays, is required.The steaming equipment used for iddly making can do this job. Let's take a look at the best idiyappam making equipment to buy online (presses) along with steamers and stands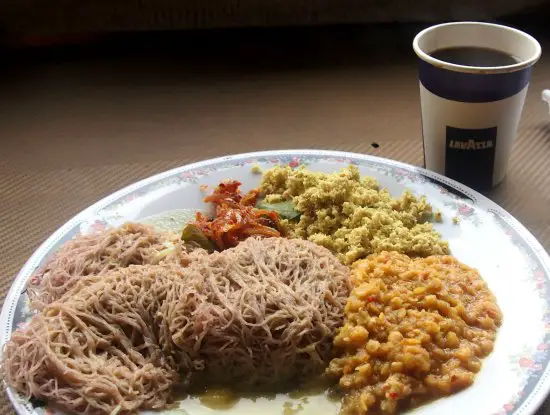 What are Idiyappam?
Idiyappam are a flour based food from southern India, Sri Lanka and parts of Malaysia, they are also known as Semige, Nooputt (or Noolputtu), Kodava, Putumayam or good old Sri Lankan string hoppers. They are without doubt one of my favourite things to eat and just perfect for smooshing into curries with your fingers. They are basically a type of noodle, so once you have made your dough using Idiyappam flour, you need a tool to form the little nests of thin strands. Idiappam making requires a machine to press the dough through tiny holes, enter the idiyappam maker. This tool or idiyappam maker can be a traditional, dedicated device, or a noodle or pasta maker can do the job. Some are so beautiful you could buy them just as decorative objects.
Appam means pancake, idi means broken down. The flour used is commonly rice, finger millet (ragi) or wheat.
Once you have created your idiyappam you will need trays that hold the nests separately, which go into a steamer. An idly steamer is ideal. If you've never had an idly you're missing out! That will have to be another post.
As my brother keeps saying, "It's all about the hoppers!' I'd tend to agree.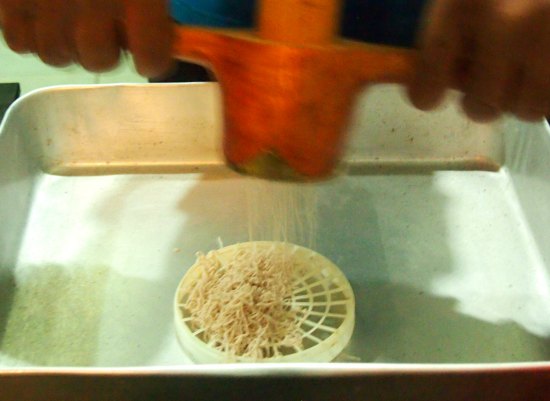 This post contains affiliate links, they cost you nothing extra and we make commission.
Many of these devices for making idiyappam are actually multi purpose tools that can be used in many ways. As such, they make a versatile addition to any kitchen. If you're a western cook and have never tried making idiyappam, I'd highly recommend giving it a go, you can also find special idiyappam flour to buy online.
 Beautiful Brass or Stainless Steel Sev Sancha Manual Pasta Maker
Low price, good looks and great functionality make this brass or stainless steam idiyappam maker our best buy. Click through to also inspect the brass version.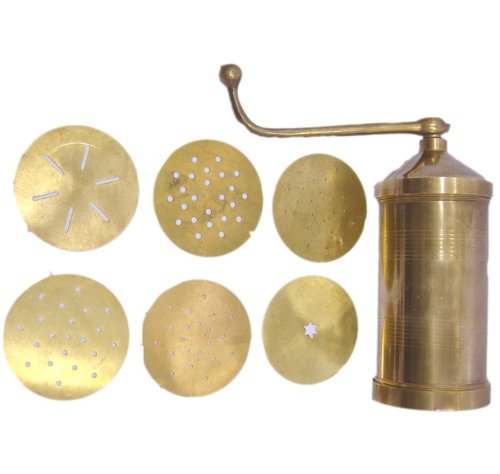 Tabakh Sev Sancha Sev Manual Pasta Maker, Stainless Steel or Brass
Traditional Wood and Brass Idiyappam Maker  ( USA and Canada only, unfortunately)
What a beautiful piece of kitchen art! I'd buy this as an ornament even if I wasn't going to cook with it.
TABAKH Idiyappam Nool Puttu Sevai Press Maker, Brown
A Good Quality, Stainless Steel  Potato Ricer 
Top Rated Bellemain Stainless Steel Potato Ricer with 3 Interchangeable Fineness Discs-Full 2-Year Warranty
 Monkeybrother Stainless Steel Pasta Maker, noodle press and juicer
Monkeybrother Stainless Steel Manual DIY Noodles Press Machine Fruit Juicer pasta maker machine with 5 Noodle Mould (1 set)
 Stainless Steel Idly or Idiyappam Steamer Set
Anantha Multi Kadai Set, Idli and Idiyappam maker, silver
 Stainless Steel Idiyappam Stand for steaming
Anantha Stainless steel Idiyappam stand, 6 Plates
 Murukku Press
Murukku Press
 Stainless Steel  Vktech Noodles Machine,Pasta Maker, Juicer
Stainless Steel Vktech Noodles Machine,Pasta Maker,Citrus Juicer,Stainless Steel (Noodles Machine)
Electric String Hopper Maker
You can certainly buy an electric string hopper maker but they are mainly for mass production in the catering and hospitality industries and use in commercial kitchens. Most will make at least 500 per hour and the bigger ones 1200 plus. These electric string hopper machines are also very big and not suitable for a domestic kitchen or home use.
To make idiyappam at home you'll also need some idiyappam flour (you can buy online) plus, of course, an idiyappam recipe. Click though for those things.
If you are thinking about travelling to Sri Lanka, our Sri Lanka travel blog on World Travel Family dot com, tells you everything you could ever need to know!