This post may contain affiliate links.
Phu Quoc is tipped to become one of Vietnam's major drawcards in the future and is already well established as a tourist destination amongst well-travelled people. Getting from Ho Chi Minh city to Phu Quoc isn't as straightforward as other parts of Vietnam mainly because Phu Quoc is an island off the south coast of Vietnam. In this post we cover the various (and best) ways to get to Phu Quoc from Ho Chi Minh City. The easiest option currently is to fly to Phu Quoc from Ho Chi Minh. Check prices and schedules side by side for this route using this website. A multi day (2-3) trip to Phu Quoc, exploring the Mekong Delta may be possible, take a look at one of these tours here.
---
Ho Chi Minh to Phu Quoc?
There are several ways to get from Ho Chi Minh to Phu Quoc although the global shut down did mess with these services, we suggest checking flights, above, for this year. Or use this service.
Being an island you can't catch a train to Phu Quoc but there is an airport on the island with direct flights to HCMC Airport.
The other way of getting from Ho Chi Minh to Phu Quoc is overland to southern Vietnam where you'll catch a ferry from the mainland across to Phu Quoc. There are various multi-day tours from Ho Chi Minh, via the Mekong Delta, to Phu Quoc. Having taken one of these trips, I really recommend them, check one out here.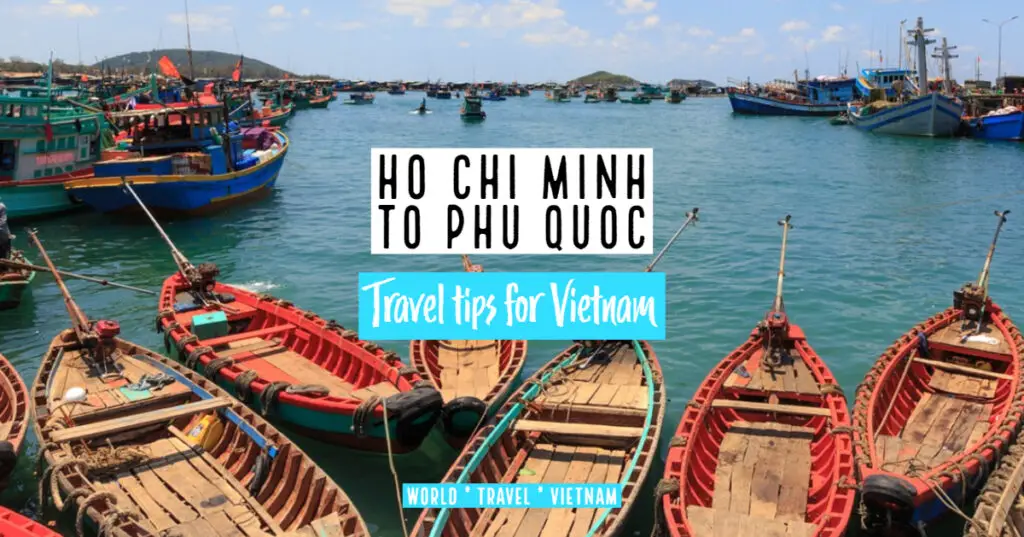 Ho Chi Minh to Phu Quoc Distance?
Phu Quoc island is located nearly 400 km southwest of Ho Chi Minh City so it can take a while to get there.
How Long Does it Take to Get From Ho Chi Minh City to Phu Quoc?
Bus drive time approximately 7 hours to the ferry port.
Ferry time 2.5 to 3.5 hours
Flight Time just under an hour.
Train – not currently available.
Private car or driver, around 7 hours also. Some ferries take cars
Ho Chi Minh to Phu Quoc By Plane
By far the easiest and fastest way of getting to Phu Quoc from Ho Chi Minh City (Saigon) is by plane.
Even with the hassle of getting out to the airport you'll still save a load of time with flight times a fraction over an hour.
Numerous airlines normally fly the route and you can usually pick up tickets from as little as $30 US.
If you are flying in from further afield there should be direct flights from Bangkok, Kuala Lumper and even Hong Kong to Phu Quoc airport.
Obviously, prices and times will vary depending on the time of year. Availability will be dependent on local closures and restrictions.
A big advantage of getting to Phu Quoc by plane is that you won't need a visa if you are only going to Phu Quoc.
Even if you fly via another international hub in Vietnam this visa exemption is valid. You must have a return ticket within 30 days and all travel is via air including departure.
No stopovers are allowed in any other part of Vietnam so be mindful when organising tickets if they go via the mainland.
Please double-check the latest Vietnamese immigration advice regarding this as it is possible that it may change in the future. This currently applies to all nationalities.
Ho Chi Pinh to Phu Quoc By Train
Unfortunately, there are no trains running south of Ho Chi Minh City at the time of writing.
Saigon station is the last stop on the line south.
This effectively rules out catching a train to anywhere but north of HCMC. If you do want to catch a train you can read about heading north to Hoi An and Danang here.
Getting from Ho Chi Minh to Phu Quoc By Bus and Ferry Combination
Bus and ferry combination is the most popular way of getting to Phu Quoc from Ho Chi Minh City for the budget conscientious travellers.
This is also the slowest method of getting to Phu Quoc as you'll need to take 1 bus to either Rach Gia or to Ha Tien which is the main ferry pier. From there it is a ferry ride across to the island.
The bus station in Rach Gia is about 7 km north of the ferry terminal so you'll need to factor this into your travel plans. Buses can be Vietnamese semi sleeper, tourist, air con or local. Drive time is approximately 7 hours.
It is worth noting that the Phu Quoc has numerous jetties where the ferries will land. A lot of people will want to go to the Western side of the island where places such as Long Beach are located.
The bigger companies with fast ferries will go to the east coast which is also the shortest route. Journey time is approximately 2.5 hours.
Most public buses leave late at night which means you'll have quite a few hours between the bus arriving at Rach Gia and when they leave for Ha Tien in the morning.
If you're restricted for time this is something to be aware of and will, of course, be similar on the return journey.
While you can't seem to catch a bus directly across from Ho Chi Minh to Phu Quoc at present there are car ferries that service this route.
Space is limited and it is advisable to book ahead but if you have a motorbike or have hired a driver there is no reason you can't drive directly to Phu Quoc.
Getting Around Phu Quoc Island
There is an abundance of minivans and taxis to the ferry ports across Phu Quoc. Uber and Grab also operate so you should have no shortage of options when you arrive.
Sometimes Uber and Grab aren't so great in Vietnam and aren't the cheapest, check prices and options.
Shared minibuses are the low cost option, especially if you're travelling alone. A group of 4 would be better off getting into a taxi or Grab and going directly to your accommodation.
As always when catching public transport make sure you know where you're going and have a rough idea of how long it will take to avoid any scams.
Best Way of Getting from Ho Chi Minh to Phu Quoc
Unless you have endless time and like catching buses I'd take the short flight. Cost-wise it won't be much more expensive journey once you factor in all the connections, bus and ferry etc.
Flight time is under an hour and unless you turn up without a ticket you'll find yourself paying not much more than $30 USD. Although the most expensive flights were still all under $80 USD for last-minute reservations.
Distance to Tan Son Nhat International Airport in Ho Chi Minh is only 6 km (4 miles) from district 1 and doesn't take long unlike airports in Bangkok or Kuala Lumper that are on the outskirts of the city. Phu Quoc International Airport is centrally located and travel distances to any part of the island are quick and easy. This is the other big reason I'd catch the plane over the bus and ferry route.
Check out flights with all airlines from Ho Chi Minh to Phu Quoc here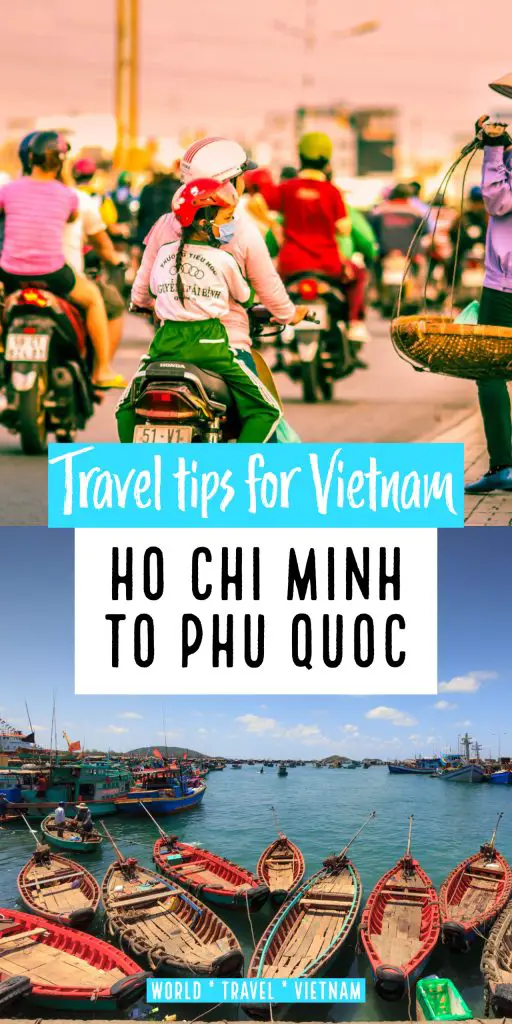 Thanks for Visiting our Vietnam section, we hope you find all of our travel tips for Vietnam helpful. We visited in 2019 and will be back in 2020 to add more Vietnam travel guides. If you've travelled from Ho Chi Minh to Phu Quoc let us know your experiences in the comments.
If you'd like more information, including avoiding common scams, transport and what is illegal in Vietnam you can read my Vietnam travel tips post here.
If you'd like to hire a car during your stay, use this car rental comparison tool to find the best deal!

Please check out our Pinterest account for loads of food and recipes from around the world!