This post may contain affiliate links.
With so many options out there which is the best visa for Vietnam? It's confusing I know, it confused us so we had a good dig into the visas available and the regulations, official, scam, and for profit. Everyone has different needs so I'll go through the options from the free 15-day exemption for those lucky enough to hold the right passport, right up to the 3-month multi-entry visas. Business visas can be up to 6 months multi-entry and citizens of the United States can apply for a 12-month visa. I'll try to explain the various visa options for Vietnam here.
Best Visas For Vietnam
Obviously, visa requirements change and change often. This post is a rough guide, please check and double-check for yourself. Vietnam is a favourite country of mine, we lived there for 6 months and we're moving back there soon. There is loads of Vietnam food and travel tips and information on this website.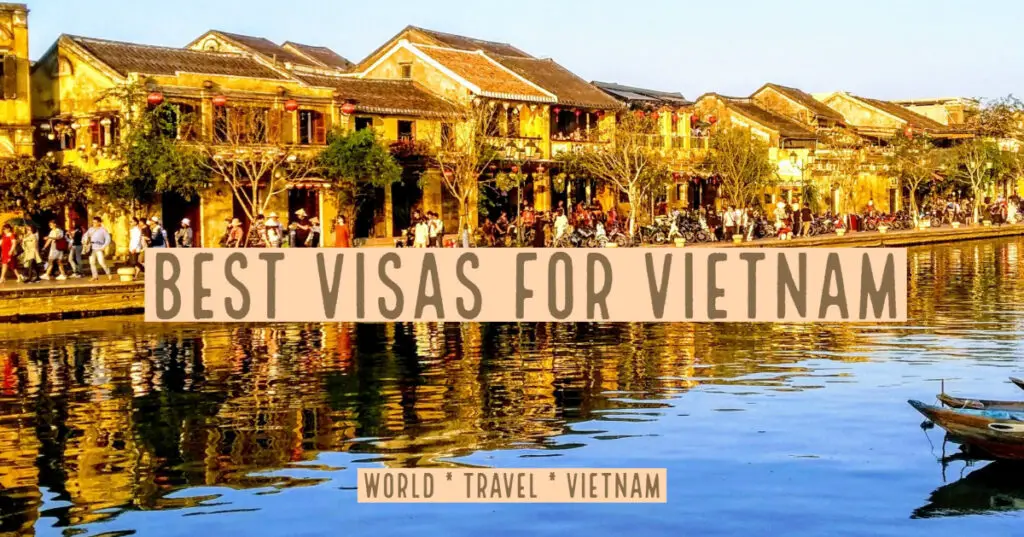 Vietnam Visa for ASEAN Passport Holders
Most ASEAN countries don't usually need a visa for visits of less than 30 days. Each country has slightly different rules. If you're a passport holder from one of these countries please check the requirements before traveling.
Vietnam Free Visa Exemption
This exemption is currently (at time of writing) open to a small selection of European countries. This includes, but is not limited to UK, Spain, Germany, and France. As the name suggests, this isn't a visa but an exemption from applying for one. This program had been approved up until June 2020 when it is due to be reviewed by Vietnamese immigration.
The regulations are strict and enforced heavily by airlines and immigration. It is only valid for 15 days and includes both the day of arrival and the day of departure.
You have to have a confirmed flight out of Vietnam within 15 days. It's also necessary to fly into the country at one of Vietnam's international airports. This arrangement is non-extendable. If you do wish to return within 30 days you need to have a full visa. An exemption can't currently be used twice in a 30 day period.
There isn't any cost associated with visa exemption. You don't need to line up at the visa desks but can go directly to immigration, they will stamp you into Vietnam. There won't be a visa sticker in your passport. My wife and kids did this a few weeks ago, it was simple and hassle-free. They are British passport holders and citizens.
Multiple 3rd party Vietnamese websites have stated that foreign passport holders don't need a visa if they are visiting Phu Quoc island for less than 30 days. This is apparently also the case if you transit through one of the other international airport hubs.
Please note I've found nothing about this from Official Vietnamese immigration sites. If anyone has any more information and solid evidence or has even done this themselves please comment below. Personally, I'd be getting something in writing before trying to fly into Phu Quoc without a visa. Assuming I was not eligible for the 15-day exemption above.
Single Entry One Month Visa for Vietnam
Single entry one-month visas for Vietnam are exactly as the name suggests and valid for one calendar month. This will include the day of arrival and departure, so plan accordingly. Cost-wise 1-month visas are generally the cheapest visa to buy and obviously the shortest.
These visas are processed at major airports Ho Chih Minh, DaNang and Hanoi with your pre-arranged visa approval letter. Costs are in USD as is the payment at the airport. Be prepared with the right money. This will make the process much faster and you won't be subject to bad exchange rates.
There are mixed messages about whether you can extend visas at the moment inside Vietnam. One issue is that they cost a lot to extend if your extension is allowed. The cost of extending a 1-month visa to 2 months is normally more than a 3-month visa cost upfront.
You will also have the hassle of having to go and get the extension. This normally involves a 3rd party agent and is only available in certain areas like Ho Chih Minh, Danang, and Hanoi making it a bit of a headache.
Single Entry Three Month Visa for Vietnam
Very much similar to the 1-month visa, this is valid for three months instead of one. All the same, rules apply and the way of applying is the same. A visa approval letter is given before you fly into one of the international airports.
Cost is obviously more but the three-month visa comes in cheaper than a one month plus extension to two months. The big benefit I see in the 3-month visa is that if you are able to extend it, your extension will be for another three months. This will give you 6 months in total without leaving Vietnam.
Multi-entry Visas 1 month & 3 Month for Vietnam
These visas allow you to enter and exit as many times as you like during the validity of your visa. This is especially beneficial if you're needing to visit other Asian countries over that 3 month period.
Unlike Thai multi-entry visas, where your visa resets in duration on re-entry, the Vietnamese visa is only valid for the dates specified from first entry. This means that regardless of how many times you enter and exit the original date of expiry will apply.
Both are extendable at main immigration centers. You may need to use a 3rd party and the regulations change frequently, so please check before you make plans based on this. Extensions, as for single entry are expensive but do save you the hassle of leaving and returning to Vietnam.
6 Month Multi-Entry Visa for Vietnam
The 6-month visa is only open to holders of United States Passports as far as I can see. Unfortunately, there is nothing longer than 3 months for anyone else at this point in time.
If you're a US passport holder the application method is exactly the same as all the other visas. You need to get your visa on arrival letter and then fly into one of 3 main airports to collect your visa.
Visa Extension or Visa Renewal Via a Visa Runs From Inside Vietnam
Vietnamese visa criteria are constantly changing and one of the main changes involves extensions to current visas. As I mentioned before, the cost can be significant and there have been reports of it costing more than the original visa.
This is why people do visa runs. Put quite simply it is often cheaper to leave Vietnam and get a new visa and come straight back into Vietnam. There are various ways of doing this but they all follow the simple rule of leaving Vietnam to a neighbouring country where you get a new visa and return directly to Vietnam.
Numerous companies offer this service and include a new visa with your transport, usually by minibus, to and from the border. Some of the more common routes are from Hoi An/Da Nang to Laos and Ho Chi Minh to Phenom Phen, Cambodia.
Obviously, you can't do this if you're on the 15-day visa exemption, only for a 30-day visa or more.
Getting a Vietnamese Visa at an Embassy vs Online Agency
You can apply for a Vietnamese visa at a Vietnamese embassy before you travel. If you have a lot of time before you travel and don't mind sending in your passport or dropping it off, if you live in the same city, this may appeal to you.
You'll receive your complete visa in your passport before you leave and it will make both airport check-ins and immigration quicker when you get to Vietnam. It also means you can enter any international border regardless of whether it is land, sea or air.
There are some disadvantages to getting your visa via an embassy vs an agency online. The biggest one is that you'll have to hand over your passport for up to a week depending on where you apply. If you don't live near an embassy you'll also have to send your passport via mail or courier. This is something that I personally don't like doing.
Cost and time are other factors. Online the time taken is minimal and is much quicker than the embassy. You'll spend about 20 minutes getting your visa on arrival at the airport in Vietnam but overall it is much quicker.
Cost-wise it is normally cheaper to get a visa online than it is via the embassy. Currently, if you applied at the Vietnamese embassy in London, UK you'd pay 122 GBP ($160 US) whereabouts online it is $85 US for the visa on arrival. It does depend on where you are as an online visa and stamping fees at airports are charged in USD whereas the embassy will charge you in the local currency. Your nationality also plays a part in the cost.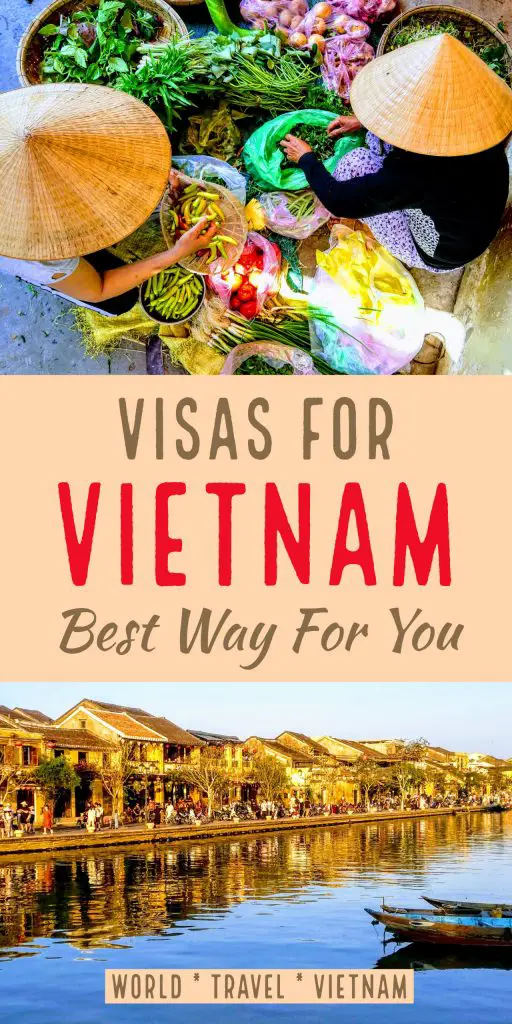 E-Visa New 30 Day Single Entry for Vietnam
Like a lot of countries, Vietnam has now started a pilot program that issues E-Visas directly online without the need for a 3rd party. It is still in the early stages and is limited to approximately 40 countries that can do this.
Check out your country first, as the list includes the USA and UK but doesn't include Canada and Australia (at time of writing).
This one has a flat fee of $25 US to apply for the 30-day Single entry visa and it is done directly online via a government portal. Much like the Indian E-visa you upload a photo of yourself and the biometric page of your passport. Once that is done you should get a confirmation code. After a few days go back online and enter your code.
If the visa is approved you'll find it there and you simply print out the page. When you arrive in Vietnam, and you can arrive at any international border including all land borders simply present your visa and you'll receive your stamp.
Moving forward I hope they'll add the multi-entry and longer visas to their program. But for now, if you're just after a 30-day visit or less then this is ideal. It will save you up to $25 US per visa depending on which company you currently use. You can take a look at the Evisa and immigration page here.
All information here is a guide and not specific to any one situation. Please conduct your own independent research to make sure you have the information you require.
Keep in mind visa and immigration rules are constantly changing. Some people apply online or through agencies, others apply via embassies. Best of luck and I hope I've clarified a few things for you. Now, do you want to take a look at what you'll be eating in Vietnam?
If you'd like more information, including avoiding common scams, transport, and what is illegal in Vietnam you can read my Vietnam travel tips and my guide to Vietnamese food for beginners.
If you'd like to hire a car during your stay, use this car rental comparison tool to find the best deal!

Please check out our Pinterest account for loads of food and recipes from around the world!