This post may contain affiliate links.
Hue, Hoi An and DaNang are located very close together in central Vietnam, Hue is approximately 100 km north of Danang and 126 km north of Hoi An. The journey from Hue to Hoi An generally involves going via Danang unless you book a direct transfer. The journey time between Hue and Danang can range from 1.5 hours up to 4 hours depending on traffic and route taken. The additional travel south from Danang to Hoi An is approximately 30 minutes.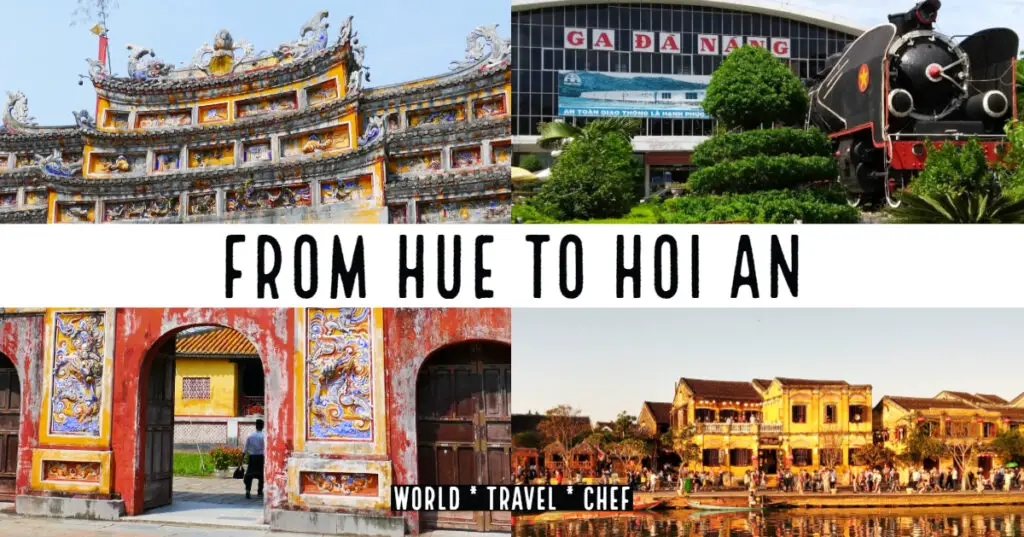 Probably the simplest, quickest, easiest way to get from Hue to Hoi An is to book a private vehicle with driver. This won't be the cheapest way, but it's the most stress-free and still very affordable. Take a look at that option here.
Hue to Hoi An
There are two main ways of travelling between Hue and Hoi An, by road or rail. Please, note that rail will only take you as far as Danang where you'll have to change for road transportation as Hoi An doesn't have its own train station.
Scenery wise it is a beautiful part of Vietnam and either via rail or road you'll see some of Vietnam's best coastline. Road wise it's narrow and winding so it won't be a quick journey but you can either go over the Hai Van pass via road or through South East Asia's longest tunnel, at 6.28km (3.9Miles). The train line hugs the coastline and goes around the base of the Hai Van pass before entering Danang.
Train to Danang then Road to Hoi An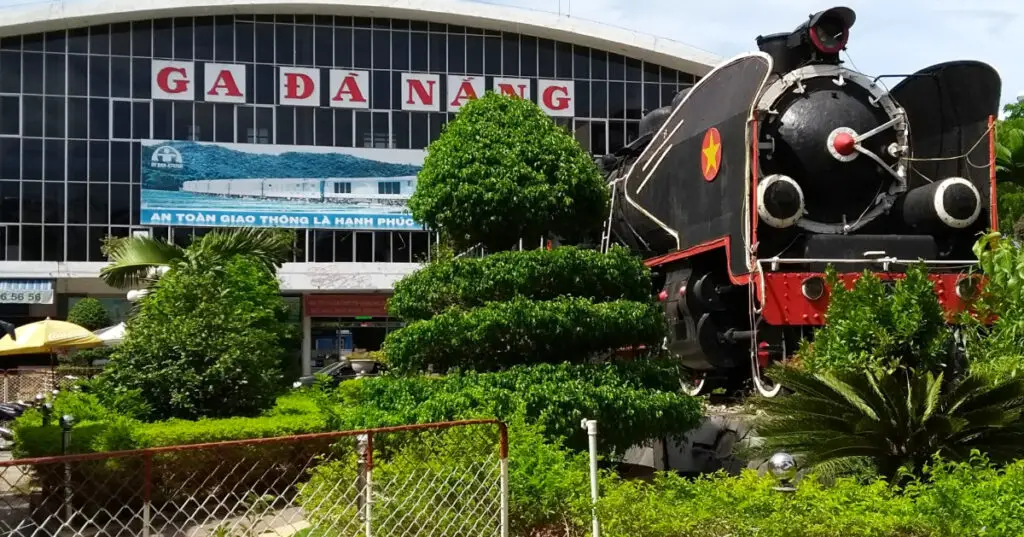 My personal favourite and often the quickest, train journeys normally take between 3 and 3.5 hours from Hue to Danang or vice versa. You won't get the train to Hoi An unfortunately so you'll either have to change or take road transportation from Hue. I recommend taking the train and grabbing a taxi at the station to take you to Hoi An. It'll probably work out quicker than a bus directly from Hue to Hoi An.
There are up to 7 trains a day between Hue and Danang. This gives you plenty of choices. Obviously some of the trains are in the middle of the night and may not be ideal for you. Three trains in the morning and one in the evening are probably your best options. There are no major stops along this route so times are as accurate as they can be with Vietnam rail. From Danang to Hue there are similar numbers of trains with slightly different times but you should find one that suits your needs.
From Danang you can get to Hoi An by bus, taxi, Uber, Grab or private transfer. Please consult our full post on this journey as mentioned above or in the related comments.
Hue to Hoi An by Private Transfer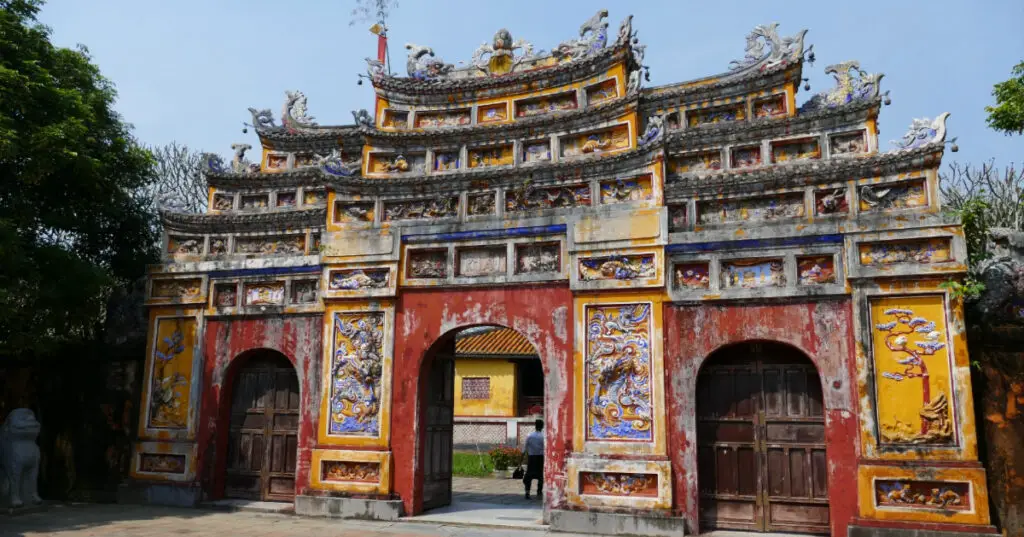 This is by far the quickest way from Hue to Danang and Hoi An. It is obviously the most expensive method as you're booking a car and driver exclusively. Split between four people though this might not work out too much more expensive when you look at it on a per person cost basis. Shop around and see what is out there. Ask at the hotels and you may find someone based in Danang or Hoi An has dropped off someone and needs to head south again, keeping the price low.
The big benefit of having your own driver and car is that you can go as fast or slow as you like. You can stop for pictures and rest breaks and you're in control of what you see and what you skip, hopefully. A lot of buses and taxis won't go via the Hai Van Pass, which on cloudless days has spectacular views across the ocean. Stopping at the top for coffee and photos is a perfect break in your journey.
If you're heading down to Hoi An then this is a great option that saves time and hassle by not changing buses or taxis in Danang at either the bus station or train station.
Hue to Hoi An by Bus
By far the cheapest way to get from Hue to Hoi An is by public bus. Hue has two bus stations on opposite sides of the river. The northern bus station serves all the departures to northern destinations from Hue and as expected the southern bus station services destinations as far south as Ho Chi Minh City including both Danang and Hoi An.
Like elsewhere in Asia the buses are very frequent to Danang and slightly less so to Hoi An (it may be quicker to change buses in Danang anyway) and the cost depending on haggling skills should be under $4 US for the (approximately) 3-hour ride to Danang.
The quality of the buses will vary and there are ever-increasing tourist buses that are running this route. Costs are higher but they should come with A/C and hopefully more legroom for larger western travellers. Take note where they depart from as some tourist buses will leave from travel offices and not the public bus stations.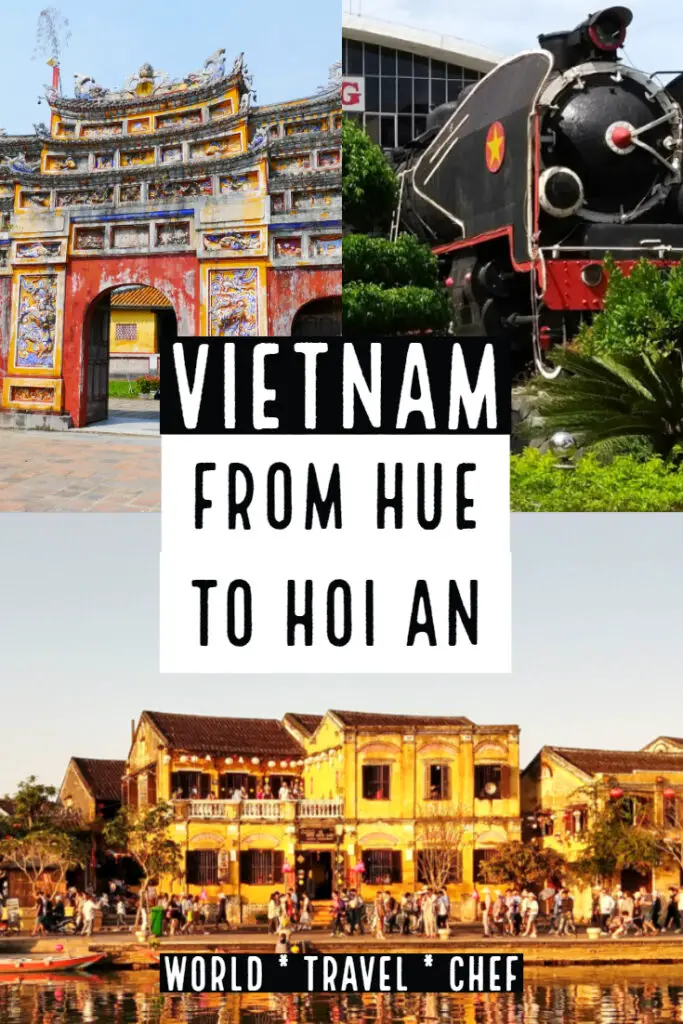 Hue to Hoi An by Taxi
Very much like a private charter but with the added convenience of just hailing a taxi on the street and going to Danang or Hoi An. Just be aware that some taxis won't want to drive that far south regardless of the cost. This will be possibly the most expensive way of doing the journey as you're reliant on the meter which will clock ever kilometer.
A tip would be to try and agree on a set price first. This will allow for any traffic hold-ups that are common on highway 1. If you want to stop or go via the Hai Van Pass also mention this before you commence your journey. As with any negotiation in Asia it pays to be clear upfront and make sure both parties know and understand what they are getting and paying for.
Hue to Hoi An With a Private Tour
If time is short you can combine a tour with travelling from Hue to Hoi An. Day trips are also possible in either direction that will save time and allow you to hit all the major tourist destinations along the route.
While it will be more expensive and a huge day, time and effort-wise it may be what you need to make sure that you tick off some of central Vietnam's stunning sights. There are lots of tours to choose from that range from short day trips to multi-day trips if you don't want to miss anything.
We use Get your Guide for all of our tours and find they have some of the best tours on the market while being solid, reliable and easy to book without tedious negotiation. They generally offer everything you'll need without having to add on extras as you go.
Arrival in Hoi An from Danang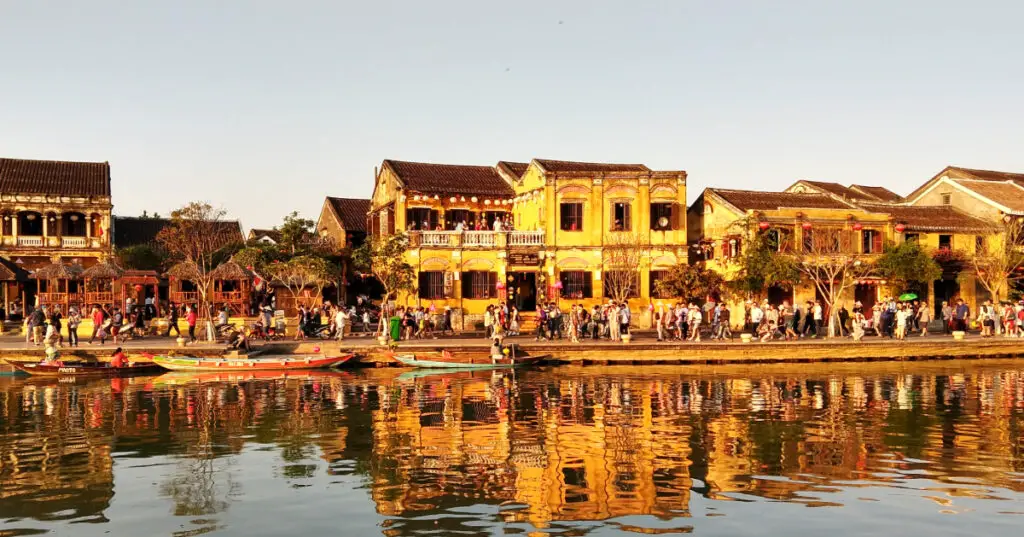 Getting to Hoi An from Danang is straight forward and reasonably quick. There are two roads that lead to Hoi An, the scenic coastal road or the inland road. You have three options with a public bus, taxi or private transfers. One thing to note is that cars aren't allowed into parts of the old town.
The public bus station is located on the northwestern side of Hoi An, about 2km from the old town. While you can catch a taxi from here it can be annoying if you're not going far. Taxi drivers won't be keen to just drive a few kilometers.
Catching a taxi or private transfer is my preferred method as it is the quickest and easiest way of getting from Danang to Hoi An. We enjoy train travel in Vietnam and the overnight sleeper from Saigon to Danang was great, but for this route, with a forced change in Danang, I'd go by road. This way it doesn't matter whether you arrive in Danang at the bus station or train station. You'll be driven directly to your accommodation (unless it is in the old quarter) which if you're carrying bags is a clear winner. If you're on a budget or looking for the cheapest way, go bus.
Hue to Da Nang by Air
Both Hue and Da Nang have their own airports. however, at time of writing, there were no direct flights between Hue and Da Nang. It is possible to fly via Daign.
Distance Hue to Da Nang
Hue is approximately 95 Km from Danang in Central Vietnam. The road distance is 91 to 92 Km.
If you'd like more information, including avoiding common scams, transport and what is illegal in Vietnam you can read my Vietnam travel tips post here.
If you'd like to hire a car during your stay, use this car rental comparison tool to find the best deal!

Please check out our Pinterest account for loads of food and recipes from around the world!