This post may contain affiliate links.
I don't claim to have all the answers to make travel easy and pain-free, after all, isn't working things out for yourself half the fun? Having travelled around the world more than once, I have a few tips to help you along. Here are our best travel tips for first-time travellers and new travellers, applicable to anyone hitting the road and unsure of what to expect out there. Tip number 5 is my favourite hack for saving a lot of money on travel expenses, but do read that post and find out how we once ended up stranded at an airport with no flights. Follow our travel tips and you should be fine! Travel is fantastic, and if you're a first-time international traveller, I bet your first time won't be your last time.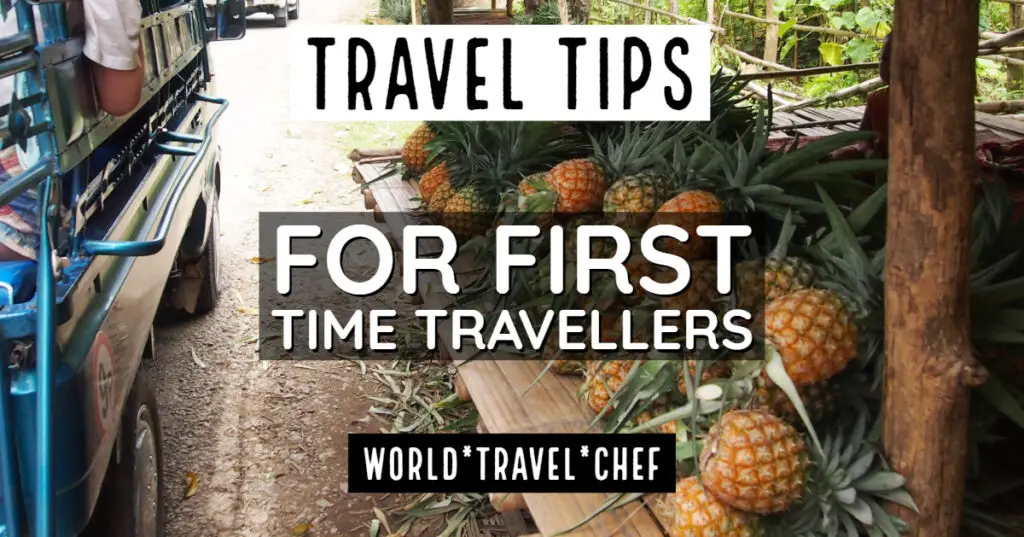 Tips for First-Time Travellers
First-time travellers need tips on money, safety, getting around, and how to pull off travel successfully. We were all first-timers once and there's no shame in it, but there is much a new traveller should learn
Please check and double-check all the information we give you locally as times, places, dates, and services do, as we found, change often. Restrictions and closures may apply.
Tips For First Time Travellers – Research Before Departure
I know it is obvious, but with so much information out there people rarely do enough research before they leave.
Don't just rely on the established travel guides and books. The web has an almost endless supply of information. Want to know what it's like to walk from one tourist destination to another in a foreign city? YouTube it and more than likely you will find someone has already put a video of the route online. This gives you a bird's eye view before you leave home.
Uncertain about trains or buses? It will be on a travel blogger's site somewhere, showing you all sorts of things no book or brochure will ever show you. I particularly like creating posts about getting from one place to another, including photos of buses, trains, and stations. This is vital information for first time travellers.
Want to know how much a cab fare should be? Give it a Google and you will know.
It's useful to put the words " travel blog" on the end of your Google search, then you'll bypass commercial sites and fake reviews.
Tips For First Time Travellers – Book Your Tours
When planning your travel itinerary, even a rough itinerary, it's best to pencil in your big tours and activities for certain days. Book them in advance, online. This means you won't have to waste time at your destination hunting around for that particular tour at the best price, plus you won't chance disappointment if the tour is booked out. This is the company we use to book all tours, activities, and transfers when we travel. These bookings are generally refundable, hassle-free, and discounted.
Tips For First Time Travellers – Money
Banks love making a profit out of travellers. Don't be one of their victims.
I've found the best way to save on fees, short of carrying a huge sum of cash with me is to use the wise Borderless account.
wise Borderless account is both a money exchange platform where you can send and receive money and if you're from either the UK or EU and soon to be US an actual Mastercard debit card. All exchanges are done at the real exchange rate (like the one shown on Google) and any fees are clearly stated upfront.
You can hold and receive payments in 5 international currencies with local bank details including, AUD, USD, Euros, GBP, and NZD plus over 40 currencies where you can hold money in that local currency.
With some of the lowest fees of any travel cards on the market and significantly lower than banks you can make real savings.  With free withdrawals of £200 or $250 per month and a low fee of 2% thereafter you can make some real savings compared to your home bank.
If you get paid in multiple currencies you can have them all under one account and switch money between accounts for less. Transfers are also fast and traceable for peace of mind. If you'd like to find out more about Travelwise's Borderless account you can read about it here.
Make sure you take cash in small denominations. You don't want to wave £100 bills around and you'll find that most people won't be able to change anything more than $20.
USD is still the most used currency in the world so check before taking Euros or Sterling that it will be easy to change and or use.
Credit cards can be evil money-sucking monsters but they have their place. I recommend taking one or two with you for emergencies. Many places will insist on having one, especially car rental agencies and for booking airline flights. If you're robbed then the credit card will be the quickest one to be replaced. If you do use your credit card on the road make sure that you check it frequently online in case it gets skimmed.
Tips For First-Time Travellers – Phone Maps and Paper Maps
While a smartphone can do everything with Google maps, it does need a good internet connection. Don't use roaming as it will send you broke before you reach your destination. Also, do you really want to be pulling out your phone every few seconds and waving it around? With a paper map, you can show everyone from bus drivers, taxi drivers and helpful strangers exactly where you want to go. You can also draw on them, that helps.
Language Tips For Travellers – Write Down Key Phrases, Place Names and Words
If you don't speak the local language write down the key words you will need for the day. Place names, approximate costs, foods you want to eat and of course your hostel address for when you need to get home.
Having it all written down in the local language and your own is much easier than pulling out a guide book each time. People may also think you know what you are doing, hopefully giving you better local rates.
Avoid Traveling Commercial Routes
Just because you want to go from A to B doesn't mean you have to follow that exact route.
Research the cheaper options which may include nearby but lesser-known airports or transit stops.
Flying from the US to Guatemala is actually half the price if you fly to San Salvador, El Salvador, which is 4 hours away by bus.
If time isn't a problem you get to see another country en route to your original destination. Flights out of major cities such as Brisbane, Australia are much more expensive than the Gold Coast, which is only an hour away by train. It doesn't always work out, but if you research both times and places you should save a considerable amount of money.
To do this research we use an online tool, visit this post to find out how to use it, and how it can save you money.
Travel Tips For First-Timers, Documents and ID
The old suggestion, and number one travel tip for first-time travellers was to have a photocopy of your passport.
If you're traveling for a long period of time this isn't always best. Paper deteriorates and after a year or more isn't going to be much good. If you scan your passport and other documents such as travel insurance and email yourself copies, you have them forever and can also access them anywhere.
If you do get robbed or lose all your luggage you can access all the important documents from any internet cafe or Embassy if you need to apply for another passport.
Even taking a photo of them and having google upload to your account (make sure it is set to private beforehand) means you can access them anywhere.
Doing this with the reverse side of your credit or ATM cards is also good, so again, if stolen you have the numbers to ring. Personally, I wouldn't photograph both sides in case the bank holds you liable.
Travel Tips – Walk With Purpose
If you were just popping down to your local shops for a loaf of bread you wouldn't have guidebooks, phones and an uncertain walk, would you? It is the same when travelling, walk around as if you belong there. Not in an arrogant way, but with purpose.
There are, unfortunately just a few bad people everywhere, the reality is that they will prey on the easiest target. Make sure that it isn't you.
It goes back to an earlier tip. Copy down on a piece of paper what you need for the day and just take that. If you have ever held the LP India guide you know it isn't a small book. I'm only 180cm and 73kg so anyone over 12 isn't going to be intimidated by me but walking with a confident easy smile I blend in and so don't attract undesirables that may be lurking.
Above all, be aware of your surroundings, people normally follow you first. I normally make eye contact briefly and with confidence which normally puts pickpockets off. My wife and I spotted a pickpocket on a Malaysian bus and when he knew we knew, he hopped off. Even though he had paid his fare! If you're anxious about theft and will be in crowded cities, buses, or markets, an anti-theft daypack or other anti-theft bag could be a very good idea. These include slash-proof bodies, cut-proof straps and devices to attach them, secure them, and block RFID.
Tips For Travellers – Travel Insurance
Short holidays of just a few weeks that see you going from home and back again will be ok with normal or even your credit card insurance if you have it. But what about if you are going further afield and for longer?
You may not even be returning to the point of departure or may want to extend the holiday while you are travelling. Sometimes travellers change countries and plans mid-trip. Few insurance companies will let you do this. Most will require you to have insurance before you leave, stating all destinations with a return to point of departure.
These insurance policies are as limiting as they are cheap. This doesn't fit with any nomadic traveller that I know of. Quite the opposite.
A travel insurance company we have used is World Nomads. With them we were able to start mid-trip and didn't need to return to the same location we started from. Two key factors when buying travel insurance for long term travel. We could also individually insure all our valuable items such as computers and phones so you have peace of mind when you set off. For altitude trekking and other sports we were able to purchase add-ons to our policies.
7 things to know about World Nomads travel insurance
Internationally recognised underwriters
World Nomads is backed by a suite of specialist travel insurers that provide 24/7 emergency assistance, customer service and claims support.
24/7 emergency assistance
If you need medical assistance or emergency medical evacuation, World Nomads' multi-lingual team is available 24/7 to connect you with medical treatment and transportation during your trip.
Buy and claim on the road
Had a change of plans? You can extend your period of cover or claim online at any point in your journey. You can even buy a World Nomads policy if you're already travelling.
Adventure activity coverage
Designed by travelers, for travelers, World Nomads covers over 150 adventure sports and activities so you can explore your boundaries.
Travel safety tips and alerts
World Nomads provides useful and up-to-date travel insurance information and global travel safety advice to help you plan for your journey and navigate the risks.
Donate and make a difference
When you buy travel insurance with World Nomads, you can make a micro-donation to a community development project to help change lives in the destinations that need it most.
Travel content to help inspire, educate and plan
Plan your trip with free destination guides, develop your travel storytelling skills and learn how you can be a more responsible traveler with World Nomads as your travel companion.
World Nomads provides travel insurance for travelers in over 100 countries. As an affiliate, we receive a fee when you get a quote from World Nomads using this link. We do not represent World Nomads. This is information only and not a recommendation to buy travel insurance.
Country Specific Travel Tips
Of course, each country will have its own set of vital travel tips. The travel tips for Vietnam won't be anything like the travel tips for Guatemala. Be sure you know about any local scams to avoid, the best places to eat and so on, before you leave home. Just Google, you will find travel tips from people who know these destinations well – the travel bloggers.
Travel Tip- Do Some Research on Local Food and Where To Find It
Always research local dishes and eating customs. Find a guide to Vietnamese food and know that it's traditional (and good hygiene) to wipe your chopsticks on the pieces of paper provided, for instance. Read up on where to eat in Thailand, find out where not to eat in London or Port Douglas Australia and if street food in Laos is safe. All of this information is online if you look. Also, create a mental short-list of traditional local dishes you must try, you'll find that local food is usually way better than anything you've tasted at home in restaurants.
Other Travel Tips for First Time Travellers
This list is merely a beginning and I would love to hear about other tips and tricks people have for the first time traveler. It differs from country to country and continent to continent. Let us know your best tips in the comments.
If you'd like to hire a car during your stay, use this car rental comparison tool to find the best deal!

Please check out our Pinterest account for loads of food and recipes from around the world!