This post may contain affiliate links.
Lord Howe Island, Australia, is located 600km east of Port Macquarie, off the NSW coast. Accessible first by boat and now more popularly by aircraft from either Sydney or Brisbane, this crescent-shaped island is an adventurers paradise and one that retains an unspoilt charm that so many islands have lost.
Lord Howe Island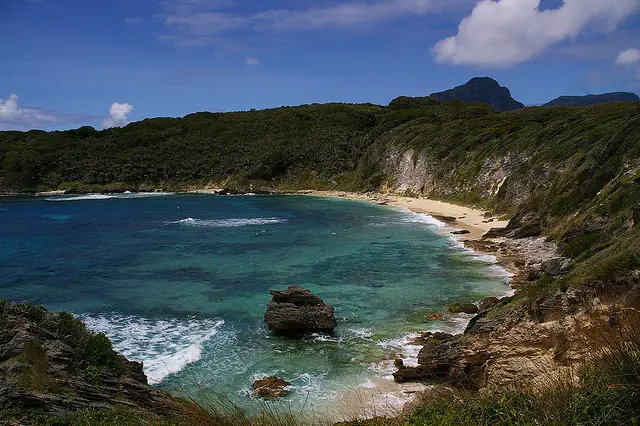 Things to do on Lord Howe Island
The three main outdoor draws for the island are scuba diving, fishing and bird watching. The remote location of the island and the comfortable climate make it perfect for these activities. You could very easily add  more Aussie outdoor adventures, such as world-class surfing, hiking, kayaking, stand-up paddleboarding and golf to the above list, if that isn't enough to keep you fully occupied on your Lord Howe Island vacation.
Diving
Balls Pyramid, 26 km south of Lord Howe Island is the main scuba diving draw, being the tallest sea stack in the world. The Island sits at the cross roads of 5 major ocean currents making this a dive spot for all occasions with tropical, sub tropical and temperate waters and the associated marine life. 90 species of coral and 500 species of fish make this a divers' paradise to rival any in the world. It's not just for the experienced, there is a sheltered lagoon where novice and beginner divers can enjoy all that the island has to offer. Trenches, caves and off-shore diving mean no two dives will ever be the same.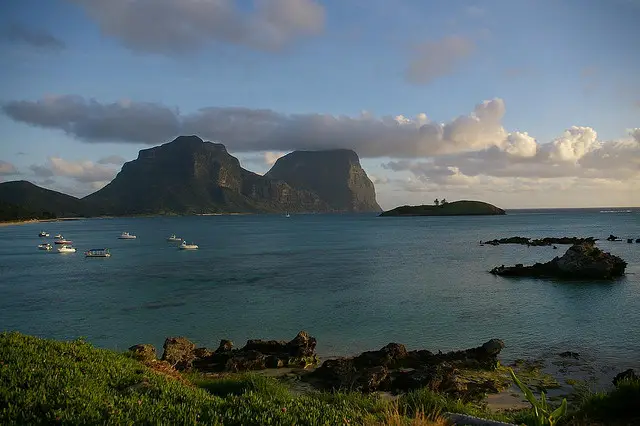 Fishing
Fishing here is legendary. Surrounded by marine national parks there is no commercial fishing to ruin the experience. From the lagoon and beach fishing to 30 minutes off the jetty where you can catch everything from Lord Howe Kingfish to Wahoo and Tuna. There is an annual grand slam of fishing which involves catching a number of fish by sight cast in the lagoon. Over 10 charter companies cater for all types of fishing ensuring your fishing experience is unparalleled.
Birding
Nowhere else in Australia can you see 14 types of sea bird breeding in the hundreds of thousands in one spot. With over 130 permanent and migratory birds on such a small island the displays the birds put on at dusk and sunrise are spectacular. Different times of the year offer different birding opportunities as times of migration and breeding vary. Walking is the best way to see the birds, most have little fear of man allowing you to get quite close to some species.
Lord Howe Island Accommodation.
Just because it is all about adventure doesn't mean you need to rough it it in the accommodation choice. Lord Howe Island accommodation is among the best in the country. Pinetrees Lodge resort recently won a coveted Australia-wide award from a national travel publication. No small feat, when you realise the calibre of competition on the east coast of Australia. So head over to Lord Howe Island, enjoy some good Australian food and hospitality, and check out everything Lord Howe Island has to offer! There's no time like right now to check out some of the less-visited Australian islands.
Photo credit 1.Percita, 2. Percita under creative commons license.
If you'd like to hire a car during your stay, use this car rental comparison tool to find the best deal!

Please check out our Pinterest account for loads of food and recipes from around the world!