This post may contain affiliate links.
What are the best Great Barrier Reef tours from Port Douglas? As I am a long-term Port Douglas resident, keen scuba diver and snorkelling fan, I can tell you. As I've been working on The Reef for the last few years I can give you some of the best insider tips anywhere on the internet, so let's get into it, what's the best way to see the reef from Port Douglas? You have a lot of options, visiting the reef is the #1 activity in Port Douglas and if you can, book in advance, the boats do get full. There are two main areas of reef that you can see from Port Douglas, the Outer Reef, or the reefs around Low Isles, both are good.
---
If you're heading to Port Douglas to see the Great Barrier Reef (and yes, it is the best place to do that, we believe) you'll likely be arriving in the region at Cairns airport. From here you'll need to hire a car to drive to Port Douglas along the Great Barrier Reef Drive, use this company to compare rates and deals, or book the shuttle. All of the reef boats here depart from Port Douglas Marina and many will pick you up from your hotel on the morning of your reef cruise. We recommend you stay at this hotel. All links open in a new tab so that you won't lose your place.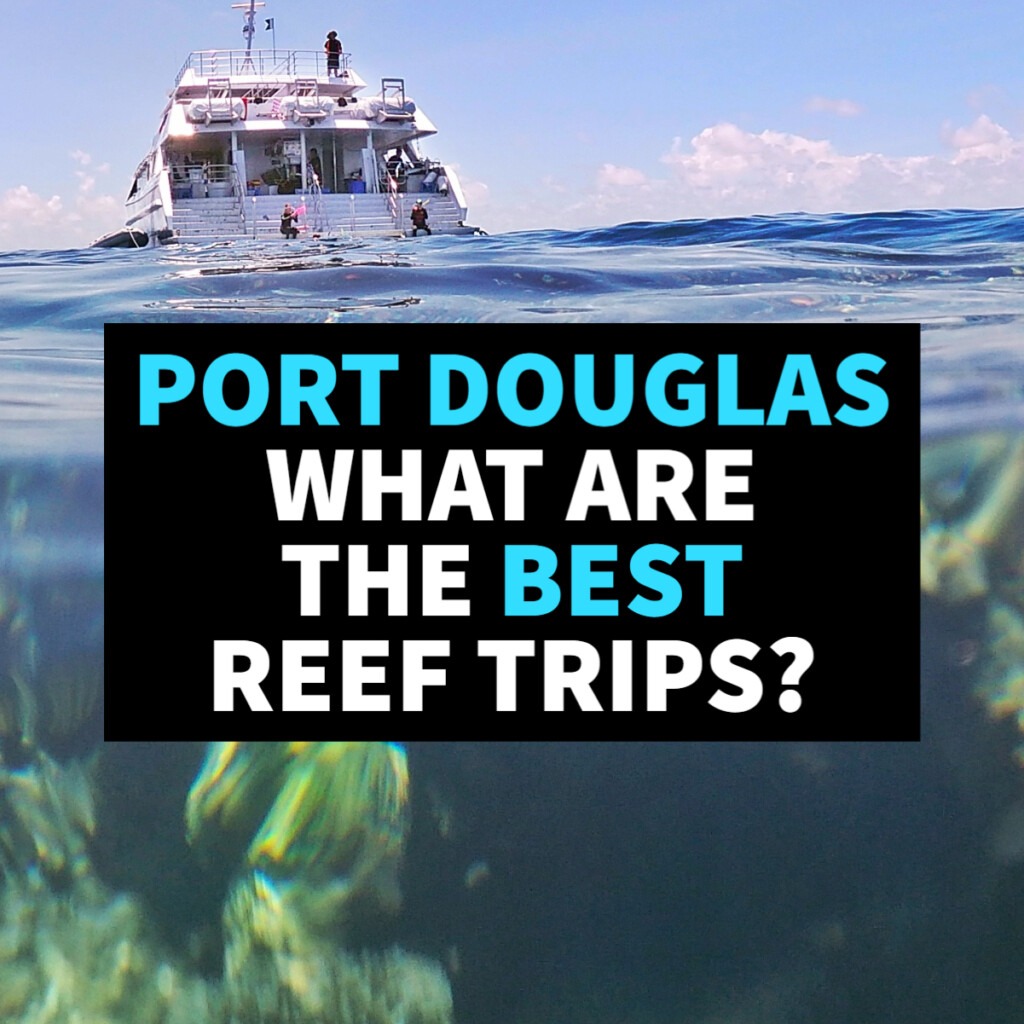 If your time is short, there are half-day trips to Low Isles, but most visits to the GBR Marine Park from Port Douglas are full-day tours visiting 2-3 separate areas of reef during the day. Only Quicksilver has a pontoon, and Sailaway can take you to a coral quay during your day. The pontoon can even allow you to see the reef without getting in the water. There are snorkel and scuba diving options, of course.
Let's take a look at the Great Barrier Reef tours and cruises from Port Douglas.
Information was correct at the time of publishing, but please double-check what's included for each tour, age limits, cancellations etc. Very bad weather does cancel reef tours for safety reasons, so consult a long-term weather forecast when you book.
---
What is "The Best" Reef To See From Port Douglas?
This really isn't a big deal. Every snorkel or dive site I've ever been to from Port Douglas has been good. A lot depends on the day, if you're lucky enough to see dolphins or even a whale shark, you'll have the best day ever.
Poor visibility because of tides or weather could spoil your day somewhat. Your ability is also a factor. Most boats visit 3 outer reef sites during the day and crew will choose your best option depending on weather, these trips will give you the best possible experience on the day.
The reef is not "dead". You may see some dead coral, snorkel guides will point it out to you, but you won't be taken to a "bad" area of reef.
Pick the trip that suits your needs from our list below. I would suggest that if you have time, see both the Outer Reef and Low Isles, they're very different but both good. You do not need to be a great swimmer and crews can hand out flotation devices to help you.
---
Best Half-Day Reef Trips From Port Douglas
There are options for half-day Great Barrier Reef trips from Port Douglas. We think your best plan is to visit Low Isles if you only have a half day to spare. There is a speedboat that will take you to Tongue Reef. But it won't be a luxury trip and you only get 1.5 hours in the water. This trip has age and physical ability restrictions and is barely cheaper than a full-day trip.
More details of your day on the reef and the options the various tours offer guests will be available from the booking websites, click through on our links below. The trip out to Low Isles is only about 30-40 mins, the trip to the outer reef is around 1.5 hours.
---
Best Reef Trips From Port Douglas Including Glass Bottom Boat
---
Best Pontoon Reef Trip From Port Douglas
Quicksilver own the biggest ships (boats?) operating out of Port Douglas and passengers spend their day at a permanent pontoon on Agincourt Reef. Quicksilver are the large silver vessels in the background of our photo above.
We've taken this trip many times, as snorkellers and scuba divers and it's always been great. The pontoon offers an underwater viewing gallery and you'll find that because the structure is permanent, many sea creatures have made their home around the pontoon's anchor points.
There always used to be fish feeding, plenty of steps for swimmers to access the ocean, lifeguard supervision and marine biologist talks. Extra features such as helicopter tours, marine biologist-guided dives and introductory dives should be available at additional cost.
Your day lasts around 7 hours, and boarding commences normally at 9.30 am at Port Douglas Marina. Because the Quicksilver boats are faster, your day can start a little later. Enquire about pick-ups from your hotel. Some of the other boats go out earlier.
Click through here to see the Quicksilver catamaran and pontoon in place on the reef and to book.
---
Best Scuba Diving Reef Trip From Port Douglas
Calypso and Quicksilver have several boats, with scuba diving available on some. Scuba diving is also available from the Quicksilver pontoon. Deep Sea Divers Den pulled out of Port Douglas in 2020. If you want to learn to scuba dive in Port Douglas, Quicksilver have a huge tank for this, just behind Macrossan Street, your first open water dive will then be on the Outer Reef.
There are no liveaboard diving trips from Port Douglas, for that you'll need to go to Cairns, or maybe take out a private charter.
---
Best Full-Day Reef Trips From Port Douglas
---
Best Time of Year To Take a Reef Trip From Port Douglas
The best time to visit the reef from Port Douglas is normally late September through to Mid December. At this time the trade winds should have died off (May-Sept) and the water is warming up, but not too warm.
From December to May the wet season will be here, it will be very warm, visibility may drop and there is the possibility of tropical storms and cyclones. In May the water temperature starts dropping. That said, you can have a fantastic day on the reef at any time of year.
---
More Port Douglas Information on This Site:
Useful Links:
---
Thanks for visiting my site, I'm a Port Douglas local and you'll find me out on the reef most days, helping people have the best day possible on the reef I love. Using our affiliate links, above and below, help us heaps. Have a great day and maybe I'll see you on the reef out of Port Douglas. Do us a favour, visit our Port Douglas Pinterest board and pin some stuff. Thanks.
If you'd like to hire a car during your stay, use this car rental comparison tool to find the best deal!

Please check out our Pinterest account for loads of food and recipes from around the world!