This post may contain affiliate links.
Our deep south road trip took us through Georgia, Alabama, South Carolina, Mississippi and, Louisiana. These states are classically considered the deep south of the USA and the further south we got, the better our food experiences became. Southern-style cooking is certainly something not to be missed and for this Aussie chef, it was a new and fascinated experience. I'm not averse to a bit of junk food ( and American junk food is the best) but after demolishing pizza in New York, cheesesteaks in Philly, bacon desserts in Lancaster County and chili cheese dogs in Florida, I was ready for something different. Good Southern-style cooking was a massive food highlight of our months Stateside.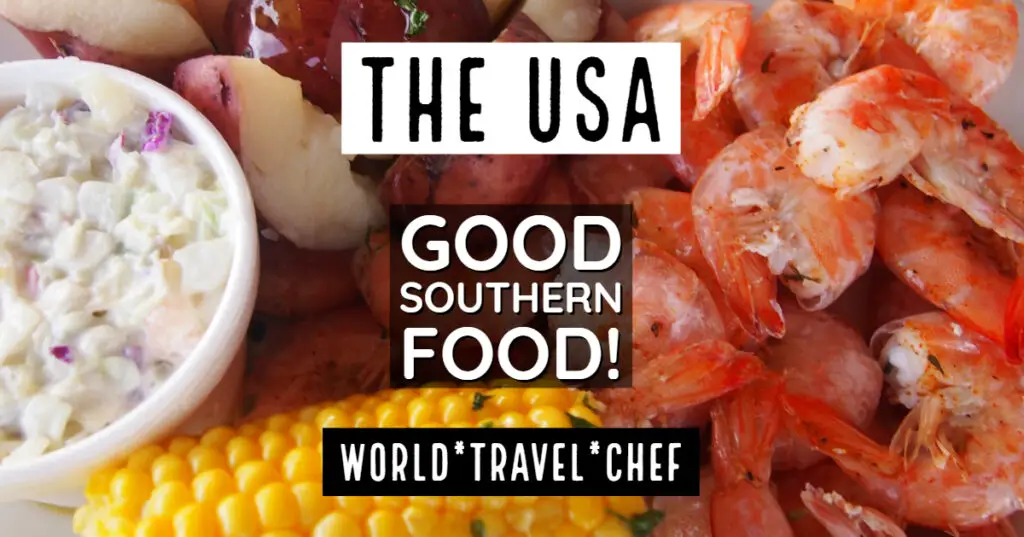 We'd already sampled a few lack-lustre biscuits and gravy on hotel and cruise ship breakfast buffets, but hitting the deep south, wow was this stuff different! Never judge a dish by a poor quality rendition. Always find the source and taste the dish as it should be prepared.
Southern-style dishes to try include grits, country ham, hushpuppies, gumbo, beignets, succotash, chicken fried steak, buttermilk biscuits, pimento cheese, crawfish, pecan pie, boiled or baked sweet potatoes, fried okra, cornbread, pit barbecue, sausage gravy and more but the dishes below were our favourites.
Southern Style Cooking and Dishes to Try in the Deep South
Country Baked Ham
They love to bake a ham in the South, usually glazed with all manner of deliciousness. Glazes can include pineapple, bourbon, molasses, mustard and brown sugar.  Some cooks even add Coke. Southern ham is distinctly sweeter than other hams due to the pigs' diet.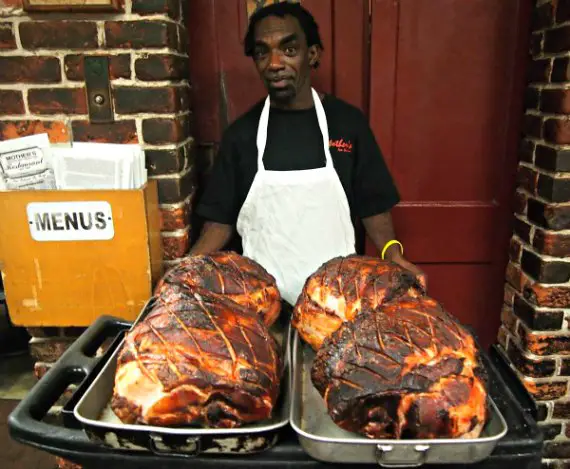 Low Country, Southern or Seafood Boil
The liquid tat all of the components are boiled in is spiced and flavoured with coriander, black mustard, celery and dill seed, onion, celery, bay and pepper, among other things. Toss red-skinned potatoes, crabs, prawns and sausages into the pot for an incredible feast. This was absolutely one of our favourite dishes from the south, so simple but so good.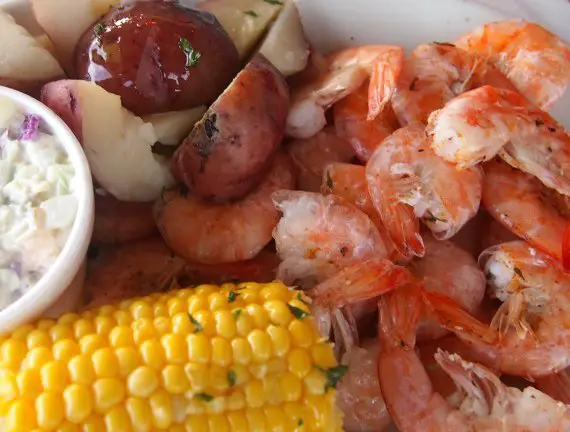 Biscuits with Gravy, Meat, Debris, Eggs, Anything!
We had biscuits with everything! The hard, dried up mass-produced versions were a million miles from the light fluffy delights we found in the south. These babies can come any way you like, with jam or with sausage gravy, they're still good. A breakfast version, below, came with meat, debris, and egg. Very good spiced up with home-made hot sauce.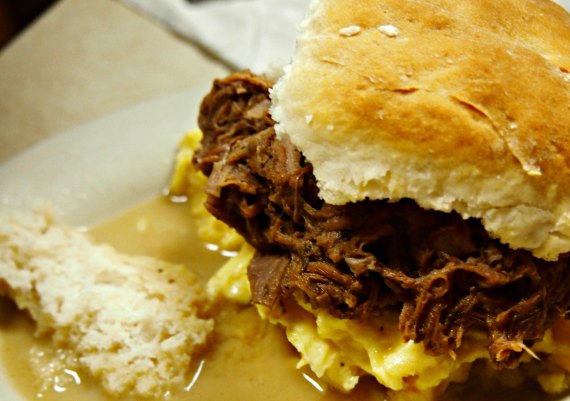 Jambalaya with a Side of Collard Greens
Jambalaya is the Spanish attempt at paella, with tomatoes substituted for Spanish saffron. It originates, again, in the french quarter of New Orleans. The word is possibly a fusion of jambon (French for ham), and aya  ( rice to the African slaves of Louisiana).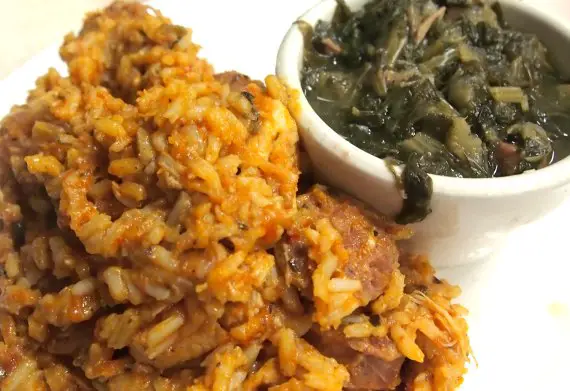 Beignets
A beignet is deep-fried choux pastry or yeasted dough, liberally doused in powdered sugar. They are THE thing to eat with coffee in the French Quarter of New Orleans. The Café du Mond is the place to go, catch some live Jazz on the streets while you're there.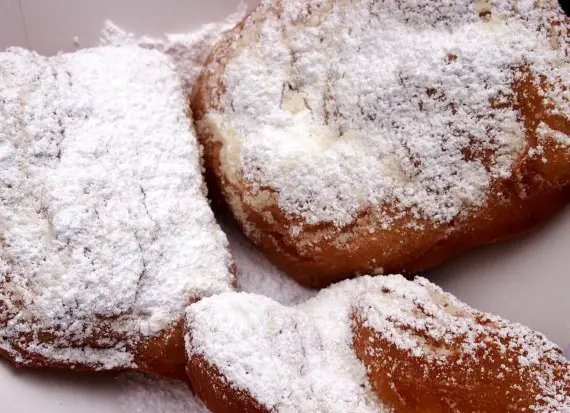 Po'Boys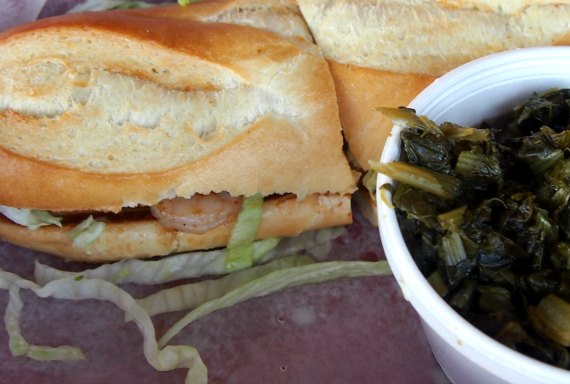 My wife was addicted to greens and she ordered them as a side with everything, including po'boys. A po'boy is simply a sandwich in French-style bread, here we have shrimp. You can find them just about anywhere and classic fillings include roast meat and fried seafood. Po'boy is short for poor boy and the term came from a cafe in Louisianna that fed poor striking workers during the great depression, for free. The poor boys were given a sandwich and the French loaves were adapted so that there were more sandwiches, less pointed ends, per loaf. Find the full history of the Po'boy here.
Could you help us out by sharing this image to Pinterest? We made it just for you.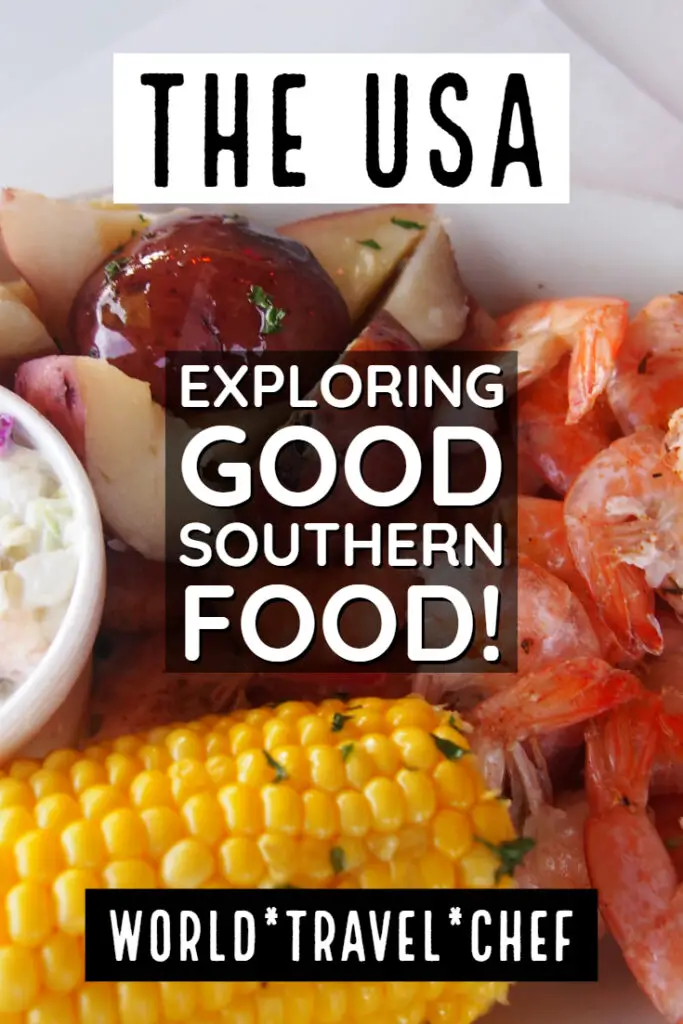 I'm not a real expert on Southern-style cooking, I'm an Aussie and this is all new to me. If you know your grits from your jambalaya, would you like to tell me a bit more about Southern food in the comments? Because one thing's for sure, we will most certainly be going back for more.
If you'd like to hire a car during your stay, use this car rental comparison tool to find the best deal!

Please check out our Pinterest account for loads of food and recipes from around the world!