This post may contain affiliate links.
There are plenty of places to eat pizza in Port Douglas, but where can you find the best pizza in town? As a Port Douglas local, pizza-lover, and chef, I make it my business to try every pizza I can. Here are my findings on the best pizzas in Douglas Shire Australia.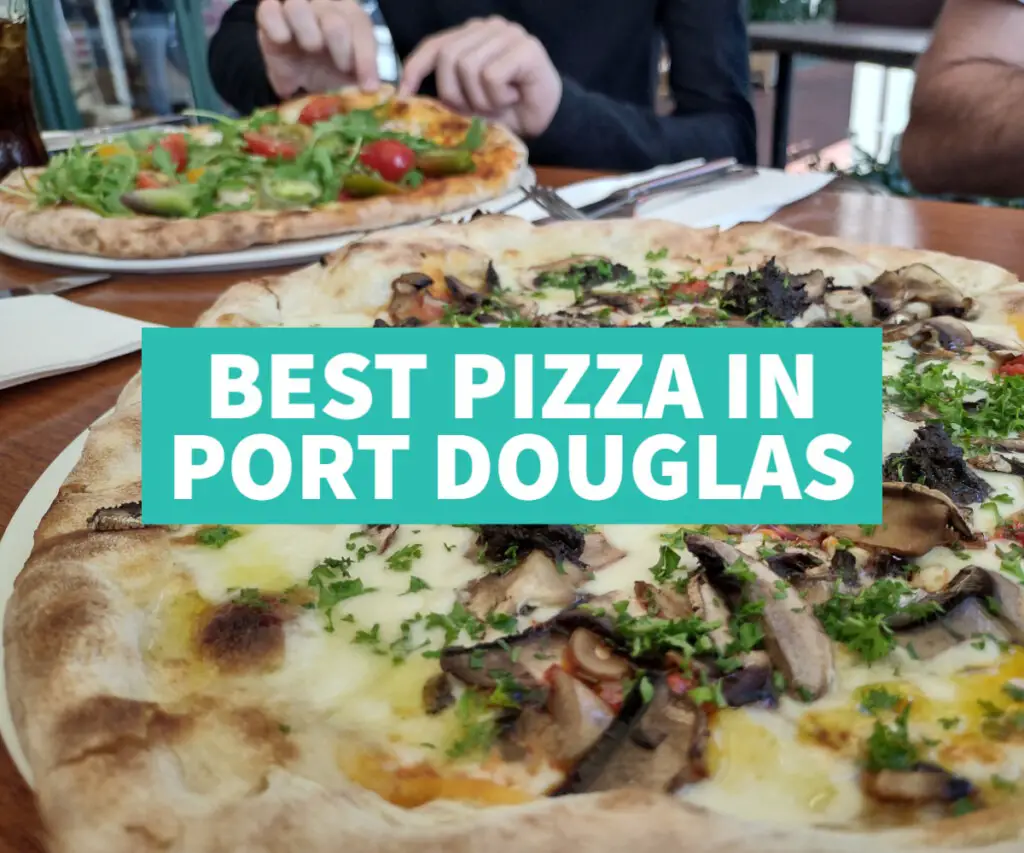 Port Douglas has one international pizza takeaway and delivery chain, Domino's. You'll find it just off Macrossan St at Port Village (near Coles), but if you want your pizza more gourmet, you'll need some insider information.
There is also "The Pizza Shop" Port Douglas, which does take-out pizza. It's on Macrossan.
Oaks Lagoon Hotel serves click-and-collect stone-baked pizza or delivery, you can order online (open 12 noon to 9pm, 12 pm to 4 pm Monday and Tuesday) from "The Little Pizza Company" website.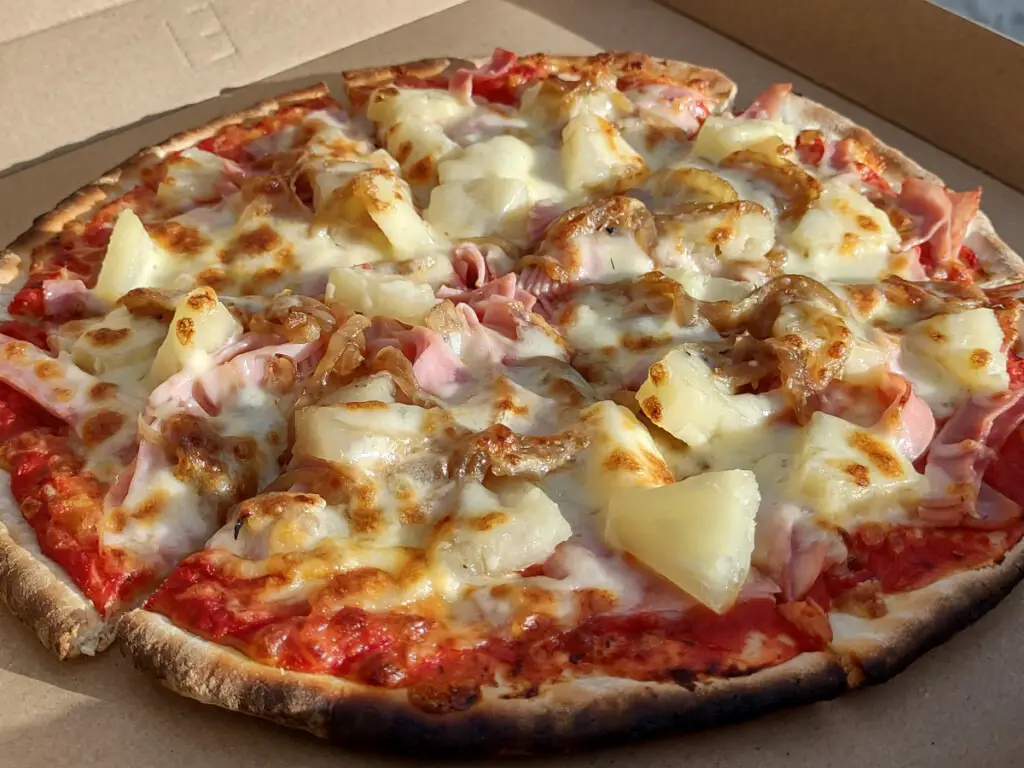 There may be seasonal variations in opening times, services, and prices. Most restaurants will have vegetarian options, maybe even vegan.
Pizza in Port Douglas
Restaurants and hotels that serve pizza in Port Douglas include Oaks Lagoon (hotel), Rattle and Hum on Macrossan St (serves wood fired pizza from the oven), Sassi La Cucina and Bar, corner of Wharf St and Macrossan (a nice Italian restaurant), Hemmingways Brewery (one of the Port Douglas Marina restaurants) and the Central Pub, one of Port Douglas's popular pubs. Families and kids are welcome to dine in pubs in Australia.
Some of these foot outlets have specials nights where you may find "$10 pizza." These special offers are seasonal and you'll need to check for offers or coupons.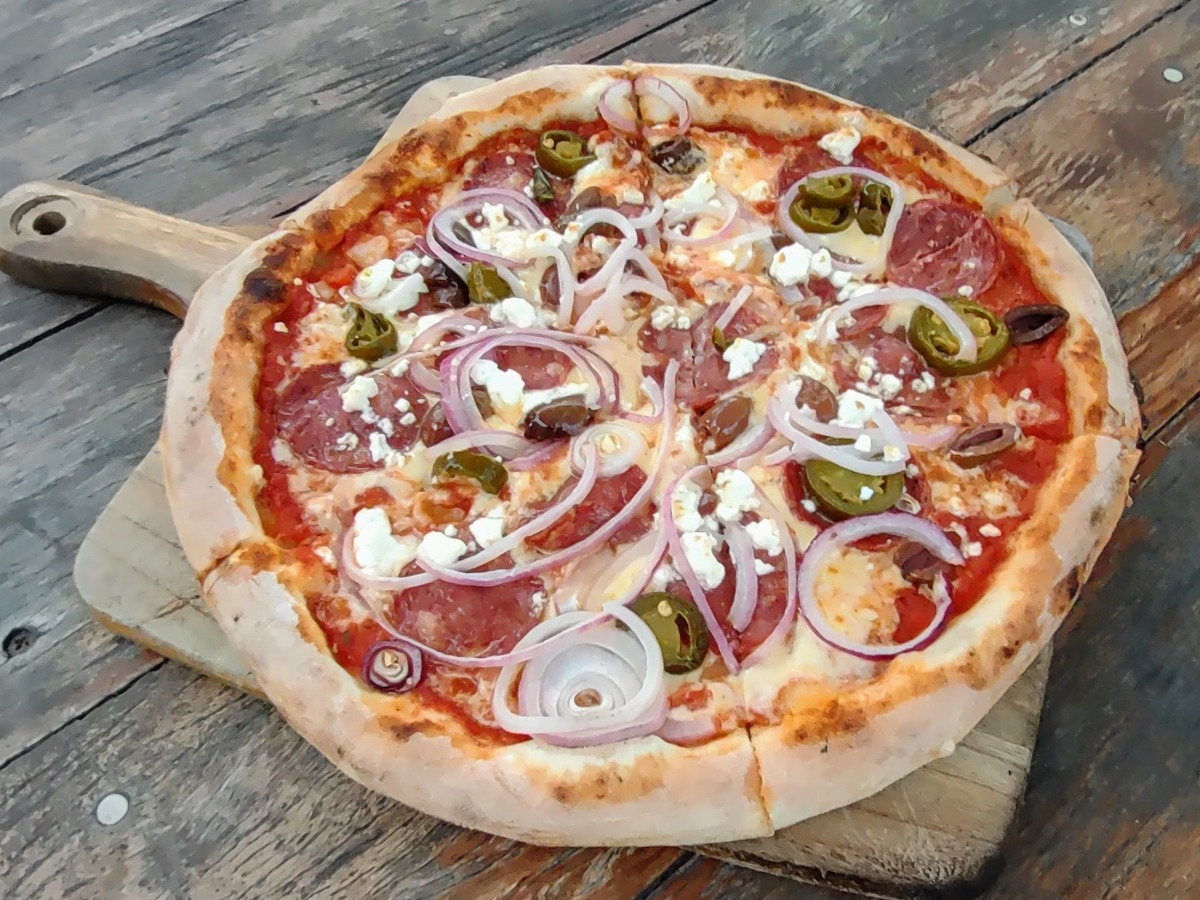 Chilly's, to the rear of Macrossan St, on Grant St, also specialises in pizza.
The Beach Shack at Four Mile has also reopened and is serving pizza at "Slice Slice Baby." The Beach Shack is towards the south end of Port Douglas. The two pizzas we ordered here were both $25 and this place has recently been made over, it's very pleasant indeed, but it is out of town.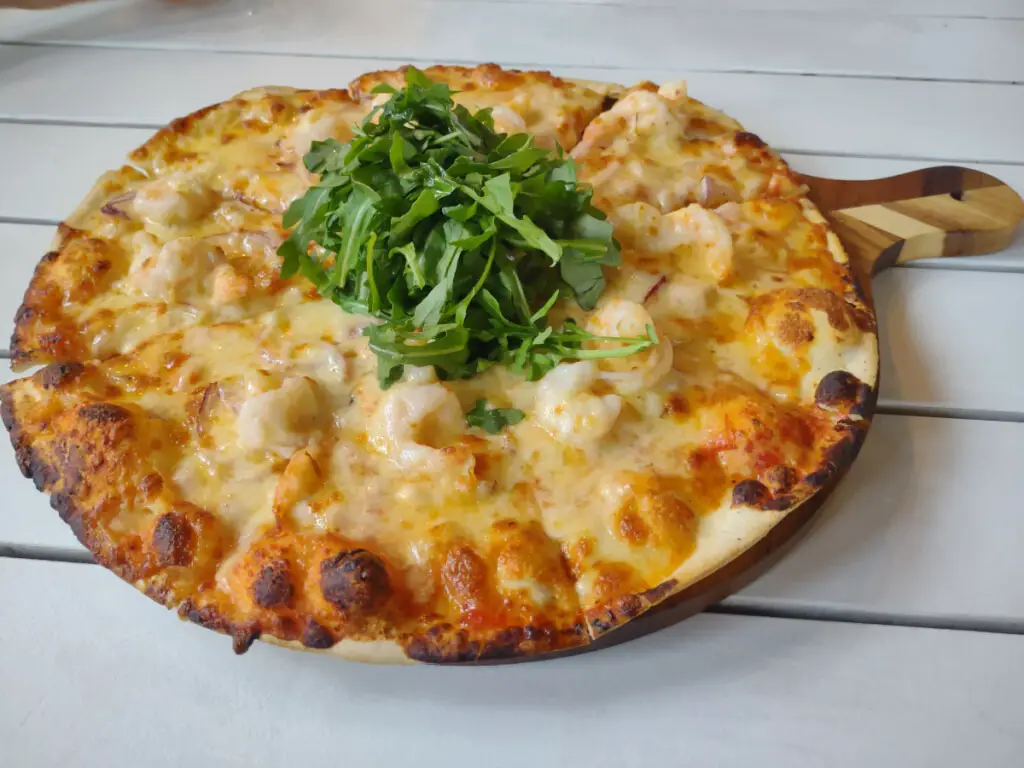 I did notice that The Beach Shack had a vegan pizza on the menu with hummus and vegetables, which sounded interesting, but we tried to stick to prawn and spicy meat pizzas for a better comparison.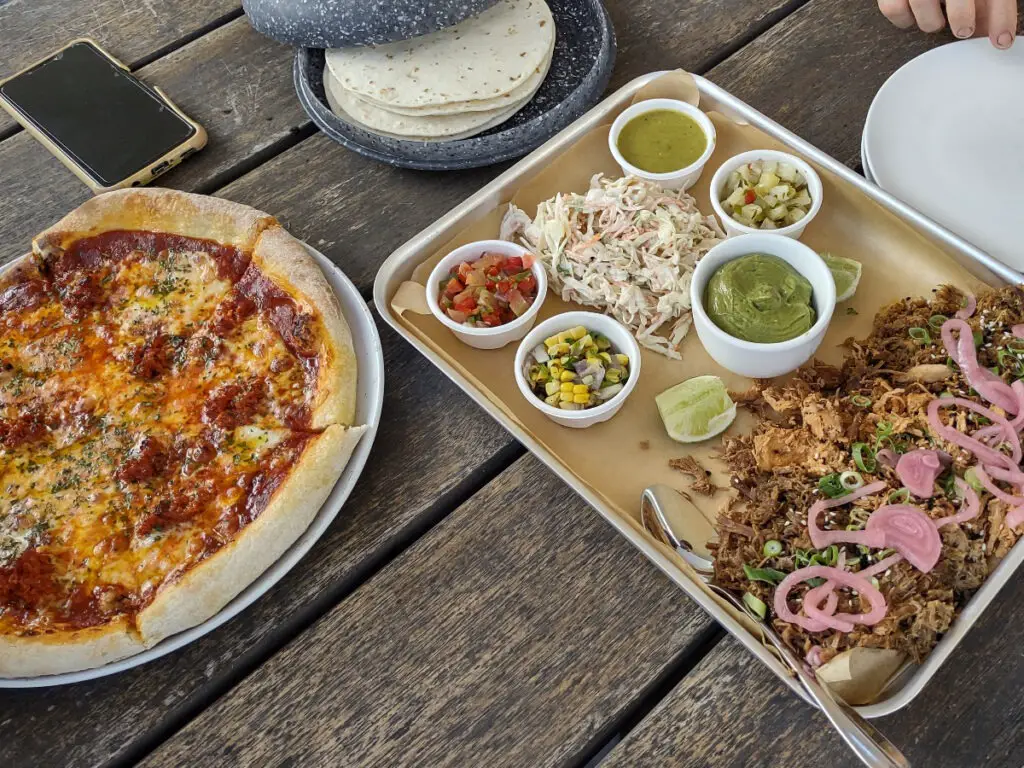 We've marked all of these Port Douglas pizza outlets on a map for you here, so you can find the best pizza near you.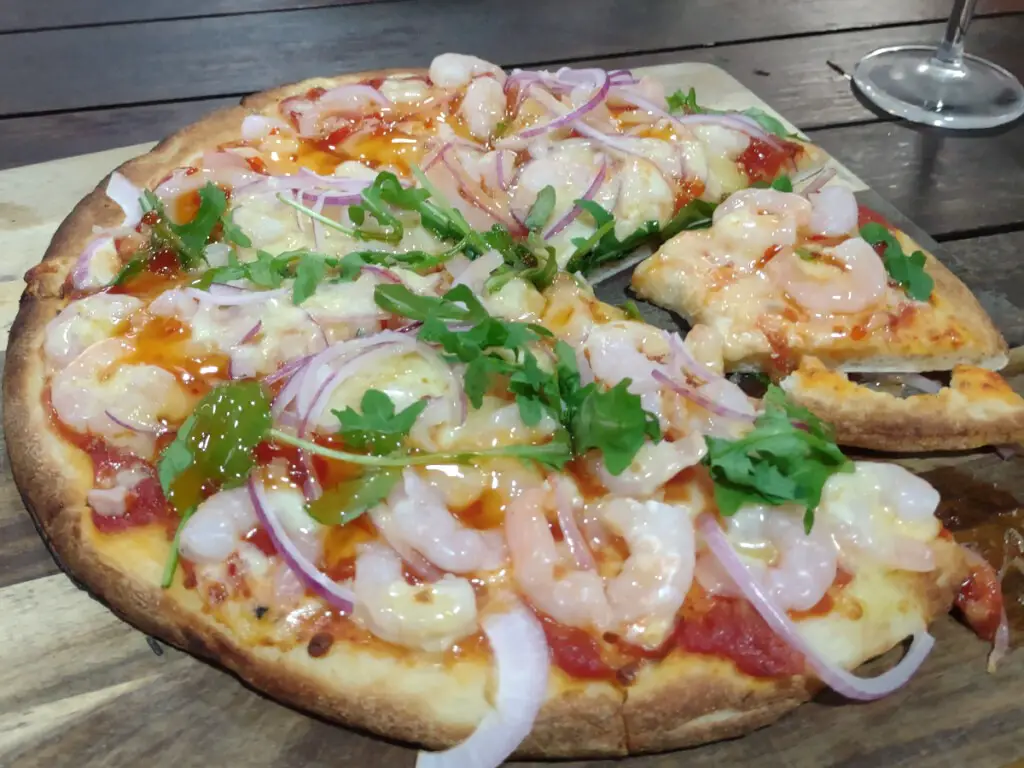 Now for some pizza photos from Port Douglas Australia. I don't think any of these pizzas class as American pizza, they're more Italian or even Australian. Crusts vary, toppings vary, and if you're looking for an interesting Australian pizza topping we'll tell you where to find it.
Dominoes serve thin, thick, and stuffed crust pizzas, however, most of these places in Port Douglas just have a standard crust thickness.
I'm a traveller, I've eaten pizzas in some 50 countries, so we have experienced most types of pizza around the world. In my opinion, you can get some really good pizza in Port Douglas. Check out our photos and consider which looks best to you!
How Much is Pizza in Port Douglas?
Port Douglas Australia is quite expensive generally, but we were quite impressed to find good take-out pizza from Oaks Resort starting at just $15 Au ( $10 US).
One of the more expensive pizzas we bought was $27 at Rattle N'Hum (photo further down the page.) Obviously, you pay more for pizza in a restaurant than takeaway, expect to pay about $25 ($17 US) for pizza in Port Douglas currently, depending on which toppings you choose.
Sassi La Cucina seems to have the most expensive pizzas at $29 for their gamberetti and n'duja, but it's a nice restaurant and these are really good pizzas with quality toppings. If you want to treat yourself to a seafood feast in Port, go to Sassi, for photos see our seafood post or our guide to the best restaurants in Port. Our Port Douglas blog archives are here. (link opens in a new tab.)
Obviously, prices change, we share what we paid as a rough guide only
Where Can You Get Pizza for Lunch in Port Douglas
Rattle and Hum on Macrossan St (from 12 noon) and Sassi Cucina should be open and serving pizza at lunchtime in Port Douglas. The Click and Collect Pizza at Oaks is also open for lunch (from 12 noon). Most of these Port Douglas pizza restaurants are open late in the afternoon or in the early evening. It's normal to have dinner early in Port Douglas.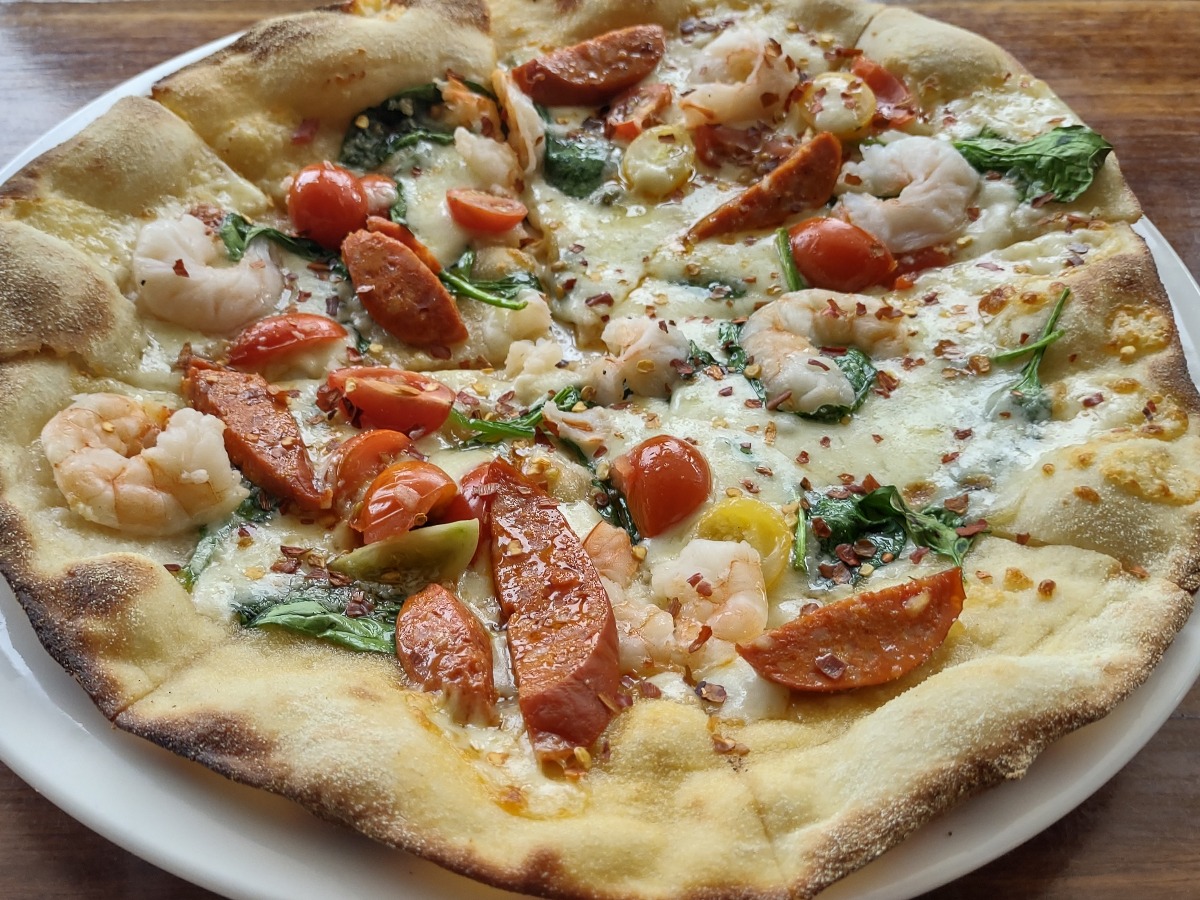 Rattle N'Hum is an Australian bar and grill chain. You'll also find them in Cairns and Palm Cove.
Rattle and Hum and Sassi also have aircon in some parts of their restaurants in summer. Both also have pavement dining. Rattle has a pool table and pavement seating with misters to cool you down.
Domino's Pizza normally opens at 3pm.
Opening times and days of opening do vary and are seasonal. You may find that a lot of Port Douglas restaurants are closed completely in the wet season. (February.) Others may only be open for a few days per week.
Bakeries Serving Pizza in Port Douglas
Grant St Bakery, on Grant Street, off Macrossan, serves squares of cold pizza to eat as a snack. It's not bad cold pizza. The other bakery in Port Douglas, Mockas, also on Grant St doesn't usually have pizza, but obviously, menus change. We'll keep checking for you.
Hotels in Port Douglas With Good Pizza
Oaks Lagoon is a nice hotel in Port Douglas, well located and with a lovely tropical pool, it's not 5 star luxury, but it's nice. They specialise in pizza and it's click and collect. This pizza outlet is open quite late too, in Port Douglas most restaurants close early.
We really liked to take out pizza from Oaks. They use a lot of toppings so these would be good to feed a family. There is a photo above of an Oaks Port Douglas Resort "Little Pizza Company" pizza, featuring Great Northern Beer, an Australian brew.
Oaks have some apartment-type rooms with kitchenettes. If you'd like to book a hotel in Port Douglas, take a look at Oaks here.
If you'd like to pin this post, check out our Port Douglas Pinterest board here, we have one of the biggest!
What is an Australian Tropical Pizza?
In Port Douglas you'll often see "tropical pizza" or "Queensland pizza" on the menu. This is usually a prawn (shrimp) and pineapple pizza. The pineapple should be fresh, not tinned, we grow tropical fruit like pineapples in northern Australia, and the prawns should be local not imported or farmed. Give it a try it's a great combination!
I know Americans aren't keen on pineapple (or tuna) on pizza, but the rest of the world loves it, so try a tropical pizza when you're in Port Douglas. Find the best pizza restaurant, I'd recommend Sassi for the best pizza in Port Douglas, but Chilly's is a good choice too, as is The Beach Shack.
Sassi La Cucina only serves pizza in their bar area, not in the main restaurant, bookings are not normally required but they can get full. Enjoy your time in Port Douglas, visit the reef, swim with the crocodiles, see all of our local historic buildings like the Sugar Wharf and Courthouse, and spend some time strolling on 4 Mile Beach, just as Bill Clinton and Kylie have done before you!
If you'd like to hire a car during your stay, use this car rental comparison tool to find the best deal!

Please check out our Pinterest account for loads of food and recipes from around the world!