You'll need sunglasses for triathlon in nearly every instance. If you're competing in a hot sunny climate then they are a must but even on those colder northern hemisphere races, you'll want them for the bike. Having a bug or similar go into your eyes at 35 km per hour 10 km into your 180 km bike ride will ruin your day very quickly.
I've tried and tested a few styles and types of sunglasses for Triathlon and Ironman events, see my review and current best (favourite) sunglasses for racing and training below.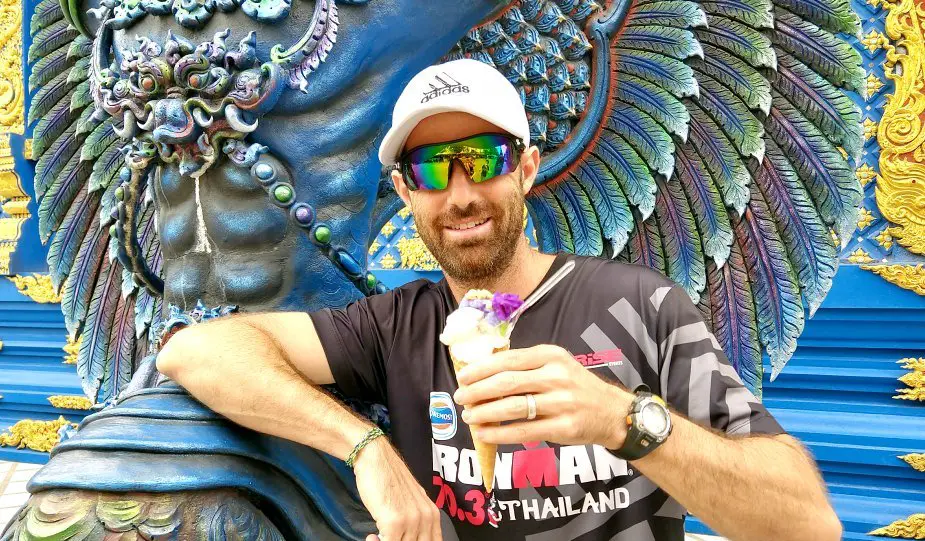 Sunglasses for Triathlon
Here I'm going to review my prefered top three sunglasses for triathlon, Ironman events, training and sports in general.
Ironman Sunglasses Triathlon Review
SunGod PaceBreaker (No Longer Available)
I personally use SunGod PaceBreaker sunglasses for all my races and training. Unfortunately, these have now been discontinued. They are a fully customisable product that lets you stand out from the crowd. Their build quality is excellent, and being able to choose everything from lenses, frames and decal it means you can match your sunglasses and triathlon gear. SunGod is so confident in their product that they come with a lifetime warranty and that's great to have.
I've worn them for 2 months of solid training and have loved every minute. Once on, your field of vision is perfect without glare or fogging up. Even when stopped there is no fogging. They block all the light from each angle without being over tight. When running they sit exactly where they need to and don't wobble loose or slide forward.
Cost-wise they are nothing short of a bargain. The top of the range polarised versions are still under £100 and they can be as cheap as £65 depending on which features you choose. The speed of delivery is outstanding. I ordered my pair on a Thursday afternoon at 3 pm and by 2 pm Friday they had arrived.  Using their website I'd picked and personalised the pair which made the speed of delivery all that more impressive. They ship worldwide so anyone can order and have the PaceBreakers without leaving home.
SunGod makes multiple styles, some aimed more on the fashion side of things than sport, so you can grab a pair for the holidays. They also sell replacement lenses so you can buy extra lenses such as the clear or lighter version for the winter bike rides and simply swap them out at home. With their special design, it takes no more than a few minutes.
Adidas Triathlon Sunglasses
Zonyk Aero Pro is Adidas's sports eyewear for cycling and running. Very similar to SunGod but the choices are fixed. There is no customisation here.
One good feature in the Adidad Zonyk Aero Pro is a detachable sweatband on top of the frame to stop any sweat trickles getting in your eyes as you ride.  That can sting and really put you off your race as well as impairing vision. These glasses feature detachable lenses and the ability to fit the frames with prescription lenses.
A great looking pair of glasses with a large price tag to match. Close to double the cost of the SunGod PaceBreakers, you'll have little change out of $200.
Oakley Triathlon Sunglasses
Oakley has been a big sponsor of numerous professional triathletes over the years and are the most recognizable face of sunglasses on the triathlon circuit. Making both men's and women's triathlon sunglasses they also have the biggest range.
At least 3 different lines of glasses are aimed at the triathlon market. Some of these are customisable while others just give you a choice of frame size and lens colour. One of the nice features is that the frame size comes in 3 sizes, Asian, standard, and youth which will ensure a great fit. Polarised lenses are also available on some types.
With prime exposure and being the biggest brand its no surprise that the cost is also highest. Most cost upwards and over $200.
Not shopping now? Save our sunnies to Pinterest.

Verdict on Triathlon Sunglasses
Having now spent over 2 years training with the SunGod PaceBreakers and racing 2 full distance Ironman races with them, I can say that Sungods live up to their hype. The polarized lenses were faultless in the harsh Asian sun and equally great in Wales. They are light and fit like a glove so you quickly forget you're wearing them.
After so much use they still appear new and the lenses are mark free which is a testament to their tough durable make. The frames are still tight and true just as they were out of the box. It is easy to see why they have a lifetime guarantee when looking at the build quality. I'll certainly be using them in the future and adding a few more pairs of Sungods to my arsenal of triathlon gear.
If you'd like to hire a car during your stay, use this car rental comparison tool to find the best deal!
Please check out our Pinterest account for loads of food and recipes from around the world!