This post may contain affiliate links.
Phuket, Thailand's iconic island destination now features two of Asia's biggest races. The premier race, Laguna Phuket Triathlon and Ironman Thailand, a new addition to the Ironman scene. 2016 saw me grab a late entry into the Phuket Ironman Thailand while on holiday with my family. We arrived on Phuket the day of the Laguna Phuket triathlon which is Asia's first and longest-running triathlon. I gave myself a couple of weeks to acclimatise to the tropical Phuket heat and explore this resort island before race day. It was still a tough day! Note to self, more time to adjust next time, for my next race, Ironman Malaysia, I took this into account and trained and acclimatised in Viietnam for 3 months before the race. Phuket triathlon 2018 could bring further course changes to the bike course, but as with 2017, we probably won't know until the last minute.
As of May 2018 the 2018 edition of the Phuket Ironman Triathlon has been cancelled and relocated to Bangsaen, just outside Bangkok. The first race is scheduled for Feb 2019 so there is no 70.3 race in Thailand for 2018. I'm not sure if this is due to the Phuket Police and Island officials not supporting the race and having to close the roads, or due to other reasons. The numbers were always good and the boost to local tourism was large. The race has suffered from infrastructure issues in the past even when Challenge were running it and a lack of commitment from the local government could have sealed its fate with Ironman organisers finally loosing patience and permanently moving the race to a location that wanted and supported it.
The Laguna Triathlon which has been going for over 20 years is still scheduled to go ahead as planned and shows no such issues in regards to the half ironman.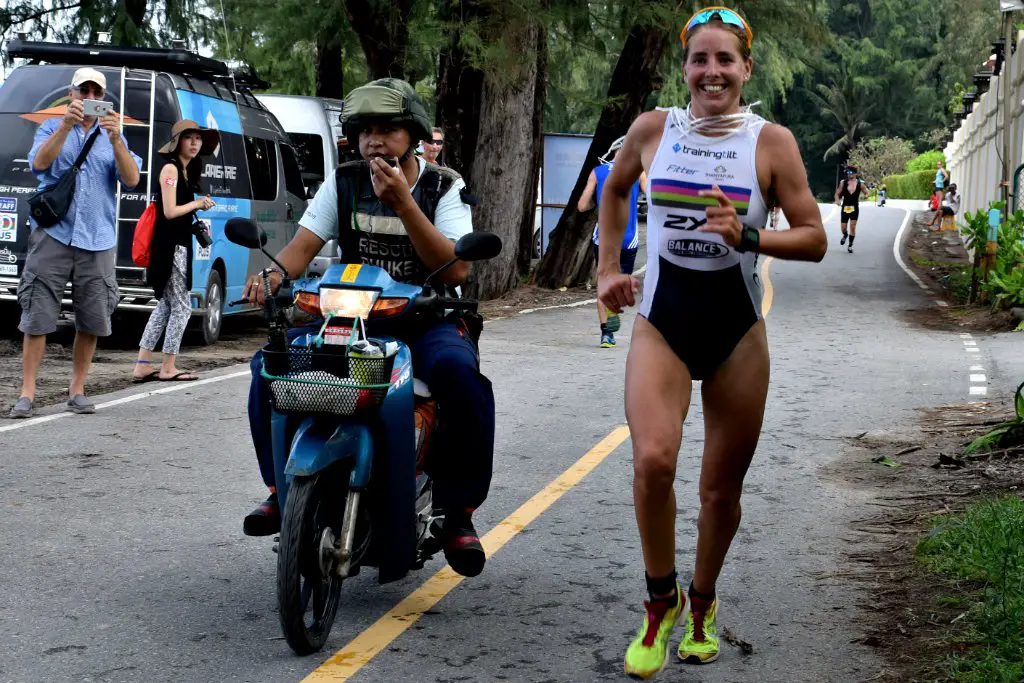 Laguna Phuket Triathlon & Ironman Phuket Thailand?
These 2 events, Laguna Phuket Triathlon and Phuket Ironman Thailand, are actually two totally different races run over consecutive weekends, both on the Laguna beach grounds but in no way related to each other.
Confused? I was and initially thought I'd got the wrong date and missed my race.
Laguna Phuket Triathlon
The first race is Laguna Phuket Triathlon, now in its 24th year, unique in not just age but also in distance raced. Not an Olympic nor a long course, this race mixes up the distances to give you a 1.8km swim, 50km bike and a 12km run. The swim is also both in the ocean (salt water) and a lagoon (fresh water), which gets mixed reviews. Apparently the elephants are also washed in the same lagoon.
Set in the grounds of the Laguna Phuket resort which covers an area of 1000 acres and 8 km of beach front, seven hotels and a world-class golf course make up the complex. The race appeals to top athletes and the winners list reads like a who's who of triathlon. Craig Alexander, Jan Frodeno, Greg Welch and Michael Raelert to name a few. But this event wasn't why I was here. My focus was to compete in Ironman Thailand.
Phuket Ironman Thailand, My Experience
I was a late entry to this race. Sign up is online through Ironman's third-party host, Active, and costs $351 USD. The race organiser was Sunrise Events who manage numerous Asian Ironman races from their base in Philippines. This was the first time the race was run by Sunrise Events and saw Ironman return after a 3 year gap.  The organisers promised a much improved course.
The previous race and original Ironman Asia-Pacific 70.3 championships was limited in that the course went up and over a footbridge on the bike course, twice. No easy feat with 2ooo atheletes. The current event is still based in and around Laguna Beach and Resort but the swim is a straight ocean swim followed by a fast multi lap bike course and then a four lap run course around the hotels. All of this on closed roads as is usual in Ironman races. That was the original plan, but as I'll explain later, things change.
Getting to the Race
Racing on the other side of the world took much more organisation than driving down the M4 for Ironman Wales. Transporting all the triathlon gear, including bikes, on international and domestic flights isn't straight forward.
Airlines have different rules for carrying bikes. There is no industry standard restricting any items such as CO2 canisters or inflated tyres but some airlines limit numbers or ban them altogether.
I used a cardboard bike box which I picked up free of charge from Evans Cycles . We flew from Romania to London on Wizz Air and then across to Bangkok with Etihad. From Bangkok an internal Air Asia flight took us to Phuket.
Both of the above budget airlines ask you to purchase a sports goods ticket for your bike box at about £10. Etihad allows a bike as part of checked baggage.
In my experience,  Wizz Air didn't have restrictions or even ask questions about the box besides what was in it. Etihad asked if the wheels were deflated and insisted they were when leaving Heathrow. The cargo hold can drop 10psi in pressure so when it re-pressurized on landing there is a risk of them exploding. Most racing wheels will take 120psi but are rarely inflated past 100-105psi so the risk is minimal and I've never heard of it happening. Air Asia didn't want me to take multiple  CO2 canisters on the plane but after a while lost interest in arguing and let me take them.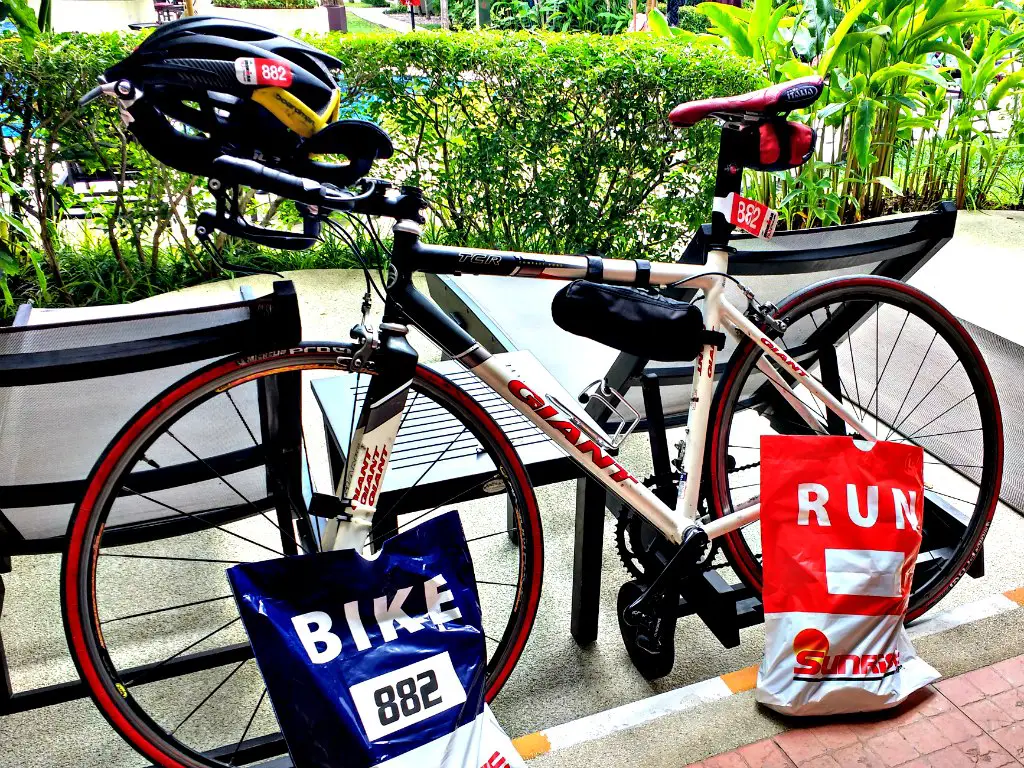 Race Week and Check In
I had a little under a month in Thailand to get ready for the race. Most of this we spent in Chiang Mai before we flew south to the humidity of Phuket the week before the race. I would definitely recommend a week at least to acclimatize yourself  to the tropical heat.
In the final week before the race things weren't clear in regard to on-course nutrition and the course wasn't overlayed onto a google map. I assumed this was because it was a first race for both organiser and Ironman.
The reason became clear when only a few days before the race the bike course was updated and it showed us going up and over a foot bridge twice.
The course was similar to previous years and the run course used a two lap loop that utilised the aid stations in both directions.
This was my first race outside the UK or Australia and I wasn't sure on how these races would unfold.
Speaking to a fellow competitor and friend from Australia he said he relied on nothing and took all his own needs. This included race nutrition which I was rapidly running out of. I was to find out that the drinks sponsor wasn't great and I wasn't used to the gel sponsor, Bollox. Both would come back to haunt me race day.
Check in was smooth and the expo was small but well stocked.
As a first event in a location that the main sponsors don't maintain a presence in, they'd done a great job.
My main issue was the lack of communication before the race and leading up to it.
Social media presence was good but the organisers struggled with answers especially to more technical questions or requests for the bike course to be overlayed with a google map. The map they provided was a general drawing on a tourist map of the area and didn't give enough information.
Bike racking was smooth as you'd expect from Ironman. Transition was on the beach and there were mats to cover the sand.
Race Day
4;30 am saw me grab my boxed breakfast and drive to the start of the race.
Transition was open early and the race had all the feel of any other well-run Ironman event.
Music pumped and spot lights illuminated the otherwise dark transition. A blur of activity as people completed their final checks for the race. The announcer was continually requesting items that people had forgotten or lost and it was great to see everyone pitching in and sharing CO2 cannisters and I believe even a helmet to race with.
Race numbers on belts weren't worn until the run which was a new experience for me.
Daylight came and organisers marshaled us into our predicted swim time ready for the start.
There was a bit of confusion when the pros went off course and we all wondered if they were following a different path but they did eventually get back on track.
I was quietly confident that I would have a great race. Everything pointed to it on the surface but in races hairline cracks tend to turn into rather large gaping wholes.
Swim
I positioned myself in the front of the 31-35 minute group which was the time I was aiming for. I'd done 34 min in the first 1.9 km then 32 min in the second 1.9 km of Wales Ironman.
The start was brilliant and we were let out of the barriers in groups of 4 every two seconds.
A clear run into the water and I was away.
I made good time to the first buoy, even overtaking a few people (that never happens to me in the swim).
The turn was the usual washing machine but the next long stretch was good.
The next turn was where it went wrong. Turning I collected someones closed fist in my eye and while my goggles didn't come off, it was uncomfortable.
I struggled to find the buoy for the final turn and lost some time here.
Heading out of the water and up the beach I finished with a shocking time of 35 min 2 seconds.
Not the start I was after but up and into transition to the bike leg. Easy enough to catch up on the bike and so off I went to my second favourite of the disciplines. I elected to put my shoes on here and used a bottle of water to wash my feet getting rid of the sand. I always do this at beach based races and it really helps to avoid blisters or sore feet.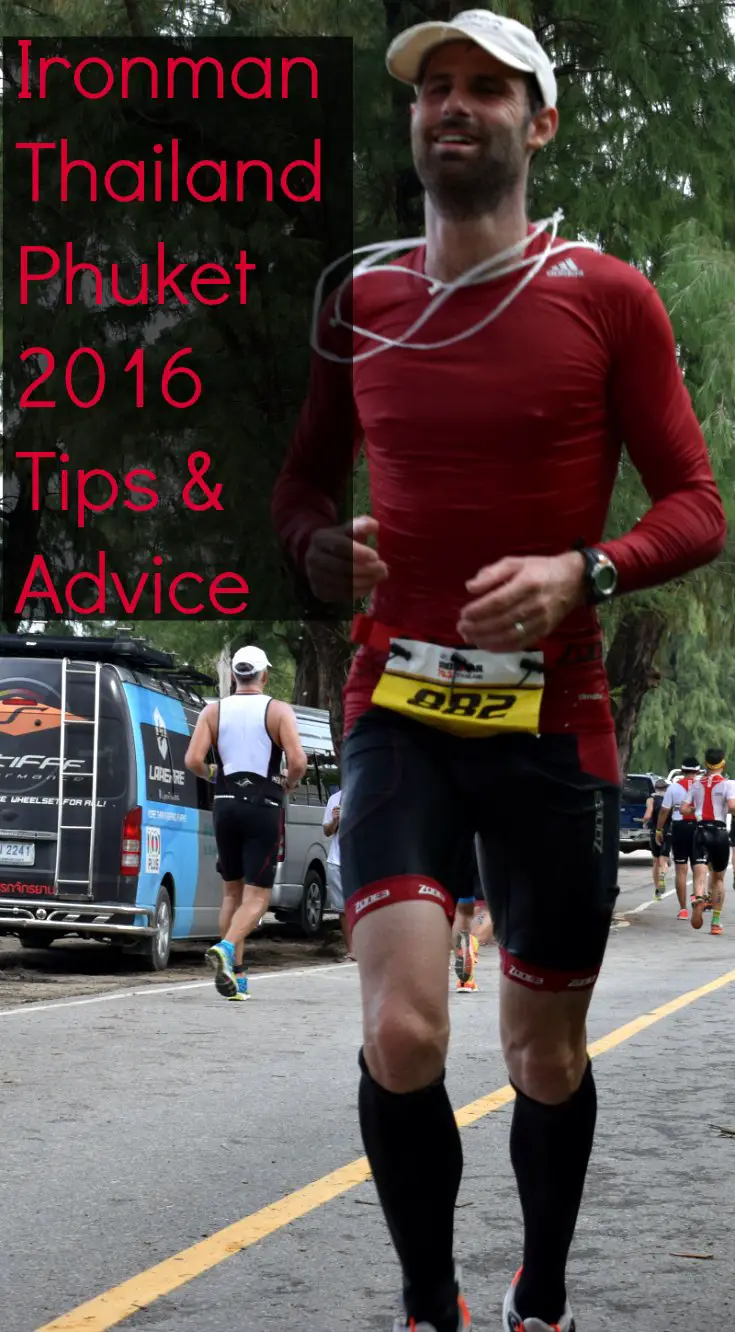 Bike
My transition was smooth and soon I was joining the queue to get out of transition.
Those mats had now sunk into the sand making pushing a bike with or without bike shoes very hard. The mount line was narrow and congested but no serious pushing and shoving and soon everyone was off riding the course.
The initial course was tight narrow back streets that I'd ridden two days before with a fellow Port Douglas triathlete.
Once we started to head towards the highway a car that clearly wasn't interested in waiting just drove up the road into a bike. Somehow the bike managed to go around the car, mounting the pavement, as the police chased the car's driver blowing their whistles. It stopped and no harm caused.
Disaster struck just as I was getting into my rhythm when my saddle bag dropped off my bike. At 40 km per hour it meant stopping and then going back along the side of the road to get it as countless people went past.
After the race I noticed that the Velcro had worn, replacement needed!
The footbridge was up next and we had to dismount and run up the ramps across and down again. It was only the 18 km mark so I didn't grab another bottle of water. The man in front did and drank it as he crossed. Another mistake for me as I really should have taken one. It would be another 40 km till I got the chance.
The next 40 kms was plain sailing and I used up the last of my gels (again not enough of my usual race tested ones) At the end of the old customs post and its numerous speed humps, my front water bottle launched clear off the bike. Of course the other was now empty.
Mistakes on my part were mounting in this race.
The last turn was the next drinks station and I grabbed a bottle, dropping the first.
Still only about 45 km to go and I was still making good time.
At the foot bridge I got two more bottles but think I over compensated and drank too much liquid this time.
The ride back was great and despite slowing a little in the final few kms, came off the bike in 2 hours 40 minutes.
Not my fastest time but I was happy with that considering my good race bike is back in Port Douglas and I was riding a cheap E-bay find.
Back into the T2 queue and one bloke decided to run around everyone, shouting and screaming his heart out for us to "Get out-of-the-way!" With no room to move, he should have ridden faster.
Run
A quick transition and I headed out. Grabbing a can of the sponsor drink I drank too much too quickly and realised only as my stomach started to complain.
The first 4 km were as tough as any I'd done before and eventually I had to slow down as my stomach threatened to empty its contents on to the race course.
By now I knew a fast time was beyond me but had to finish so kept pushing on.
At each aid station I would drown myself with ice buckets and just sip some water. This tactic worked and slowly I began to feel human again in the heat.
Unfortunately my pace had suffered and I never got my pace up.
The next 10 km went by in a blur of just making it to the next aid station and trying not to walk. The last 2 km I managed to run without stopping at all and made it to the final finisher's chute, which being on sand was tougher than I imagined. My son ran next to me at the finish which normally results in disqualification, but didn't here thankfully. Lots of people did this, which is a nice touch, but too hard to manage in most races.
My run was the worse I'd ever done in a race 2 hours 3 minutes for 21.1 km. I also felt worse after this race than after any other. The heat and my stomach and race nutrition wasn't up to scratch today.
To put that in perspective my full Ironman Wales run was 5:48 per km and in Thailand it was 5:51. Stats don't lie and this was a run to forget. My final time of 5 hours 26 minutes and 37 sec was also my slowest half, yet it was my best place in age group, 30th, so maybe it was just a tough race.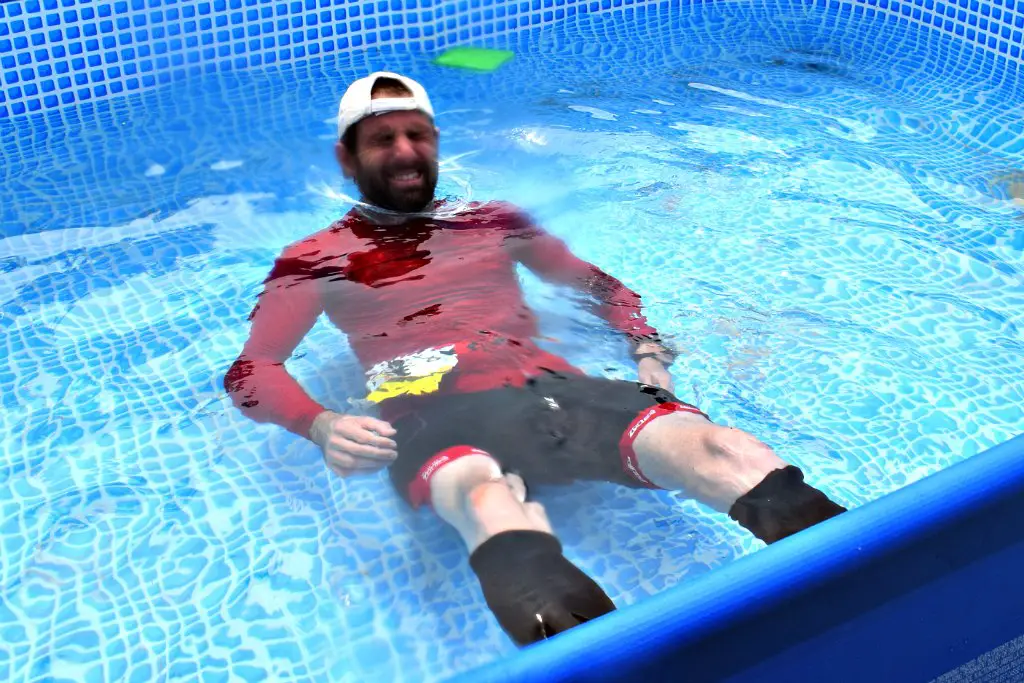 Wrap Up
Keeping in mind that it was the first race in Thailand under the current organisers, I was impressed overall. Especially the parts they had full control over. The after party at the finish line was brilliant and allowed competitors, family and friends into the finish area immediately. Ample food and drink was available for everyone overlooking the beach from the Xana Beach Club and the goodie bags were great. The race t shirt and towel were good quality.
I'd definitely recommend this race if you're looking at doing a half Ironman in Asia. A trip to Thailand allows you to sample wonderful Thai dishes, of course! The transport links are great, accommodation is cheap and plentiful and there is loads to do besides the actual race which should keep the family and friends happy as you race up and down in your favourite lycra. Enjoy your Phuket Ironman and stay with me as I take on my next challenge, Ironman Malaysia.
If you'd like to hire a car during your stay, use this car rental comparison tool to find the best deal!

Please check out our Pinterest account for loads of food and recipes from around the world!