This post may contain affiliate links.
Sometimes the hardest part of a triathlon isn't the training or the diet, but how to transport your bike to the race. There are numerous ways to transport your tri bike and they all have pros and cons that you need to weigh up before choosing the right way for you. I've transported my triathlon bike all over the world by plane, bus, train and taxi. This is how to get your bike to a triathlon destination or Ironman event, in one piece ready to race.
 How to Transport Your Triathlon Bike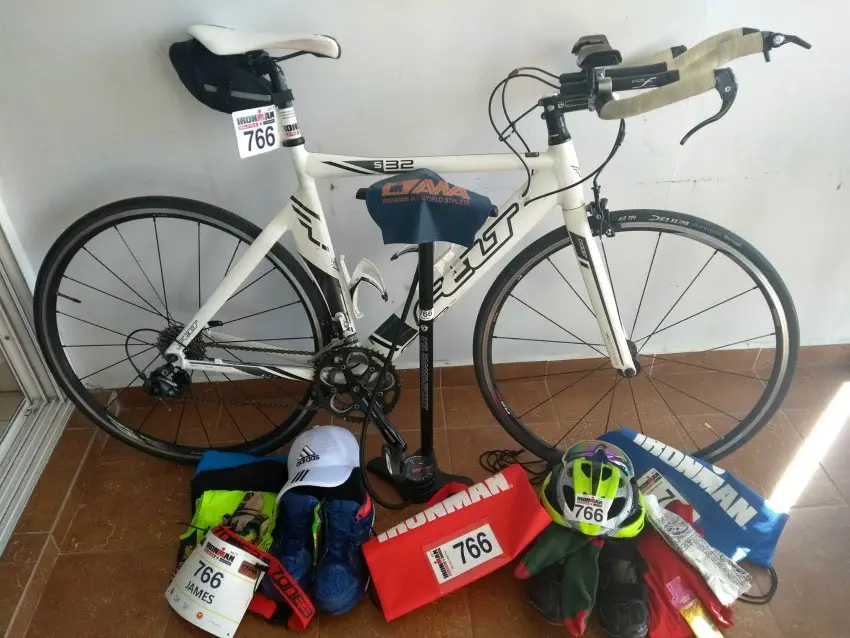 First, you need to know whether your tribike is carbon fibre or aluminium. This makes a huge difference in how to transport your bike.
While the working parts need to be protected in every bike, the aluminium frame is stronger than the carbon frame and won't break as easily in transit. Of course, aluminium isn't indestructible either.
You have three basic choices in how to pack and transport the bike to your event . The first and cheapest is the bike box that the bike is sold in. The second is the solid purpose-built bike bag and the third is the soft purpose-built bike bag.
Our links to Amazon should work for bike bags and boxes for triathlon and Ironman in the UK, Australia, the US, Asia and Europe.
Transport a Bike in a Cardboard Bike Box
Made of solid thick cardboard, these bike boxes are the same ones new bikes are shipped out to the bike stores in. As you can imagine they are very sturdy but not indestructible especially when airlines are involved.
Just make sure to pick a size that fits your bike. You can buy them online through Amazon. Look here.
This is a good tribike transport method if you have a less valuable bike and are just going from point A to B. If you travel less frequently you can just recycle the box at the end of the trip instead of finding space to store the box.
The downside of this method is that it is just a box and you will need to really pack up the bike to stop it moving around and damaging vital moving parts.
They are also very awkward to carry. If you have a large TT bike the box will be big and while not heavy, not easy to move around if you have to take either public transport or a hire car.
I used this method travelling to Ironman Thailand with success in keeping my bike undamaged but it was cumbersome and wouldn't fit in any taxi so I often caught trains and met the family at the destination.
Transport a Tri Bike in a Hard Bike Bag
This option is the best in terms of protecting your triathlon bike. With its hard shell the bike isn't squashed or banged about as the baggage handlers move it across the airport.
This is a hard bike case available on Australian Amazon, as you can see they are pretty expensive. This is a hard bike bag designed for air travel on US Amazon, they seem cheaper in the States, most things are.
Inside the box there are places to secure the bike parts that you need to remove when packing it up for transportation. Both wheels, frame and handlebars may come off.
You can also buy a separate hard case for your bike tools for air travel.
The more deluxe hard bike bags will also allow you to store the tools that you'll need to rebuild your bike on arrival.
The downside is weight. Being a hard case the total weight is large. All airlines have weight limits and while a good quality triathlon bike isn't heavy, with spare parts and tools it will soon add up. Make sure you get one with wheels. Hard bike bags also cost the most and are upwards of $400 for a good one.
I'd recommend this if you have a very expensive bike and are just going from point A to point B without any side trips.
Transport a Bike in a Soft Bike Bag
The most common way of transporting a triathlon bike is the soft bike bag. There are numerous types on the market but all have an outer nylon cover much like a backpack.
The bike is protected to a certain point, and there will be some padding, but if you drop the bag or it has another bag placed on top of it, then the bike or wheels may be damaged.
The bike is attached to the inside as with the hard cases but this won't offer any protection besides the bike not moving in the bag.
The beauty of soft bags is their low weight. You won't have to worry so much about airline restrictions on weight and can carry the bag over your shoulder.
You can take a look at a soft bike bag with padding here. This one is for mountain bikes (up to 29 inches) and only requires the front wheel to be detached for transportation. This is a much cheaper bike bag that the manufacturers recommend for tri bikes, it looks pretty thin to me.
Storage when not using it is best with soft bags as they are folder up in a cupboard out-of-the-way.
Best Bike Bag For Air Travel
This deserves a special mention as 90% of bikes that are damaged during transport are damaged while flying. Baggage handlers don't care about your pride and joy and will throw it around just like all the other pieces of luggage.
A quick look on YouTube will show you numerous examples of this.
For this reason, I'd have to recommend the hard case. Simply put it can't be squashed and nothing that is dropped on top will crush your carbon fibre frame. While some of the soft cases are semi-rigid they are still prone to crush impacts which will destroy your frame.
Another option is to put the soft case into a cardboard bike box for added padding and it is much harder to throw the big boxes as opposed to the softer cases.
Getting to and from the airport isn't as easy though so it is always a trade off between bike safety and logistics.
Choosing The Best Way To Transport Your Triathlon Bike
The best way to transport your bike depends on not just your budget but also circumstances. If you are only racing in the immediate vicinity then cardboard or soft bike bag will be ideal. You're not taking your $5000+ triathlon bike across the country but your cheaper trainer then yes save the money and get the soft bag.
If you're going to Kona and spent both large amounts of time and money qualifying, then the savings won't be worth it if you arrive with a broken bike.
In the UK you can sometimes get old cardboard bike boxes from bike shops such as Evans. They recycle all the boxes that new bikes come in each day so it is worth asking around the local shops. Who knows, you may get lucky.
I've given you the 3 best options here for transporting a triathlon bike and it is up to you to decide what suits both your budget and needs.
I recommend buying from a big company such as Evans or Wiggle, both of which have worldwide delivery and a great return and help the department if you're not entirely satisfied.
Cairns Ironman was my first but I've also competed in Wales Ironman, twice, it's my favourite, the Phuket half and Ironman Malaysia. These days you'll find me at home in Queensland, where my favourite thing to do in Port Douglas – is run, bike, cycle.
If you'd like to hire a car during your stay, use this car rental comparison tool to find the best deal!

Please check out our Pinterest account for loads of food and recipes from around the world!