This post may contain affiliate links.
Mi Quang- Mì Quảng is a noodle dish that originated in the Quang Nam province of Central Vietnam. It translates as Quang (province) style noodles. Travelling around central Vietnam you will see an abundance of street stalls all offering mi quang for around $1 US. After 4 months in Hoi An I haven't seen any mi quang for offer in the restaurants I've visited but have tried plenty of mi Quang at street stalls, all good with some being slightly better than others. My favourite stall is only a short bike ride away and our mi Quang lady even does a brilliant takeaway version. What is in a mi Quang? How do they make the noodle dish that tastes so good and has so many ingredients that perfectly match? 
---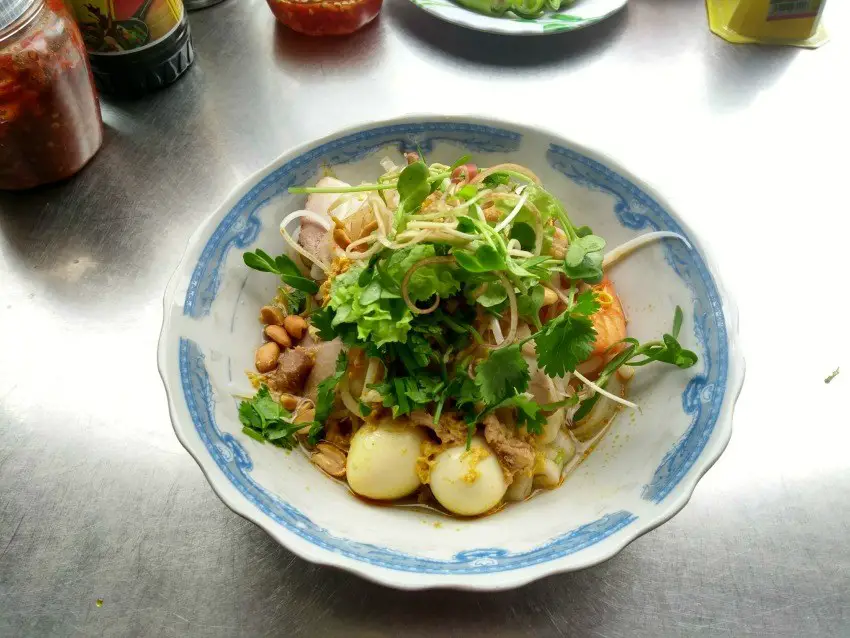 Mi Quang
Watch our short video, this shows how mi Quang is served and eaten in Vietnam.
What is Mi Quang? – Mì Quảng
Mi Quang is a noodle dish from the Quang province of central Vietnam. While there are different versions of mi Quang and how to serve it, the dish most commonly comes with pork slices, whole shrimp and peeled quails eggs served atop warm wide white rice noodles with a little amount of strong pork and prawn stock or soup.
Scallion (spring onion) and chopped coriander are added to the noodles before the broth is ladled on.
Crushed peanuts finish the dish but at the table other elements can be added to taste.
A lot of locals will say that the best mi quang is the one their mother makes.
Where to Eat Mi Quang
Mi Quang is generally very easy to find at street stalls, it's one of the most common dishes in this part of Vietnam. You will struggle to find it outside of Central Vietnam.
We've eaten it constantly for breakfast, lunch and dinner during our time here and have had no stomach problems.
I would, therefore, consider it safe to eat mi Quang from street food stalls, but exercise caution with salads.
What to Expect When You're Served Mi Quang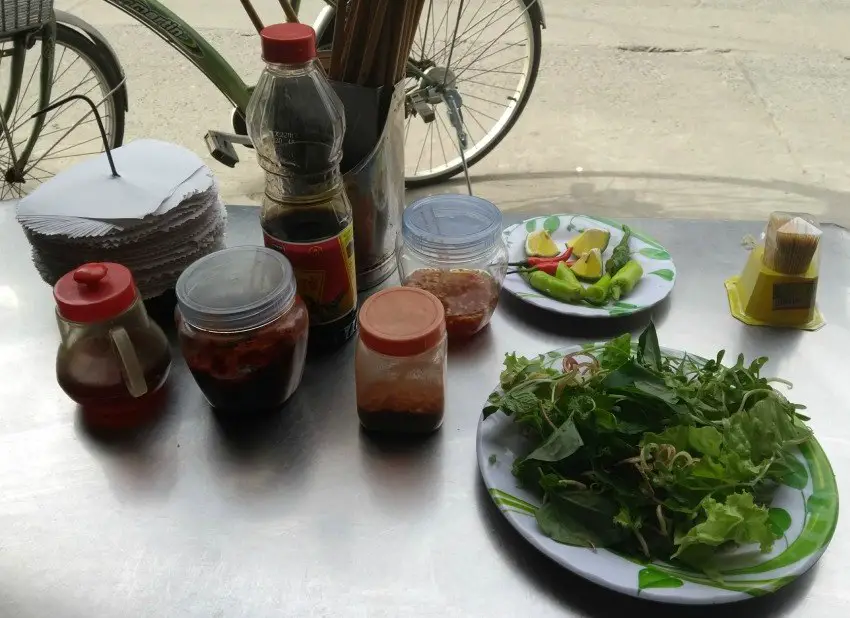 When you sit down at a street stall selling Mi Quang the first thing you'll notice is the condiments on the table.
Lime, chilli, fish sauce and chilli vinegar nearly always appear alongside the chopsticks, spoons and hand-cut squares of paper for wiping utensils and fingers.
The mi quang is delivered with a fresh plate of herbs, lettuce and sliced banana flower.
Once you have added your ingredients mix the whole bowl up with your chopsticks making sure the sauce coats the whole lot.
Locals will eat the prawn without peeling it but I have to admit to always peeling mine. None of the stall owners seems to mind.
Mi Quang – M
ì Quảng Recipe
While mi quang originates in central Vietnam it can be reproduced anywhere, unlike Cau Lau which requires water drawn from the Bale Well in Hoi An.
A recipe like the one below can be made at home and Asian markets or supermarkets should sell the ingredients you can't find in your local supermarket.
This recipe should give you an idea of ingredients and methods, it's not intended as an accurate recipe for you to follow. If you'd like to see one, with video, try here.
Ingredients To Make Mi Quang
Pork stock
1-1.5 kg pork neck bones or spare ribs
1 onion, cut in half
1 head of garlic, peeled
Mi Quang Broth
500 grams medium-sized shrimps (small prawns), head-on or headless
500 grams of pork belly
1 tbsp paprika
1 tbsp annatto seeds, for colour
1 tbsp onion powder or dried chopped onion
1 tbsp garlic powder
1 tbsp mushroom seasoning or dried mushroom powder
1 tbsp sugar
2 tbsp salt
1 tbsp fish sauce
2 shallots, thinly sliced
1 head of garlic, minced
1/2 cup of dried shrimps
5 litres water
Accompaniments For Serving Mi Quang
1 Packet dried pre-made mi quang noodles (if available) or dried wide rice noodles
2 boiled quails eggs per person
Mi Quang is also served with assorted leaves, greens, herbs and salad items, these can include some or all of the following ingredients.
Banana flower, finely shredded (if available)
bean sprouts
mint leaves
lettuce, coarsely chopped
coriander, coarsely chopped
fish mint leaves if you like them
green scallions, thinly sliced
roasted peanuts, coarsely crushed
black or white sesame rice crackers (which you break into small pieces)
fish sauce
red chili peppers
Directions to Prepare Mi Quang
Pork Stock:
Blanching the bones for a clear stock. This step is to be done before boiling to remove any impurities from the bones.  
In a stock pot, cover the pork with cold water, bring to a boil, and simmer for 5 minutes before draining.  Remove the pork. Rinse under running cold water. Discard the blanching water.
Cover the pork bones again with cold water. Add onion and garlic, Bring to a boil, then reduce to a simmer until the meat is cooked through, at least an hour.
Frequently skimming any additional foam, and debris from the surface.
Half way through, place the dried shrimps straight into the stock pot. The dried shrimps add a bit more depth and complexity to the flavor. Add more water if needed.
You can make the stock a day ahead to shorten the time on the day.
In a thick bottomed fry pan, heat a tablespoon of olive oil and annatto seeds over medium heat, and cook, stirring constantly, until the oil becomes a rich, orange-red color, about 3 minutes.

Discarding the seeds. Add minced garlic, and cook until fragrant while stirring constantly, about 30 seconds, careful not to blacken and burn the garlic.

Add pork belly and stir-fry until the fat is translucent, about 2 minutes.

Add shrimp heads, if used, then press the shrimp heads with your spatula to bring out the flavour and colour. Add shrimps and dried spices (In a small bowl, combine paprika, sugar, salt, mushroom seasoning, onion powder, and garlic powder. Paprika gives the characteristic red colour and a mild spicy flavour) stirring constantly, until shrimps turn pink. Remove fry pan from heat.
The pork neck bones should be cooked and the meat soft. Transfer the sauteed pork belly and shrimps into the pot of pork bone stock. Bring it back to a slow steady boil. Remove the shrimps from the pot after a few minutes to prevent them from overcooking. Set aside.
Add fish sauce to boost the flavour of the broth. As only a small amount is used in the finished dish it has to be quite strong and intense. Simmer the broth for about another 20 minute
Dried pre-made mì Quảng noodles (if available) are best but dried wide rice noodles would also work.  Follow the instruction on the package for how to cook the noodles. Set aside with a thin coating of oil so they don't stick together.
The accompaniments are equally as important as the main dish in a lot of Vietnamese dishes. Unfortunately these will be the hardest to find such as the banana flower below. Other items like coriander and mint leaves will be easy enough to find.
Banana flower preparation is as follows: prepare a large bowl of water with juice from a lemon. The acidity of the lemon will prevent the shreds of the banana flower from discolouration during this process. Cut banana blossom lengthwise, peel purple leaves and discard the small flowers in between the leaves. Wash the leaves of the flower thoroughly then stack and roll leaves together and finely cut. Place in the bowl of acidified water. When you are ready to serve, remove the shredded banana flower from the water bowl and gently squeeze it to remove the excess water.
Assembly of Mi Quang – Mì Quảng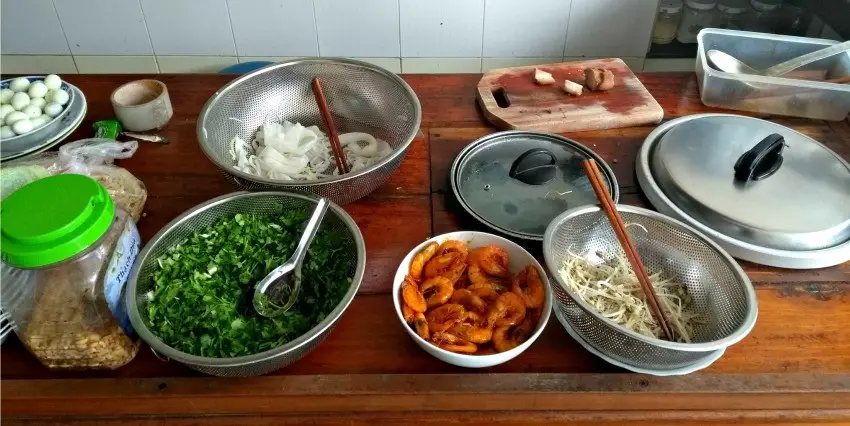 In a bowl, place noodles, pork neck bone, or spare ribs, slices of pork belly and shrimps.
Serve this dish with less broth than other kinds of noodle soup.
That is why the broth for mi quang needs to be strong.  
Ladle the hot broth over the noodle bowl (about 1/2 of the bowl). Garnish with green onions, coriander and two peeled quail eggs then top with roasted peanuts. 
Serve mi quang with shredded banana blossom, lettuce and herbs and black or white sesame rice crackers which you break into small pieces.
Mix everything together before you eat it. This is important as it gets all the flavours together and highlights the dish's different ingredients.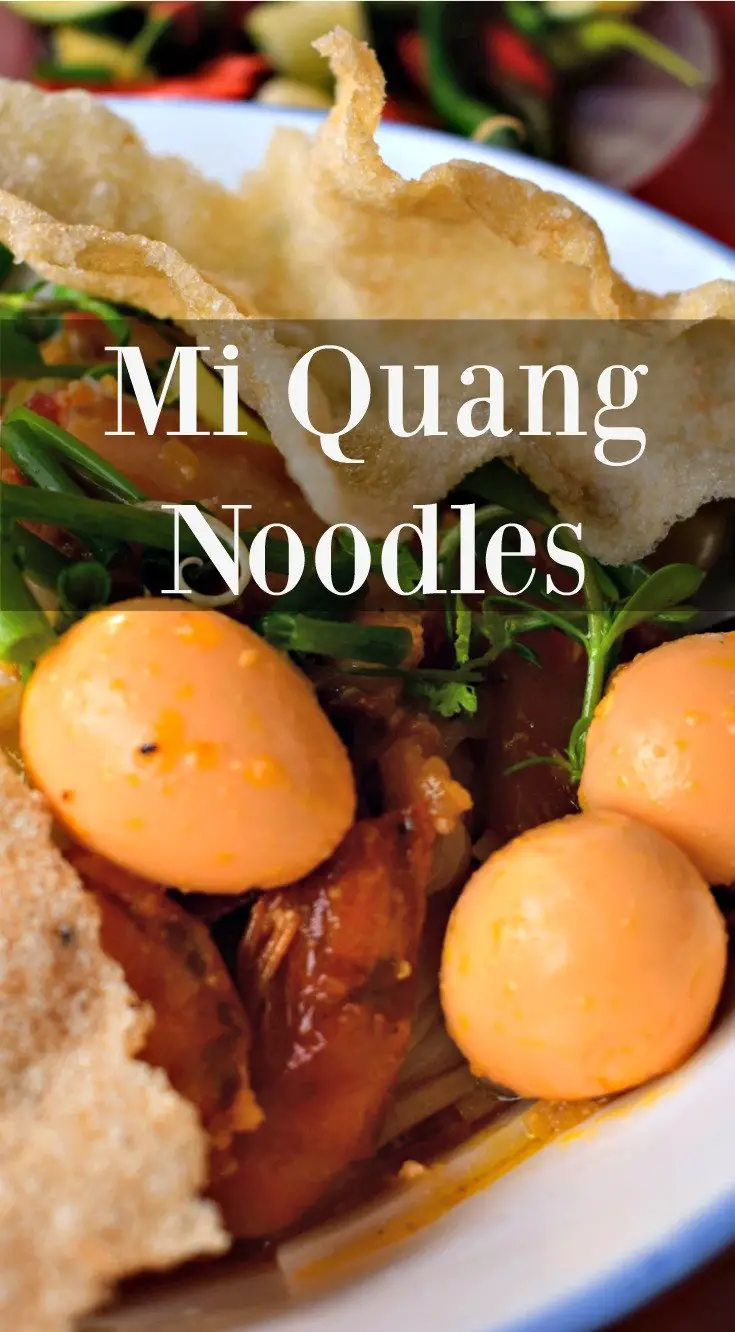 Mi Quang is one of my favourite dishes here in Hoi An and I'll have one at least every few days. Hopefully, you get a chance to taste one on your travels to Vietnam or you can try a recipe to have your own mi Quang at home. If you want to learn more about Vietnamese food check out my other post, Vietnamese food for beginners or read our Vietnam travel tips.
If you'd like to hire a car during your stay, use this car rental comparison tool to find the best deal!

Please check out our Pinterest account for loads of food and recipes from around the world!