This post may contain affiliate links.
Where are the best places to see crocodiles in Port Douglas? There are wild crocodiles in Port Douglas, and there are a number of ways to see them on your Port Douglas holiday or vacation. We give you the best way to see (or swim with) crocodiles from Port Douglas. Saltwater crocodiles and freshwater crocodiles can be seen, wild or in captivity, you can also see crocodile feeding, crocodile shows, a crocodile farm, or enjoy a leisurely crocodile spotting cruise. Check out our list of the best Port Douglas crocodile tours and activities, below.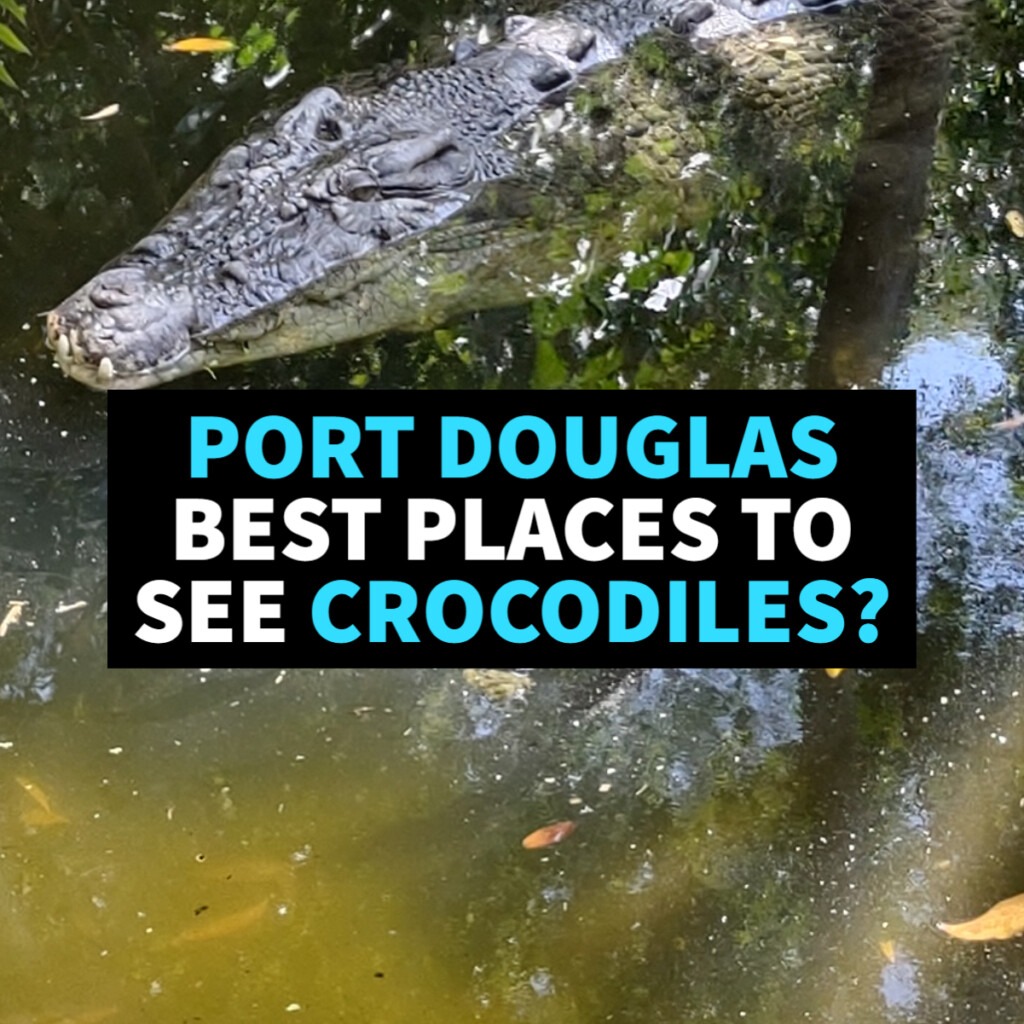 Where To See Crocodiles in Port Douglas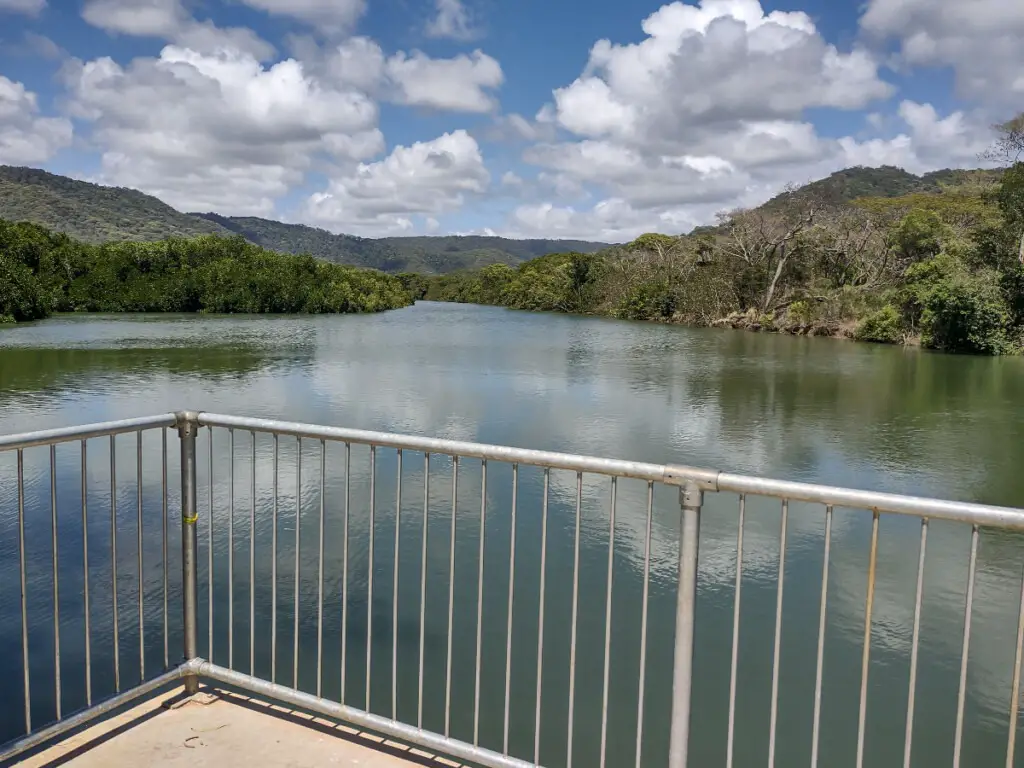 If you have your own vehicle, you can often see wild saltwater crocodiles at the crocodile lookout on the Mowbray River just south of Port Douglas. This is a very good place to see them. If you don't have a car there are buses and tours that will take you there. (Details below) There are also cruises and boat trips to see crocodiles from Port Douglas Marina and from Daintree River.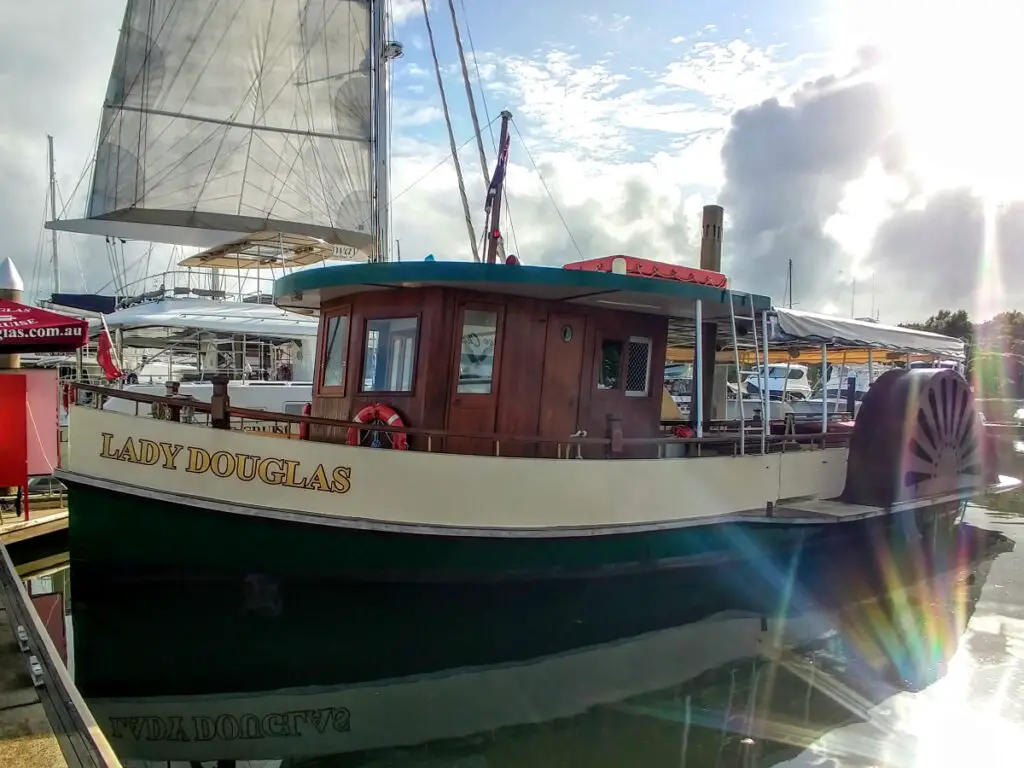 If you are visiting Port Douglas on a cruise ship and would like a shore excursion to see crocodiles, the Lady Douglas river cruise is one of very few Port Douglas activities that will fit with the tender arrival and departure times.This Port Douglas crocodile tour departs Port Douglas Marina several times per day. Book a Lady Douglas crocodile tour here on Viator, book as far in advance as you can, places are limited particularly when a cruise ship is in town.
Another possibility for cruise ship passengers is to swim with the crocodiles at the Port Douglas Wildlife Habitat. My son did this recently and loved the experience. Visitors entering the crocodile tank also get a backstage tour and the keepers do feed the crocs while the swimmer is in the water. Book that here, on GetYourGuide, it's not available on Viator as yet.
If you're worried about how clean the water is, swimmers are actually in a different tank.
You can combine your crocodile swim with seeing all of the other local animals at the habitat and even enjoy one of the best breakfasts in Port Douglas, Breakfast with the Birds, to combine dining with brightly coloured lorikeets and parrots. Book that here.
Your other crocodile option is to drive north of Port Douglas for about an hour to Daintree Village, from here you can book the crocodile river tour we mention below. Alternatively drove south of Port Douglas to Hartley's Crocodile Adventures, to see captive crocodiles and a crocodile show, more details below. Hartleys also offers a breakfast deal.
We explore more Port Douglas dining options in our post about Port Douglas restaurants.
Best Ways To See Crocodiles in The Wild in Port Douglas
If you're lucky and the tide is right, you may be able to spot a wild crocodile or two from the new Mowbray River crocodile viewing platform (with car park) just to the south of Port Douglas, on the highway. This would be a good way to see crocodiles for free. If you don't have your own vehicle, there is a shuttle service with pick-up from your hotel. You can book that here.
Although it's rare, you can sometimes see wild crocodiles swimming in The Inlet, from The Sugar Wharf or Combined Club, but it is rare. There are also crocodiles living in lakes on some of the golf courses in Port Douglas. Choo Choo's restaurant has a great view of the water and Sheraton golf course, you could see one here.
Crocodiles are very, very rarely sighted swimming off 4 Mile Beach. They've even been sighted out on the reef, once that I know of.
If you'd like to take a crocodile-spotting cruise from Port Douglas, your best options are these, be sure to book in advance as these boats do get fully booked. You'll enjoy seeing other wildlife (with luck) on these cruises too. Crocodile sightings are almost guaranteed.
Book a crocodile spotting cruise on Lady Douglas from Port Douglas Marina. This cruise is about 1.5 hours total and drinks and snacks are included. This lovely boat runs several times per day with sunset cruises being in very high demand. Book your spot here.
Book a crocodile spotting cruise on The Daintree River, you will need your own transport to drive to Daintree Village, about 50Km from Port Douglas. Book your Daintree River Cruise Here.
Another option, if you don't have a car, is to book a tour that combines The Daintree Rainforest and a crocodile cruise. You get to explore the rainforest at the beautiful Mossman Gorge, and spot crocs on the same tour. This easy half day tour will pick you up from your Port Douglas hotel on request. Take a look, and book, right here.
Best Crocodile Attractions and Shows Port Douglas
Again, there are a few options for crocodile and wildlife shows and feeding, even swimming, in Port Douglas. Choose from the following croc options:
Visit The Wildlife Habitat, in Port Douglas, to see Australian wildlife, including crocodiles. You can hand feed the cute animals here, this is great for kids and this attraction really is worth visiting. Book admission to The Habitat here.
Make your day at The Wildlife Habitat even better, by booking Breakfast With The Birds, this is a great way to start your day! The price includes your admission to the park, and of course, you get to see the crocodiles!
If you're feeling brave, you can swim with the crocs at The Port Douglas Wildlife Habitat. Places are very limited, so book this now, here.
Visit Hartley's Crocodile Adventures, south of Port Douglas. near Palm Cove and Cairns. This is a big day out and visitors can see crocodile shows, take a crocodile cruise, plus other wildlife experiences. Hartley's has hundreds of crocodiles and some are enormous. We last visited in September 2022 and had a really fun day out, we added the experience below to our day.
Make your day at Hartley's Crocodile Adventures even better by booking "Breakfast With The Koalas". You get an early start to your day at the park, (making parking much easier!) we were able to see (and touch) koalas without the crowds while a large croc cruised by. The price includes crocodile shows, your cruise with jumping croc feeding, and full-day admission. With tickets still being valid for the next 2 days should you wish to return. This offer may not always be available, staff will likely tell you about this on arrival. The snake show is really good, as is the croc show.
---
More Useful Port Douglas Information and Links:
---
Thanks for visiting our site and we hope we were able to help you find the best crocodile viewing experience in Port Douglas. As a long-time Port Douglas local, I love sharing our local wildlife with visitors to our part of the world. Enjoy your Port Douglas holiday and maybe I'll see you out on the reef. Do us a favour, visit our Port Douglas Pinterest board and pin some stuff. Thanks.
If you'd like to hire a car during your stay, use this car rental comparison tool to find the best deal!

Please check out our Pinterest account for loads of food and recipes from around the world!