This post may contain affiliate links.
Port Douglas Australia, an hour or so north of Cairns in Far North Queensland, has a great selection of pubs for such a small town. If you're looking for a historic country-style Australian pub, a modern bar, or somewhere family-friendly with great pub food, you should be able to find it in Port Douglas. Port Douglas pubs cater for tourists and locals, high budget and thrifty, to singles, couples, and families. Our post is a local guide to Port Douglas pubs and bars, pub dining and nightlife. For cocktails, pints, pots, middies, wine, and craft beers.
---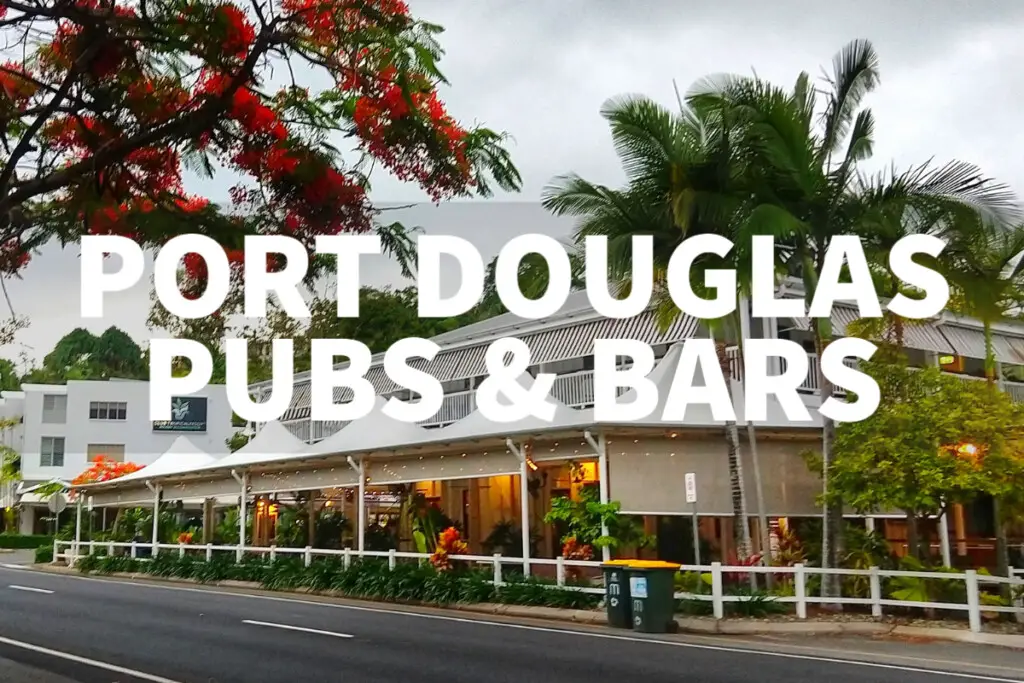 Our list does not, as yet, feature every pub in Port Douglas, but we're planning to review them all. We live in Port Douglas, so this is all up-to-date first hand information, by a local. Do us a favour, visit our Port Douglas Pinterest board and pin some stuff. Thanks.
Groups may need to book to secure a table anywhere in Port Douglas and opening hours and days have been very limited recently.
Port Douglas Pubs
Port Douglas has great pubs for drinking, dining, people-watching, and taking in the views. Most (maybe all) Port Douglas pubs offer pub food, several have live music. Most have draught beer, cocktails, and wine.
All of them are good for tourists and locals alike.
In Australia, you usually can take children to pubs, bars, or hotels, particularly for early evening dining. Pubs serve alcohol to over 18s only. The drinking age in Australia is 18, not 21 as it is in parts of the US.
It is illegal to sell alcohol to a drunk person in Australia. (source)
In Queensland, beer measures are a little strange for overseas visitors. Don't expect pints and half pints, expect pots, schooners, ponies, jugs, and midis. Although some pubs will serve pints.
Expect rum and coke, and even wine, to be on tap sometimes.
Pub food will include Australian meals like chicken parmie, fish and chips (fries), and maybe some Asian or South American dishes.
Where is Port Douglas located? It's in Far North Queensland, on the coast, close to the Great Barrier Reef. Look out for seafood, prawns, reef fish, and barramundi on local menus.
If you'd like to sample other Australian meats like crocodile and kangaroo, we don't know of any pubs in Port Douglas currently serving these speciality meats, but some Port Douglas restaurants do and Mocka's pies usually has these meats under pastry.
If you'd like to try some Queensland beer, try Great Northern. Hemmingway's Pub on the Marina, has its own craft beers. Bundaberg rum is another Queensland alcoholic beverage.
The Courthouse
The Courthouse hotel probably serves the best pub food in Port Douglas and the bar itself is very nicely decorated. This pub also has live music, particularly on Sundays plus extensive outdoor seating areas.
The Courthouse has somewhat longer opening hours than most Port Douglas restaurants, so if you're looking for a late lunch or early dinner, this pub is your best bet.
The Iron Bar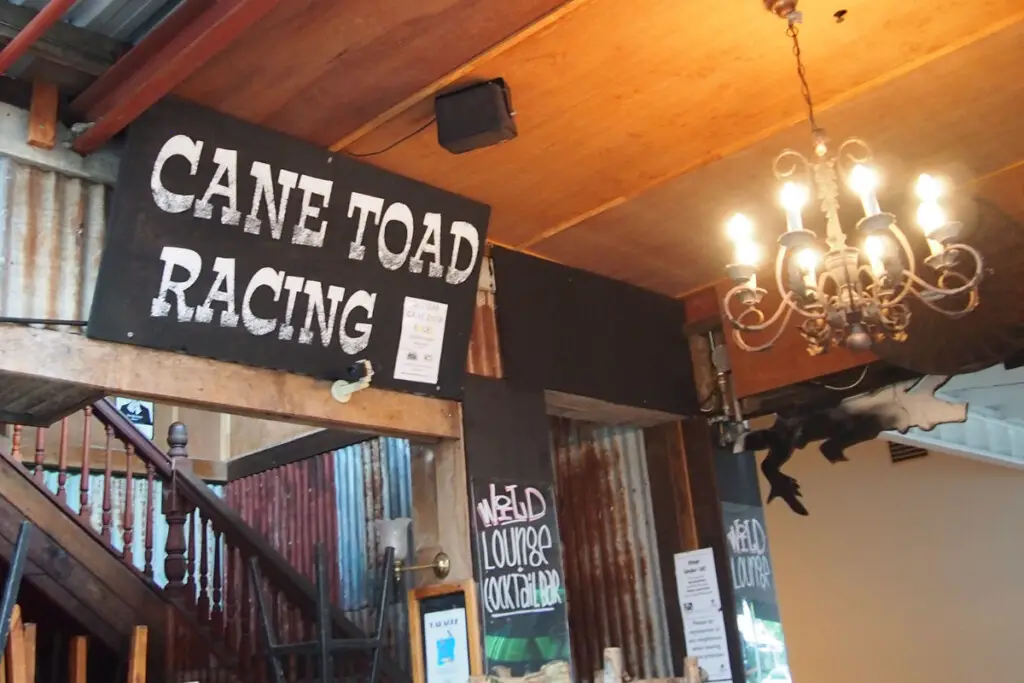 The Central
Standing on Macrossan Street in Port Douglas, the Central offers pavement drinking and dining, a large covered deck area, a huge screen often showing sports, and a family-friendly rear garden.
We think the food here isn't as good as at The Courthouse.
Hemingway's Brewery
Hemingway's brewery is on the Crystalbrook Superyacht Marina, offering great water views for drinking and dining.
Try their light tropical brews here, or in Cairns.
Hemingway's also serves food, burgers, fries, fish and chips etc.
N 17
N 17 is part burger joint, part luxury sports bar. It's on Macrossan St, almost opposite Coles. We can vouch for their burgers and bottled imported international beers. N 17 has the best burgers in Port Douglas, we think. Their N17 burger, a burger with "the lot" is pretty impressive, but they also have lighter fish and smoked salmon burgers on the menu. (Obviously menus can change, but we eat at N17 a lot, they seem to be permanently on the menu)
N17 is open, usually, when other restaurants are closed, and offers happy hour prices.
N17 also features the craft beers from Hemingway's brewery on the Superyacht Marina, plus craft beers from the Barrier Reef Brewery. They don't discriminate, other craft brews from all over Australia are featured.
Try Ballistic Beer Co, Hop Nation, and Black Hops Brewing.
Mount Uncle Distillery, not far from Port Douglas (and a great place to go for a day trip) along with Wolf Lane Distillery are some of the local providers on the spirits shelf.
Paddy's Irish Bar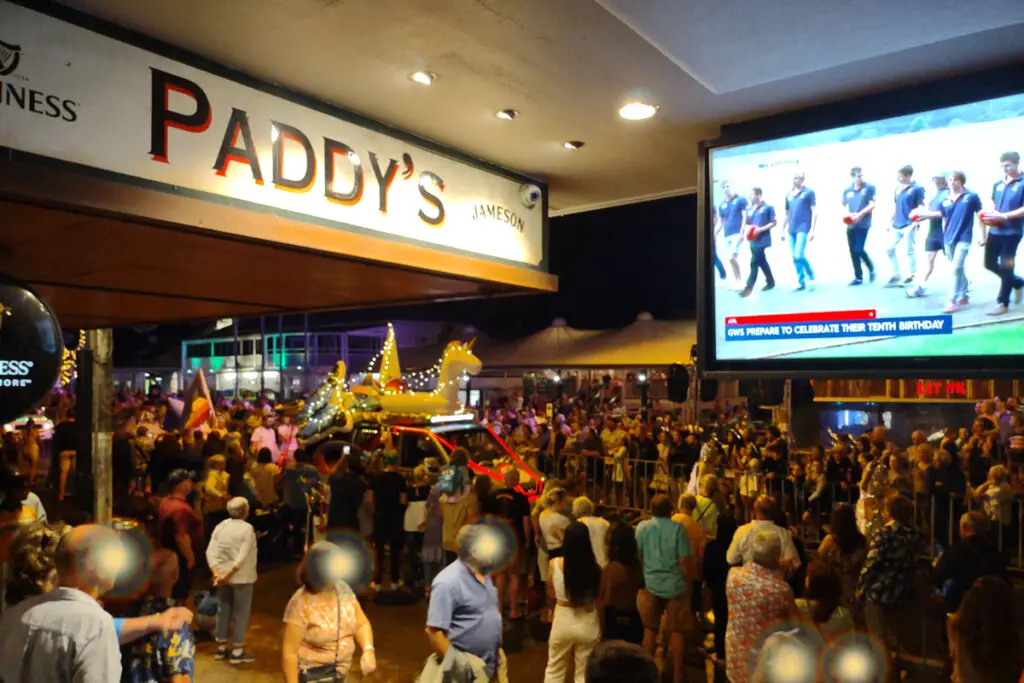 Paddy's offers specials on food at very cheap prices, it also serves a traditional British Sunday roast. We think, this is the only place offering this in Port Douglas.
Out Of Town Port Douglas Pubs
There is one pub at the far end of Port Douglas, Four Mile has a small pub and bottle shop at The Barrier Reef Tavern. Once you drive beyond the Four Mile Pub you won't see another pub until you arrive in Mossman, to the north, and the Northern Beaches of Cairns to the south.
The Beach Shack, a bar/restaurant near the Four Mile Pub, was closed at the time of writing. It changed hands and if it re-opens we'll do our best to keep this post up-to-date.
There are also hotel bars in Port Douglas, several with pool bars, and of course, you can order a drink with a meal anywhere with a license. Many restaurants offer cocktails, with Barbados and Salsa deserving special mention.
Port Douglas is also well-supplied with bottle shops (off-licenses). These are often adjacent to pubs or supermarkets. Alcoholic drinks are not sold in supermarkets in Australia, you have to go to a bottle shop. The discount alcohol store Dan Murphy's is at Smithfield, just north of Cairns, and they deliver.
Enjoy your time in Port Douglas, after your day on the reef (The boats mostly do sell alcoholic beverages on the return trip) kick back with a cold one, and think about your local activities for the next day as the sun goes down. Cheers. I hope you find our guide to Port Douglas pubs and bars useful.
If you'd like to hire a car during your stay, use this car rental comparison tool to find the best deal!

Please check out our Pinterest account for loads of food and recipes from around the world!