This post may contain affiliate links.
Where to eat in Port Douglas? The best restaurant for you in Port Douglas depends on the time of day, your budget, and what type of food you'd like to eat. Port Douglas has pub food, relaxed dining and quite a few top-end restaurants. You can feast on prawns, steaks, seafood platters, real Italian pasta and pizza, Mexican or Asian dishes. In this post we aim to cover every restaurant in Port Douglas, for breakfast, lunch and dinner, cheap eats and good restaurant food. Our reviews of Port Douglas restaurants and dining are from recent first-hand experience and based on my opinions as a customer and as a former executive chef.
---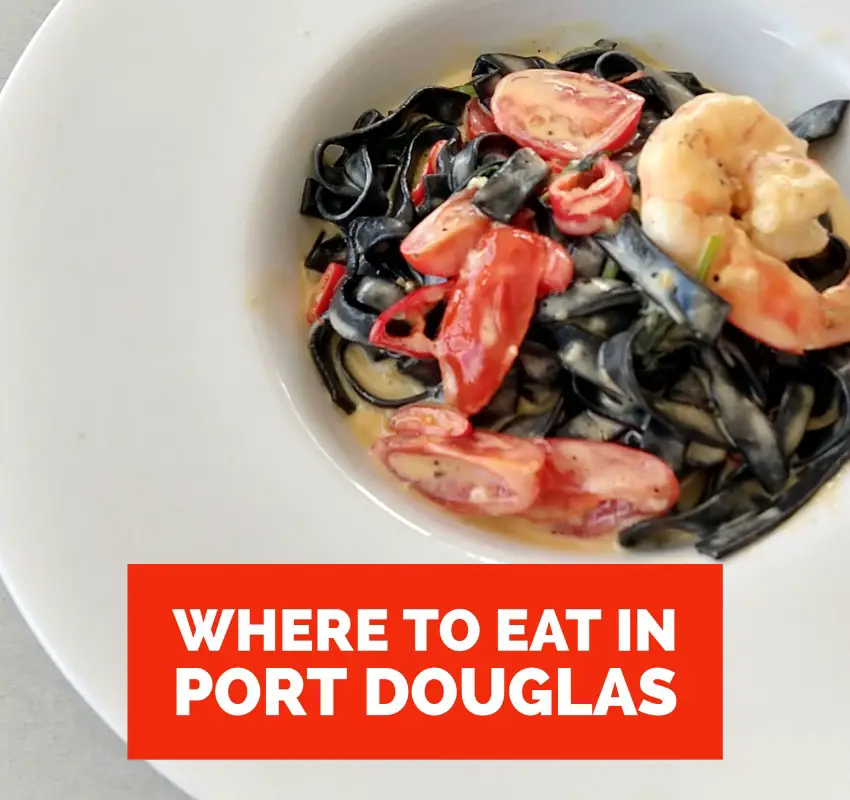 Would you like to sign up for our Port Douglas Newsletter?
Sign up here for all the latest Port Douglas food, news, tours, activities, and special offers. It's free, there's no catch, and you can unsubscribe at any time.
I've spent about 10 years total living and working in Port Douglas as a chef. Port is a beautiful tropical holiday destination, one of the best places to visit in Queensland and, of course, the gateway to the Great Barrier Reef.
Port Douglas has some great hotels of course, some with good dining options. See the full range of Port Douglas accommodation options here (includes villas, apartments, rentals, and hotels). But what are the best restaurants in Port Douglas? Where are the best places to eat on your Port Douglas vacation?
It is necessary to book at most good restaurants in Port Douglas at busy times, so choose your favourite here and then book your table. We'll tell you in this post if a restaurant is likely to accept walk-in customers.
A boat trip to the reef must be on your holiday itinerary! After that visit some of the best restaurants in Port Douglas to enhance your holiday.
The pandemic lockdowns brought changes to the Port Douglas local restaurant, take-away, and cafe scene, there have been closures, lack of chefs and other staff, and reduced opening hours. You now normally need to book a table in Port Douglas.
Most weekends and nearly all holidays used to see me working at possibly the nicest resort in town. On rare days or evenings off, I loved nothing better than heading out with my family to sample other great Port Douglas eateries. We still make a point of visiting every restaurant in Port Douglas to see who has the best food.
I managed to eat at nearly all of the local restaurants and other establishments. From breakfast to brunch or lunch right through to the formal dinner or maybe just prawns and beer on the deck. A guide of where to eat in Port Douglas from a Port Douglas chef.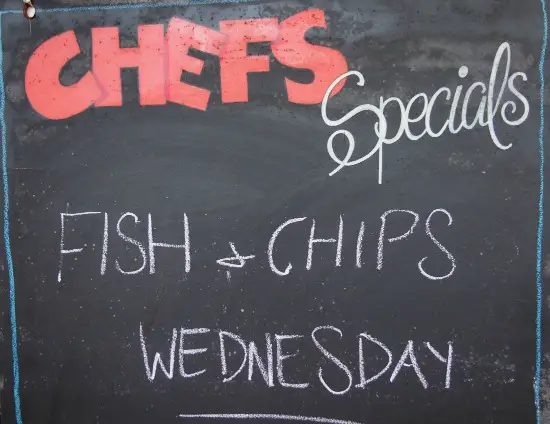 Where To Eat in Port Douglas
Your budget, time of day, your tastes, and expectations will obviously be individual and my best Port Douglas restaurant may not be yours. There is casual dining, fast food, limited Asian, plenty of chips-with-everything, along with very good European, and, of course, seafood.
The best place for breakfast won't be best for dinner. Best restaurant with your kids won't be best for a romantic dinner. We talk about most places to eat in Port Douglas below, with authentic photos of meals we were served in each restaurant.
The Best Restaurants in Port Douglas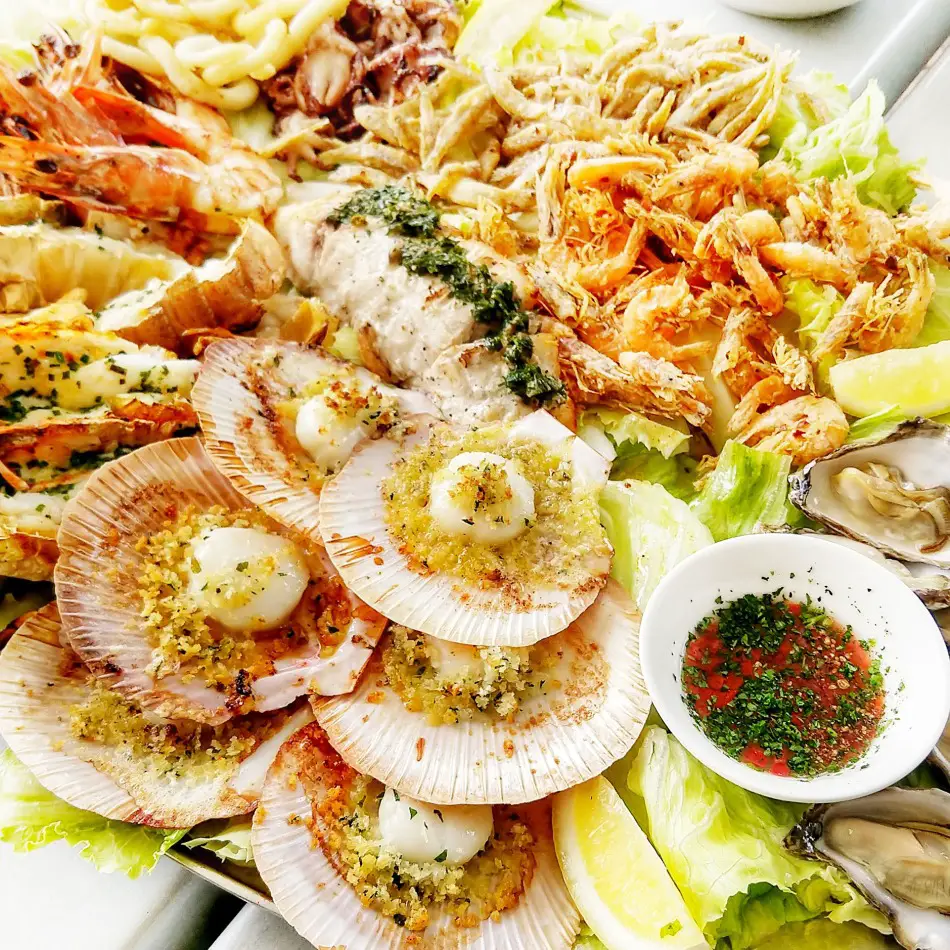 The best restaurants in Port Douglas are widely considered to be the following top places to eat. Most I would agree with, one we had a bad experience at. I'll talk more about each one further down the page.
Nautilus
Watergate
Melaleuca
Sassi (best for seafood, Italian, and pizza, in our opinion)
Zinc
*NEW Restaurant* Jungle Fowl Restaurant is Superb Asian food!
These are also probably the most expensive restaurants in Port Douglas, along with the hotels. My personal favourite places to eat are Sassi, for Italian and good seafood, along with St Crispin's cafe (out of town) for breakfast and Toast, near Cole's for a light brunch.
Salsa is also very good and a reliable option. I've never eaten at Nautilus, mostly because it's set back of the street and we enjoy people-watching, but we'll be putting that right soon. Zinc get a special mention for keeping us well fed with home deliveries during lockdown.
Watergate are serving some of the best food in Port Douglas currently. We visited last in July 2022 and this often-overlooked Macrossan St restaurant really did deliver for all three courses. I think this is my new favorite, unfortunately, it doesn't have a view, which is why we often end up dining at cheaper places that overlook the water. However, it is romantic, secluded, and shady.
Not many restaurants in Port Douglas have aircon, most are partially, or fully outdoors, but look for shade, it's hot here.
For cheaper meals, we always liked The Beach Shack, but that has now been sold. When it re-opens we'll check it out. If you want a burger go to N17, for take-away fish and chips or chicken, try Dave's.
Best Restaurants for Breakfast and Coffee In Port Douglas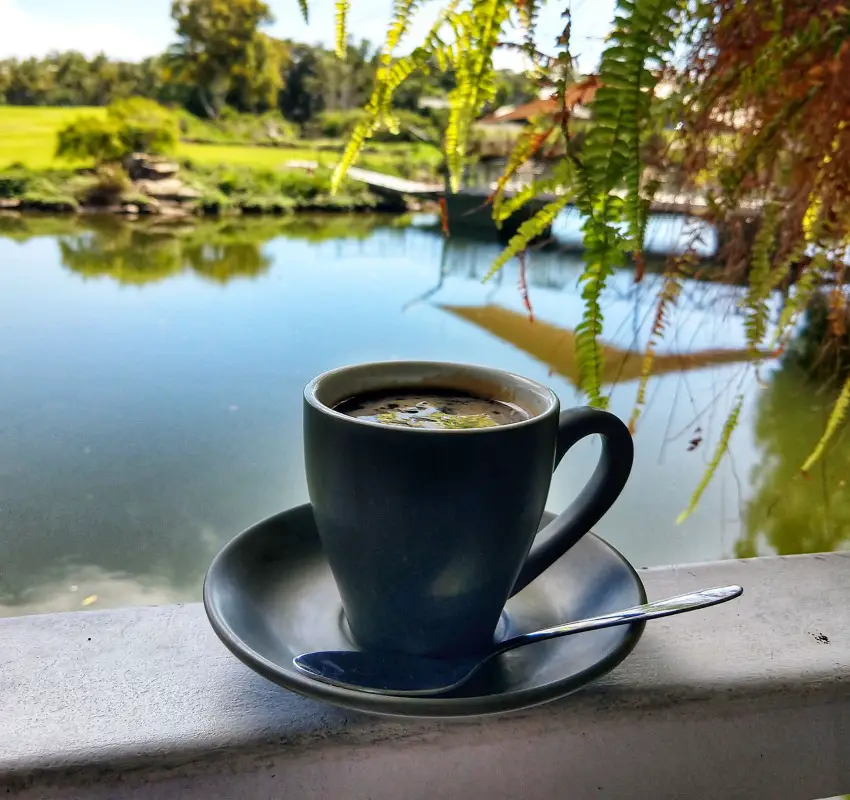 Possibly my favourite time of the day to head out and grab a bite to eat. The resorts in town all (used to, pre-Covid) offer buffet-style breakfast which suits some people, and if you have kids or are staying in resorts, this may be perfect for you.
Hi-Tide Cafe
One of my personal favourites is the breakfast served up at Hi Tide, a great little restaurant located on the esplanade, overlooking Four Mile beach. The full cooked breakfast is delicious and cooked to perfection. Few things beat sitting here over breakfast and a coffee watching the world go by.
St. Crispins Cafe & Events
9 St Crispins Ave, Port Douglas 0400652906
My new favourite place for breakfast and coffee, sitting on the deck overlooking the golf course and lake hoping to spot a saltwater croc. The food is very brunch/breakfast orientated and they're not open in the evenings. Check, as they do sometimes host special events.
Coffee is also great at St Crispin's and it is very easy to spend a quiet morning here with breakfast & coffee. They are the best place, we think, for smashed avo on toast, or French toast with bacon and syrup.
Grant Street Kitchen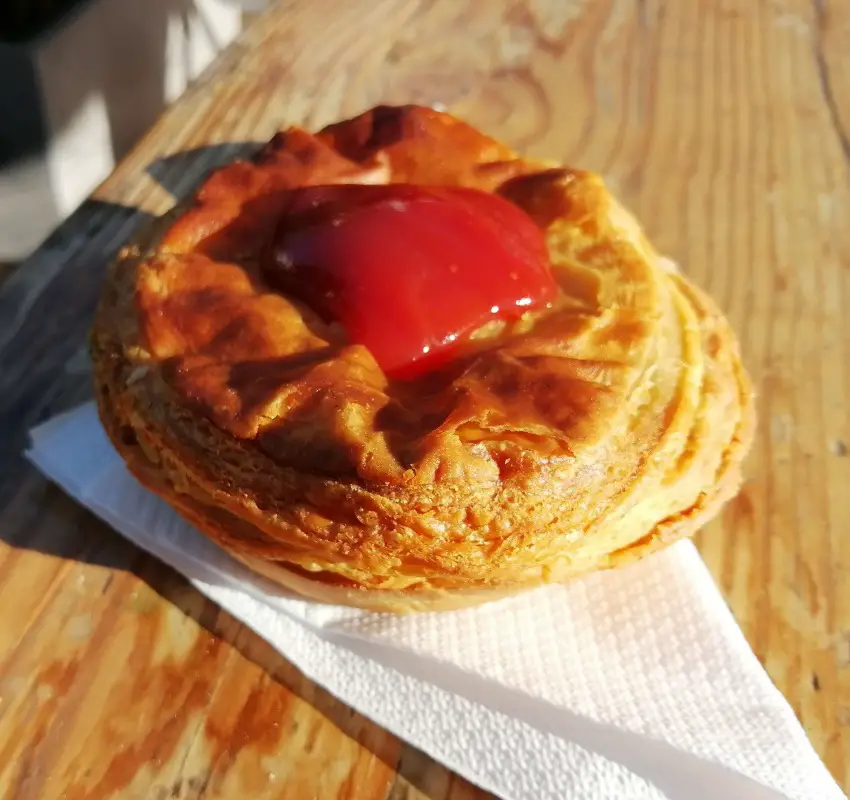 Grant Street bakery is probably the best bakery in Port Douglas, location shop 4/5 Cnr Grant St and Macrossan, 0478769987
This locally owned and run bakery has really lifted and now delivers outstanding bakery items from traditional croissants to full family-size lasagna to heat and serve
The coffee is great here too. Usually, open for both takeaway and eat in from 6 am, you'll be sure to find something here you like. I highly recommend their pies, cakes, or lasagna. Expect huge portions, we usually split a pie or cake between two.
Mockas Pies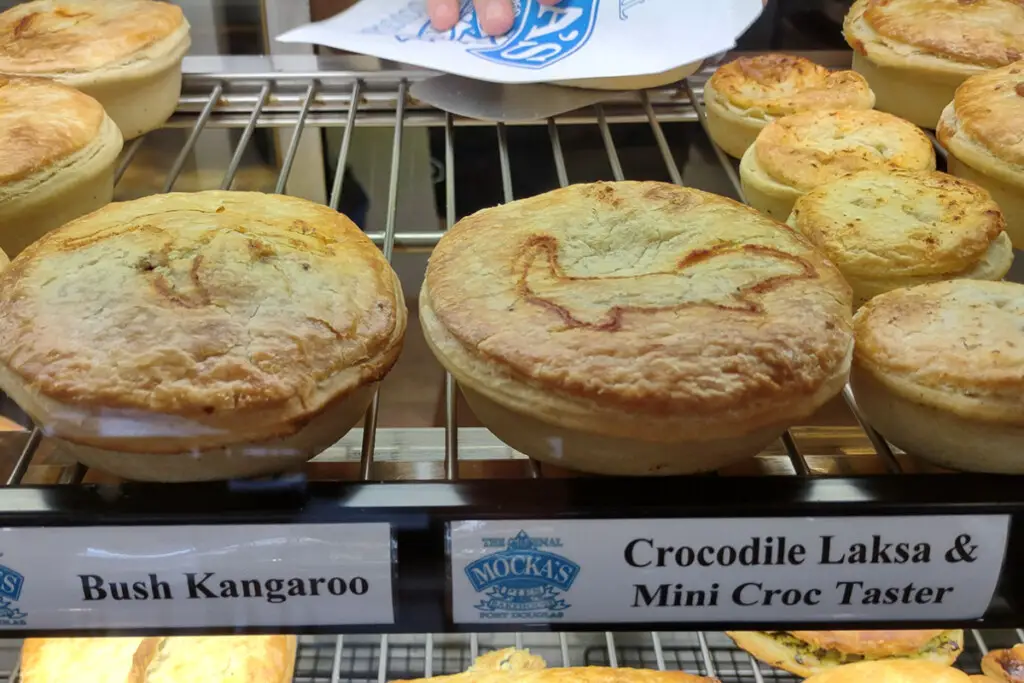 The original Mocka's pie shop is a much bigger operation today. This is where you need to come for a crocodile or kangaroo pie.
We don't currently know of any other Port Douglas restaurants serving crocodile meat. So if you want to eat our Aussie wildlife, come here!
Mockas is on Grant St, just down the hill from the Grant Street Bakery and has a huge selection of traditional and unusual Australian bakery items, along with coffee, pots of tea, and freshly baked bread.
Origin Espresso
21-23 Warner Street, 07 4099 4586
From humble beginnings, Origin Espresso has gone from strength to strength. They roast their own beans locally and offer filter coffee and pour-overs as well as cold-drip coffee 
If coffee isn't your thing they serve fresh-squeezed cane sugar juice. A weekend wouldn't be complete without grabbing a coffee and watching the world go by at Origin.
Breakfast With the Birds
Editor Note: Due to Covid 19 restrictions buffet dining had to be cancelled but is now starting to return. We haven't eaten at the Wildlife Habitat for Breakfast With The Birds since our kids were small, so we really can't give you much guidance on quality. It's worth you taking a look though! They have just opened a really exciting new crocodile attraction at The Habitat. Book Breakfast With The Birds here.
I'll mention that Hartley's Crocodile Adventures also offer a breakfast experience that's great for kids, Breakfast With the Koalas (overlooking the crocodile lake) is fun and allows you early access to the park, although the breakfast foods on offer aren't great. Hartley's is between Cairns and Port Douglas. Book Breakfast With The Koalas here.
The Wildlife Habitat and Breakfast With The Birds is on Port Douglas Rd, 07 40993235, next to the IGA Supermarket.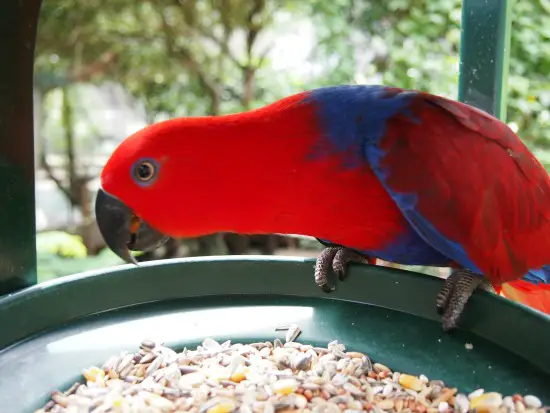 Breakfast with the birds is also a family favourite. Located at the Wildlife Habitat park, this buffet breakfast used to be held inside the bird enclosure.
Don't worry, all the food is covered, but keep an eye on your bacon, birds have been known to swoop down and steal from unattended plates. Kids absolutely love this and adults have a similarly good time.
This is most popular with foreign tourists and we have taken all of our overseas visitors here. Breakfast includes the park entrance fee, meaning the kids can burn off that energy after filling their tummies. You can read more about Queensland wildlife here.
Choo Choos on The Marina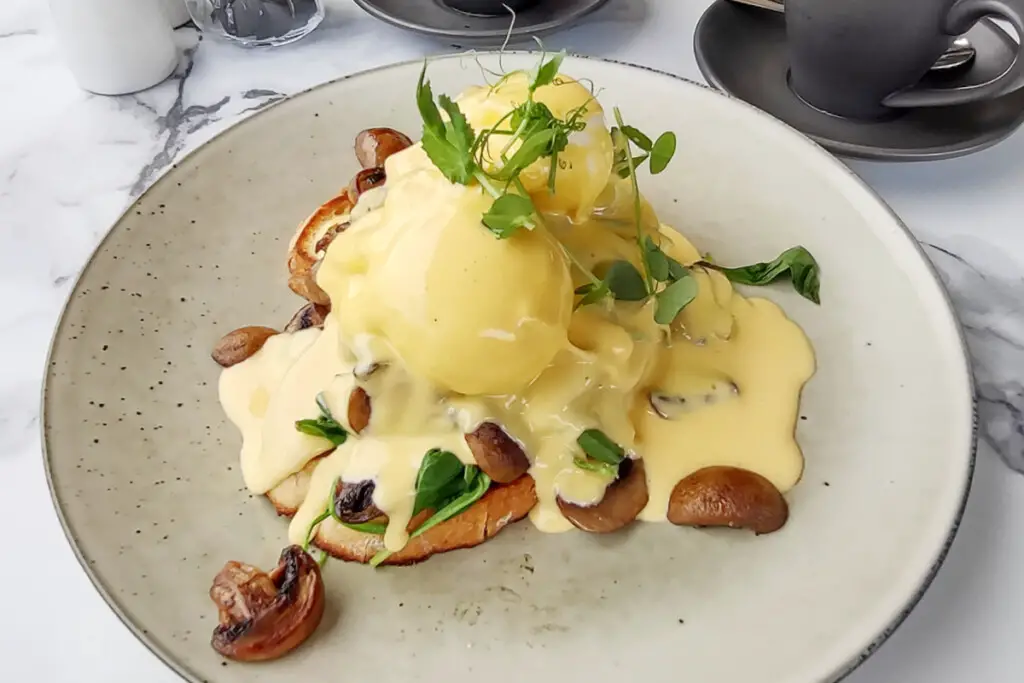 Choo Choos has recently converted the old Balhooley steam train carriages, into a dining car. They've done a good job too, she's looking beautiful.
Choo Choos has some of the best Marina views going and is a great spot for eggs bennie or some smashed avo or raisin toast. They also serve alcoholic breakfast beverages, which is interesting to see. I could handle a breakfast bloody Mary if I didn't have to go to work!
Coffee offerings include chai lattes.
They're also offering sunset cocktails and tapas at time of writing. They're at the old Balyhooley station, on the far end of the marina.
Best Restaurants for Lunch in Port Douglas
Being on holiday you may get up too late, skip breakfast and head straight out to lunch. Nothing wrong with that, isn't that what holidays are for?
Numerous Port Douglas restaurants offer set menus for lunch at great prices. In fact, the best lunch places are also great for dinner. The clear favourite across town with most locals would have to be Salsa Bar and Grill although Watergate offers superb lunch (and dinner) too.
For a cheaper lunch, grab a pie or bowl of pho on Grant street, you'll find Mocka's pies and Grant St Bakery here, both have good pies and other baked goods. We can highly recommend the Vietnamese pho too!
Salsa Bar and Grill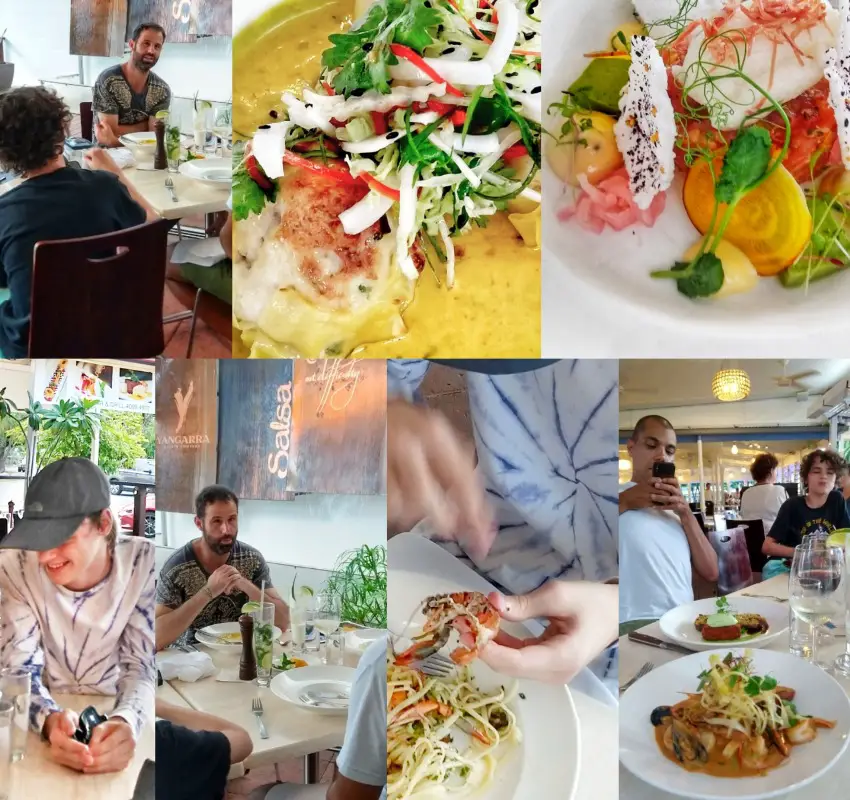 Salsa is a very good Port Douglas restaurant located at 26 Wharf Street, 07 4099 4922
This local institution has been around for years and even had to move to bigger premises, first on the high street then wharf street, its current location. Lunchtime sees taster plates served, they are different every day. Traditional favourites and a seasonal menu are also there in this relaxed restaurant.
Dishes are rotated here, but a very good seafood linguine is often on the menu, along with good local fish, seafood and meats. Their desserts are very good.
N17 Burger Co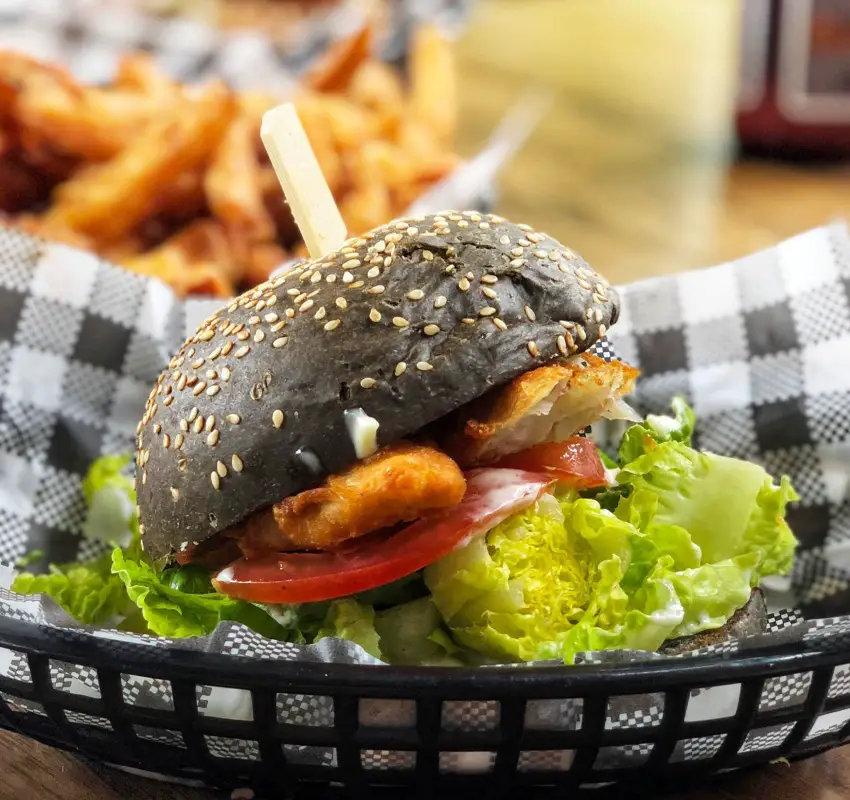 N17 has the best burgers in Port Douglas and is located at 22 Macrossan St, Port Douglas 07 42234704, near Coles Supermarket.
N17 is both a sports bar and a burger bar. Playing a huge variety of sports from ALF, NRL right across to Premier League and MMA action there is always something on.
Their burgers are brilliant and have many varieties to suit everyone from meat lovers to vegetarians. They use good quality meats from the best butcher in Port Douglas, Malone's Butchery.
N17 also stock a wide variety of beers including international and some locally brewed varieties that will really hit the spot. Not just open for lunch but also dinner and late into the night, especially if sports are playing.
There are happy hour prices on some drinks. We recommend their New Zealand wines at the bar.
Epicurean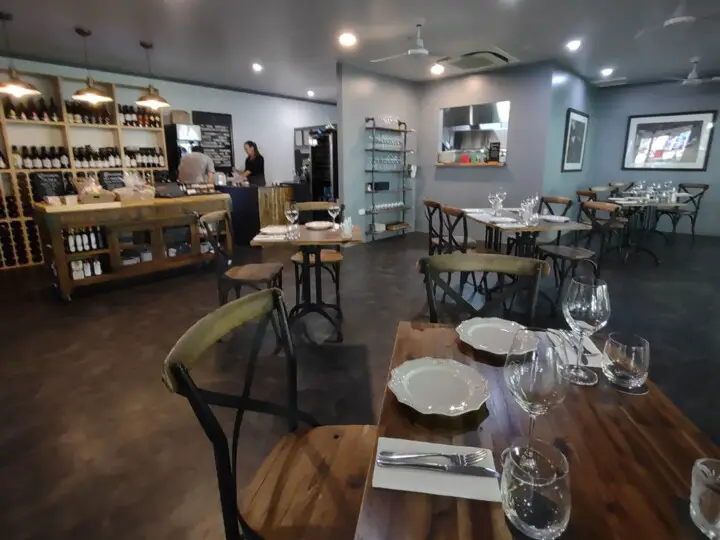 A relative newcomer on the Port Douglas dining scene, Epicurean is part shop, part restaurant. They'll even furnish your sunset picnic with a gourmet hamper.
This is THE place in Port to buy quality French cheese and their divine in-house duck liver pâté. They also offer a well-curated selection of quality Australian wines.
Epicurean offers a selection of sharing plates with a strong French / Mediterranean feel. This is a great place for a plate of oysters and a glass of something nice at lunchtime.
Another bonus, their inside seating area has aircon and their leafy outside seating area has fans to cool you down. Don't expect food snobbery here, the owners are really friendly!
Find Epicurean tucked away behind the ice cream shop on the south side of Macrossan St, towards the beach end. It's set back from the road and could be easy to miss.
Menu Thai
10 Grant St, Port Douglas, 07 4099 6880
Menu Thai on Grant Street offers quick and relaxed reasonable Thai food. I regularly come here if we are in town. Both of my kids like the food on offer and it's one of the cheaper eats in Port Douglas. Worth noting it is normally only open at lunch and dinner and closed between 3 pm – 5 pm. Dining is on the pavement.
Thai Douglas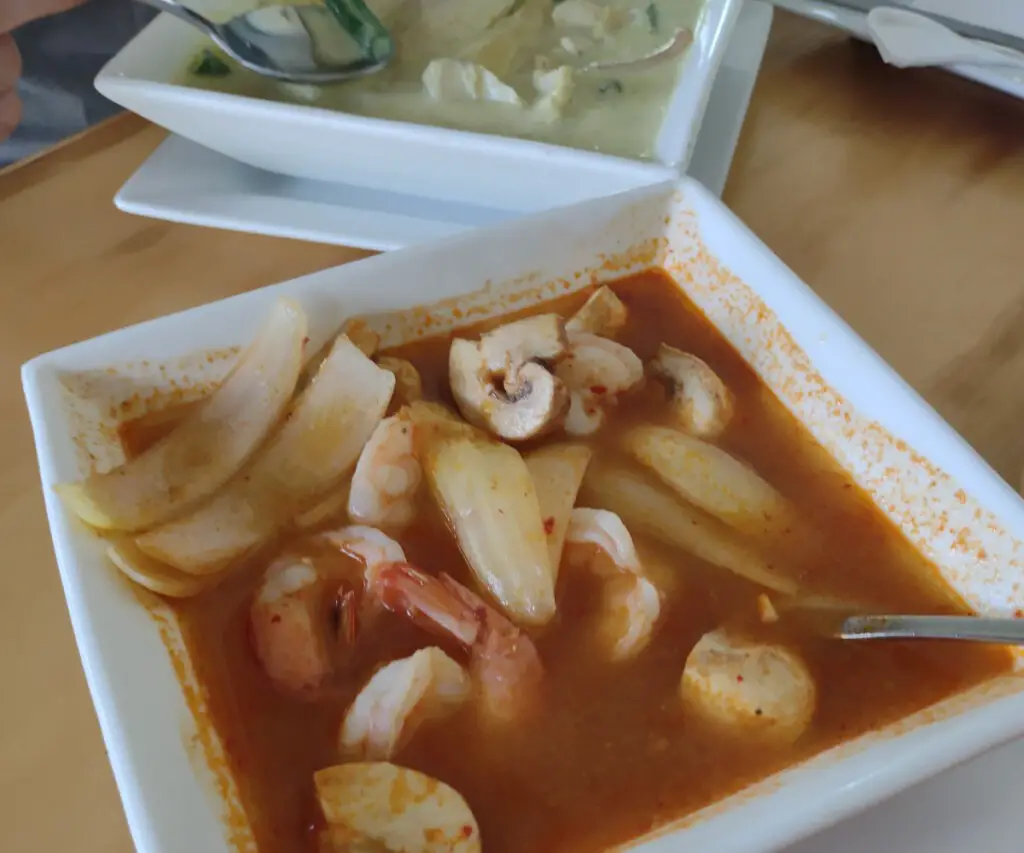 Thai Douglas is a new small Thai restaurant or cafe on Macrossan St, almost next door to the best ice cream in town, Shakes Gelati Bar. We tried their tom yum goog and green curry chicken, both were pretty good. For a quick, cheaper lunch, I'd certainly give Thai Douglas a try!
Best Restaurants for Asian Food in Port Douglas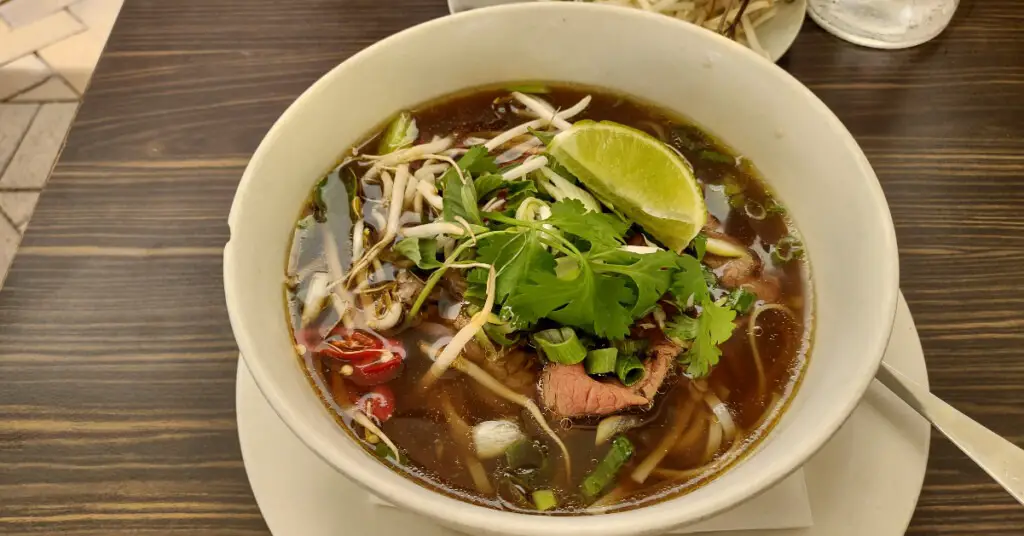 There are at least three Thai restaurants in Port Douglas, there is a Vietnamese food outlet and an Indian restaurant along with at least two Chinese restaurants at time of writing.
My pick of the best Asian restaurant in Port Douglas used to be the Vietnamese pavement restaurant on Grant street, Viet Pho. We've only sampled their pho so far, because it was so good the first time we keep ordering it.
We used to live in Vietnam and the pho in Port Douglas was as good as the authentic pho we'd eat for breakfast in Vietnam. This was a great discovery for us!
Although this is one of the cheaper eats in Port, don't expect Vietnamese prices. Our pho came in at just under $20 a bowl and was enough for 2.
The new Jungle Fowl restaurant on Wharf St has stolen the crown lately for best Asian restaurant near the marina. The food at Jungle Fowl is superb, so superb that this restaurant has its own section just below this. Everything we've tasted at Jungle Fowl has been perfection, as good as, or better than anything we've eaten in, or outside Asia. We really couldn't fault any of the 5 dishes we've tried at Jungle Fowl so far.
Jungle Fowl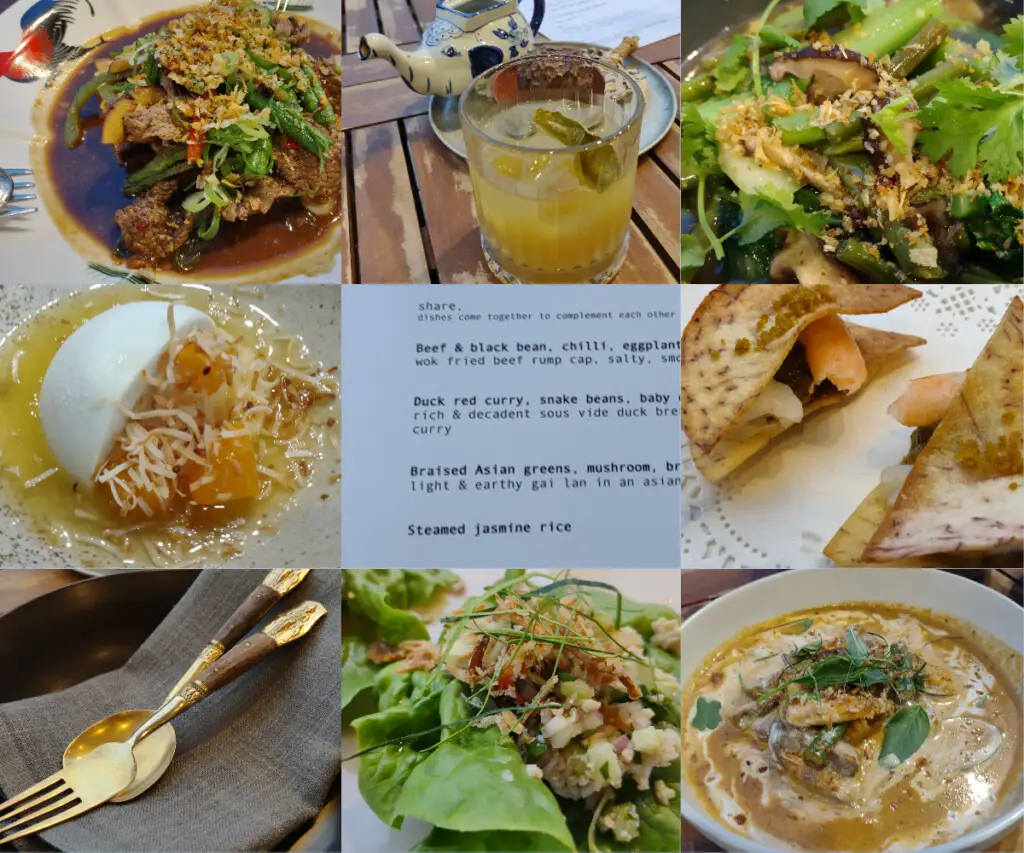 Unlike most of the Port Douglas restaurants on this page, we've only eaten at Jungle Fowl twice. The first time was so good we booked again straight away. We hope they change the menu often! As far as we're concerned this is now the best Asian restaurant in Port Douglas and our new go-to place for a family dinner out, or light snacks and drinks.
For more formal dining we think Sassi is the best restaurant for seafood, pasta or pizza in Port Douglas, you need to order their seafood sharing platter.
We chose the set menu at Jungle Fowl, what they call the "feed me" menu. We enjoyed the carnivore menu but there is also a vegetarian menu. We tasted Asian seafood and meat dishes, each more perfect than the next. The service was excellent and the drinks, alcoholic, or non-alcoholic, were beautiful and imaginative.
Jungle Fowl serves Asian food, but with incredible flair and local produce. If the spiciness of Thai food scares you, don't worry, nothing here was very hot. I love my chillies, but the food here was so delicious that I didn't miss the fiery heat I normally crave.
I can't say enough good things about Jungle Fowl, it's not cheap, and dining is mostly on the pavement (dog-friendly) with no view other than cars, the menu left us scratching our heads as it lists ingredients rather than describes dishes, but the food is sensational.
From now on our top picks in Port Douglas will be Sassi for pasta or seafood, Jungle Fowl for Asian, The Courthouse for a quick pub meal, and Viet Pho for a lunchtime bowl of pho. Those are our absolute top picks for dining in Port Douglas currently.
This restaurant had walk-in tables available when everywhere else was booked or full. Hopefully, our recommendation won't mean it's full next time we're hungry in Port Douglas!
Best Places To Eat in Port Douglas, Early Afternoon Drinks and Nibbles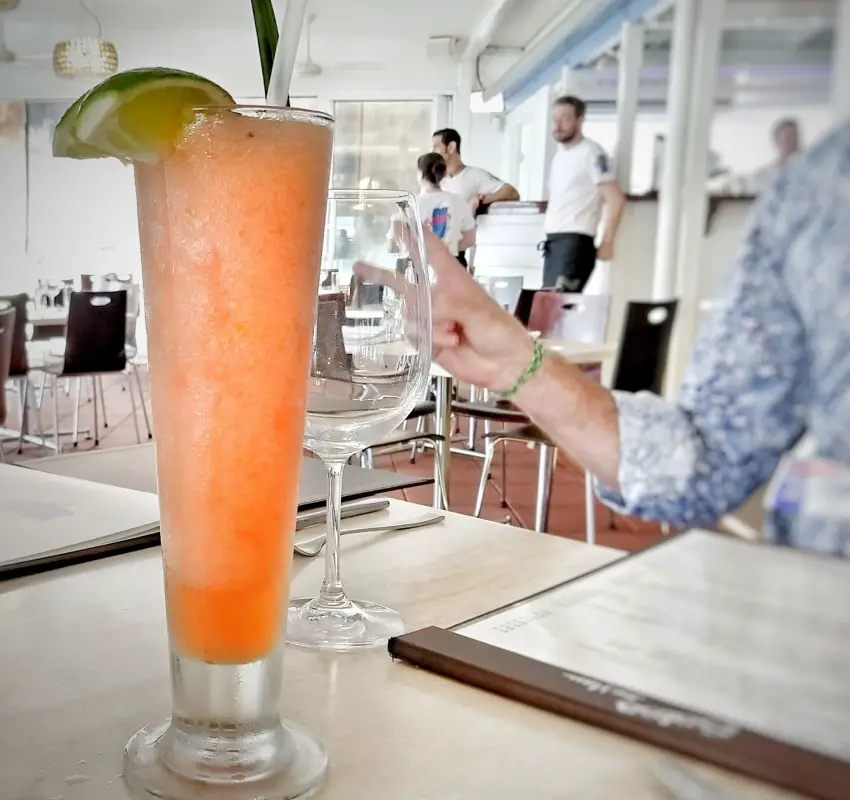 A few places come to mind for lazy afternoon beers and people watching. Because the reef boats arrive back in Port Douglas in the afternoon, a lot of visitors go straight from boat to bar or restaurant. They tend to choose the marina where you'll find Hemmingway's, Lure, and Barbados.
Others will head to the Tin Shed (check their dining times, outside of these they serve very little food) or to the Courthouse Pub. The Ironbar, another Macrossan St pub, is now specialising in steak.
Don't expect late-night dining in Port as you would see in London. As a chef, I'm grateful for that, but you may find the early closing times surprising. Dinner is often early in Port Douglas.
Lure Restaurant on The Port Douglas Marina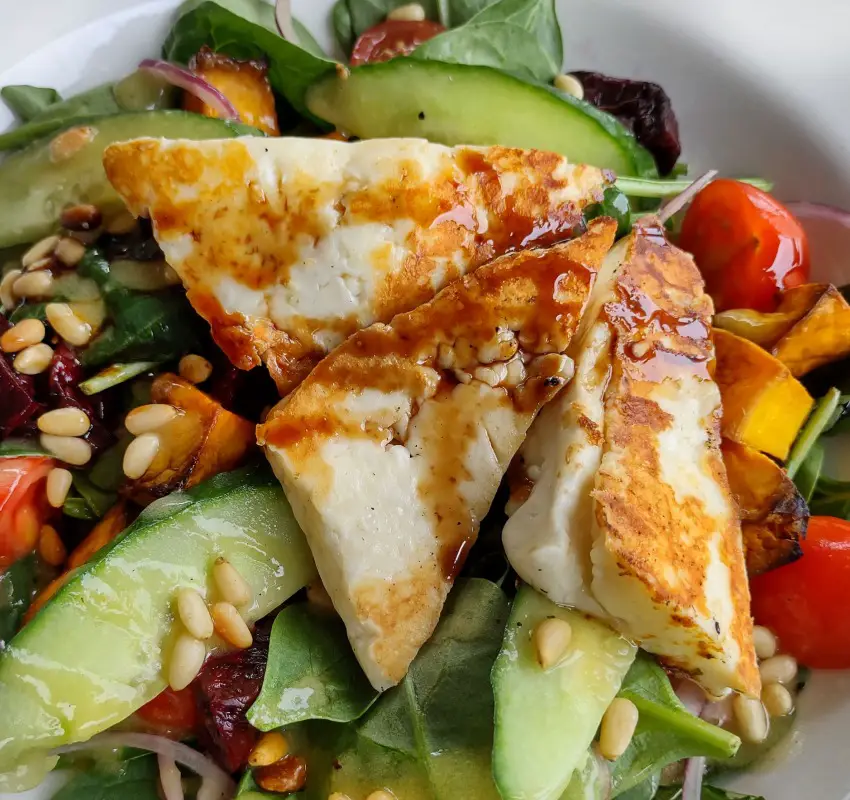 Super Yacht Marina, Port Douglas, 07 40995201
The first is Lure restaurant down at the marina. Here you can order a serving of prawns with beers and wine and watch the reef boats come in. They also have a wide variety of items on their menu, it's a big menu and we last ate there very recently.
This place always used to be our Sunday afternoon favourite after the markets, the kids used to like hanging out here with the boats and fish. Beer and wine are plentiful and during happy hour, well priced. Grab a seat on the deck for the best view across the marina. Currently, they are closing quite early.
My son was very enthusiastic about their jumbo steak sandwich with the works, I had a simple prawn sandwich, my other son the coral trout and chips. Look out for daily specials.
Hemingway's Brewery, Port Douglas Marina Drinks and Food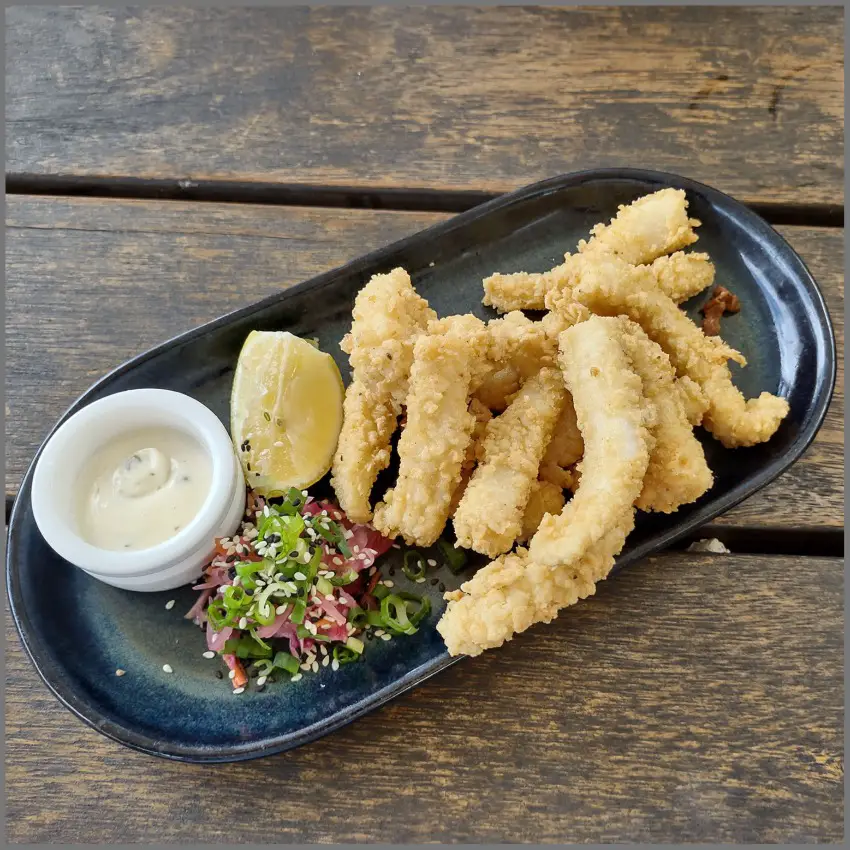 Super Yacht Marina, Port Douglas, 07 40996663
Port Douglas now has its very own brewery located on the marina's waterfront. With reduced opening times you can still enjoy your weekends here with great local craft beers and decent food.
They brew a number of their own craft beers to suit most tastes but if you want wine or spirits, they have you covered too. Great views out over the marina and to the hills behind. We like their salt and pepper squid, there are also burgers, pizzas, and so on.
The Tin Shed, Club Food on the Water in Port Douglas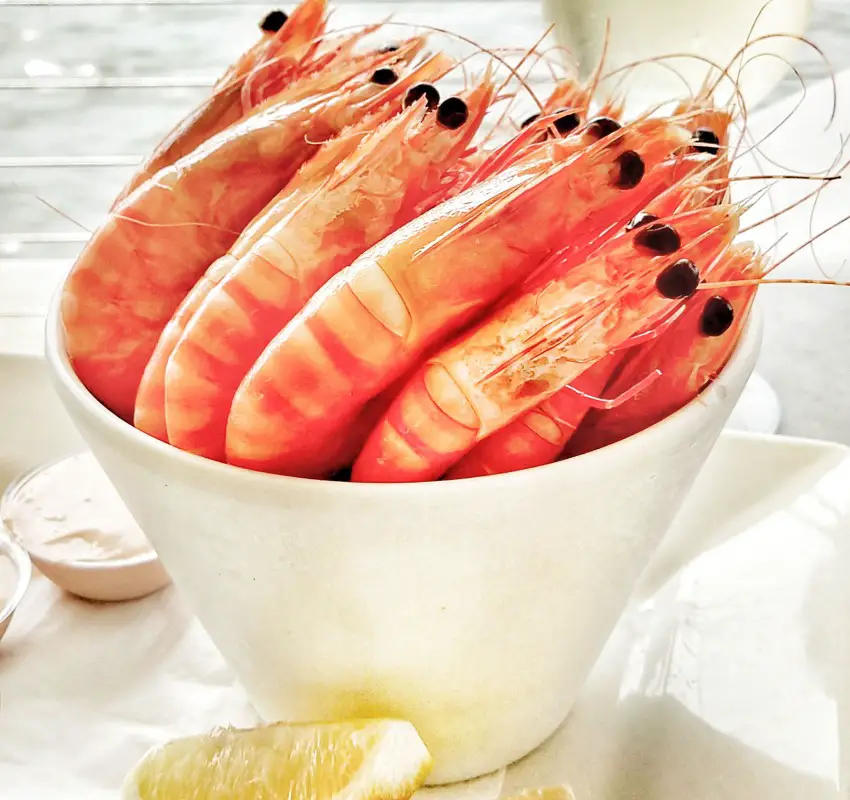 7 Ashford Ave, 07 4099 5553
The Tin Shed or Combined Club is another spot for a cold one and a snack, or indeed, full meal. This is really the only place in Port Douglas with a view out to sea, other than the restaurants on the marina.
The Tin Shed is an RSL type club, expect club food, heavy on the deep-fried. That said, they do club food very well.
They have a new deck overlooking Dickson Inlet which is a beautiful spot to watch the boats coming back from the reef at the end of the day. They serve both lunch and dinner with a fully serviced bar where you can just order drinks.
Outside of set dining times, you can usually order cold, cooked prawns with cocktail sauce on the side. This is usually how prawns are served in this part of Queensland.
Best Restaurant for Dinner in Port Douglas
This one is open to all sorts of establishments. Simply put, it depends on what you want. Sassi, Watergate, The Tin Shed, The Courthouse, Ironbar and, of course, Barbados, are great choices for dinner, depending on what you'd like to eat and your budget.
Sassi La Cucina and Bar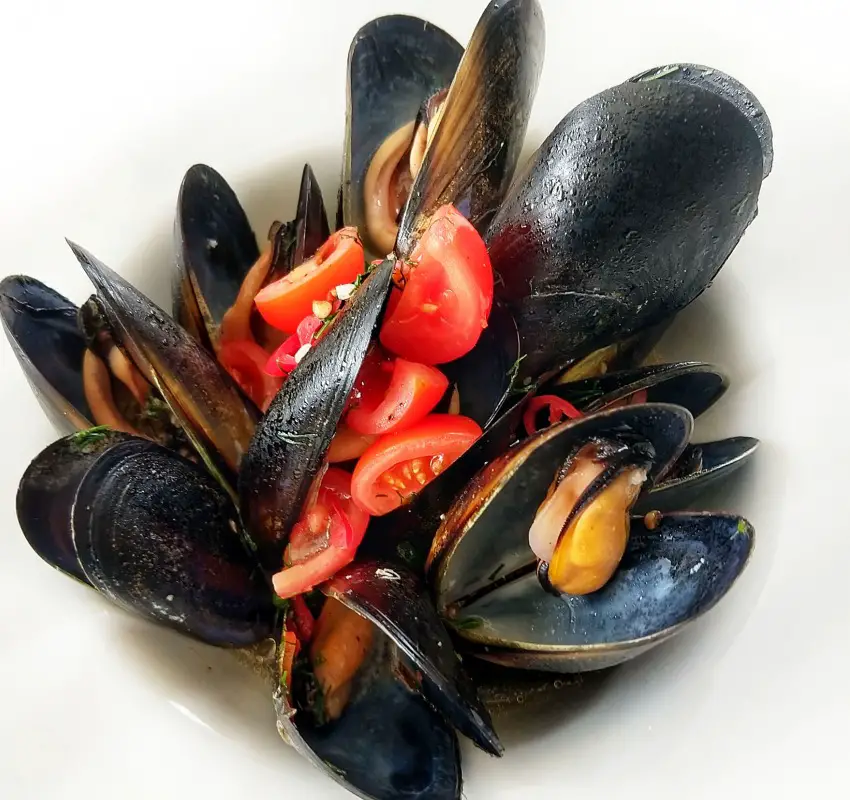 Sassi Cucina and Bar is on the Cnr. Wharf & Macrossan Street Port Douglas, 07 40996744
Port Douglas's Sassi Restaurant offers authentic Italian cuisine and some of the best food in Port Douglas, including seafood, pasta, and pizza. Sassi was run and owned by Tony and Di Sassi, however Tony Sassi very sadly passed away recently but this restaurant continues to be one of the very best in Port Douglas, with exceptional service and high food standards.
Their seafood platter is a particular highlight of the Port Douglas dining scene. Either indoor or outdoor seating is available, pizzas are also available at the bar. Bookings are recommended during the holiday season.
Sassi Cucina also offers some amazing pasta dishes and Italian desserts.
Where is the best pizza in Port Douglas?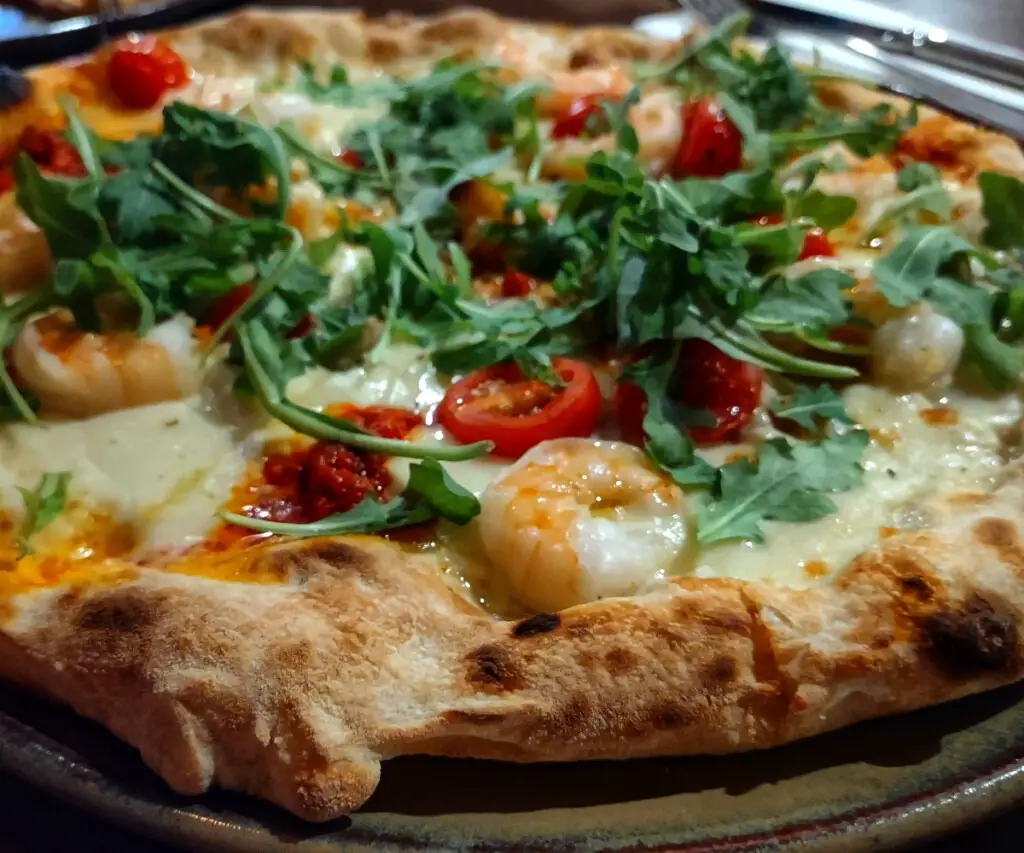 Various Port Douglas restaurants claim to have the best pizza in Port Douglas, but for us, Sassi has the best pizzas, hands down. At around $25-$29 they're not expensive and are good-quality Italian pizzas. You can even find fantastic Italian pizza toppings like 'nduja, spicy sausage from Calabria, at Sassi. Pizzas are only available in the bar and on the pavement outside the bar, not in the main restaurant, this part of Sassi does take walk-in customers. Calzone is also available at this Italian restaurant in Port Douglas. I'm not sure if they do take-out or take-away pizza at this point, I'll find out.
Barbados, Bar and Restaurant, Port Douglas Marina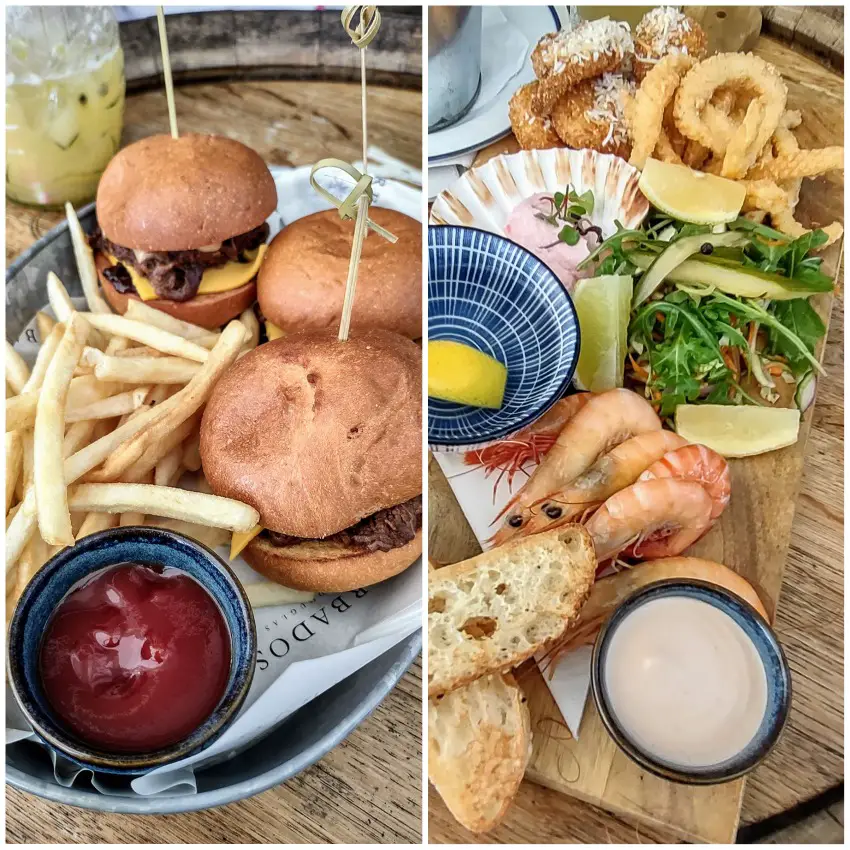 This Port Douglas bar/restaurant is very popular for the early to late afternoon crowd. Doors open usually at 3pm, that's the perfect time for returning reef boats, and it's advisable to book.
You can sometimes get a walk-in table, but it does get booked out weeks in advance in high season.
Barbados has very relaxed dining, ideal for groups, with indirect views of the inlet and marina. Cocktails and speciality drinks are very popular and the food is typical bar food.
Barbados dishes to try, include pulled brisket sliders, tuna tataki, and their seafood sharing plate. My son enthuses profusely about the truffle-scented fries.
In the interests of full disclosure, I worked here as a chef for a while, after being head chef at one of the biggest 5-star resorts in town years ago. Prior to that, I was a Chef in top London hotels. I no longer work here.
Rattle and Hum
38 Macrossan St, 07 40995641
At the other end of the scale, you have Rattle and Hum pub doing great pizza and steak. Casual atmosphere with an open wood-fired pizza kitchen. Pool tables and sports channels are scattered around the pub.
The Court House Hotel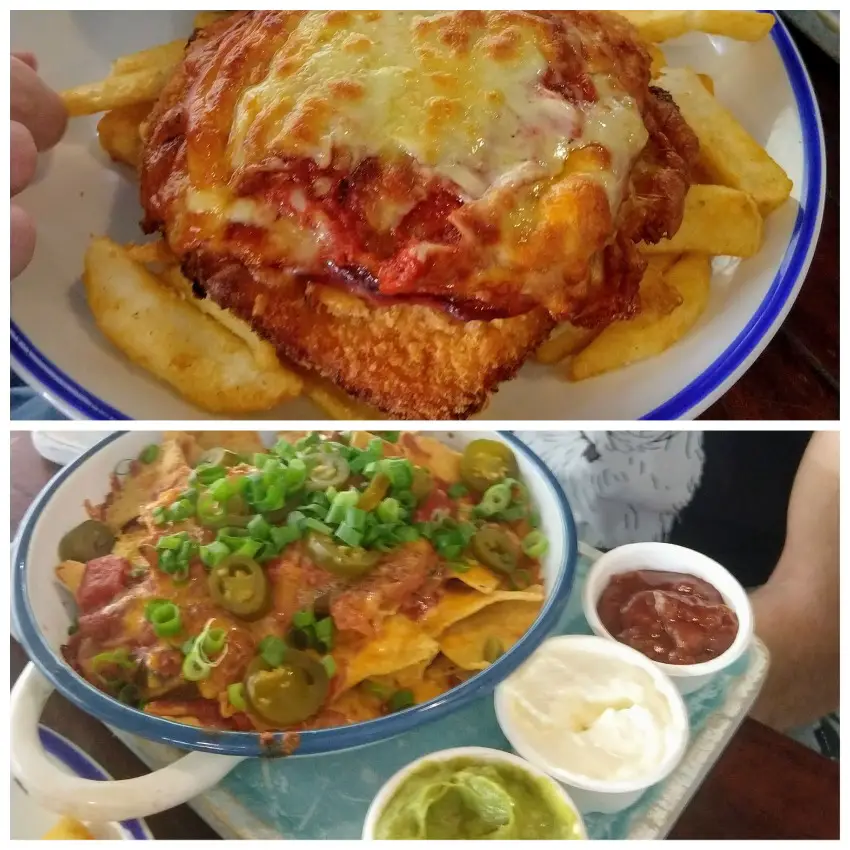 18-20 Wharf St, 07 4099 5181
The Court House Hotel offers pub grub to a pretty good standard. This is a bit of a family favourite of ours if we want something cheaper, often early evening or late afternoon. My kids love their nachos, chicken parma, and fish tacos. The burgers at The Courthouse aren't bad either, but for burger connoisseurs, go to N17.
This historic Queenslander oozes old-world tropical charm and the bar refurbishments are really quite stunning.
On the weekends The Courthouse Hotel (pub) often have live bands playing which adds to the atmosphere. Good views over to the Port Douglas Sunday Markets makes for a great corner for people-watching at the end of Port Douglas's main street.
Paddy's Irish Bar Port Douglas
Yes, Port Douglas has its own Irish Pub serving the usual Australian pub meals. This is a good place to come for a $12 parmy (or parma) on special nights.
You can also get a very cheap ($18) Sunday roast or Sunday lunch at Paddy's. I haven't tried it, but it's popular!
Paddy's also has live music and sports at certain times.
Watergate Restaurant, Macrossan St. Port Douglas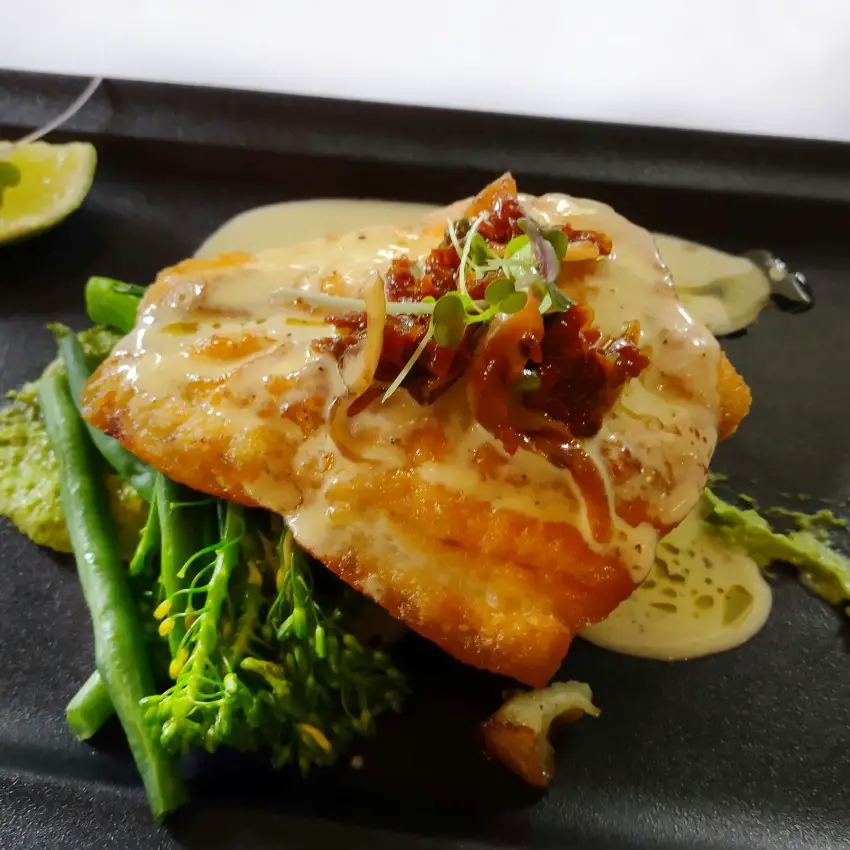 My family visited Watergate for a mid-week birthday meal recently and were delighted by the food, cocktails, and wine. It really was good food along with great friendly service.
Watergate is just off Macrossan Street, tucked away from passing crowds and surrounded by tropical greenery.
We ordered a dozen dishes between us and all of them were good, particularly the reef fish of the day and the unusual crab lasagna.
Zinc Restaurant Port Douglas
Portico, 3/53-61 Macrossan Street, 07 40996860
Zinc is a great restaurant at the Four Mile beach end of Macrossan Street that offers fantastic food. Modern Australian and seafood. A family-friendly restaurant that requires booking an advance table in the busy season. A great atmosphere and the aquarium in the restrooms need to be seen to be believed.
Bel Cibo Restaurant Port Douglas
30 Macrossan St, 07 40996330
Bel Cibo, an Italian restaurant serves great food with a view over Macrossan Street. Located on the second floor of the Saltwater building you can look down and watch the world go by.
Unfortunately due to a leak in an apartment above Bel Cibo, it has been closed until further notice while they repair the restaurant. With Covid hitting hard Bel Cibo is still shuttered up and there is talk of moving to a new location.
Wrasse and Roe
The Chef and owner at Bel Cibo has now opened Wrasse and Roe on the beach end of Macrossan St.
As this one is so new, we haven't had a chance to eat here yet, but we will! This is where Two Fish used to be.
Chilly's Port Douglas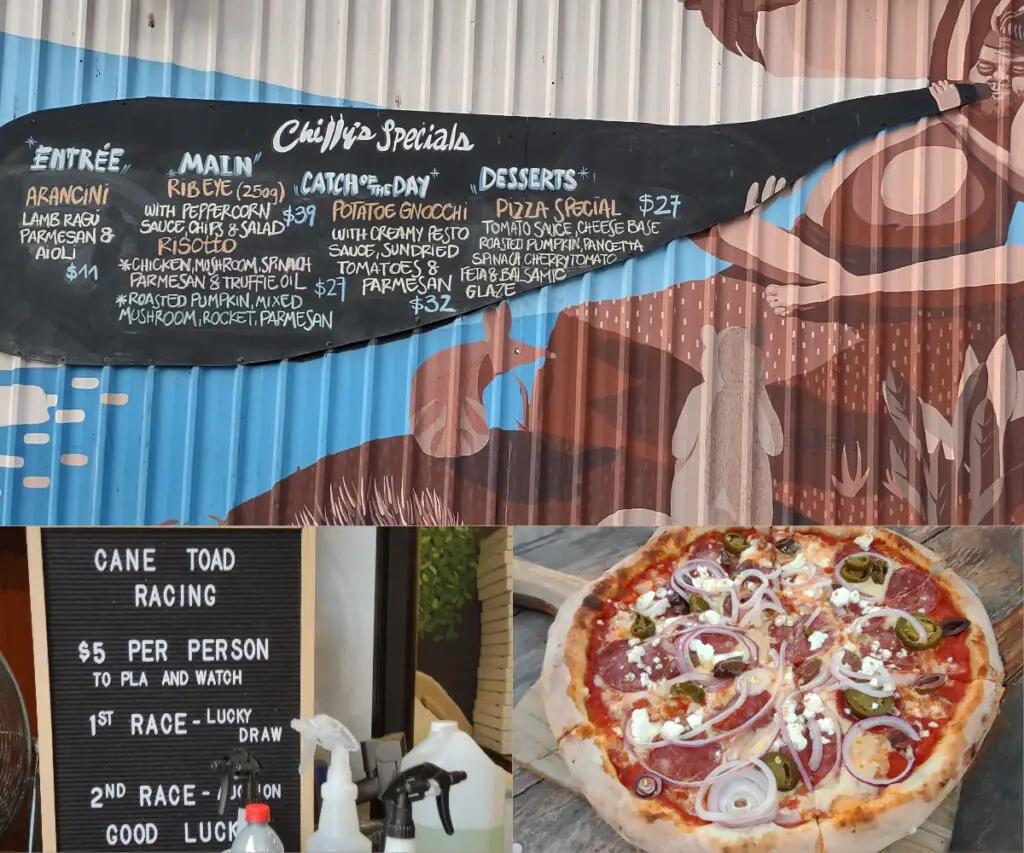 Chilly's is a nice outdoor courtyard restaurant in Port Douglas, it's behind Macrossan St, near the Community Centre and Quicksilver Dive Center. The restaurant is lit with pretty fairy lights and sometimes firepits at night and has a bit of an Aussie Outback atmosphere.
Chillis is where to find the cane toad racing (sometimes) since it moved from The Iron Bar on Macrossan St. Chillis prides itself on its pizzas, they were also serving curries when we last visited.
Kai Port Douglas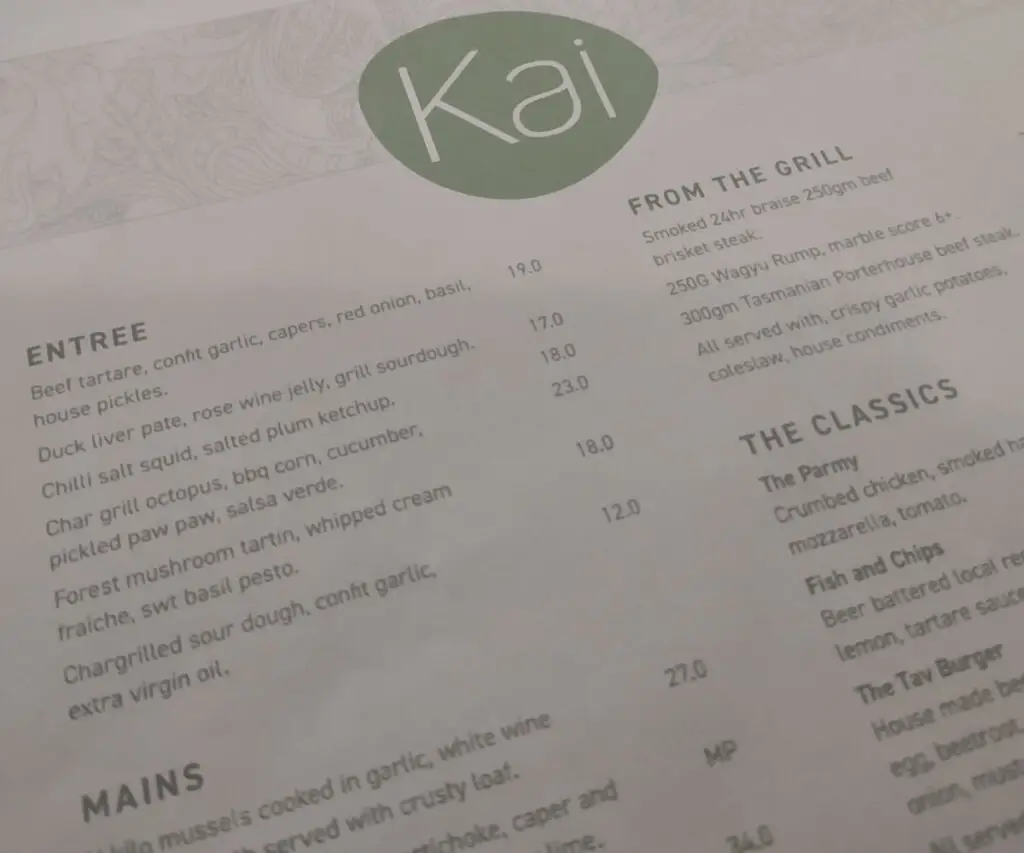 Kai is on Four Mile, quite some distance from the main Port Douglas restaurants on Port Douglas. It's near the south end of Four Mile Beach and adjacent to the Four Mile pub. We really like the food at Kai, there is a good chef here, and this small restaurant gets our vote for the best fish and chips in town.
The Mexican Port Douglas
The Mexican Restaurant in Port Douglas is always busy in the evenings when we're going home after eating, but unfortunately, its short opening hours have meant we've never been able to eat here. Every time we try to visit this restaurant it's closed. I don't think they open for lunch at all. So one day we'll be able to review The Mexican, but not just yet!
Various other places in Port Douglas serve Mexican food, tacos and nachos, but this is the only Mexican restaurant in Port Douglas, it's on Macrossan Street.
Best Places to Eat in Port Douglas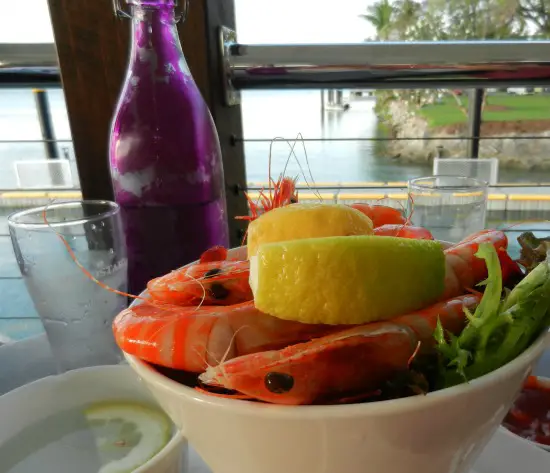 That is my take on where to eat in Port Douglas. Restaurants are always changing, staff, menus, suppliers, and expectations never remain constant.
I've eaten in nearly all the restaurants in Port Douglas, some good, some bad. If you're looking for the absolute best restaurant in Port Douglas, it's likely Sassi, Nautilus, or Salsa, Melaleuca is often recommended too.
There are now a few new restaurants and some old ones have passed. Take what I've said with a grain of salt, as a chef, public expectation is everything and it isn't uncommon to get your best and worst comments on the same night. The restaurant scene in Port Douglas is vibrant, that is one of the best things about the town. Being able to eat at a different place, for each meal on a 10 day holiday isn't normally easy in a town this size. You do need to book.
Restaurant Opening Hours Port Douglas – Wet Season
While the 'wet' season starts back in December you won't notice much of a difference until the end of January. Both February and March are very quiet months in Port Douglas. February is when numerous restaurants, including some of the best restaurants in Port Douglas, will close up and give their staff a break.
It is worth checking out with restaurants directly as to their hours over the wet season months. Even if they stay open operating hours will be greatly reduced in most cases.
Food Tours Port Douglas
There is one food tour from Port Douglas that will take you to sample localproduce (food and wine) from the Tablelands near Port Douglas. Book that tour here.
---
Keep our site free by using our affiliate links below, at no extra cost to you.
---
Note on Shopping For Food If You're Self-Catering in Port Douglas
There is a medium-sized Coles supermarket in the middle of Macrossan St. If you're after quality meats, particularly grass-fed beef, go to Malone's Butchers right opposite Coles.
There are two fish shops that we know of currently. We use the one at the back of Coles, opposite the Coles car park, and they do stock local (not farmed) prawns. The prawn boat visits Port Douglas from time to time, and sells direct on the jetty.
A lot of seafood and fish is frozen in Port Douglas because of climate and transportation. The fishmonger we use does have some fresh local reef fish usually. The best way to get fresh seafood is to catch your own, fishing trips depart Port Douglas Marina.
For gourmet deli items, go to Epicurean on Macrossan St.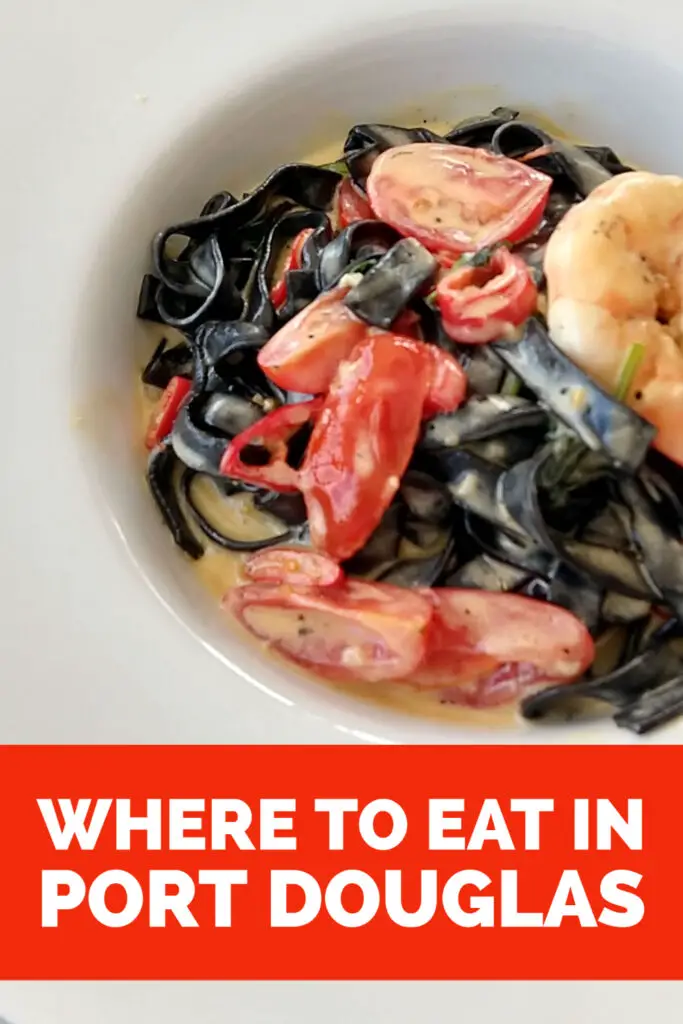 ---
Other posts on my site and useful links for Port Douglas:
---
Have you got a favourite Port Douglas restaurant? Where would you or have you eaten in Port Douglas? Could you hit the red Pinterest button for us please? You'll probably want to see our post on Things to Do in Port Douglas too! We hope you find the best restaurant in Port Douglas, for you.
Happy Eating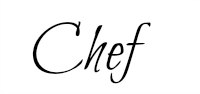 If you'd like to hire a car during your stay, use this car rental comparison tool to find the best deal!

Please check out our Pinterest account for loads of food and recipes from around the world!