This post may contain affiliate links.
Port Douglas is a beautiful resort town popular with domestic and international tourists in tropical north Queensland. Cruise ships stop in Port Douglas and a fleet of boats depart Port Douglas marina daily for Low Isles and The Great Barrier Reef. Other visitors take day trips to the Daintree Rainforest and Tablelands. This post is about the location of Port Douglas.
Where is Port Douglas?
Port Douglas is on the northeast coast of the country of The Commonwealth of Australia. It is in the state of Queensland and is in the Southern Hemisphere. To the east of Port Douglas The Coral Sea stretches out to the Great Barrier Reef and beyond that lies the South Pacific Ocean. South of Port Douglas lies the city of Cairns, to the north, you'll find Cooktown, Coen, Lockhart, and Bamaga. Port Douglas is in Far North Queensland or Tropical North Queensland. This is the northernmost part of the state of Queensland. Port Douglas is in the continent of Australia and the region of Oceania.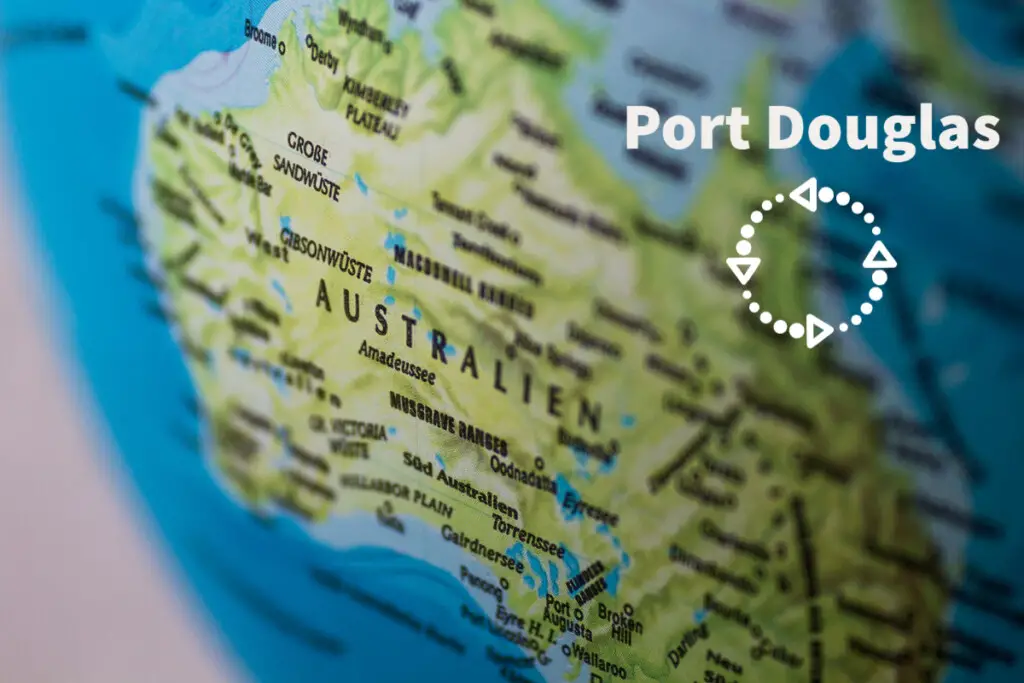 The Cape York Peninsula is to the north of Port Douglas and the northern limits of the Great Dividing Range are to the west.
Is Port Douglas in the Tropics?
Port Douglas is in the tropics. It is 16.5 degrees south of the equator in latitude. This means it is between the tropics of Capricorn and Cancer. This makes Port Douglas a tropical destination.
Are There Any Other Places Called "Port Douglas" in the World?
I have been unable to find another Port Douglas, even in the US, which I find surprising!
How to Get to Port Douglas?
Port Douglas Queensland does not have its own airport. It also does not have a railway station or train line. Port Douglas is not well served by buses or other public transport.
The best way to get to Port Douglas is to fly into Cairns Airport. Cairns has the closest commercial passenger airport to Port Douglas. The airport at Cairns is about an hour south of Port Douglas by road and is the nearest commercial airport to Port Douglas.
Cairns is an international airport but the number of international destinations is very limited. You are likely to have to fly via Sydney, Brisbane or The Gold Coast airports. International flights generally only go to Singapore, Japan, and Bali Indonesia from Cairns, but this does change fairly often.
Where is Port Douglas on the Map?
We marked Port Douglas's location on the map for you below.
As you can see from the map Port Douglas is located on the coast with parts of the Great Barrier Reef directly to the east. These reefs are very easy to visit from Port Douglas with cruise boats departing Port Douglas Marina daily, except in very bad weather conditions.
What is Port Douglas Famous For?
Port Douglas has been used as a location for many movies. Possibly most famously, the movie Fool's Gold.
Australian crocodile hunter and much-loved celebrity, Steve Irwin, died off the coast of Port Douglas at Tongue Reef. He was killed by a sting ray.
Port Douglas is famous for being the gateway to two world heritage-listed sites, the Great Barrier Reef, and the Daintree Rainforest. This is the only place in the world where two world heritage sites meet. Many Port Douglas activities involve visiting these two areas.
Port Douglas came about because of the local sugar industry. Sugar was shipped out of Port Douglas from The Sugar Wharf, which still stands today and is a popular wedding and event venue. Sugar is still grown and milled nearby.
Bill Clinton once holidayed in Port Douglas, famous people like George Michael and Kylie Minogue have also been spotted.
Port Douglas has a beautiful beach, good pubs and bars, outstanding accommodation, and a large number of restaurants.
What Time Zone in Port Douglas In?
Port Douglas is on Brisbane time. That's Australian Eastern Standard Time or AEST. It is GMT+10 hours. Port Douglas is 10 hours ahead of London.
Queensland does not have daylight saving (the equivalent of British Summer Time) so this gap is not consistent throughout the year, in summer and winter.
What's The Weather Like in Port Douglas?
Port Douglas has a tropical climate and as such has a wet season (summer) and a dry season (winter). It never gets really cold in Port Douglas and much of the year is very hot.
We have a full post on the best times to visit Port Douglas. You should also be aware of stinger season in Queensland.
What Part of Queensland is Far North Queensland?
Far North Queensland is the most northerly part of the State of Queensland. Far North Queensland starts north of Townsville but definitions do vary.
What Continent is Port Douglas In?
Many people believe that Australia, and therefore Port Douglas is on the continent of Oceania. This is incorrect. Oceania is a geopolitical region used by the UN comprising thousands of islands. Most of Oceania is beneath the Pacific.
Australia the continent, is actually the smallest continent on Earth and the country of Australia comprises the main Australian landmass and thousands of Australian islands.
Is Port Douglas a Good Place to Live?
Port Douglas can be a very good place to live if it suits your needs and wants. If you're looking for a relaxed, quiet, laid-back sort of lifestyle, then Port Douglas could be for you. Port Douglas is expensive and quite remote and isolated, there are few shops but online shopping and deliveries work fairly well. Don't expect next-day Amazon deliveries!
There are doctors, dentists, a few schools in the Douglas Shire and a large hospital in Cairns, about an hour away. Mossman has a small hospital about 10 minutes drive from Port Douglas.
Cairns also has the nearest airport, but international destinations are few. There is very limited public transport in the area. Most people in Port Douglas seem to enjoy golf and fishing, or some other sport.
House prices are low compared to those in the southern states, but prices have skyrocketed recently. The cost of living is high. In the wet season the weather can be fairly intense and you need to be able to cope with heat and humidity.
We have owned a home in Port Douglas for almost 20 years. When we're not on the road I can be found in Port Douglas, often working as a private Chef on yachts or as crew on reef boats. Do us a favour, visit our Port Douglas Pinterest board and pin some stuff. It helps us a lot. Thanks.
If you'd like to hire a car during your stay, use this car rental comparison tool to find the best deal!

Please check out our Pinterest account for loads of food and recipes from around the world!