This post may contain affiliate links.
Hoi An cooking classes are in abundance, some are full day classes, some are half day some are at sunset and into the evening. This post reviews what we found to be the best Hoi An cooking class for us, and gives you some tips and information on finding a good cooking class in Hoi An Vietnam. We also give you links to book a Hoi An cooking class online, which should give you a better price and guarantee availability. See this class here for prices.
Walk around Hoi An Old Town and her maze of backstreets and you'll see a dedicated Hoi An cooking class on offer at every turn. Sometimes arising from purpose-built cookery schools other times at local restaurants. Hoi An is often recognised as a culinary centre of Vietnam and the local businesses rightfully capitalise on their cuisine culture.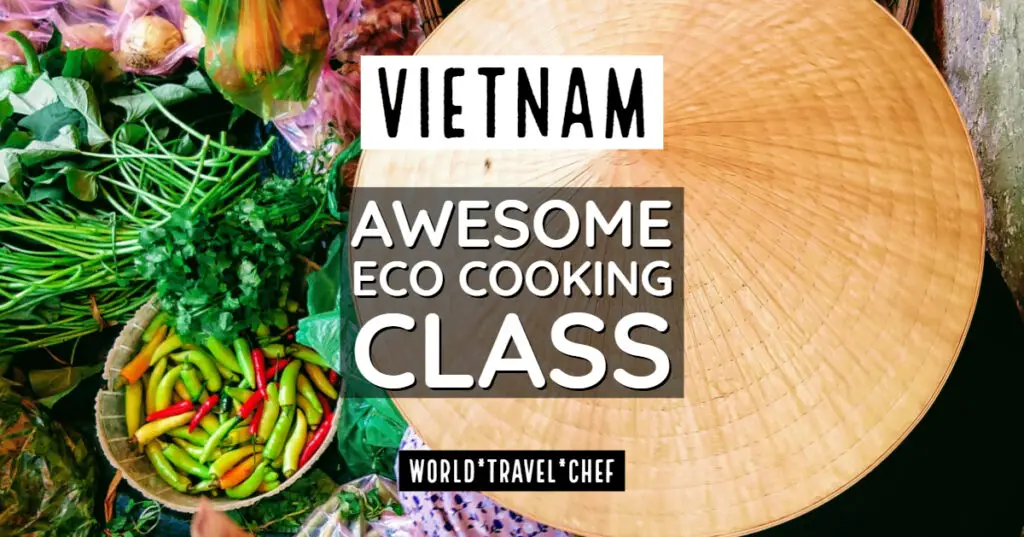 Being a chef I couldn't resist getting my family (with kids) and myself on a great cookery course in Hoi An. I didn't rush in and pick the first cookery class offered or cheapest or most convenient.
Not all cooking classes are created equal and that is no truer than in Hoi An. The one we chose after much research, was the Hoi An Eco Cooking Class below, and we couldn't have been more thrilled with it.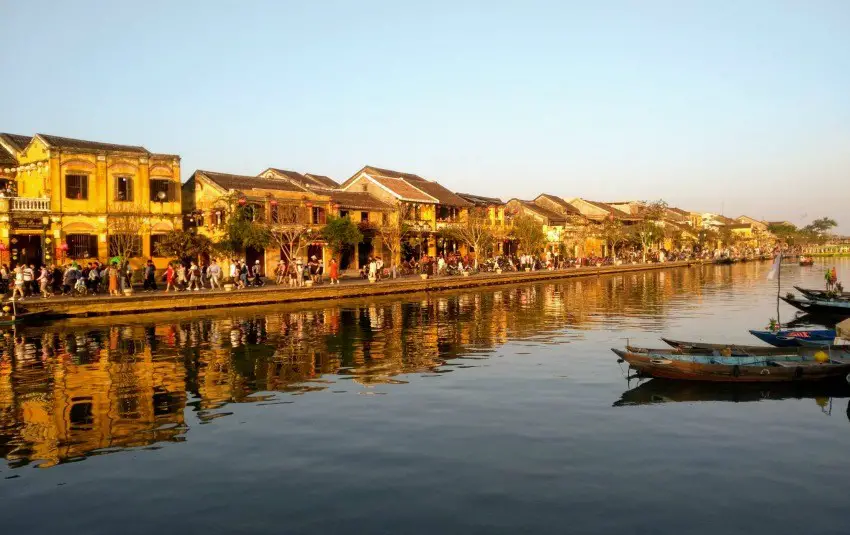 Picking The Best Hoi An Cooking Class
I'm fussy when it comes to picking a cooking class. After 20+ years as a professional chef and having run my own cooking classes I know what I want and equally what I don't which in some ways is more important. We've taken cooking classes in Goa, Nepal, Malaysia, Cambodia and in Thailand on numerous occasions and we have a great idea of what is offered and what is actually delivered.
I, and I'm sure you, want to be able to walk away having actually prepared the dishes on offer not just chopped a few vegetables and watched someone else cook. A good cooking class must have enough workstations so that everyone can participate at once and keep the speed of the class fast without undue waiting times.
I want to be able to understand what makes that dish work from the history to the local ingredients and whether I can replicate it back home (Cau Lau isn't taught as it can only be made in Hoi An with water from the Bale Well).
I want to be entertained and enjoy the experience from start to finish. I want the hygiene to be spot on, especially with raw meats and fish.
It has to be able to cater for and include children as I have a young teenager and a 10-year-old, both boys and keen to take these classes.
With this in mind, I can start to sift through all those on offer and narrow down my search. This eliminates a large proportion such as the restaurants that do a cooking school as a sideline. For our Hoi An Cooking Class, we decided on Hoi An Eco Coconut Tour and were pleased to say this was the best cooking course we've done to date. It beat similar classes we've taken in Thailand because it had an extra level of fun and entertainment.
A Market Visit is a Must as Part of Your Half Day or Full Day Cooking Class in Hoi An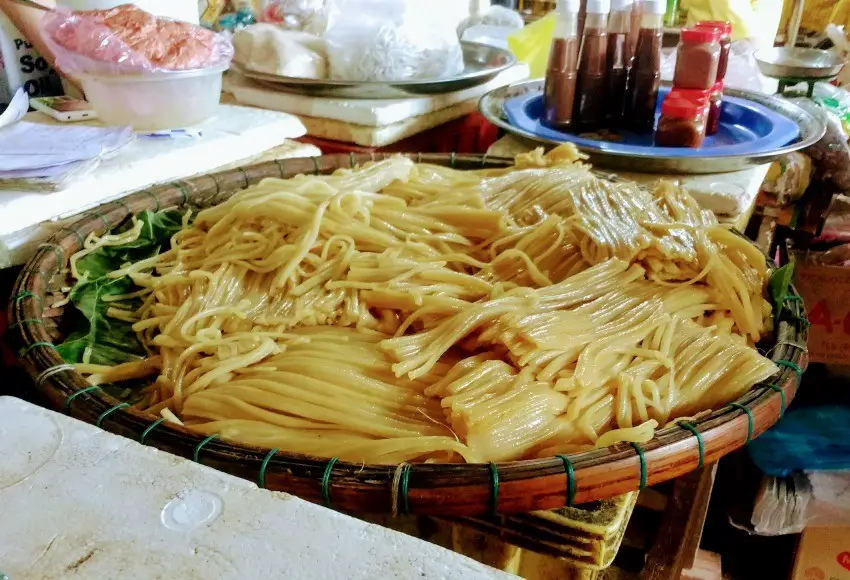 Dedicated schools often offer various activities besides just cooking, but some don't. For instance, I love heading to the market with the chef/guide and gaining first-hand knowledge of what goes into the dishes we will be cooking. If there are local markets then I won't take a cooking class that doesn't incorporate a tour.
Hoi An has at least 3 large lively wet markets and it was a must-do a tour of at least one of these. Even as a chef with a lot of Asia experience, unexpected foods and insights can be found in any market.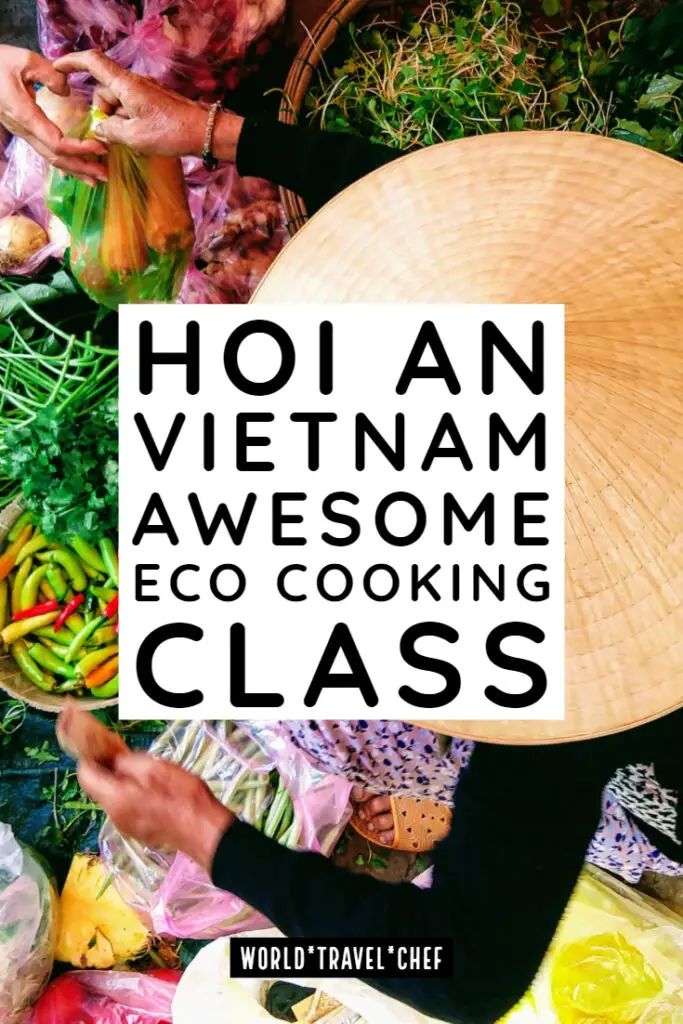 Location of Cooking School in or Near Hoi An
This isn't particularly important as most of the good classes will send a pick up from your hotel or guest house. As long as it isn't a 1 or 2-hour drive out of town and a pick up is included, location isn't a high priority.
For Hoi An nothing is more than a 20-minute drive away and many cookery schools are surrounded by rice fields, gardens and waterways. The cooking class we picked was out of town in the fishing village area of Hoi An and was all the better for this location.
A good quality minibus picked us up from our accommodation early in the morning and dropped us home afterwards.
What You'll Cook and Do You Get A Cook Book at a Cooking Class?
One of the most important aspects and the main reason you're here is to cook. Visitors need to get an understanding of not just a few dishes but also how culinary tradition fits into the lives of the local people.
For instance, Hoi An Eco Coconut tour doesn't just cook dishes but shows you how to make rice paper from scratch and lets you make rice paper yourself. The process is very similar to the noodle-making process. (see below)
The dishes that we were taught to cook at the cooking school were all possible to make at home. That is an important aspect for me because if I can't make it later I don't see a big need to include it in the class.
Hoi An Eco Coconut tour finds the balance with both things you want to learn how to cook and with things you can cook at home. A rough guide to what we did is.
–  Fresh spring rolls and dipping sauce
–  Papaya salad
–  Banh xeo – Rice pancake with prawns and fresh herb salad
–  Pork or fish in a clay pot with steamed rice
– Aubergine in tomato sauce
–  Seasonal fruit and vegetables and how to effectively and artistically cut it. This requires considerable skill and is harder than you think.
Every ingredient was available back home. Even the banh xeo pancake mix is sold in the Asian supermarkets across the world. Our instructor showed us exactly what we would need to buy.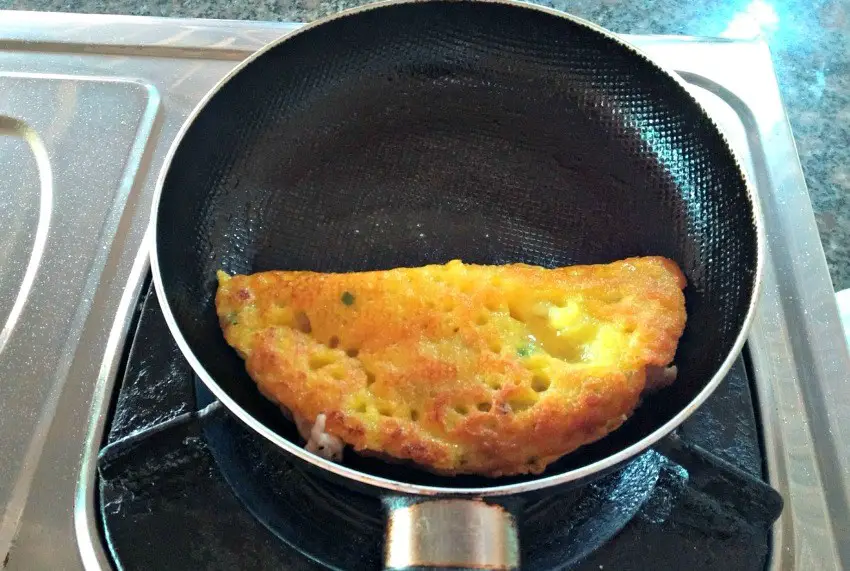 Most top cooking classes will include a cookbook to take away so you can replicate the dishes in the comfort of your own home. Hoi An Eco Coconut tour was no different but where they did excel was by providing each student with a special vegetable cutting tool that we'd used during the class.
This allows you to make all manner of fancy cuts you'd otherwise not be able to do. It was only a cheap utensil but by giving this gift with the cookbook on completion it sealed the deal and made you believe that you'd actually use those learnt skills once back home.
Hoi An Eco Tour Cooking Class Had Extra Activities for a Fun Morning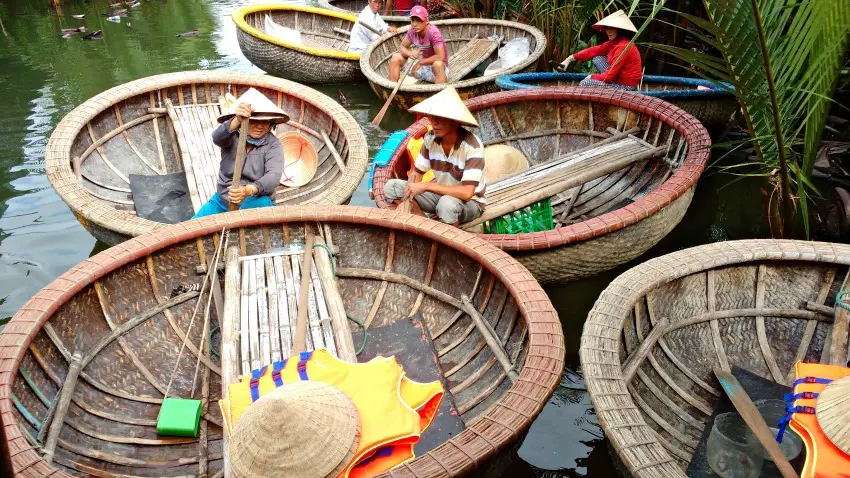 Most cooking classes only take a half-day including the market tour. This gives you ample time to add a small side tour to the day if there is one that can be done concurrently. 
As our cookery school was on one of the waterways that are ubiquitous in the Hoi An landscape, it was a pleasant extra to have a ride in the coracles. It was only a short trip and we got to try our hand at catching crabs with handheld lines but it was another reason to pick the class. We probably wouldn't do the coracles as a stand-alone tour and this was the perfect match.
Rice, How Noodles and Rice Paper are Made (Class) in Vietnam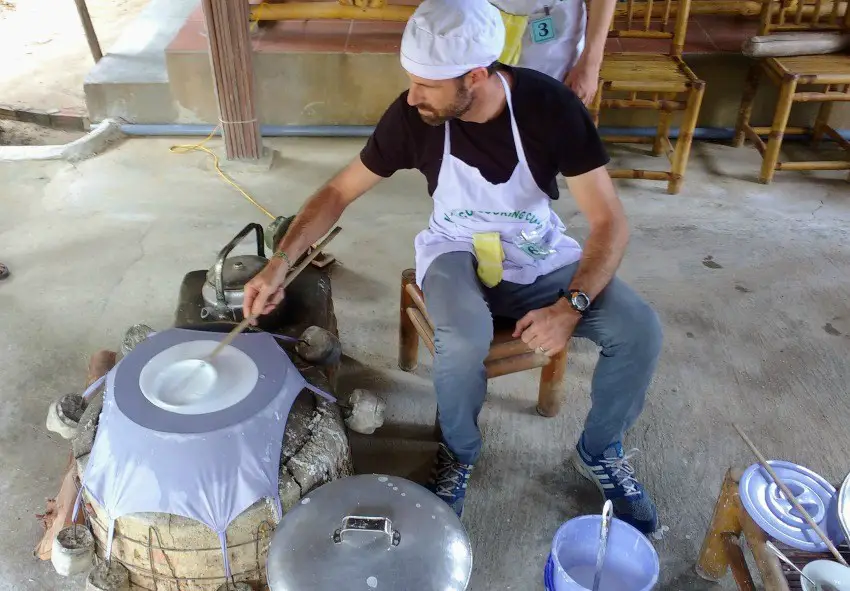 It's fairly unusual to eat rice here in Hoi An, it seems that rice noodles and rice paper are consumed far more often. Do you know how these products are made? We didn't until we tried our hands at grinding, sifting and cooking rice paper ( the noodle method is very similar) at this cooking class.
So if you'd like to try making rice paper in Hoi An, this is where you need to be. Our rice noodles went into the pho we made at the class.
Was this Eco Cooking Class in Hoi An Suitable for Kids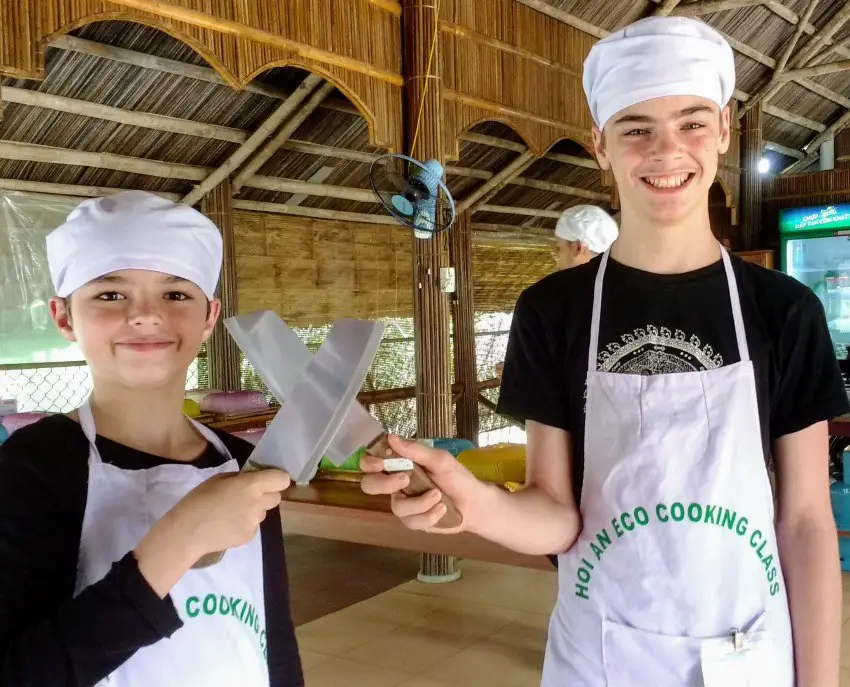 Some may think that cooking classes should be an adults-only affair, well those people are wrong. Kids enjoy cooking and eating and this course was not only a lot of fun for them, but it was also educational.
They learned about local ingredients and cooking methods, they made rice paper the traditional way and got a real insight into local life.
No child should need to learn cooking in school, they should be getting stuck in with family and cooking alongside adults.
Yes, there are sharp knives, tools and flames, but all is needed is a good level of parental supervision.
We worked in pairs at this cooking class and both boys were half price. We were really impressed by what a great morning this was for the kids.
Was This Hoi An Cooking Class Suitable for Vegetarians, Vegans and People with Allergies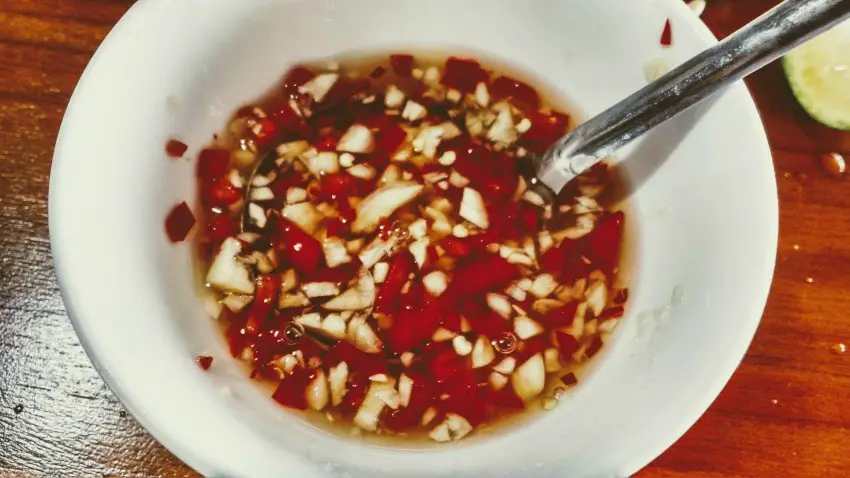 Another big yes. We had vegans, vegetarians and a woman with a severe ( anaphylactic) seafood allergy in our group. This cooking school catered to them superbly. Everyone at this class makes their own food, right down to the dipping sauces, so if you can't have fish sauce, it's not a problem.
Hygiene and Food Safety at Hoi An's Cooking Classes

Hygiene and food safety isn't something to ignore. Most classes will be promoting and displaying a great food safety record but it pays to double-check. You don't want to miss out on the remainder of your holiday through being sick in bed.
A quick look around will tell you how clean a place is. Do they clean the areas? Do they keep raw and cooked ingredients separate? Do they use fridges and keep food covered? These questions will give you an idea of how they handle their food safety.
Food hygiene was excellent at the Eco Cooking Class and I must say, that in 6 months in Vietnam, none of us has been sick.
Reviews and Good Reputation From Past Customers at Food Classes
Like a restaurant, cooking classes and schools will have reviews online (Trip Advisor being most people's first place to check.) These days you need to take all reviews with a grain of salt. Make sure that there are enough reviews and not just a few from friends and family.
Not all reviews are honest or genuine but if 85% are negative then I'd be avoiding that place because that is too high a number for a fake review or reviewers with an axe to grind. 
Hoi An Eco Coconut tours (cookery class) has over 600 reviews and a 5-star rating putting it in the top 5 out of over 60 classes in Hoi An. Large numbers like that don't lie.
We are happy to add our own glowing review. After taking so many cookery classes around the world, this one is certainly a winner.
The Cost of the Cooking Class in Hoi An
The one thing I don't pay particular attention to is the cost. People may find this strange but when the cheapest is $15 US each and the most expensive $30 US and both seem to offer the same experience, you need to look deeper. I want the best experience, not the cheapest and the difference to me is a lot more than a saved $15.
How to Book a Hoi An Cooking Class?
If you're heading to Hoi An and only have a few days, it's easy to book this class ( Hoi An Eco Cooking Class) online from your home country. Head here to find out more and to book.
---
Check out all the other fun and cultural tours and activities available from Hoi An using the button below.
Other activities we highly recommend in Hoi An include a My Son tour, Marble Mountain, the Pottery Village, Cycle Tours and Food Tours.
---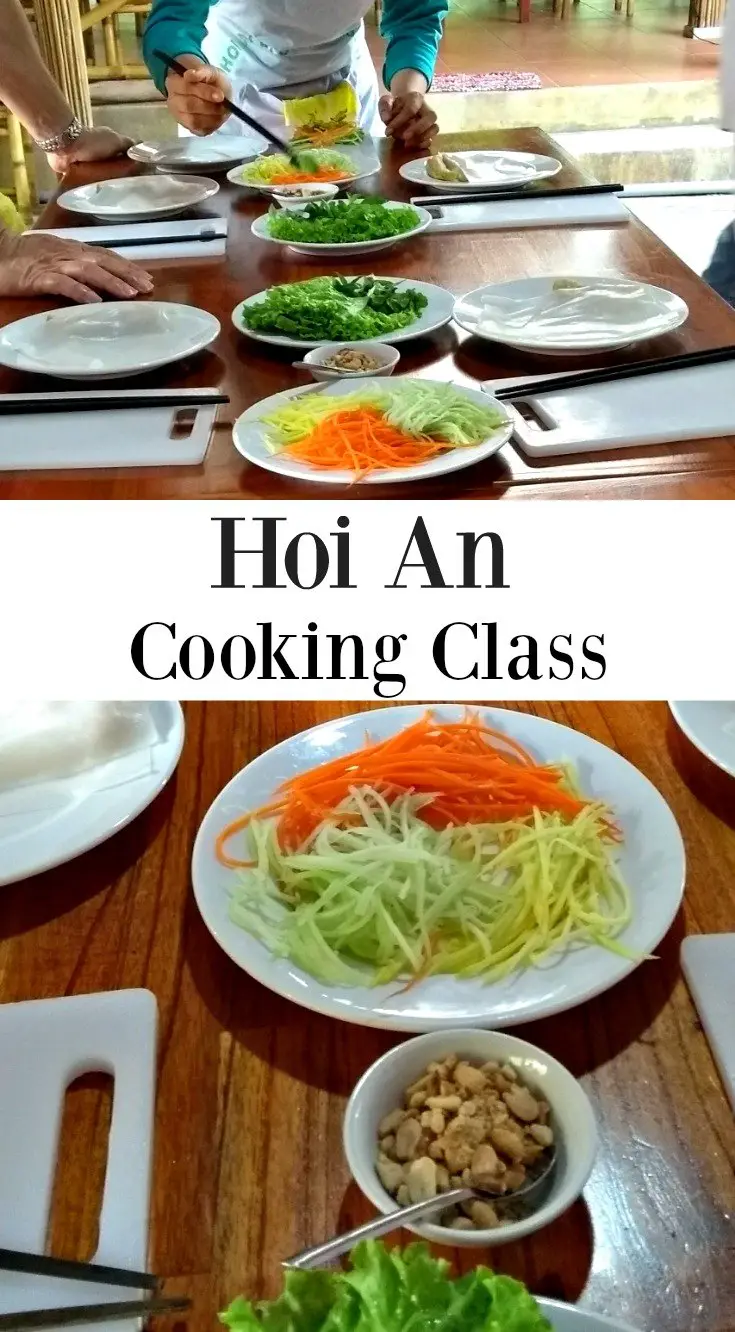 The Cookery Class I Picked and Enjoyed, Hoi An Eco Cooking Class
Hoi An Eco Cooking Class was the cooking class I picked for my family and myself. It delivered on all the points I mentioned above. With a few points, it exceeded all expectations.
My wife, kids and I had a fantastic morning and ate well. The kids were involved in every step of the class and particularly loved making rice paper and catching crabs, and of course, eating their own creations. We would highly recommend Hoi An Eco Cooking class to all food lovers visiting Hoi An, particularly with kids. It was great to get this class on our food and travel blog.
If you'd like more information, including avoiding common scams, transport and what is illegal in Vietnam you can read my Vietnam travel tips post here. For more on food in Vietnam we have a full guide here. Unfortunately, we didn't get to cook mi Quang, possibly my favourite dish, in this class.
We were not, in any way, influenced to write good reviews and we paid for this tour ourselves. Unscrupulous operators have stolen the photo above of my kids at a cooking class. Please do not take the presence of my photo on cookery class reviews in Hoi An as an endorsement from this site. We've started legal proceedings, but it's hard to enforce copyright laws in Vietnam.
If you'd like to hire a car during your stay, use this car rental comparison tool to find the best deal!

Please check out our Pinterest account for loads of food and recipes from around the world!