This post may contain affiliate links.
Momo – what is a momo (the food), where do you eat momos, what country are they from, what do momos look like and taste like? The simple momo in all its flavours. What is a momo? A single momo is a delicious steamed or fried dumpling containing meat, cheese and vegetables. Momos are originally from northern Asian countries, possibly Tibet, and a serving of momos normally conprises several momo plus a sauce. We've eaten momo in Nepal, Bhutan, Tibet, China and India, but you're likely to find momo anywhere there is a Nepali restaurant. In fact, these tasty offerings are a staple in Kathmandu, they can be street food in Nepal or you can find them on menus in tea houses and restaurants. I've even made momo myself while we were visiting the Tibetan community in McLeod Gange, India. They are not easy to make and take great skill and practice. This post is all about momo, steamed, deep fried, pan fried, paneer, buff and veg. Also how to eat momo and what to serve with momo.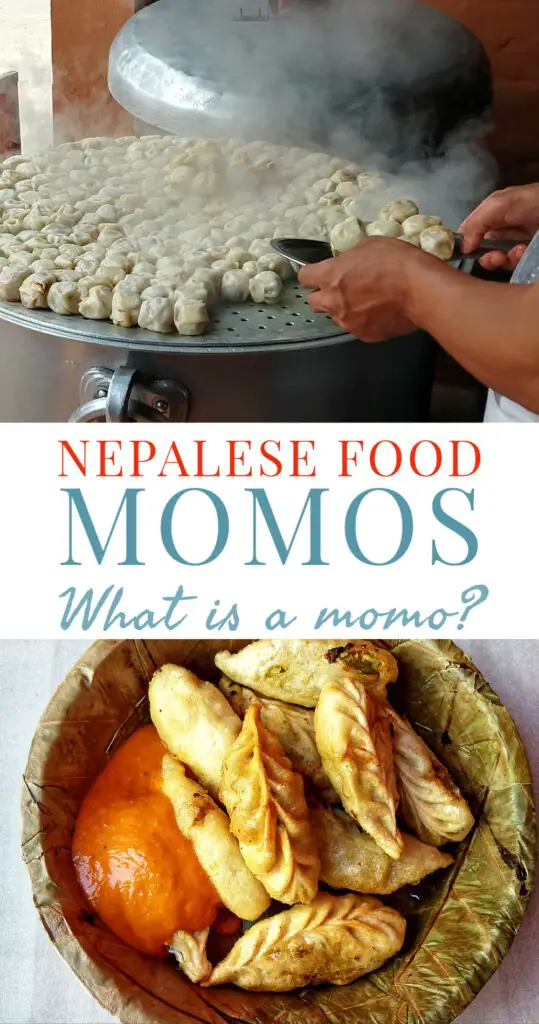 Momo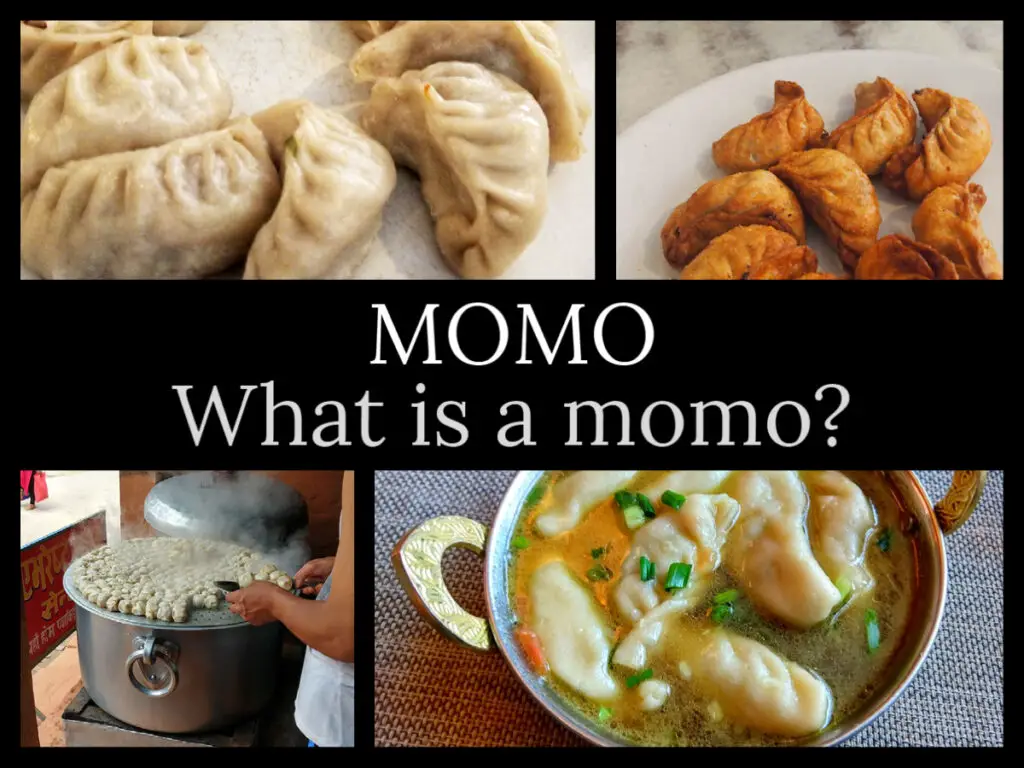 Momo, along with Nepal's other most famous dish, dal bhat, are commonly eaten by local people, tourists, and trekkers in the Himalayas of Asia.
Momo are very similar to dumplings served in neighbouring countries under different names. In Japan they are much like gyoza, in Mongolia, buuz, and in China, baozi, jiaozi or mantou.
In fact, if you travel into Southeast Asia, in Vietnam you'll find bao. Bao are a distant cousin of the momo, in that it is a filled dumpling.
Vietnamese food took influences from China and the neighbouring Khmer people down through the centuries.
In which country did momo originate?
The word momo is thought to have originated from the Tibetan, mog mog. The dish spread along the caravan routes of northern and central Asia over centuries. The momo made it as far as the Indian Subcontinent and the mountainous parts of north India.
The Newar people of the Kathmandu Valley of Nepal probably brought the dish to Nepal.
If you're interested in Newar people, take a look at the Newar Girl street art in our post on Freak Street Kathmandu.
The Sherpa people also hailed from Tibet and in recent times Tibetan refugees and Nepalis fleeing the uprising, have taken momos everywhere they've been.
We first tasted momos in Goa, India, cooked by Nepalis over 20 years ago.
Vegetarian momos would have come about a long time ago. The veg momo would have been for Hindu and Buddhist consumption. They didn't appear just to feed western vegetarians and vegans.
Buff Momo
In Nepal you will often see "buff momo" on the menu. These contain buffalo meat, not beef and they're very tasty.
Momo Soup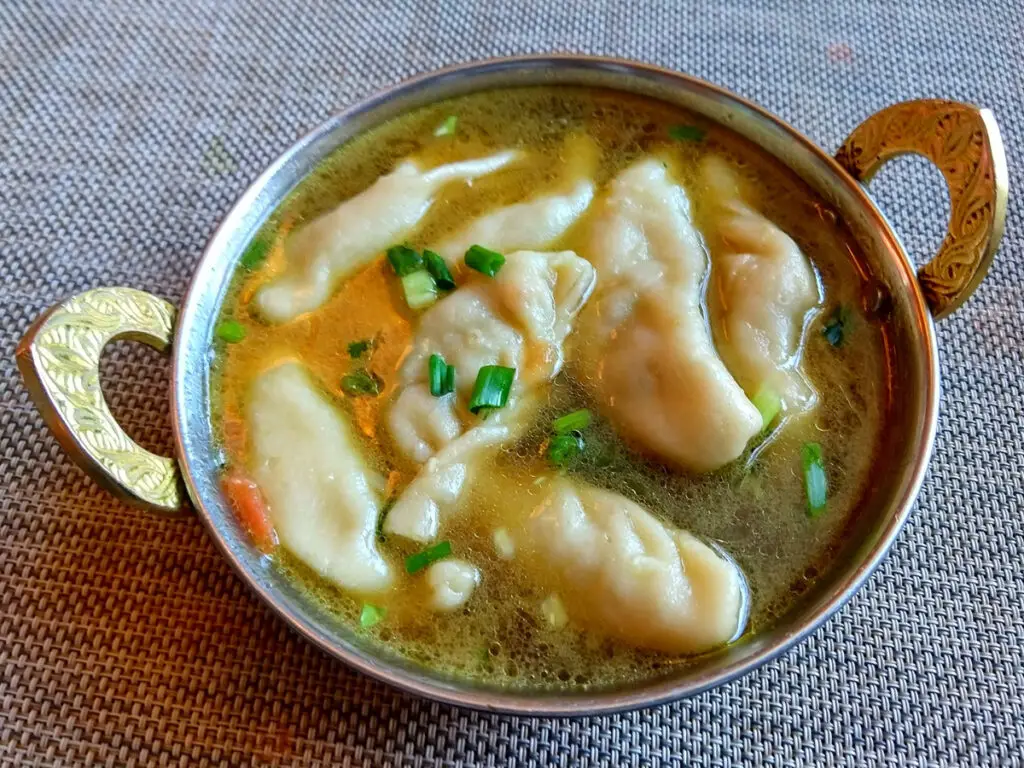 We've only seen momo soup in Tibet, this serving was in Lhasa Tibet. This is soup momo or mok thuk.
These were vegetable, but unfortunately for my vegetarian wife, they arrived in a rather fatty chicken stock.
Jhol Momo
Jhol momo are momos (dumplings) served in a liquid chutney or sauce. The momos in jhol momo normally contain mixed meat, chicken, pork, or buffalo and the sauce or chutney is based around tomato, onion and spices (fenugreek, cumin seed, cumin, sesame seed and pepper.) The momos in jhol momo are steamed. The sauce needs to be liquified in a blender before serving with the jhol momos. You can make vegetarian jhol momo by using potato and cabbage in place of ground meat.
Kothay Momo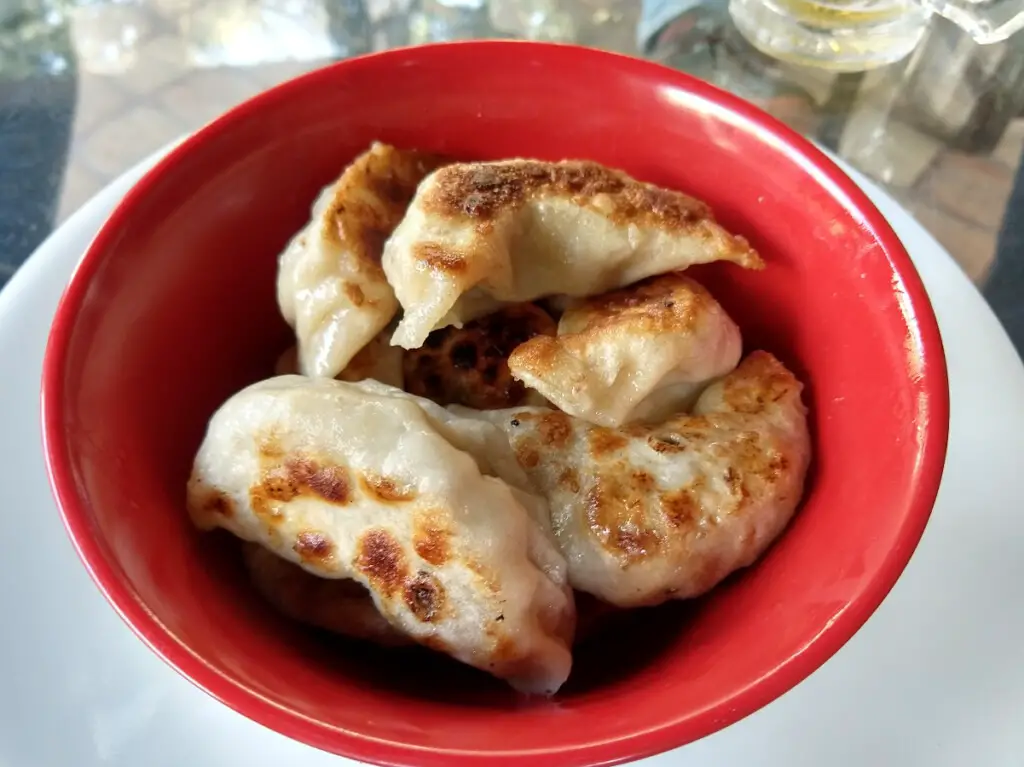 Another type of momo, Kothay Momo are lightly steamed momo subsequently pan-fried on one side to combine the best of both worlds. Kothay momo can contain chicken, veg, cheeses or meat and should be served with a chilli tomato dip or sauce.
What To Serve With Momo?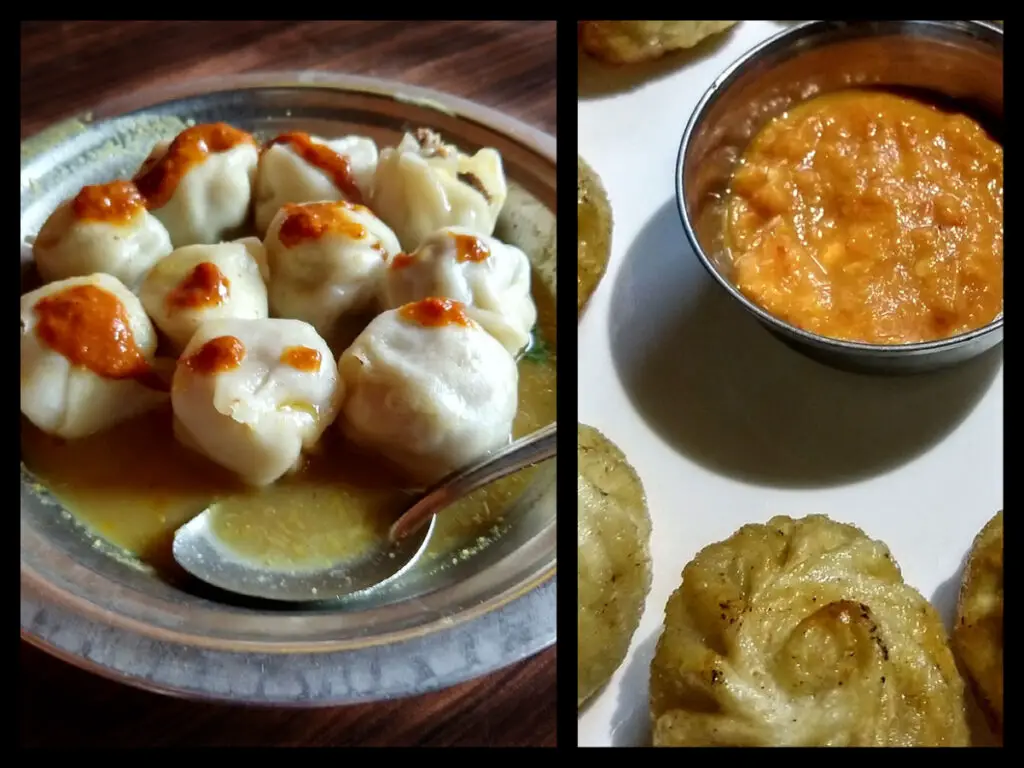 A home-made sauce, containing plenty of super-hot chillies, garlic and tomato is the best thing to serve with momos.
You'll often find chutneys with momo too.
If your order of momo comes with ketchup or sweet chili sauce, that's not good.
We've had some incredible sauces with momos in both Tibet and Nepal, but it can be a bit hit-or-miss. The momos from the street stall, above left, we think are C-momo, momos in hot sauce and stock.
Crescent Shaped and Round Momos
We've been told, by a Nepali restaurant owner specialised in momo, that the round momo were Nepali, the crescent-shaped Tibetan.
The crescent-shaped momo in the momo soup, above, were in Lhasa Tibet.
We also saw round momo in Bhutan. These were much larger than the small traditional momos we bought on the streets of Bhaktapur Nepal.
Generally, you could be served either shape, both are good and both take a lot of skill to make.
Momo Dough or Wrappers
Momo dough or wrappers are made using flour and oil, or flour and water dough. At home we use water because, oil isn't great for you, and neither is white flour. Momos are a nice treat now and again.
To make momo dough for approximately four people, mix 2 cups of white, all-purpose flour with approximately 1 cup of water.
If you have a stand mixer at home use it to knead the ball of dough, if not, mix and kneed by hand.
If the dough is too wet add more flour, too dry, add more water. You are aiming to make a smooth, flexible dough.
Leave this to rest while you prepare your momo filling.
Momo Filling
To make momo filling, combine ground meat with finely chopped onion, garlic, ginger and cabbage. Ground beef, pork or lamb work well in momo if your local supermarket is out of buffalo and yak. For a vegetarian momo use use tofu and mushroom, maybe cheese instead of meat.
Add coriander leaf (cilantro), soy sauce, and a little stock if you have it. Your filling steams in this liquid inside the momo wrapper.
The filling for momos can be plain, as above, or spicy. If you like it spicy add turmeric, nutmeg, curry powder, momo masala, fresh or dried chillies. Spice it as you like, but plain meat and veg is good too.
We normally then serve them with a spicy chilli sauce or tomato achar.
How To Make a Momo
Roll the dough into small circles, place filling on each, and fold. I can't tell you how exactly, it's a real skill and one I still haven't mastered.
I pull the edges into the centre anticlockwise, working around the perimeter, pinching and pleating to make a round momo with multiple folds at the top. The momo sits in the palm of my hand as I work.
You may need a spot of water to "glue" the top of the momo together. Through the pinching process the outer edges become thinner, the base stays thick. This is what should happen. The inside of the dumpling should be completely sealed and remain juicy when cooked.
I find it's easier to roll out individual circles, one by one. Rolling all the dough into a thin sheet usually results in it sticking to the stone benchtop.
I use a glass coffee jar to roll it and everything must be well floured.
Make sure your dough is a little thick as it will stretch further during the folding process. Transparent dough will likely break.
You can then steam the momos in an oiled steamer for about 10 minutes. Once steamed, momo can be fried if you'd like to serve fried momo.
If you find the momos are sticking to the steamer you can put them on a little circle of baking paper.
Commercial momo makers and momo machines are a thing for restaurant kitchens, but I've not found a home momo making device. A pierogi maker or ravioli press is the closest thing I've found to a momo maker.
Momos and More Food
Thanks for being interested in momo and the food of Nepal and Tibet. If you'd like to discover more global foods and cuisines, head back to my main food and travel blog page where you can discover spectacular traditional dishes from many countries.
If you'd like to hire a car during your stay, use this car rental comparison tool to find the best deal!

Please check out our Pinterest account for loads of food and recipes from around the world!