What is a momo? I'm glad you asked. Momo (the food) are delicious little filled dumplings popular in northern Asian countries. We've eaten momo in Nepal, Bhutan, Tibet, China and India, but you're likely to find momo anywhere there is a Nepali restaurant. In fact, these tasty offerings are a staple in Kathmandu, they can be a street food in Nepal or you can find them on menus in tea houses and restaurants. I've even made momo myself while we were visiting the Tibetan community in McLeod Gange. They are not easy to make and take great skill and practice. This post is all about momo, steamed, deep fried, pan fried, paneer, buff and veg. Also how to eat momo and what to serve with momo.
Momo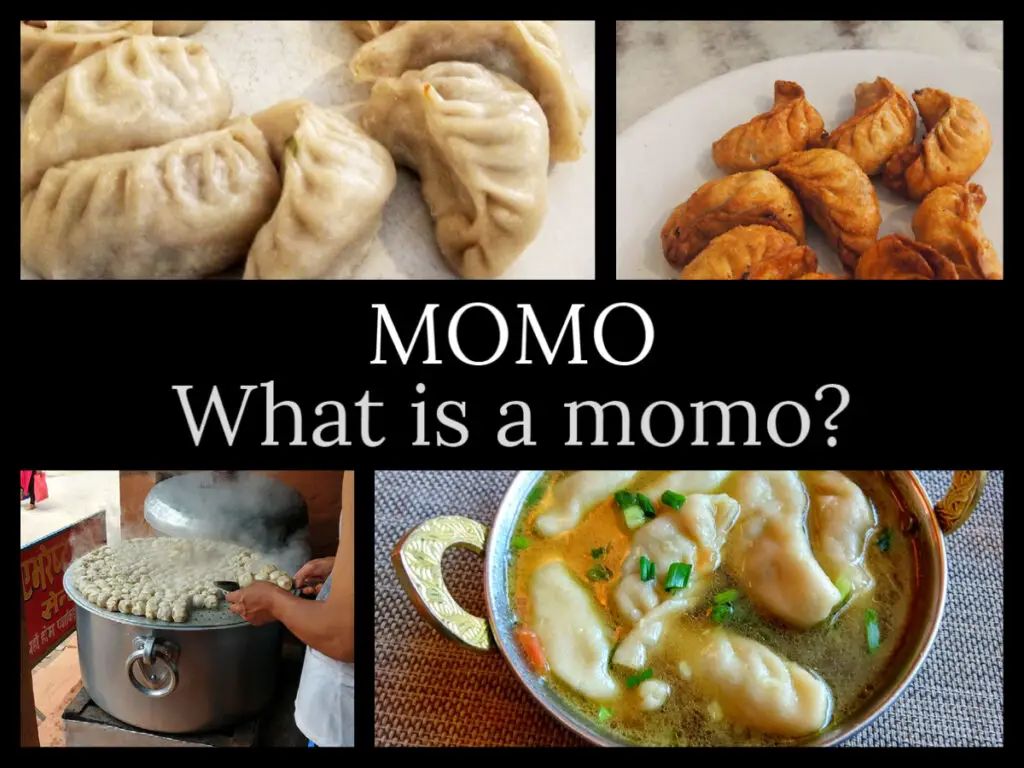 Momo, along with Nepal's other most famous dish, dal bhat, are commony eaten by local people, tourists, and trekkers in the Himalayas of Asia. Momo are very similar to dumplings served in neighbouring countries under different names. In Japan they are much like gyoza, in Mongolia, buuz, and in China, baozi, jiaozi or mantou. In fact, if you travel into Southeast Asia, in Vietnam you'll find bao, a distant cousin of the momo in that it is a filled donut. Vietnamese food has of course been influenced by China and Khmer dishes down through the centuries.
The word momo is thought to originate from the Tibetan, mog mog, and the dish spread along the caravan routes of northern and central Asia, making it to the Indian Subcontinent and the mountainous parts of north India. The Newar people of the Kathmandu Valley of Nepal probably brought the dish to Nepal. If you're interested in Newar people take a look at the Newar Girl street art in our post on Freak Street Kathmandu. The Sherpa people also hailed from Tibet and in recent times Tibetan refugees and Nepalis fleeing the uprising, have taken momos everywhere they've been. We first tasted momos in Goa, India, cooked by Nepalis over 20 years ago. Vegetarian momos would have come about a long time ago for Hindu and Buddhist consumption, they didn't appear to feed western vegetarians and vegans.
Buff Momo
In Nepal you will often see "buff momo" on the menu. These contain buffalo meat, not beef and they're very tasty.
Momo Soup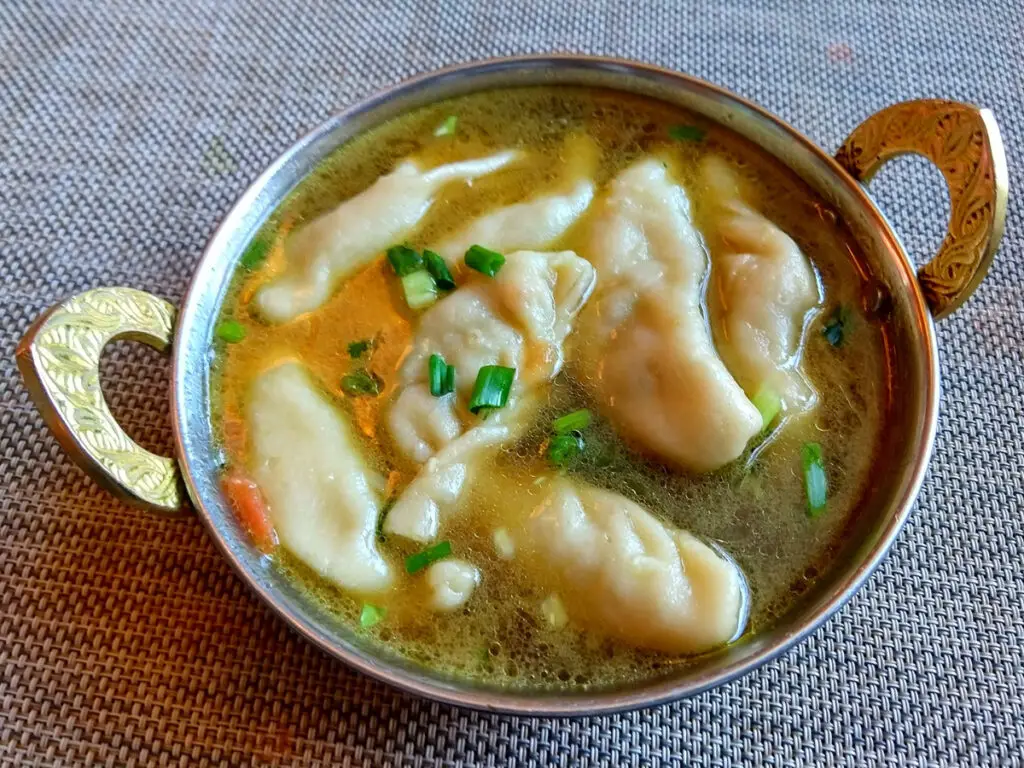 We've only seen momo soup in Tibet, this serving was in Lhasa Tibet. This is soup momo or mok thuk. These were vegetable, but unfortunately for my vegetarian wife, they arrived in a rather fatty chicken stock.
What To Serve With Momo?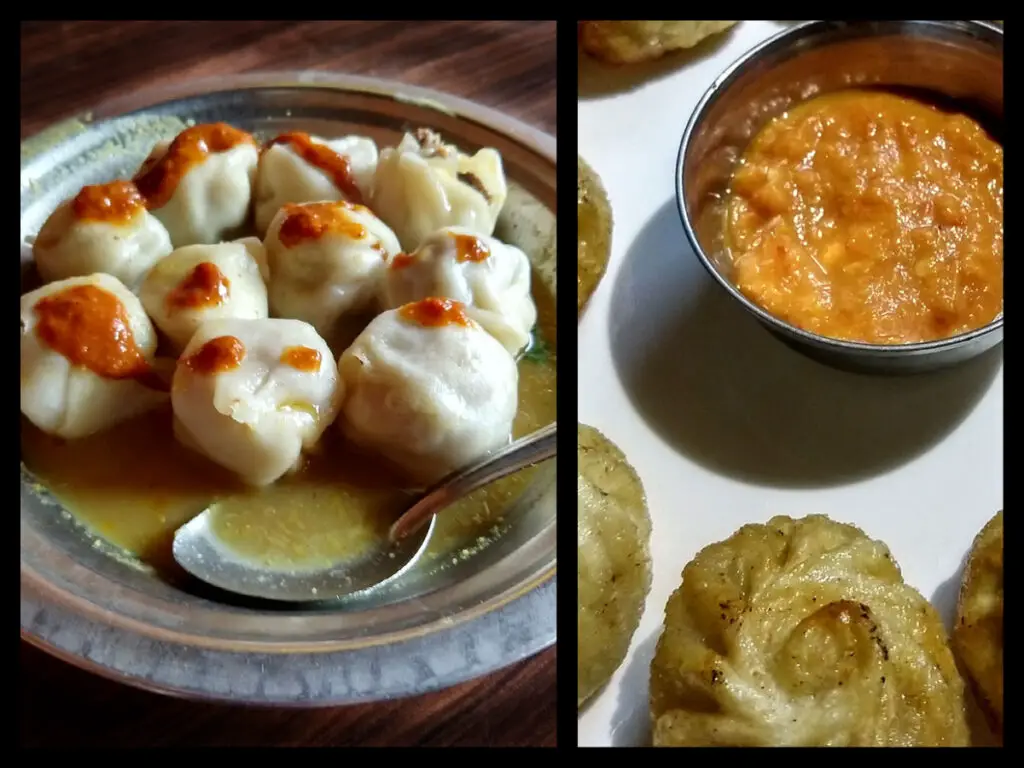 A home-made sauce of some kind, containing plenty of super-hot chillies, garlic and tomato is the best thing to serve with momos. You'll often find chutneys with momo too. If your order of momo comes with ketchup or sweet chili sauce, that's not good. We've had some incredible sauces with momos in both Tibet and Nepal, but it can be a bit hit-or-miss. The momos from the street stall, above left, we think are C-momo, momos in hot sauce and stock.
Crescent Shaped and Round Momos
We've been told, by a restaurant owner in Nepal who specialised in momo, that the round momo were Nepali, the crescent-shaped Tibetan. The crescent-shaped momo in the momo soup, above, were in Lhasa Tibet. We also saw round momo in Bhutan, much larger than the small traditional momos we bought on the streets of Bhaktapur Nepal. Generally, you could be served either shape, both are good and both take a lot of skill to make.
Thanks for being interested in momo and the food of Nepal. If you'd like to discover more global foods and cuisines, head back to my main food and travel blog page where you can discover spectacular traditional dishes from many countries.