This post may contain affiliate links.
Sri Lanka has just been voted as one of the top 10 countries to visit by Lonely Planet.  With over 200 countries to choose from it's a great recommendation from LP and thrusts Sri Lanka into the tourist spotlight. I've visited Sri Lanka numerous times including for my wedding, honeymoon, and with young children. It's a country I love and know well. Lets look at 10+ best things to do in Sri Lanka if you choose to visit.
---
Things to do in Sri Lanka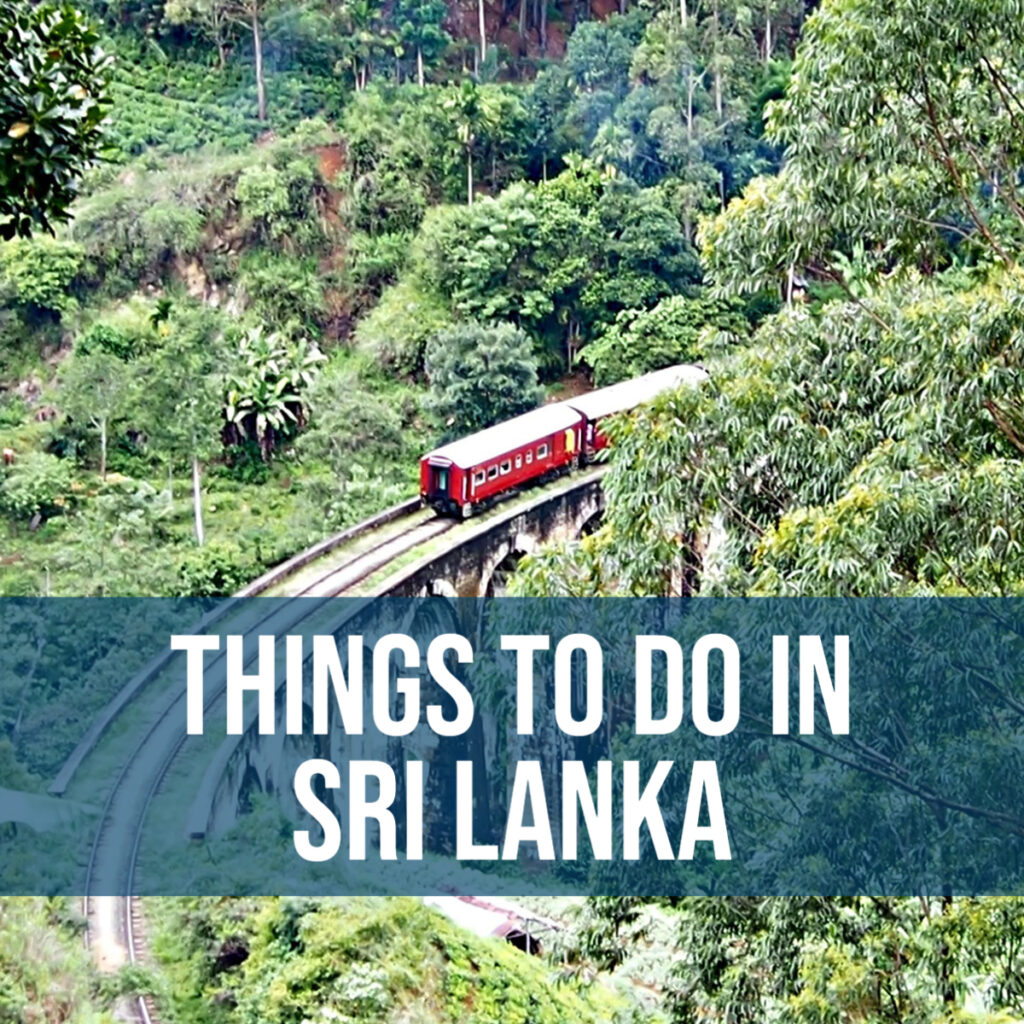 Best Sri Lankan Beaches
There are endless beaches right around Sri Lanka's coastline. Some offer activities such as surfing, scuba diving and snorkelling. Most are beautiful, some are safe, some have huge waves and rips. If you're visiting Sri Lanka with kids be sure to choose one or more of the safer beaches. Sri Lanka's southern beaches, south of Colombo Airport, are some of the most popular with tourists. The weather in Sri Lanka is quite complex so the best time to visit is determined by the double monsoon system. We explain how this works on our Sri Lanka travel blog page. If you're planning a beach
holiday, be sure to check for rainfall.
This is for Pinterest. We also have a Sri Lanka Pinterest Board here.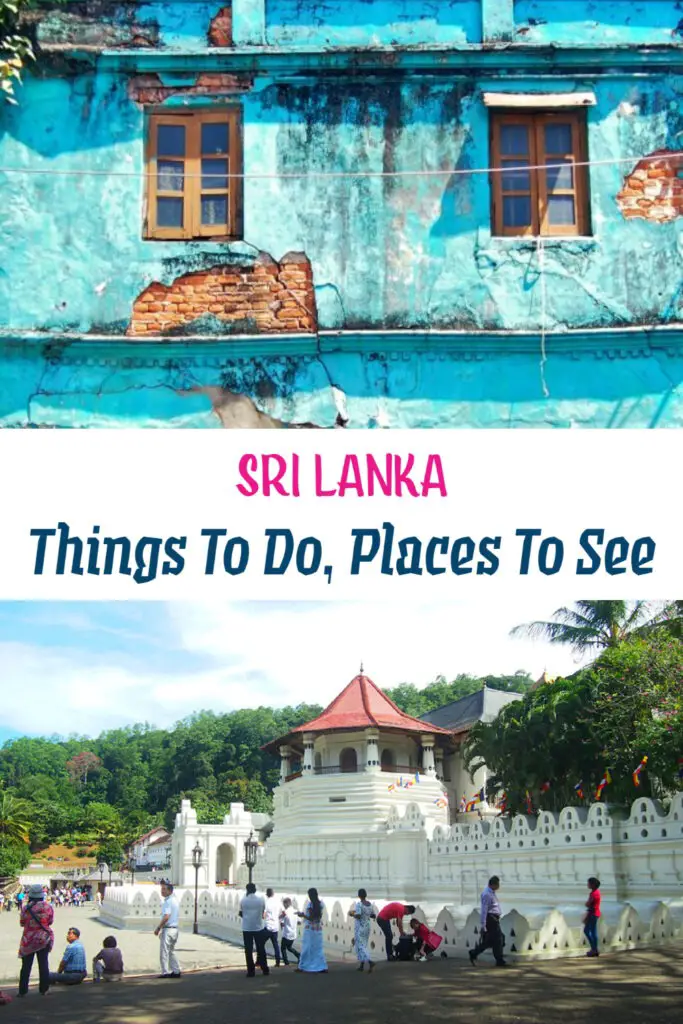 Visit Galle
Situated on the once critical silk and spice trading route this beautiful city has changed ownership numerous times. That has left Galle with a mix of cultures and architectural styles that contribute to the wonderful city it is today.
Dominated by the fort overlooking the coast, Galle is only 119 km south of the capital Colombo and frequent train and bus connections make getting here quick and cheap.
Long before the western countries of Portugal and Britain ruled Galle, it was an important trading partner with numerous other kingdoms including Arab, Persian, Greek, and Roman empires. Its location on the important spice trading route has given Galle an important role to play in Sri Lanka's history.
Galle Fort is the most recognisable part of the city and dominates the area. The Portuguese surrendered Galle to the Dutch East India Company who built the modern-day fort in 1663 and when the British took over they kept the fort in its entirety using it as the administration centre for Galle. We have a full post on things to do in Galle here.
Visit Kandy
Set in central Sri Lanka, UNESCO listed Kandy is set around Bogambama Lake.
Kandy is home to the Temple of the Tooth making it one of the most important places of worship for Buddhists world wide.
It was first made a kingdom in the 14th century and was the last kingdom to fall after the Portuguese had conquered the coastal regions by 1600. It didn't entirely fall until disgruntled locals sided with the British in the 18 century.
Kandy has much to offer starting with the Temple of the Tooth and the beautiful lake. Monitor lizards and other wildlife can be seen all around the lake and its banks.
The old British Garrison Cemetery has numerous British buried here from their time in charge.
The Kandy cricket stadium hosts international matches.
Kandy has accommodation from budget right up to 5 star deluxe and has restaurants to match all budgets.
Getting to and from Kandy is easy with great road and rail connections to almost every part of the island. It is only 3 to 4 hours from Colombo by train. Slightly shorter by car but the train is much more scenic. One of Sri Lanka's most scenic rail journeys starts here and heads through the tea plantations to Badulla in the southern highlands.
Visit Jaffna
For years Jaffna was off-limits as the Sri-Lankan civil war raged. Gradually opening up to tourism it is now accessible by rail and road and welcomes more adventurous tourists and travellers.
Jaffna hasn't been affected by mass tourism and feels very different to tourist Sri Lanka. It is 400 km north of Colombo and takes between 6 and 8 hours by train depending on the train taken. I wouldn't take a car for this distance as the roads aren't in great condition.
Tamils from Southern India dominate the city and area and Hinduism is the main religion here. Temples are located across the region but my favourite is on an island off the northwest of Jaffna reached by bus and rickety boats.
Nainativu Nagapooshani Amman Kovil is the temple complex located on Nainativu island which is only accessible by taking small wooden boats from the outlying islands of Jaffna. Getting here is half the fun but make sure you sit near the open doors or windows during the trip.
Food is also more southern Indian than Sri Lankan. So if you can't make it to India this could be the next best thing.
English isn't as widely spoken here compared to south and central Sri Lanka and we had a few issues where we needed to have help getting translated from English to Tamil.
Visit Sigiriya
Ancient Rock fortress in Northern Central Sri Lanka. Dambulla is the closest large town where most people stay. This rock fortress stands 200 m over the surrounding plains with views in every direction.
Built by King Kasyapa in 477 BC after he took the throne in a coup. He turned the rocky outcrop into a fortress and city to protect himself from attack having moved from the old capital Anuradhapura. He lost a battle to keep the throne and committed suicide. Sigiriya was abandoned by the new king and given to Buddhist monks who lived there till the 14th 15th century.
You can walk to the top and see what is left of the old city and fortress. The name which translates as Lion Rock refers to the lions carved at the entrance. It can be a strenuous walk to the top if you leave it till later in the day. It is better to get there early and avoid the crowds as it can be very busy at certain times of the year.
See Yala National Park
Located in southern Sri Lanka about 300 km from Colombo it is actually 6 parks of which 2 are open to the public. It is the most visited park in Sri Lanka and was declared a National Park in 1938.
Yala is home to numerous mammals, birds and reptiles. The most famous is the leopard which has one of the highest densities in the world. Elephants abound with nearly 500 here. Other animals include the indigenous buffalo, 215 species of bird and 47 species of reptile.
The park has had a troubled past but since the cease fire in 2009 tourism has increased dramatically. Visiting hours are from 5:30 am to 6:30 pm each day.
You can organise a tour from towns surrounding Yala or as far afield as Colombo and Galle.
Climb Sri Pada/Adam's Peak
Sri Pada means sacred footprint named so after the 1.8 m rock formation at the top of the mountain. Buddists refer to this as Buddha's foot print while christian's refer to it as either Adam's or St Thomas's.
There are numerous ways to climb the 2243 m tall mountain and it can be quite a challenge. The most popular route is via the town of Hatton in the central highlands. You can book tours if you don't feel confident of ascending on your own.
Start early in the morning so you can see the sunrise from the summit. Electric lights make the stone paths leading to the top but make sure you take a head torch to see the path properly.
Enjoy Arugum Bay
A surfers paradise on the Indian ocean. Arugum Bay is 200 km due East of Colombo and and 117 km south of Batticola, the main town on the East coast of Sri Lanka.
Pottuvil is the main town and centre of transport and business. Tourist accomadation is located about 4 km south on the beach after the lagoon. Surfing is the main tourism focus due to the great surf breaks. Pottuvil has the only road entrance to East Yala National park.
Heading south you will often see elephants as they move between the national park and surrounding areas. There is no train access so road transportation is the only way to and from Arugum Bay.
Go Inside Dambulla Caves
Historic ancient site also called Golden Temple. UNESCO world heritage status since 1991 and the best preserved cave temple complex in Sri Lanka.
Dambulla is located 148 km from Colombo and 72 km north east of Kandy. Buses run directly from Kandy but take note they get very full on the return journeys in the afternoon.
Being the stop off point for Sigiriya it is wise to combine the two sites on the one visit.
Human remains have been found dating back 2700 years, well before Buddhism reached Sri Lanka. Earliest buildings in the cave date back to 1st century BC when the capital Anuradhapura was one of the most important.
The caves are accessed by the gentle 160 m slope that leads up. Just make sure you buy your tickets at the bottom as they don't sell them at the top and you'll have to return to the bottom to purchase them.
See the Avukana Buddha Statue
A 40 foot high 5th century statue carved into a rock face. Not many tourists visit Avukana as it isn't on any of the main routes. It is approximately 35 to 40 km north east of Dambulla and buses run through out the day.
Avukana faces the Kala Wewa reservoir but gets its name from the village of Aukana which is located nearby.
The history of the statue is mixed with some saying it was a test between student and teacher and others saying it was commissioned for the reigning king, Dhatusena.
Carved from a single piece of granite with a separate lotus leaf carving as the base the biggest highlight is the attention to detail of the robe which 15 centuries later is still breathtaking.
Explore Ella Highlands
Sri Lanka's main export is tea and the highlands of Nuwara Eliya is where much of it is grown. Numerous towns are located on the train line that runs from Colombo to Badulla via Kandy.
Ella is a small hillside town that is just up from Yala National park. Nestled amongst the tea plantations there are numerous opportunities to visit the plantations. Little Adam's peak is located above Ella and makes a great walk if you don't fancy Adam's peak.
Catching the train around to Kandy is one of the best train journeys you will take in Sri Lanka. Just get there early for a seat.
Enjoy Sri Lankan Food
Rice and curry is the traditional Sri Lankan meal but there are a lot of special Sri Lankan dishes for you to try. Sri Lankan fruits are tropical and delicious, you'll quite likely see fruits growing that you've never see before. Sri Lankan breakfast foods are particularly exciting. Expect string hoppers, curries and chutneys. Sri Lankan is most certainly one of the best breakfasts from around the world. Food and travel are my two favourite things, so as a chef, you bet I'll rave about local food. In Sri Lanka be sure to try local food as you travel.
More Things to do in Sri Lanka
Sri Lanka has so much to see that unless you stay for months you won't see it all in one visit. Above are some highlights including things to do in Sri Lanka but there is so much more to see. Have you got a favourite destination in Sri Lanka? Leave a comment below and let me know what it is.
If you'd like to hire a car during your stay, use this car rental comparison tool to find the best deal!

Please check out our Pinterest account for loads of food and recipes from around the world!