This post may contain affiliate links.
Ema datshi is the national dish of Bhutan, it is chili cheese, which pleased my wife enormously as it is vegetarian. This is absolutely her favourite dish from Bhutanese cuisine, next to momos, and once home we set about cooking it in our kitchen. The ema datshi in Bhutan varied a lot, some was thick and creamy, some very watery, and we can't access the traditional yak (it can't be yak, read why further down the page), sheep, and cow cheeses available in Bhutan, but our recipe below is a good representation of our favourite Bhutanese dish. Ema datshi, Bhutanese chili cheese, a memory from our travels to make at home.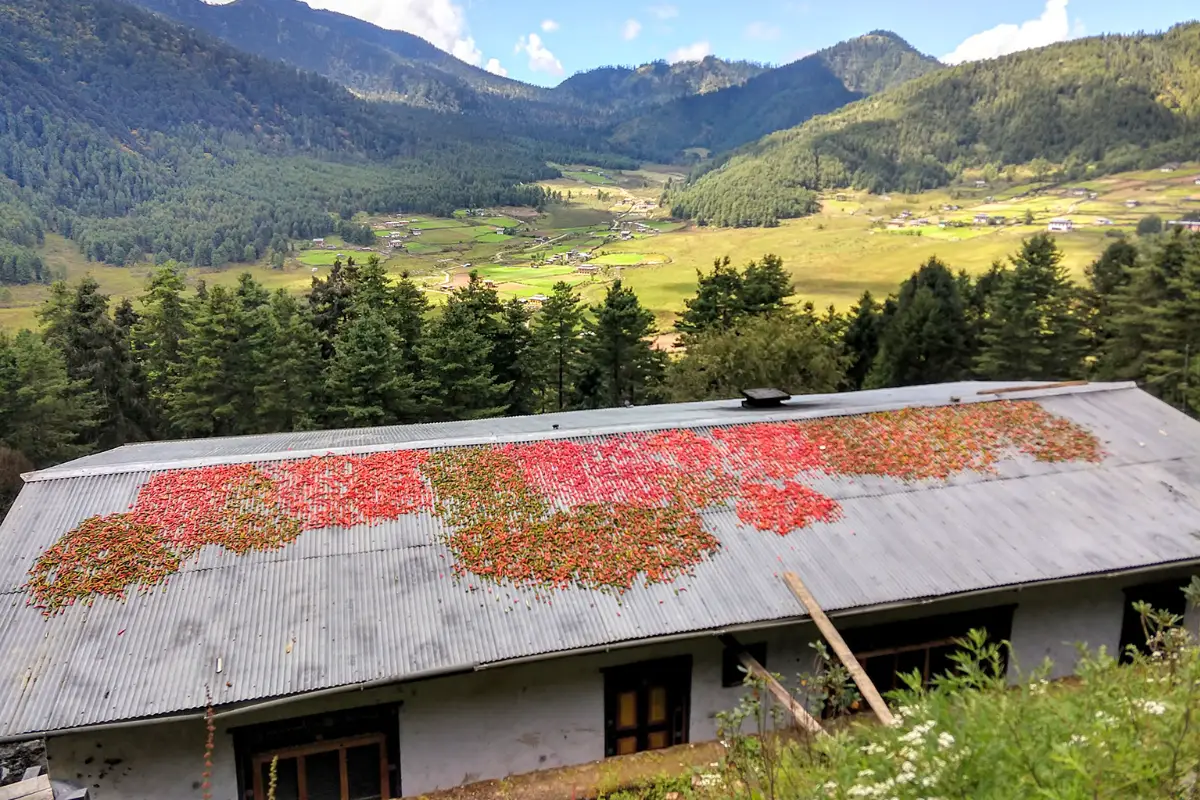 Ema Datshi
Ema Datshi is quite literally "chili cheese" with ema meaning chili and datshi means cheese. This dish can be fiery hot, so it's not for the faint-hearted. Many westerners in Bhutan can't handle the heat at all. Ema datshi is the national dish of Bhutan and is simple and very tasty. And hot. The chili used, I've read elsewhere, is normally sha ema in Bhutanese and is a long pepper like cayenne, it can be a red or green chili, fresh or dried.
There are a few variations on the "datshi" theme in Bhutan, potato cheese, kewa datshi, was quite common and easier on delicate eaters. We ate this for breakfast at one Bhutanese restaurant in a hotel. It also appeared at lunch and dinner.
Other vegetables, like radish, spinach (saag datshi) and beans, or even beef and chicken, can be used, but meat isn't so commonly eaten in Bhutan.
Interestingly we were served very little spicy food in Bhutan, but the momo, popular throughout the Himalayas (Nepal, Tibet, India), is popular. Indian tourists were served different food to we westerners, and that was rather disappointing.
The nature of tourism in Bhutan means we had no choice over where and what we ate, every meal was a buffet for tour groups.
What Is The Cheese in Ema Datshi?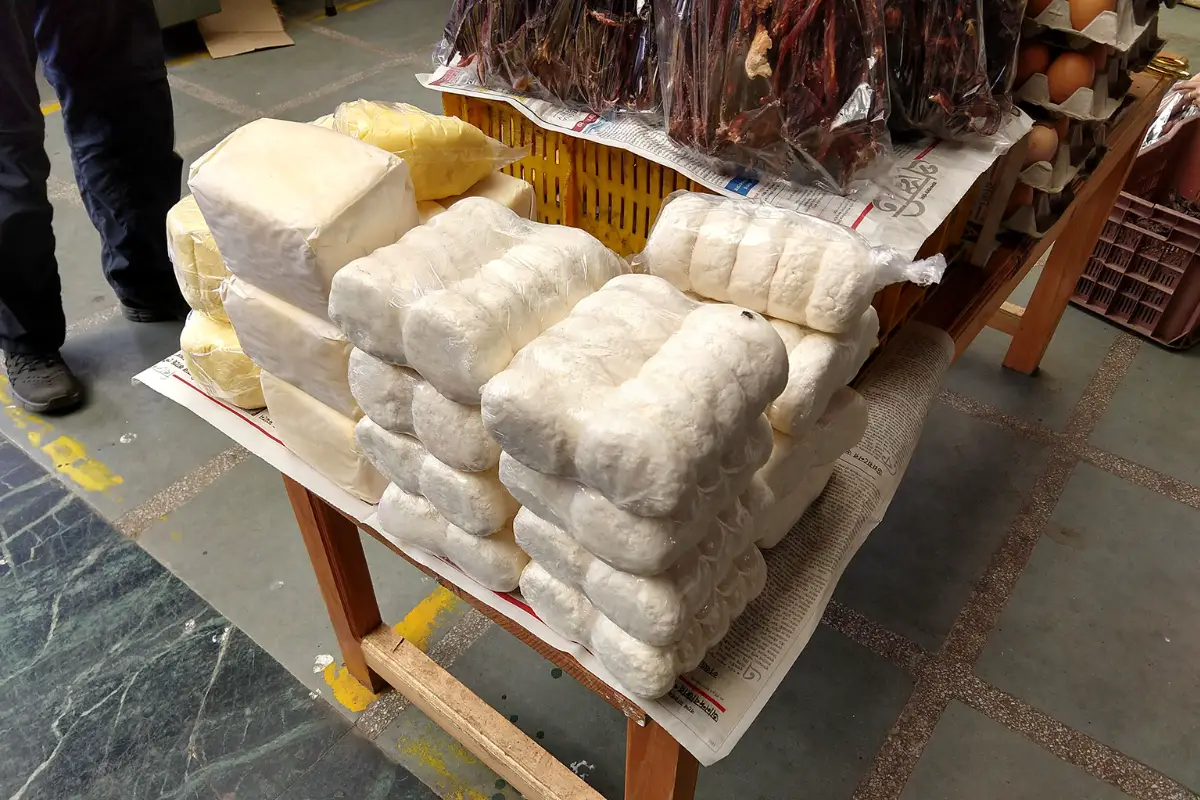 Our Bhutanese guide said it was normally cow cheese used in ema datshi, but I've read elsewhere that it can also be yak. Yaks can only live above a certain altitude and a yak is actually male, so I'm not sure how that works!
Either way, you probably won't be able to get the exact cheese in your local supermarket. The photo above is of the cheese selection in the produce market in Thimphu Bhutan. Not a problem, we can make something tasty with the cheeses we can access.
What Chilies are Used in Ema Datshi?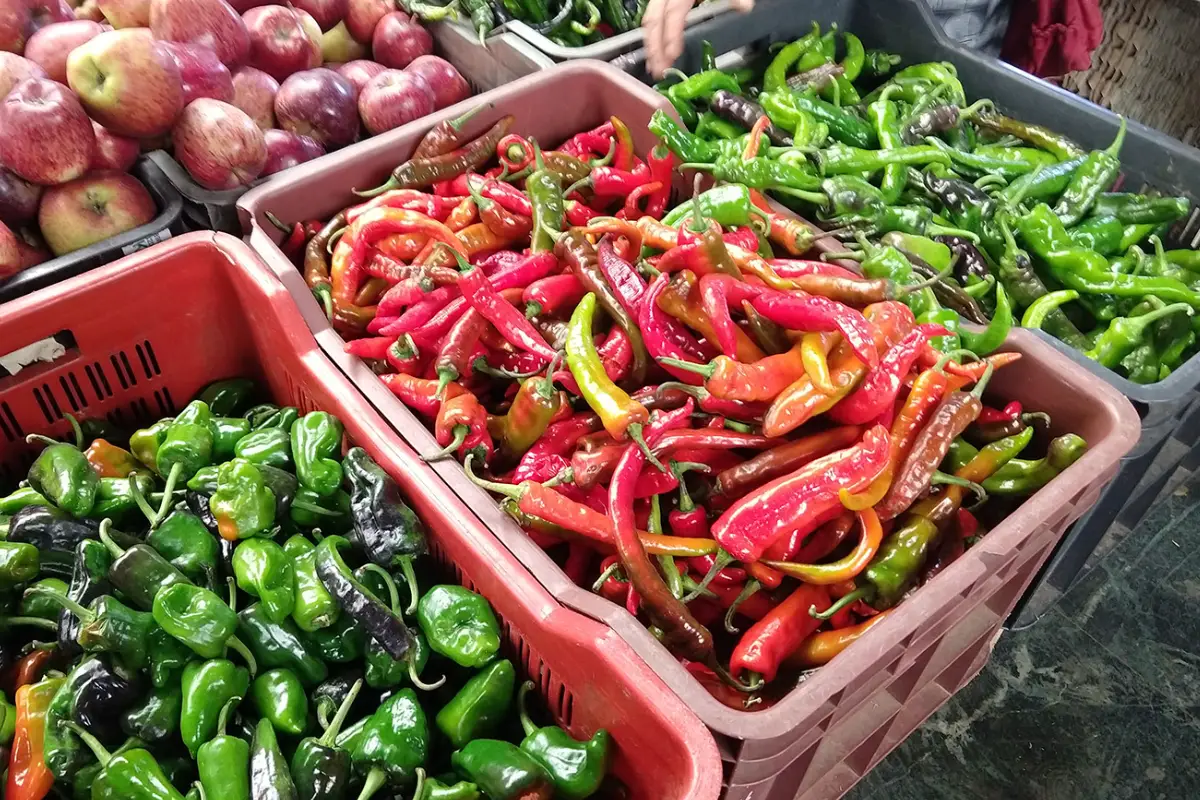 Pretty much your standard supermarket long chili pepper, but fatter, is what they use in Bhutan. They'll use red or green chillies and in winter when no fresh chilies are available they'll use their summer harvest, dried. In autumn it was really common to see the chili harvest drying on rooftops like this, throughout Bhutan's countryside.
The type of chili used in Bhutan generally wasn't a super-hot pepper, think more a long pepper like cayenne or Anaheim, even a jalapeno. There are so many chilies in this dish that I really wouldn't try to make it with super-hot chilies. Avoid Thai chilies or Habaneros, find the mildest you can. In the finished dish, the cheesy sauce is so hot, you don't notice if the forkfuls of peppers you're eating are hot or not.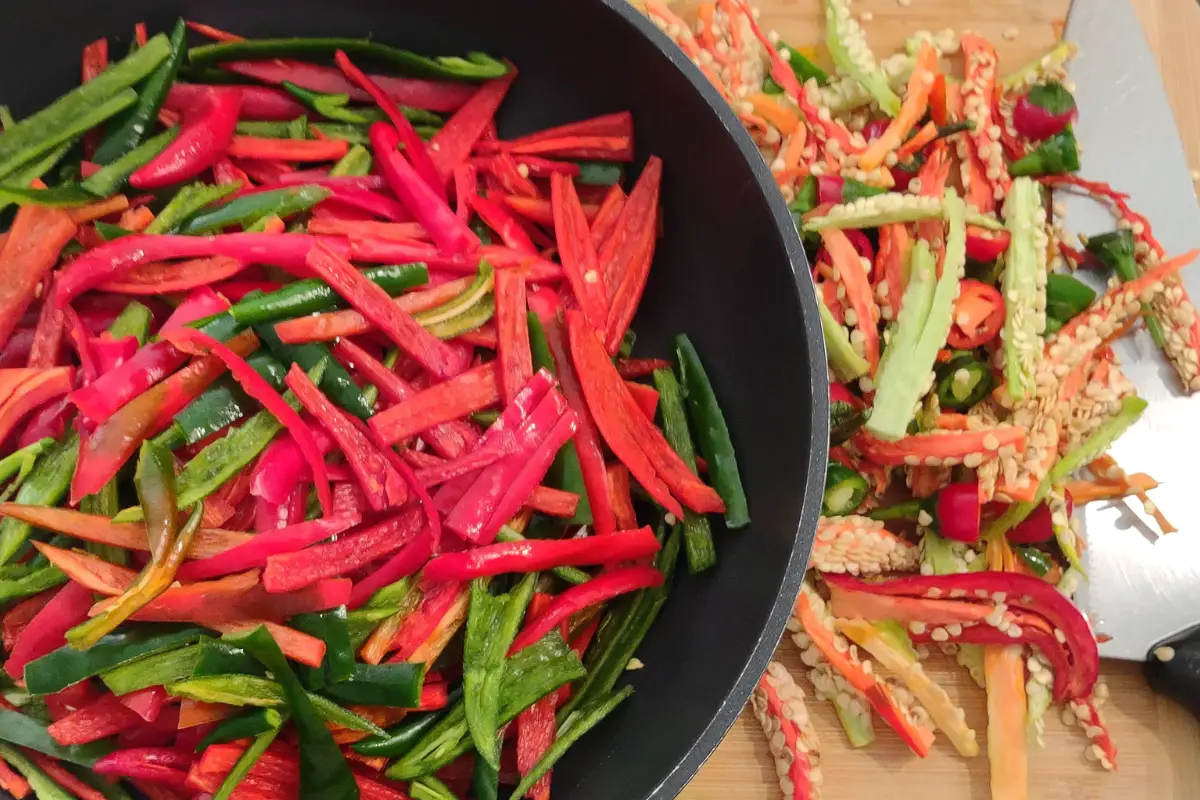 This dish will probably work out expensive if you have to buy fresh chillies, they're not cheap, and you need a lot. Luckily, my wife is green-fingered and grows green chillies by the Kg in our garden, so chili cheese is firmly on our at-home menu. Even my kids will eat it. In small quantities.
In Bhutan there is a thing called a "white chili" which is a fresh chili pepper blanched for 2-3 mins in hot water and dried. We might just try drying our own white chillies but we'll probably use the dehydrator or oven rather than the roof. The neighbours might think we're weird. They also make dried red and green chillies in Bhutan.
Emma Datshi Recipe Tips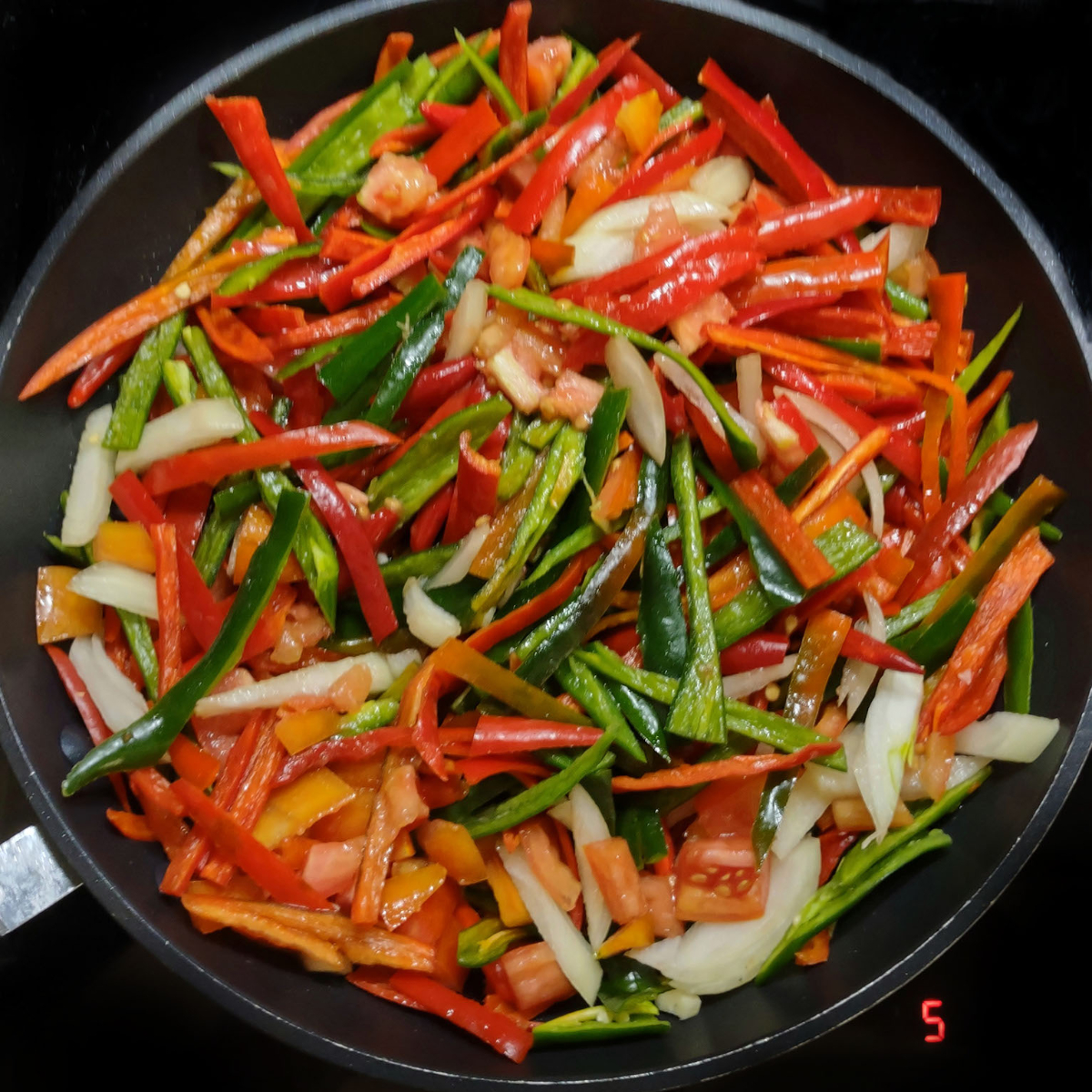 This is a very large quantity of chili peppers to prepare, be very careful with your face, eyes, hands, and any other part of your body. It will be quite time-consuming to clean and slice this many chilies so don't enter into this dish lightly. Maybe start by making a smaller amount.
This is rustic home cooking so I don't think anyone is going to worry too much about exact proportions. I started with approx 500g of fresh-picked red and green chilies. I had to discard some bug-bitten pieces, so I'd say almost exactly 500g. The weight of peppers that goes in the pan is nowhere near this.
I added one onion, 3 plum tomatoes, and a few cloves of garlic because that's what I had available. The ema datshi came out exactly as we wanted it. You can also add the green tops from onions.
Always use good quality unsalted butter and add your own pink Himalayan rock salt or Celtic sea salt. Those extra minerals are a bonus. Salt the dish at the end. Your cheese mix will have a lot of salt so taste it first.
The cheese mix is hard to replicate without access to Bhutanese country cheeses but we experimented with strong cheddar, goat cheese, mozzarella, and a fetta. You're aiming for a thick soup, stew, or casserole type dish, so the stringiness and curdyness of mozzarella or cheddar doesn't work so well. We liked using hard goat cheese and cow fetta best. If I were in Romania I think telemea would work well. You could make a cheat version of this using cheese triangles, I think it would be OK. You could also make this using banana peppers if you grow them, for a heat-free dish.
Don't get the pan too hot at any point, you don't want the cheese to curdle, burn, or split. Keeping the heat low and using plenty of butter will help keep your ema datshi cheese sauce together. We added a little milk at the end to make it more liquid, water would be fine too.
You would normally serve this dish with rice (red rice is common in Bhutan), but we serve it as a vegetable side with just about anything. It's good with crusty bread. If you leave it cold in the fridge it's great on toast! Or maybe I'm just weird.
Ema Datshi Recipe (Printable)
Yield: 8 portions
Ema Datshi, Chili Cheese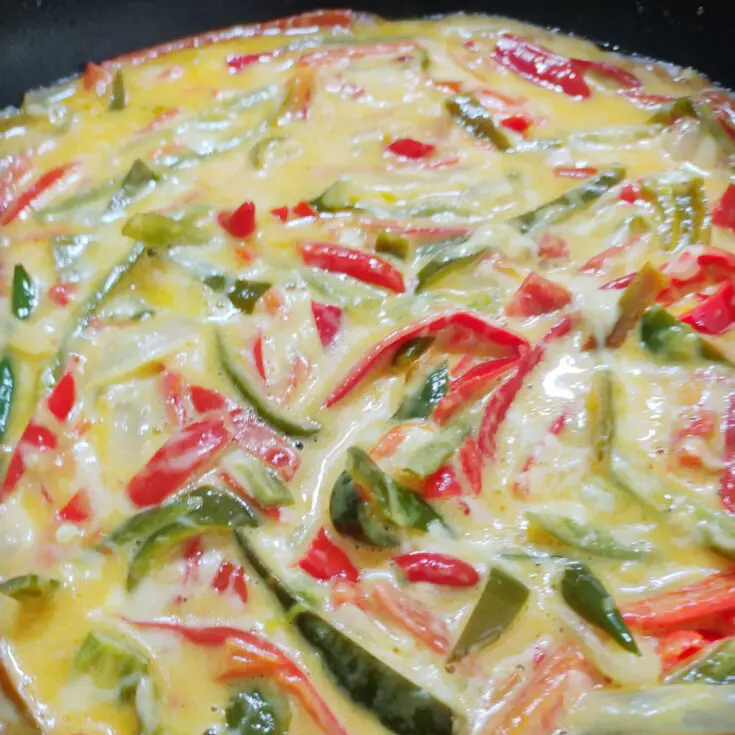 Ema Datshi, Bhutanese chili cheese, is the national dish of Bhutan and our favourite dish from this country. It's a vegetarian main course or side dish using hot chili peppers as a vegetable and main ingredient. A fantastic chili recipe to use up chili peppers. Ema datshi is traditionally served with red rice.
Ingredients
500g mixed red and green chili peppers of your choice
10g unsalted butter
300g mixed cheeses
3 chopped tomatoes
3 cloves of garlic
a pinch of Himalayan salt
a little water or milk
Instructions
Prepare your peppers using all normal precautions for handling hot peppers. Remove seeds and interior ribs. Slice the chillies into long thin strips.
Chop your tomatoes finely.
Chop your garlic finely.
Melt butter in a pan on low heat. Add your peppers, garlic, and tomatoes. Stir to mix and put a lid on it. The vegetables will cook in the butter and their own liquids. Stir from time to time. Cook slowly on low heat until soft, about 10 minutes.
Add your cheese, it can be chopped or grated, allow it to melt slowly into the peppers. If your cheese is looking too thick, add a little milk or water. The consistency should be fairly runny and uniform. Add salt to taste.
Serve with red or brown rice, as a side, or with crusty bread.
Notes
This dish will be super hot. Proceed with caution! We find that if we keep ema datshi in the fridge to eat cold, the heat becomes less intense. Obviously, adjust this recipe to taste, this is simply my best home recipe version of the ema datshi we are in Bhutan. Without Bhutanese cheese, butter, and peppers, it will never be completely authentic. But it tastes great! Serving sizes are approximate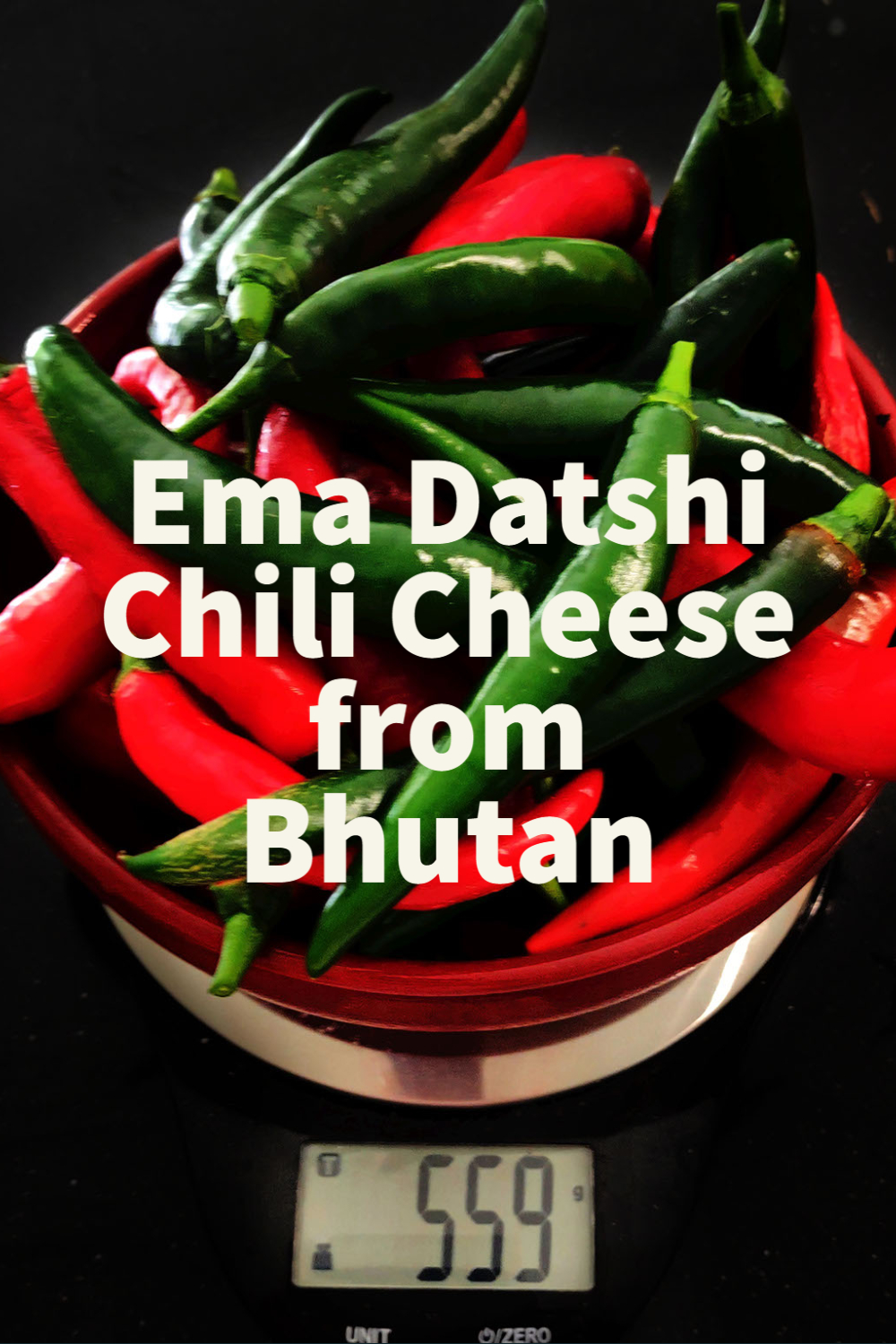 Where is Ema Datshi from?
Ema Datshi is a dish from Bhutan, a country in the Himalayas, south of China, NorthEast of India, in the continent of Asia. Ema Datshi is important in Bhutan because it is the Bhutanese national dish. This dish is served as a side dish or main dish in Bhutan. "Ema" means chilli peppers, "Datshi" means cheese in the Dzongkha language of Bhutan. So ema datshi is chilli cheese. It is a very simple dish to make, with few ingredients, but requires a lot of fresh or dried hot chilli peppers, plus authentic Bhutanese cheeses. You can substitute other cheeses (see our recipe) as you are unlikely to be able to find authentic Bhutanese cheese. It's a delicious dish, if you enjoy your food "hot", or "spicy". Although technically chilli peppers are not a spice in this dish.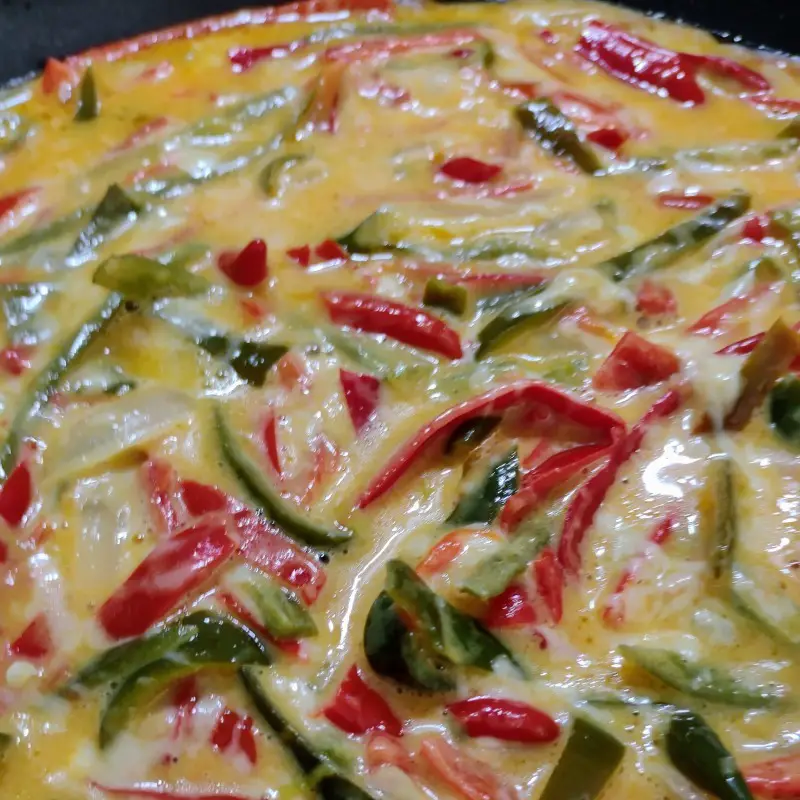 We hope you enjoyed learning a little about ema datshi and Bhutanese cuisine. This is the only country we've eaten chili cheese in, which is interesting as many foods in the Himalayas and South Asia are found throughout the region. It's certainly the food we'd most associate with Bhutan. This is our home version, something tasty to remind us of our travels and a great way to use up all the chillies my wife grows in the garden. It's a vegetarian dish, which pleases the whole family, although you could serve it alongside meat, of course. Want to head back to our World Food index? Or maybe my main food and travel world cuisines blog page? Hopefully, when borders open we'll be back on the road finding more tasty and unusual international dishes to make in our home kitchen.
If you'd like to hire a car during your stay, use this car rental comparison tool to find the best deal!

Please check out our Pinterest account for loads of food and recipes from around the world!