This post may contain affiliate links.
Dal Bhat
Dal bhat power, 24 hour! You'll see this slogan on T shirts in Kathmandu and wherever tourists gather in Nepal. Dal Bhat is synonymous with Nepal and it's great fuel, as well as being a delicious Nepali dish. My post covers dal bhat, what is dal bhat, and I share the recipe I use at home to prepare dal bhat for my family.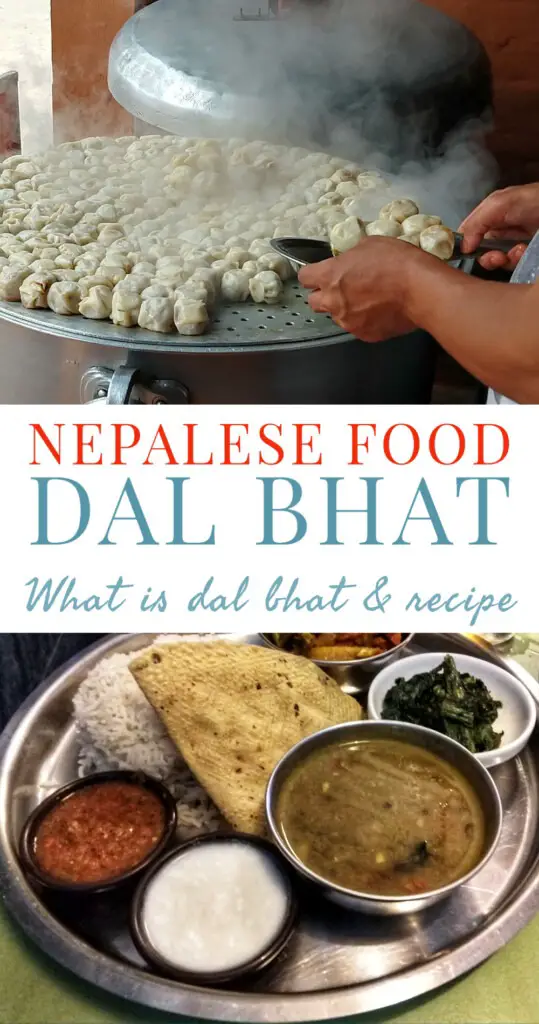 We've spent a lot of weeks trekking in Nepal and making dal bhat at home brings back fond memories. We hope our dal bhat recipe and description is useful.
What is Dal Bhat?
Dal bhat is the traditional Nepali food of locals and trekkers in the Himalayas. On both of our Himalayan treks, Annapurna Base Camp and Everest Region, we ate dal bhat most days, either for lunch or dinner. The Dal bhat recipe consists of lentil soup (the dal), and boiled rice (the bhat), with varied side dishes which may include steamed or sauteed vegetables, vegetable curry, popadoms, pickle, and curd.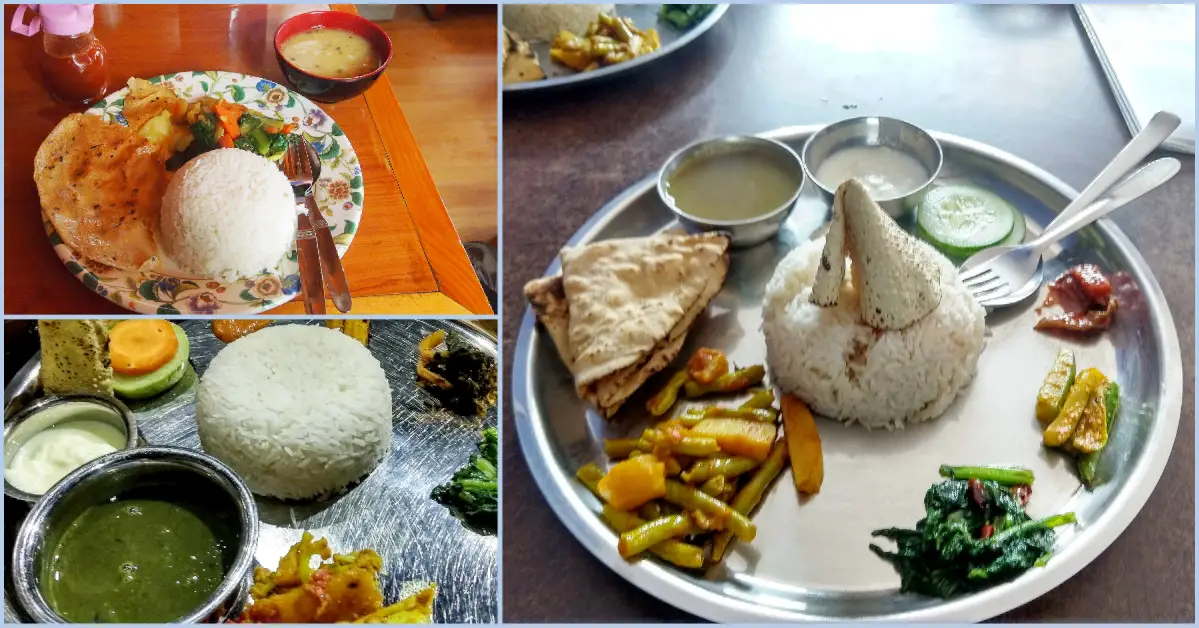 No two cooks seem to make dal bhat the same way and we've seen huge variation in ingredients and the dishes served together to make the complete dal bhat.
The two constants are rice and a soupy dal dish. Our recipe is the closest we've come to making a dal that tastes as it did on our treks.
Dal Bhat for Trekkers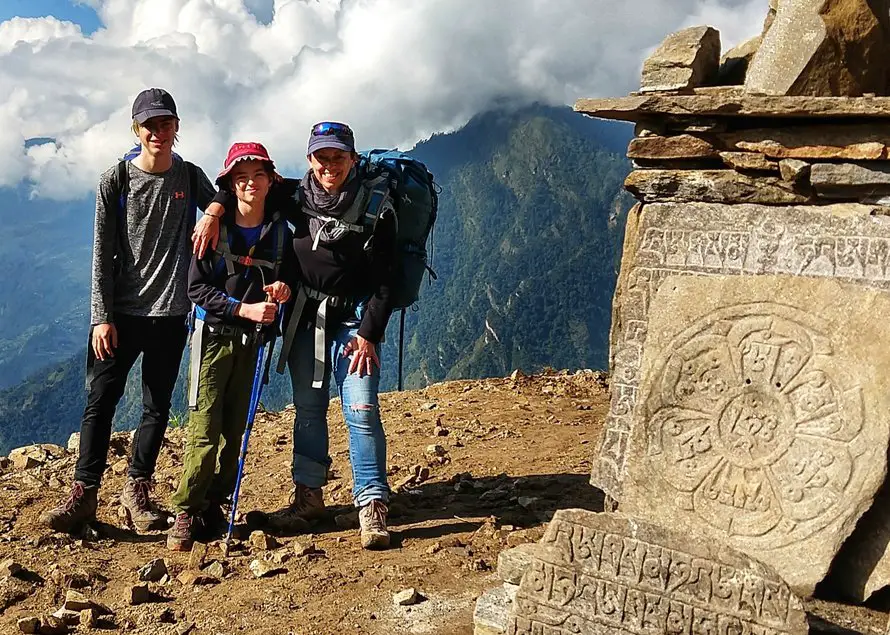 The dish is great for trekkers as it is always vegetarian, often vegan (depending on what oil or fat is used and the presence/ absence of curd) and contains plenty of carbs, protein, fluid, vitamins and minerals.
The best dal bhat is filling and delicious and, if you're particularly hungry, dal baht almost always comes with free second helpings.
Sadly this doesn't happen so much these days on the popular trekking routes. The free top-ups of dal bhat can still be found if you get off the beaten-track a little.
Prices will also be lower if you're away from tourist crowds.
---
Cooking Dal Bhat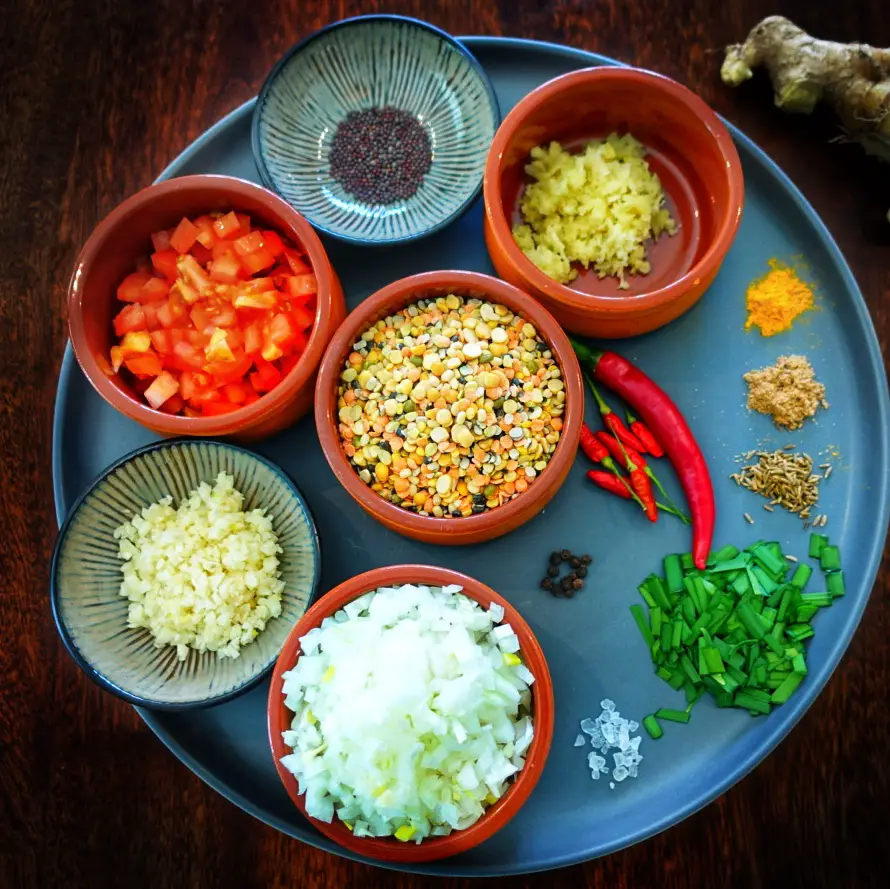 Dal isn't quick to cook, but the Sherpa and Tibetan people of the mountains normally have pressure cookers to speed things along. Different types of lentils can be used, but we found that mixed green, red and black lentils gave the best flavour and texture.
We make our dal bhat without a pressure cooker.
The dal soup, when cooked, is a thin soup, not a thick curry.
I'm a Chef, so the recipe below is a rough one and open to your own interpretation. Recipes are never exact in my kitchen and we ring the changes according to seasonality and how we feel on the day.
We tried several recipes and the one below gave us our favourite result.
We used mixed lentils as in the photo and found that grinding most of the spices in a blender gave a better flavour and colour.
---
Dal Bhat Recipe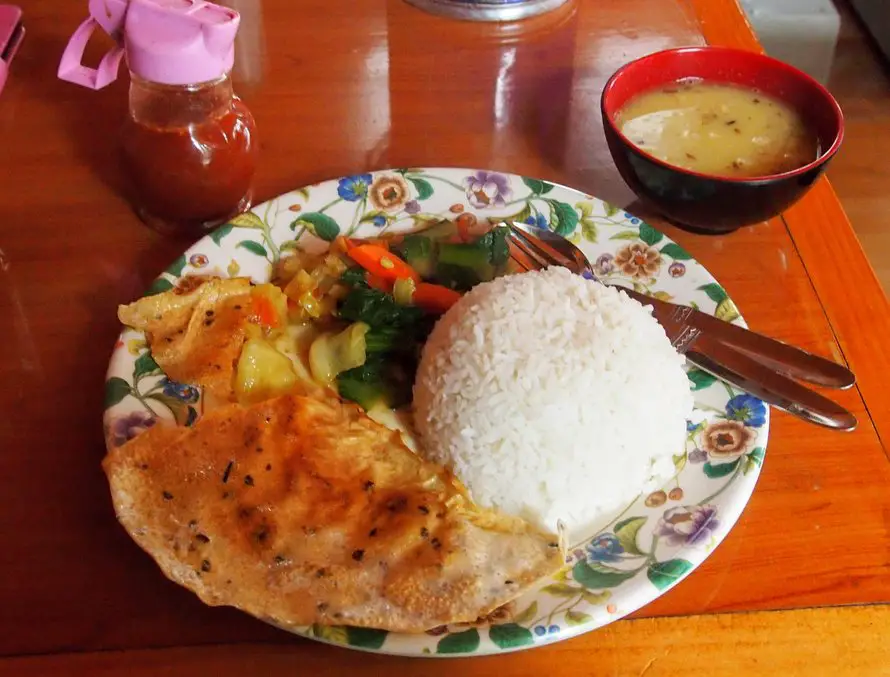 As I said above, this is a rough guide recipe, just to give you an idea of what goes into a Nepali Dal Bhat. For 4 people you will need roughly the amounts below, don't be afraid to substitute and make the dish your own.
Preparation time will be around 45 minutes depending on the type of lentils you prefer.
Ingredients in a Typical Dal Bhat
red lentils (masoor dal), mixed lentils, green or brown lentils. We use mixed here.
flavourless oil such as rapeseed or grapeseed
onion, finely chopped
crushed garlic
fresh ginger, minced
black mustard seeds, popped in oil
cardamom powder
turmeric powder, or fresh if you have it.
cumin seeds
coriander seed
whole peppercorns
Cloves
finely chopped tomatoes
butter or ghee ( optional, omit for vegan)
coriander leaf and/or green onion or chives, chopped, for garnish
Water
sea salt ( Himalayan pink salt would be extra authentic)
pepper to taste
basmati, or other, rice
Indian chutney, curd, a green vegetable or pickle to serve.
How to Make Dal Bhat
Lentils are the key ingredient in dal which is the centrepiece of dal bhat.
There are numerous types of lentils you can use and it often comes down to personal choice and what lentils you can buy.
I prefer mixed lentils when I make this at home.
Another equally important aspect of making the dal is to grind up your spices.
Some you'll buy already ground but others will be whole. I prefer buying the whole variety and grinding them fresh myself.
That is just me though and ground spices will work just fine.
Don't forget to really cook everything out properly. That includes the fresh ingredients at the start, onions, ginger, and garlic but also the spices afterwards.
If you don't cook it all out you'll end up with a bland dish that tastes like raw spices. A good tip is to lower the heat and take just a little bit longer cooking.
Does Dal Bhat Contain Chili?
As you can see, there are no chilies included in our recipe. Dal bhat isn't normally a very hot dish when served in Nepal but you could add to taste.
Either add during cooking or serve with chopped fresh chillies. You could also serve with a separate chilli sauce.
Dal Bhat Recipe (Printable)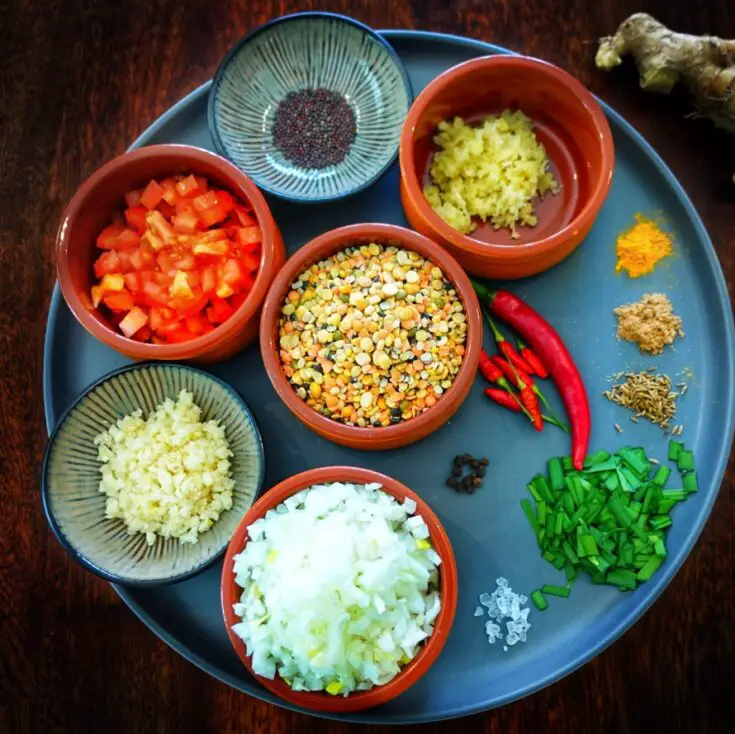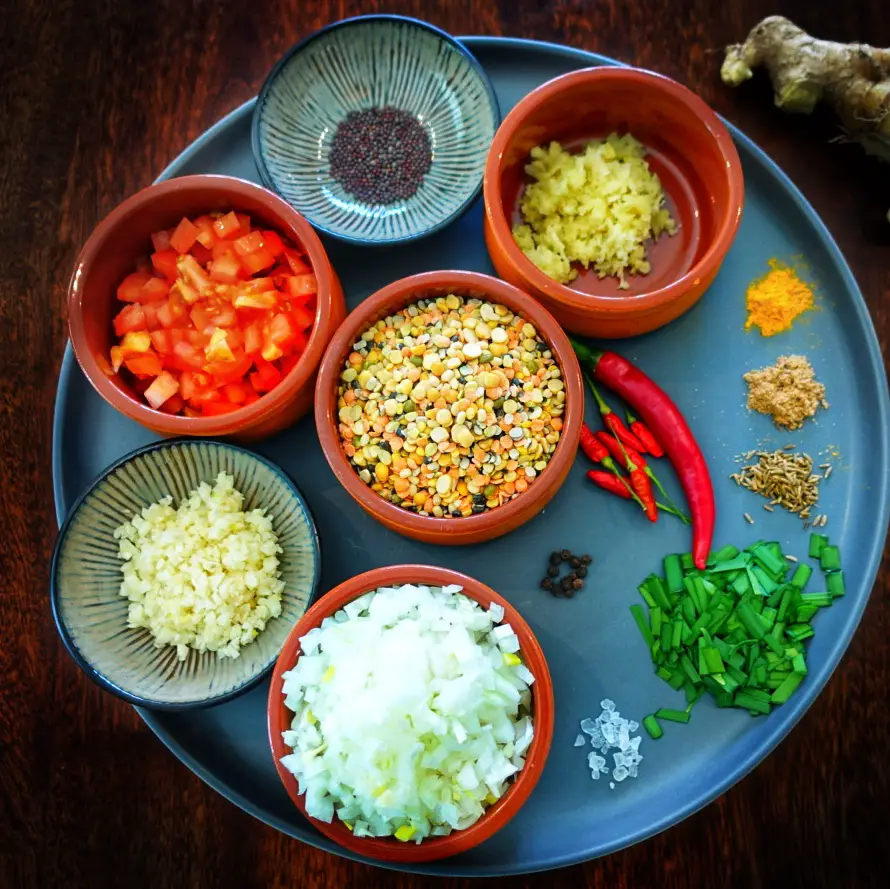 Dal Bhat is a traditional Nepali dish that is common throughout the Himalayan region. Served to trekkers and locals alike this staple dish is perfect for keeping you fueled up all day. Our dal bhat recipe is vegetarian and can easily be vegan without ghee.
Ingredients
1 cup red lentils (masoor dal), mixed lentils, green or brown lentils. We use mixed here.
1 tablespoon oil
1 medium onion, finely chopped
1 head of garlic, crushed.
1 tablespoon fresh ginger, minced
1 teaspoon black mustard seeds, popped in oil
1 teaspoon cardamom powder
½ teaspoon turmeric powder, or fresh if you have it.
2 teaspoon cumin seeds
2 teaspoon coriander seed
8 peppercorns whole
2 Cloves
1 medium tomato, finely chopped
½ tablespoon butter or ghee ( optional, omit for vegan)
2 tablespoons coriander leaf and/or green onion or chives, chopped, for garnish
2 litres of Water
¾ teaspoon of sea salt ( Himalayan pink salt would be extra authentic)
pepper to taste
basmati, or other, rice
Indian chutney, curd, a green vegetable or pickle to serve.
Instructions
Wash the lentils and rinse, historically this step is to remove stones, but most of us don't have that problem. If you're using larger, slower cooking lentils, you may like to soak them overnight first to speed up cooking.
Put the rice on to cook when appropriate. I prefer to use a rice cooker for this.
Chop your onion, garlic and ginger and tomato.
Heat oil on high in a large pan.
Add your chopped onion, garlic, and ginger, and stir on high heat until the onion is golden.
Grind your cumin, turmeric, peppercorns, cardamom, and coriander to make a spice mix.
Stir in the spice mix. Turn the heat down to medium (6 out of 10 on our stove), and cook for 2 minutes, stirring often. This step is important, spices must be tempered in oil, always.
Pop the mustard seeds in oil in a hot frying pan and add to the mix.
Add chopped tomato and butter or ghee (optional). Stir, cover and cook for a couple of minutes.
Add the lentils and cook in the oil/butter for 5 minutes. Don't scrimp on the oil or butter. Be careful they don't stick at this stage.
Add water, and boil as per cooking instructions for your chosen lentil.
Season with sea salt and white pepper if needed.
Wash your coriander leaf and/or green onion. Chop for garnish.
When your lentils' cooking time is up, your dal is ready to serve.
Present with the rice, popadums, garnish, vegetables, curd and pickle. The dal should be served in a small soup bowl as above
Notes
Traditional Dal is a watery soup consistency. Don't cook it until it becomes too thick. You can always add more water as needed.
Nutrition Information:
Yield:
4
Serving Size:
1
Amount Per Serving:
Calories:

414
Total Fat:

15g
Saturated Fat:

4g
Trans Fat:

0g
Unsaturated Fat:

9g
Cholesterol:

16mg
Sodium:

673mg
Carbohydrates:

59g
Fiber:

13g
Sugar:

7g
Protein:

15g
This data is automatically generated. We can't guarantee its accuracy particularly as some ingredients are optional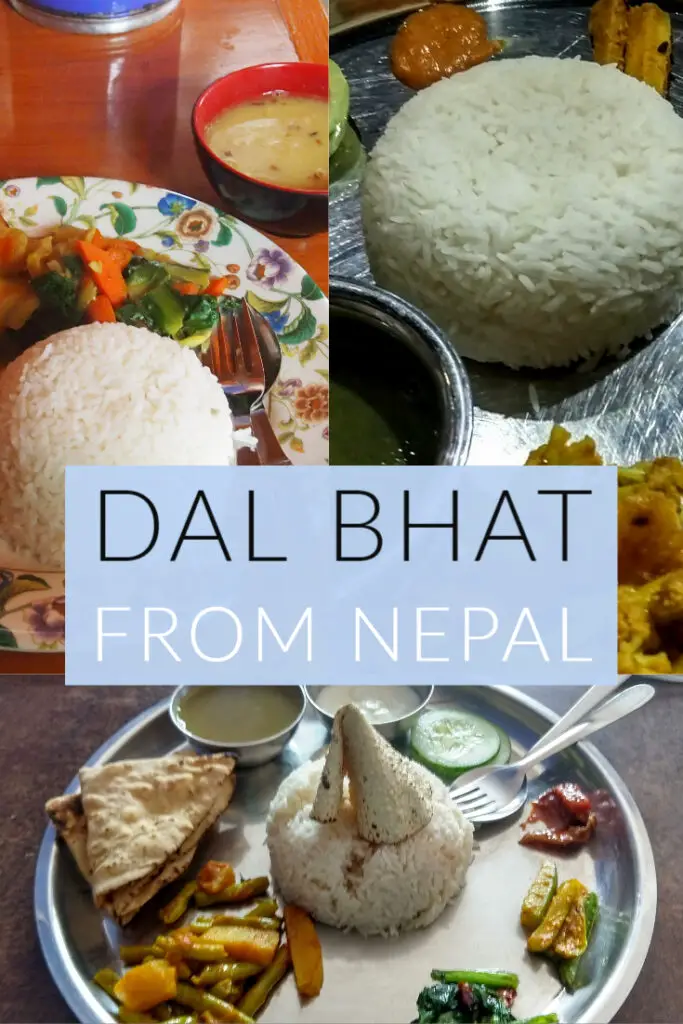 What is Dal Bhat Tarkari?
Tarkari is usually a spicy vegetable curry with origins in the Indian subcontinent. The word tarkari meaning fresh vegetables. A dal bhat tarkari will be dal bhat, (dal and rice) plus tarkari.
If I'm wrong about this please let me know, this is what we've been served in Nepal, but every time you order a dish you get a variation on it, depending on the cook and seasonality.
Other Nepali Dishes
There are plenty of other delicious and interesting dishes to try in Nepal. Here, you will find our full guide to Nepali food. Look out for dishes such as mo mo, thukpa, and dhindo. In Nepal, particularly in Kathmandu and Pokhara, you will find all the flavours of the world, other cuisines came to Nepal a long time ago along the hippie trail and from neighbouring countries.
Where is Nepal? It's sandwiched between India and Tibet (China) and not too far from Bhutan, high in the Himalayas, you'll find similar dishes throughout the Himalayas but dal bhat remains a favourite.
---
Other posts from my site you may like:
---
My kids always wolfed down their dal bhat after a morning or day of trekking in that stunning Nepali landscape. Our best dal bhat recipe always comes with a side order of delicious local greens, we've not yet discovered a leafy green that tastes as good. Enjoy!
If you'd like to hire a car during your stay, use this car rental comparison tool to find the best deal!

Please check out our Pinterest account for loads of food and recipes from around the world!