Dal bhat is the traditional Nepali food of locals and trekkers in the Himalayas. On both of our Himalayan treks, Annapurna Base Camp and Everest Region, we ate dal bhat most days, either for lunch or dinner. The dish consists of lentil soup (the dal), and boiled rice (the bhat), with varied side dishes which may include steamed vegetables, vegetable curry, popadoms, pickle and curd.
The dish is great from trekkers as it is always vegetarian, often vegan ( depending on what oil or fat is used and the presence/ absence of curd) and contains plenty of carbs, protein, fluid, vitamins and minerals. It's filling and delicious and if you're particularly hungry, dal baht almost always comes with free second helpings.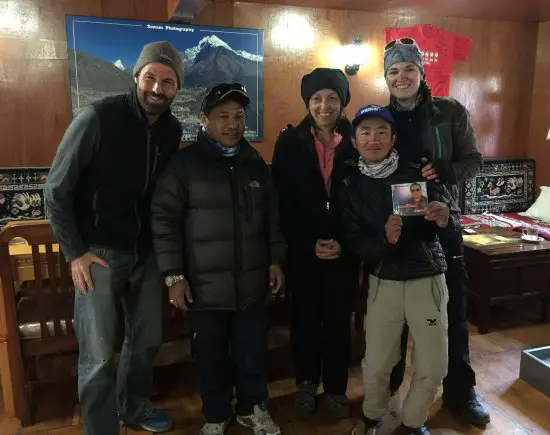 Dal isn't quick to cook, but the Sherpa and Tibetan people of the mountains normally have pressure cookers to speed things along. Different types of lentils can be used, but we found that mixed green, red and black lentils gave the best flavour.
The dal soup, when cooked, is a thin soup, not a thick curry.
Dal Bhat Recipe
For 2 people
Preparation time: around 40 minutes
Ingredients
1 cup red lentils (masoor dal) , mixed, green or brown lentils.
1 tablespoon oil
1 small onion, finely chopped
2 cloves garlic, crushed.
1 tablespoon fresh ginger, minced
¾ teaspoon sea salt
pepper to taste
½ teaspoon black mustard seeds
½ teaspoon turmeric powder, or fresh if you have it.
½ teaspoon cumin seeds
½ teaspoon coriander seed powder
1 medium tomato, finely chopped
½ tablespoon butter or ghee
2 tablespoons coriander leaf and/or green onion, chopped, for garnish
Water
basmati, or other, rice
Indian chutney or pickle to serve.
Preparation
Wash the lentils and rinse, historically this step is to remove stones, but most of us don't have that problem. If you're using larger, slower cooking lentils, you may like to soak them overnight first to speed up cooking.
Put the rice on to cook.
Chop your onion, garlic and ginger and tomato.
Wash your coriander leaf and/or green onion. Chop for garnish.
Heat oil on high in a large pan.
Add your chopped ginger, garlic and onion, and stir on high heat until the onion is golden.
Stir in cumin seeds, salt, pepper, turmeric, mustard seed and coriander powder. Turn the heat down to medium (6 out of 10 on our stove), and cook for 2 minutes, stirring often. This step is important, spices must be tempered in oil, always.
Add tomatoes and butter. Stir, cover and cook for a couple of minutes.
Add the lentils, cover and cook in the oil/butter for 5 minutes. Don't scrimp on the oil or butter!
Add water, and cook, allowing the water to reduce.
When your lentils' coking time is up, your dal is ready to serve. Present with the rice, popadums, garnish and pickle. The dal bhat is served in a small soup bowl as above.
As you can see, there are no chilies, this isn't traditionally a very hot dish and my kids always wolfed it down after a morning or day of trekking in that stunning Nepali landscape.  Our best dal bhats came with a side order of delicious local greens, we've not yet discovered a leafy green that tastes as good. Enjoy!
Want to Read More:
Read How I Travel Most of the Year as a Chef Here
Photo credit: Dal Bhat by Sistak under creative commons license.