This post may contain affiliate links.
Pina Colada cocktails are one of my favourite drinks and I'm not ashamed to admit it. Rum, coconut, and pineapple are a marriage made in heaven. It has been said that a pina colada is a girls' drink but I really don't care, half the world can't be wrong as they demand pina colada mix, juice, ice cream, even lip gloss. The taste is an absolute winner and I'll drink my pina colada with pride. So, where to buy them, how to make them and pina colada mix are on my mind today.
Types of Pina Colada Cocktail
Traditionally there are two types, blended or shaken with ice.  There are numerous variations and premixed pina colada versions on the market including frozen pina coladas. These seem to be a big favourite of the cruise line industry. I certainly went through my fair share on our recent transatlantic cruise.
In the US you can buy tetra packs to store in a freezer and pour into your glass when they're icy. I haven't tried these yet so can't comment on taste. A fresh pina colada gives the best result but premixed cocktails do a great job. Premixes to buy online are available( see further down the page) and, of course, you can buy a ready-made bottle of pina colada including alcohol.
What Goes into a Pina Colada Cocktail?
Rum, great quality rum ideally. This is the core ingredient in the pina colada cocktail so cheap stuff won't cut it.
Cream of Coconut was traditionally the next ingredient followed by pineapple juice and a small amount of ice.
Cream of coconut is normally replaced these days by coconut cream but the two aren't one and the same. Cream of coconut contains coconut juice, sugar, emulsifier, cellulose, thickeners, citric acid, and salt.
Coconut cream is simply the thicker part of coconut milk. Of course, coconut milk and coconut juice or water are not the same either.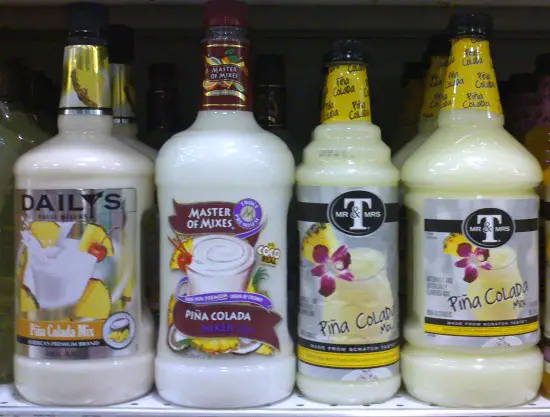 Bartenders have now started adding such things as coconut sorbet/gelato, coconut rum, and amaretto.
A pina colada recipe I stick to is 1 1/2 oz light rum, 2 oz cream of coconut, 2 oz of pineapple juice and 1 cup ice. Blend and pour into a collins glass or similar. Garnish with pineapple leaf and cherry. If you want it stronger just make all parts equal.
Pina Colada Mix and Premix
Amazon prime is a beautiful thing, order now and your pina colada mix could be with you in hours. They'll even deliver the rum too, in parts of the US. Of course. these pina colada mix drinks can be drunk straight from the bottle if you prefer a non-alcoholic virgin pina colada cocktail.
Made with cream of coconut and pineapple juice, just add your rum and crushed ice and blend for an instant pina colada. Have a look at how easily you can make pina coladas at home with this premix and a good blender, ideally.
Origins of the Pina Colada Cocktail
Puerto Rico is the recognised home of the pina colada. It even has a national pina colada day on July the 10th. There is debate about who invented the drink and several people take the credit for inventing it around the 1950's or 60's. No one will ever know for sure but one thing that brought it main stream was the song 'Escape' in 1979, that's the name of the famous pina colada song.
Pina Coladas probably pre-date the modern invention of the drink.The literal translation of pina colada is strained pineapple. Pirates may have added it to their rum rations and wealthy travelers in the 1920's wrote about a similar drink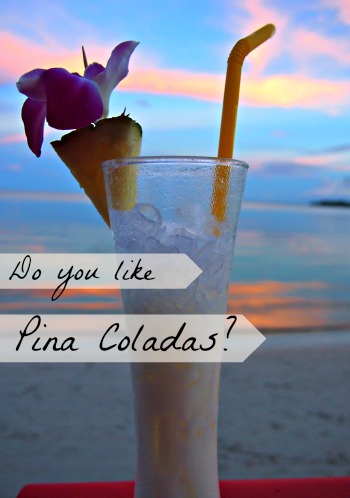 I'm on a mission to make the pina colada more manly but I'm sure Mrs Chef will keep on teasing me.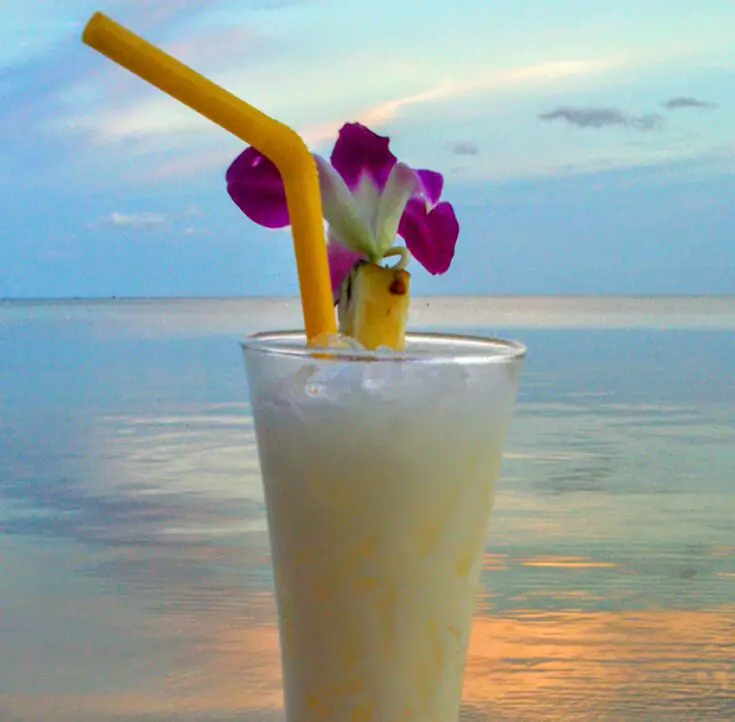 A beautifully refreshing cocktail. Light and full of flavour. Perfect for those weekends by the beach or pool.
Additional Time
5 minutes
Ingredients
1/2 fresh pineapple
1 can coconut cream
200 ml of white rum or spiced rum for a special twist
2 limes
Cup of ice
Garnish:
lime wedges
Maraschino cherries
Instructions
Peel and decore pineapple. Add to blender
Add coconut cream and blitz with pineapple
Add rum and ice and continue blending until smooth
add lime juice to taste. Approximately 2 limes worth
Pour into 4 equal glasses and garnish with lime wedge and cherry
Notes
Traditionally white rum is used to make pina Coladas but I love spiced rum and so use it. I feel it gives it a different dimension to the cocktail. If you don't have fresh pineapple you can use pineapple juice as a substitute.
Nutrition Information:
Yield:
4
Serving Size:
1
Amount Per Serving:
Calories:

154
Total Fat:

1g
Saturated Fat:

1g
Trans Fat:

0g
Unsaturated Fat:

0g
Cholesterol:

0mg
Sodium:

4mg
Carbohydrates:

11g
Fiber:

2g
Sugar:

6g
Protein:

1g
The information shown is an estimate provided by an online nutrition calculator. It should be considered as a guide only.
What is your favourite cocktail?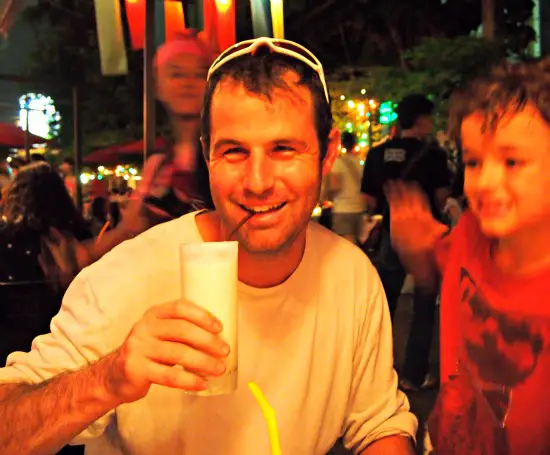 If you'd like to hire a car during your stay, use this car rental comparison tool to find the best deal!

Please check out our Pinterest account for loads of food and recipes from around the world!