The traditional Full English Breakfast is an institution in its own right. Served everywhere in England, Wales, Scotland and Northern Ireland it should really be called the full British or full UK breakfast, but each country has its own twist on what should be served on the plate. From small "greasy spoon" cafés to London's top name hotels, the sort I work in, this breakfast dish is enjoyed by people from all walks of life. This full breakfast is not restricted to the British Isles, it's also served in the US, Australia, Canada, NZ and more. I've cooked, eaten and served a few full Aussie breakfasts in my time. People in England may also call it a "fry up" or a "cooked breakfast" to distinguish it from a very ordinary breakfast of cereal or toast.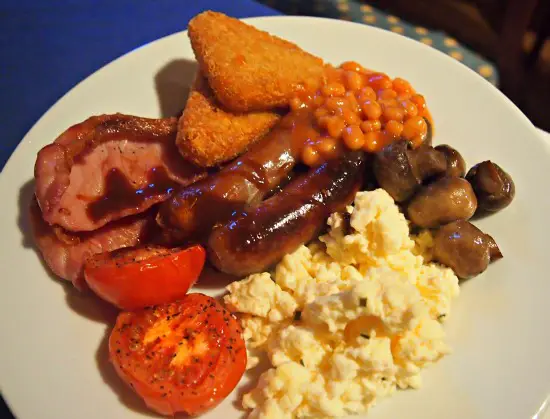 Traditional Full English Breakfast
The dish has many different names. Fry up is by far the most common alternative, although the Welsh, Scots and Irish would name it after them with Northern Island calling it an Ulster breakfast or fry up. Sunday or country breakfast is another name this meal goes by in the US.
A full breakfast contains eggs, meats, and vegetables, along with bread, tea, coffee and preserves. The exact composition varies by region as we explain below.
---
This post may contain affiliate links, we make a commission. They cost you nothing extra and we are not paid to promote certain products. All information is based on personal opinion, please double-check facts for yourself.
What's in the Traditional Full English Breakfast?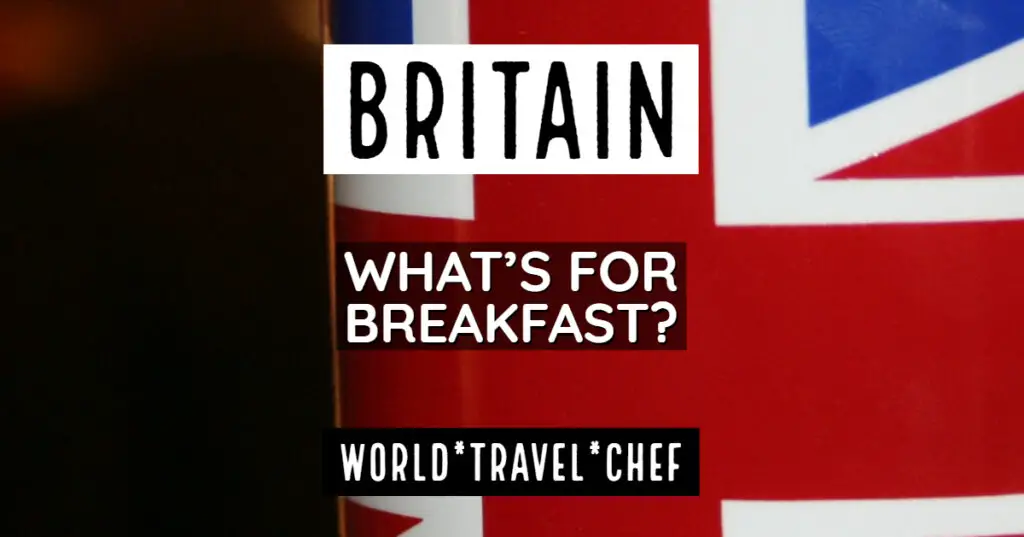 Regional differences abound but there are core ingredients that go into making a traditional full English breakfast. As the "fry-up" nickname suggests, everything is likely to be fried. The more health-conscious may grill their sausages and bacon and omit fried bread. You may see grilled tomato substituted for fried tomato and your baked beans will be simmered in a pan.
The eggs in a full breakfast are most likely to be fried, sunny side up, or sometimes you may see scrambled eggs. A small omelette or poached eggs are possible but less likely on a British fry-up.
Starting with eggs, a traditional English breakfast also includes bacon, sausage, tomato, mushroom, baked beans from a can in tomato sauce, black pudding, maybe white pudding, and fried bread. Certainly enough to fill any hungry traveler. All of this can be enhanced with a small pool of tomato sauce (ketchup) or HP Sauce (brown sauce), on the side.
A good thick pork sausage or British "banger" is most likely at breakfast time. That said, you'll also find excellent beef and game sausages in British cuisine. The UK is home to great sausages, but in a cheap establishment, you'll see poorer quality meats.
Breakfast will most likely come with a side order of toast, butter, and jam, marmalade, a pot of tea or a mug of coffee. A glass of orange juice can also be found on some menus to go with your full breakfast.
You're likely to be offered sliced white bread or brown bread for your toast. In good restaurants, hotels, or for home cooking the bread should be of better quality.
Full Scottish Breakfast
The Scottish version will often include haggis. This is a meat pudding containing sheep's heart, lungs and liver, minced with oats and encased in the stomach. The haggis is then simmered. Haggis is an acquired taste outside of Scotland.
You may also see porridge served as part of a Scottish breakfast, sometimes with a little splash of whisky (Scotch).
Full Welsh Breakfast
The Welsh include Laverbread at the breakfast table. This is a type of seaweed gathered from Welsh beaches. Again this is rarely seen outside Wales.
Full Irish Breakfast
In Ireland, a "fry-up" is also quite popular, but here you may see soda bread added to the menu. You're more likely to see potatoes here, either potato cakes, fried into a potato hash or traditional bubble and squeak.
If you order a full English breakfast in a cafe, don't be surprised if it comes with a few chips (French fries) on the side, although these days hash browns are becoming common in the UK. Years ago they were unheard of.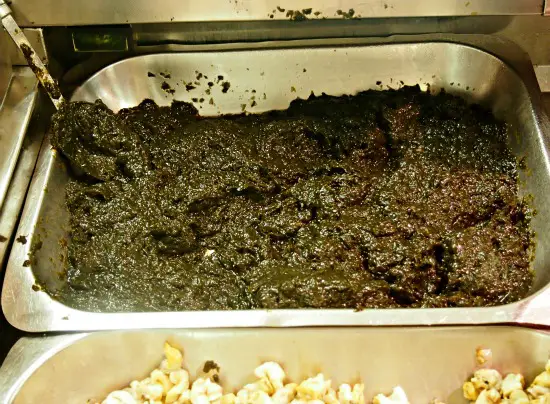 The US has added grits, ground cornmeal, to their version.
---
Is the Traditional Full English Breakfast Healthy?
No, let's face it, with so many fried things on one plate it isn't going to win the heart foundation tick of approval anytime soon.
That said, it is just so delicious that really you need to throw caution to the wind and tuck in every once in a while.
Currently staying on the southern English coast our accommodation is B&B. Yes you guessed it, we have the traditional full English breakfast each and every morning. Now on our 5th day, I'm still not bored with it.
Best of all it keeps me going past lunch and almost into dinner.
A traditional Full English Breakfast can save you money on lunch!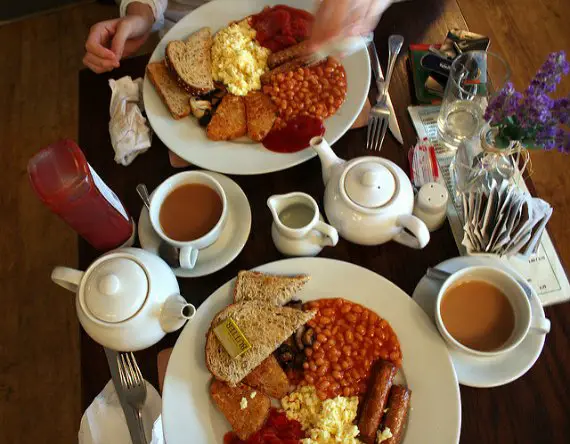 What Makes a Good Full English Breakfast?
The biggest factor for me in making a good full English, is the quality of the ingredients.
What can be a great dish can fail badly if cheap products are used. Sausages make or break the meal, they can go either way, great, full-flavoured, plump, well-cooked delights or overcooked dry, and highly processed.
Bacon is another component that needs to be right, regardless of who is cooking. British bacon is quite different from American or Australian featuring more meat, less fat. Back bacon is the bacon of choice here, but streaky bacon is also available. Bacon can be smoked or unsmoked in the UK.
The remaining ingredients need to be fresh and, of course, cooked correctly to really make this dish great. Go for the best quality free-range, grass pastured eggs you can find and make sure your tomatoes or mushrooms are fresh not tinned. Tinned plum tomatoes may be served if you prefer, but tinned mushrooms just don't work.
I must confess to being a huge fan of the traditional full English breakfast, in fact, it was a major highlight of our 5 weeks in the UK  Don't get me wrong, I loved the Sri Lankan string hopper breakfasts but nothing beats a full English for me. Read more about Sri Lankan breakfast food here.
What Can be Served in a Traditional Full English Breakfast?
Pick from any of the following ingredients, fry, or grill if you prefer. Frying the bacon along with the eggs, mushrooms, fried bread etc, gives everything a nice bacon flavour. Purists would fry in lard, but any oil or mixed oil/butter will do. Don't just use butter to fry, it will burn.
eggs, fried, but scrambled is acceptable
sausages, pork is usual in the UK, but feel free to use another variety
bacon, fried, but you can grill. Back bacon is preferred in the UK.
black pudding (optional – but traditional) or white pudding
fried bread
tomatoes, tinned or halved then grilled or fried
fried potatoes, sauteed, chipped, or hash browns (not very traditional – a new addition)
mushrooms, fried or grilled
toast, butter, and jam
a nice pot of tea
What to Serve With a Great British Breakfast?
Serve with tomato ketchup or Original HP sauce (click through to order for an authentic touch) and a hot mug of tea.
The HP stands for Houses of Parliament and this condiment is also known as "brown sauce".
Do British People Eat a Full English Every Day?
No, absolutely not. A few do, for sure, but the average person doesn't have the time to cook like this every day and is too weight and health-conscious to eat this much fat and cholesterol daily.
You'll find a typical British breakfast more likely to be toast, cereal, eggs or yoghurt with a fry up saved for an occasional weekend treat.
Vegan or Vegetarian Full English Breakfast
With veganism and vegetarianism rising in popularity at breakneck speed, of course, healthier and more environmentally friendly versions of the full English are growing in popularity. To please a British plant-based eater, include the following ideas.
eggs any way (omit if vegan)
fried tofu or tempeh.
tofu scramble
vegan or vegetarian bacon or sausages
mushrooms
spinach
laver (for the Welsh)
vegan or vegetarian haggis (for the Scots)
tomatoes any way
just about any vegetable
potatoes – fried, potato cakes or hash brown.
toast and jam with non dairy spread
pot of tea with plant-based milk
Cooking a Full English and Recipe
Cooking the dish is a real pleasure for me as a Chef on my days off. I like nothing more than getting all those ingredients together and turning them into something the whole family can enjoy. Other than my semi-vegetarian wife of course, she's happy with a plate of spinach and mushrooms.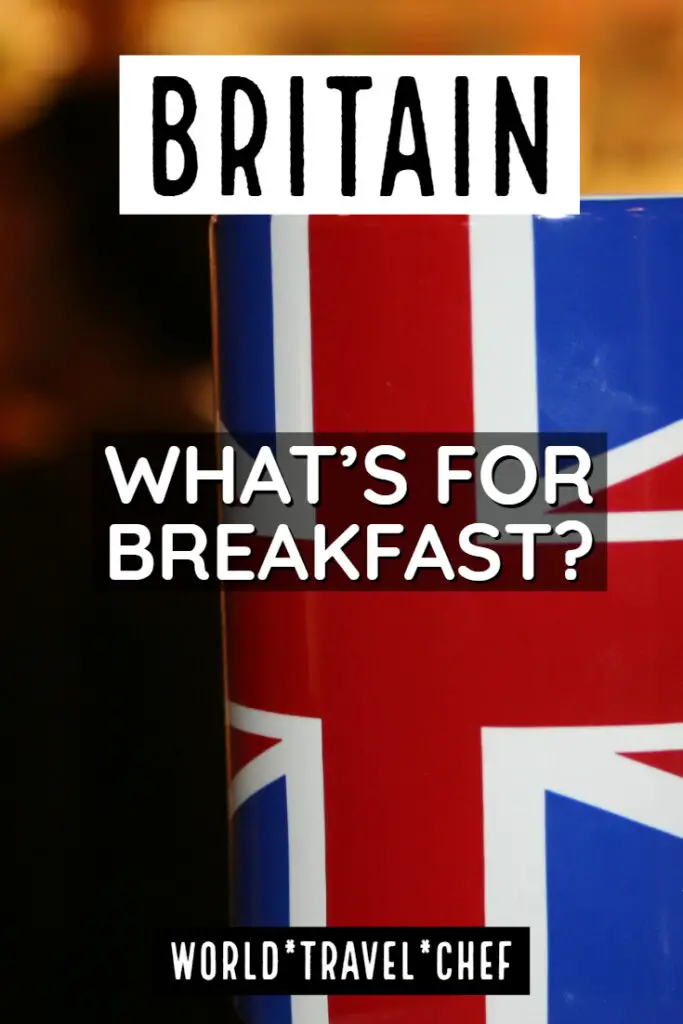 Do you need a recipe for a full English fry up? Of course not, just cook, fry, grill and assemble your cooked ingredients on a plate. If you need any advice on cooking any of these items let me know in the comments and I'll help you as best I can.
What is your favourite breakfast dish?
Photo credit, the second full English breakfast photo isn't mine, the owner is Sarah Ross, on Flickr through Creative Commons. Thanks Sarah!