This post may contain affiliate links.
You need to know about stinger season in Queensland and Queensland's stingers if you plan to visit and swim in the sea or snorkel or scuba dive on the Great Barrier Reef.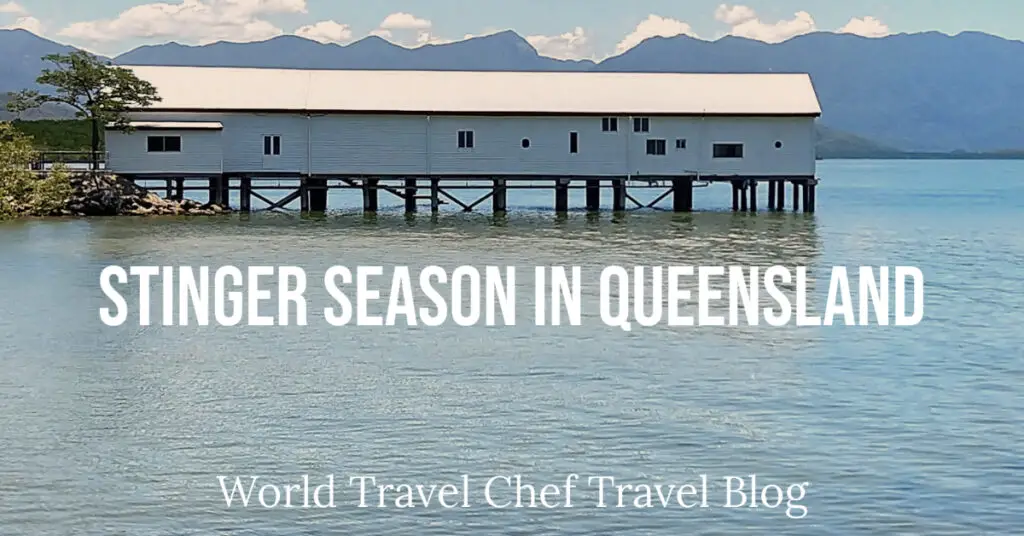 Many visitors come to Queensland for the Great Barrier Reef, to go snorkelling or scuba diving. Unfortunately in summer, our hot, wet, time, we have marine stingers, deadly jellyfish which could be present in coastal waters.
How far north you travel in Queensland will affect the dates and duration of stinger season, the further north and the warmer the weather, the longer the stinger season will last. It will start earlier and end later.
When is stinger season? Stinger season is in summer in Queensland (December to February) and extends into spring and autumn. As a rough guide, stinger season is October to May in North Queensland, this includes the Whitsundays, Cairns, Airlie Beach, K'gari, etc. The exact dates the stingers arrive and leave depends on weather conditions that year.
Stinger season is when you need to take precautions against stingers, not when you are guaranteed of encountering stingers.
These marine stingers are potentially deadly and include box jellyfish and Irudkanje.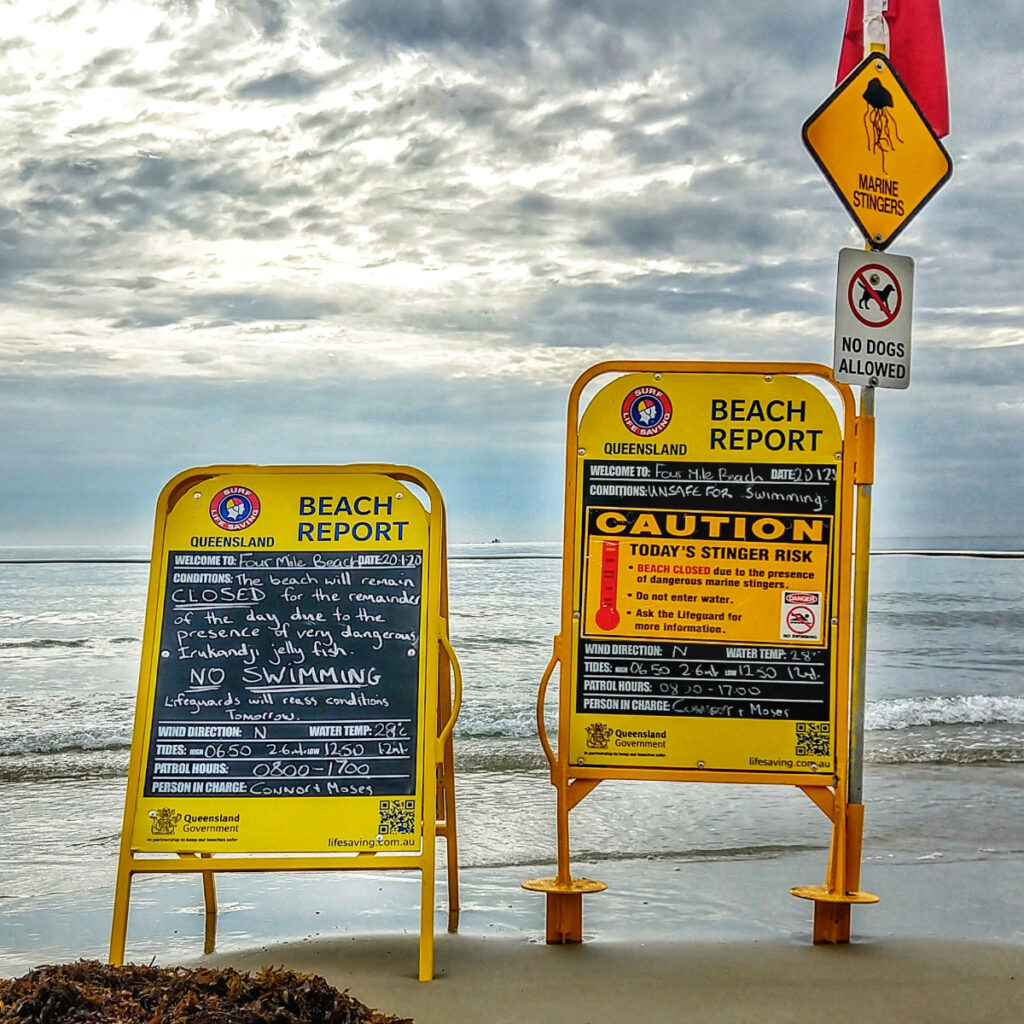 If you came to my site looking for Port Douglas information, you certainly need to know about stinger season in Port Douglas and Cairns. You'll need to know dates and what precautions to take, that specific information is in that post, this page covers more general information on Stinger Season in Queensland.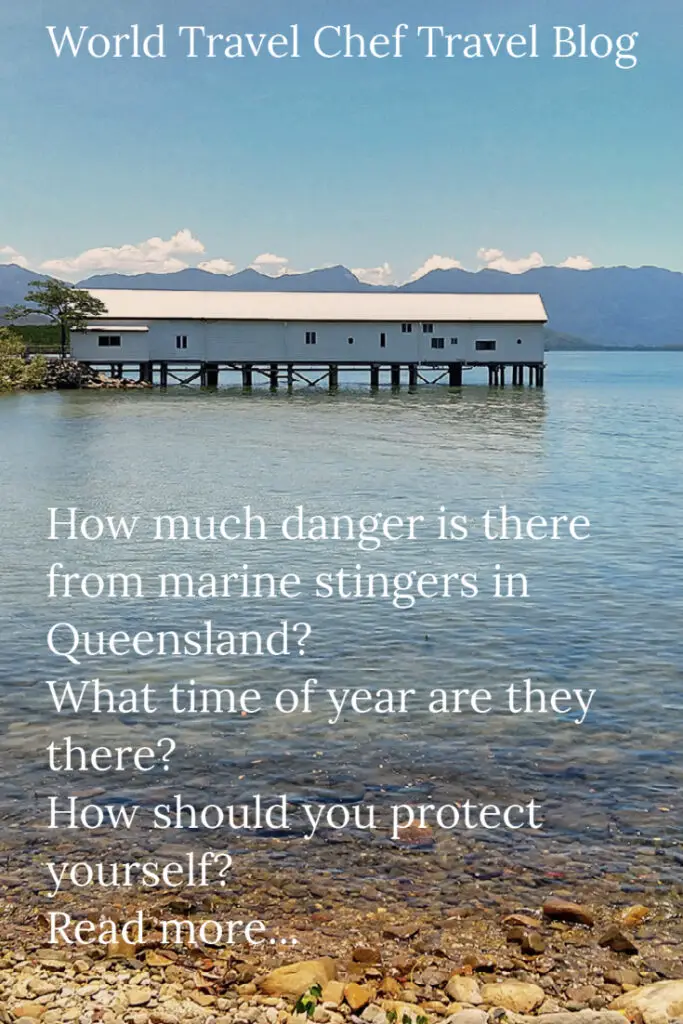 Queensland Stingers
In Queensland, "stingers" are jellyfish. There are multiple jellyfish or stingers that could possibly be present in the sea off Queensland at any time of year, but the two deadly stingers that we worry about and that are responsible for "Stinger Season" are the potentially deadly box jelly fish and the tiny Irudkanji jellyfish.
Save this image to Pinterest.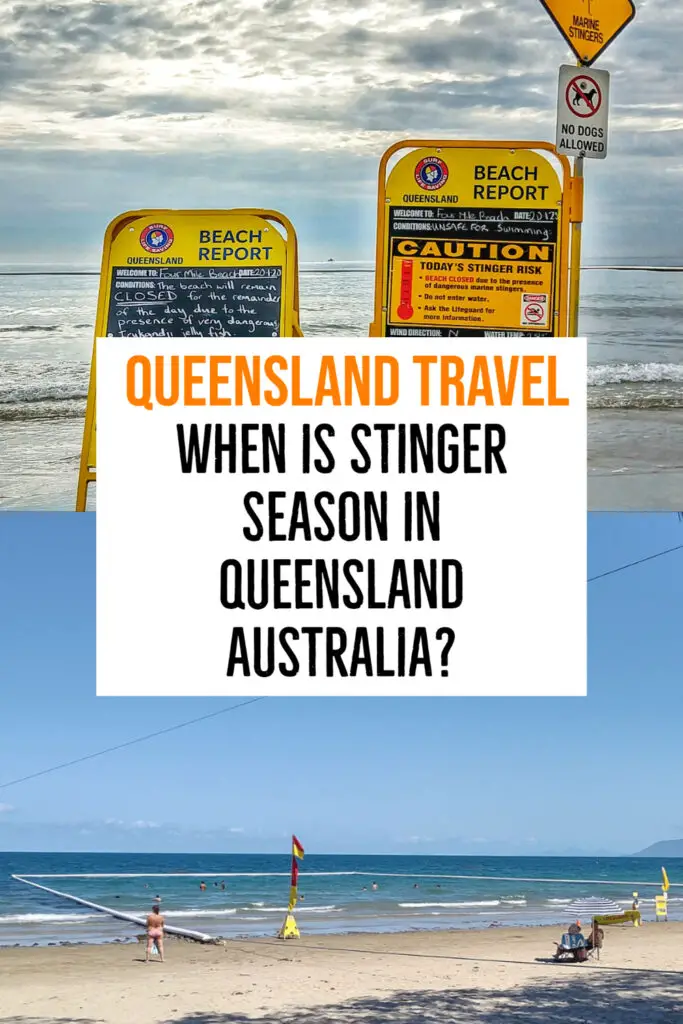 Both of these deadly marine stingers are a danger to unprotected swimmers off Queenslan's beaches to the hottest and wettest months of the year, summer in the southern hemisphere. That is of course winter for visitors from the northern hemisphere.
Box jellyfish are the most poisonous and deadly jellyfish in the world. They like to hang out around in Australian waters in season. The venom can kill in minutes and is the cause of an average 1 death per year in Australian waters.
There are more deaths in South East Asia from box jellies, where stinger nets are rare. This jellyfish can get large, with tentacles stretching up to 3m behind it.
The tiny Irukandji jellyfish is the smallest member of the box jellyfish family, it takes its name from the Irukandje people of Northern Australia and measures around 5mm in diameter. Its tentacles can be up to 1m long.
Its tiny size is deceiving, as its venom is incredibly strong. Death isn't inevitable, but Irukandji syndrome isn't a nice thing to have, symptoms include severe muscle cramps, intense back pain, vomiting, racing heart, and a feeling of intense doom.
The Irukandji is the reason many of us wear stinger suits inside the nets, they can be tiny enough to pass through the mesh of the stinger net.
Great Barrier Reef Stingers
It is possible for marine stingers to be present on the Great Barrier Reef, but the risk is lower than in coastal waters and off the beaches.
In the warmer summer months visitors to the Great Barrier Reef wear "stinger suits" for protection.
Stinger Suits Australia for Queensland
Stinger suits in Australia are full-body suits made of a stretchy nylon/lycra fabric, which cover swimmers' bodies completely, including mitts for fingers and a hood that covers ears. Stinger suits are available in small sizes for kids, right up to XL sizes.
You can buy a stinger suit online, easily, as they're made to stretch, an exact fit isn't essential. Take a look here for women, and expand your search for men's and kids' suits.
The stinger suits normally have stirrups under the heel to hold the legs down around the ankle.
Feet are normally protected by fins, you can opt to wear thin socks under fins to protect your heels.
Did you see our post on where to eat in Port Douglas?
Small parts of the person's face, outside their snorkel mask and the snorkel itself, are still exposed.
The stinger suit is worn over whatever swimwear the person chooses to wear. The stinger suits are stretchy and comfortable for swimming and come in various sizes.
Most snorkel boats visiting the Great Barrier Reef will provide stinger suits for their guest in stinger season. Outside of stinger season, these are not required.
It's not uncommon for Australian kids to wear stinger suits to the beach in Queensland, they protect against the sun (UV) as well as protecting against jellyfish or stingers.
Stinger Nets in Queensland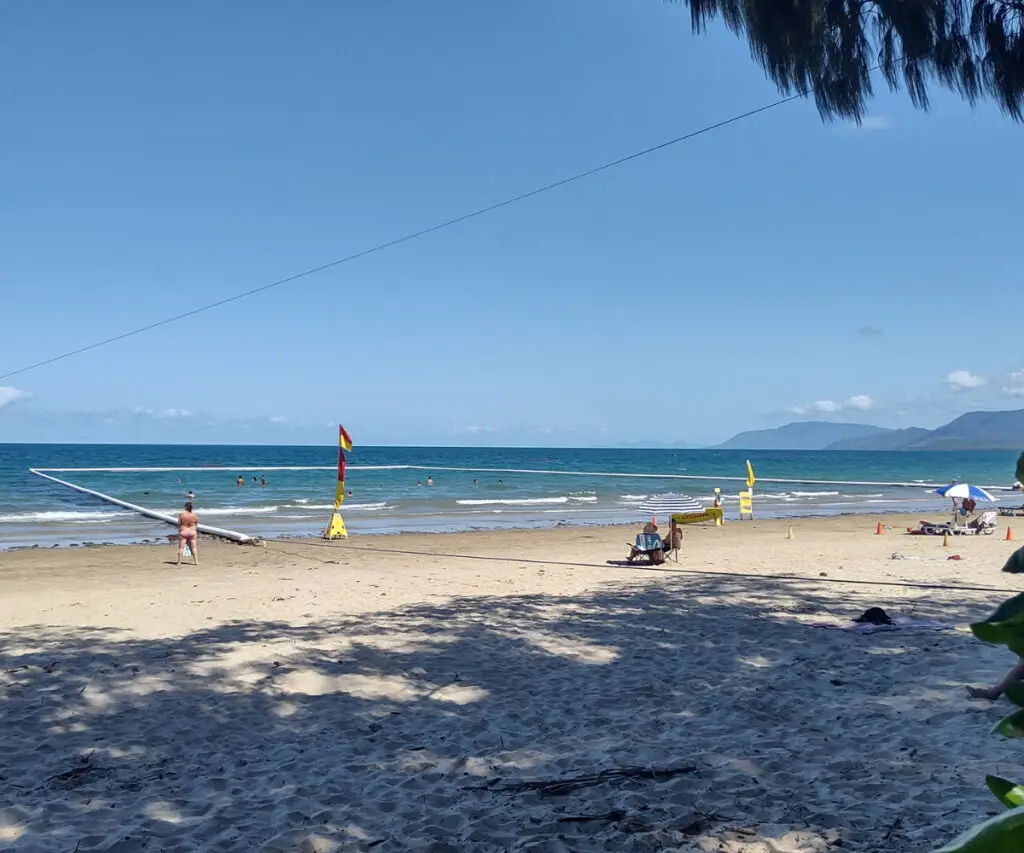 Stinger nets are used on popular swimming beaches in Queensland throughout stinger season, with some margin at either side of the season for safety.
These are mesh nets which can be hauled in and out with the tide.
The bottom on the net is weighted, the top has flotation devices so that the net maintains a surface to bottom wall in ideal conditions.
In rough weather the surf can make them ineffective, so stinger nets will be closed.
Australia's lifeguard and surf lifesavers keep a close eye on the nets and will notify swimmers of current dangers and status.
Stinger Season
Don't be too worried about stinger season in Queensland Australia, thousands of people, tourists, and locals, swim off Queensland's beaches, islands, and on the Great Barrier Reef throughout stinger season, you just need to take some sensible precautions.
In the event of a sting the medical team and rescue services will know what to do, they're well practiced.
If you'd like to hire a car during your stay, use this car rental comparison tool to find the best deal!

Please check out our Pinterest account for loads of food and recipes from around the world!