This post may contain affiliate links.
What to expect from a Thai breakfast? Traditional or modern, hotel, restaurant or street food, you'll find all sorts of dishes for breakfast in Thailand. This post is about Thai breakfast dishes we have eaten and been served in Thailand, and we'll give you links to recipes to prepare a Thai Breakfast at home where we can.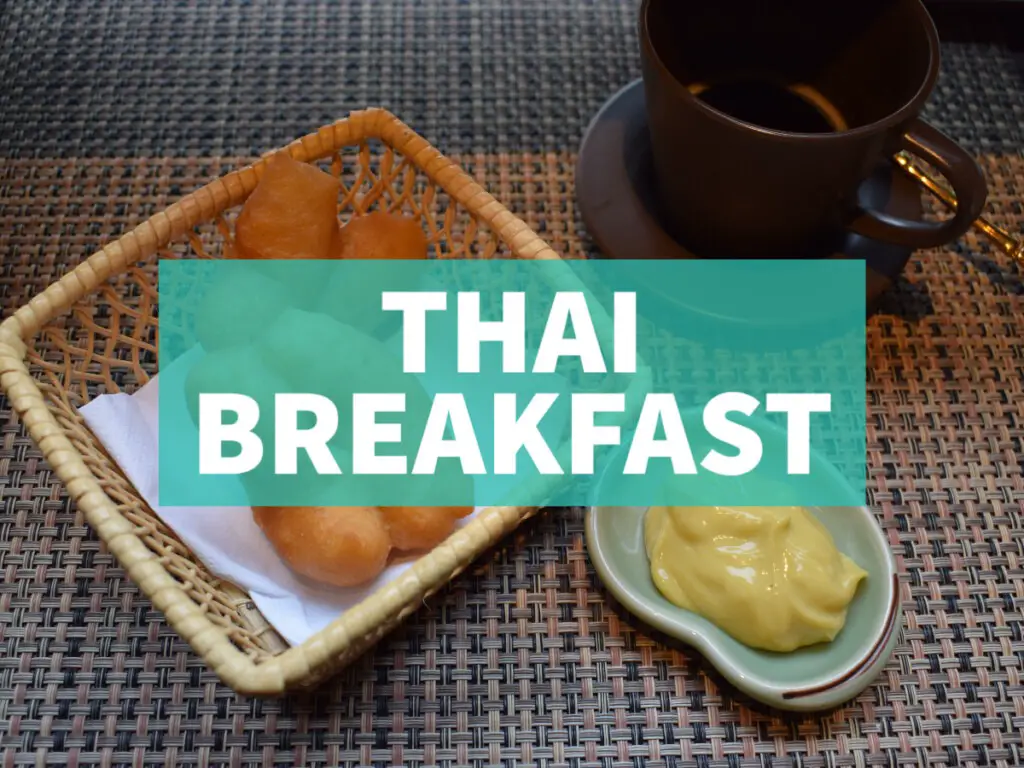 We have spent months, maybe years travelling in Thailand and exploring Thai food. As a professional Chef, I always take a deep dive into food when we travel and have taken more than my fair share of Thai cooking classes and even Thai fruit and veg carving classes for top end hotels in London.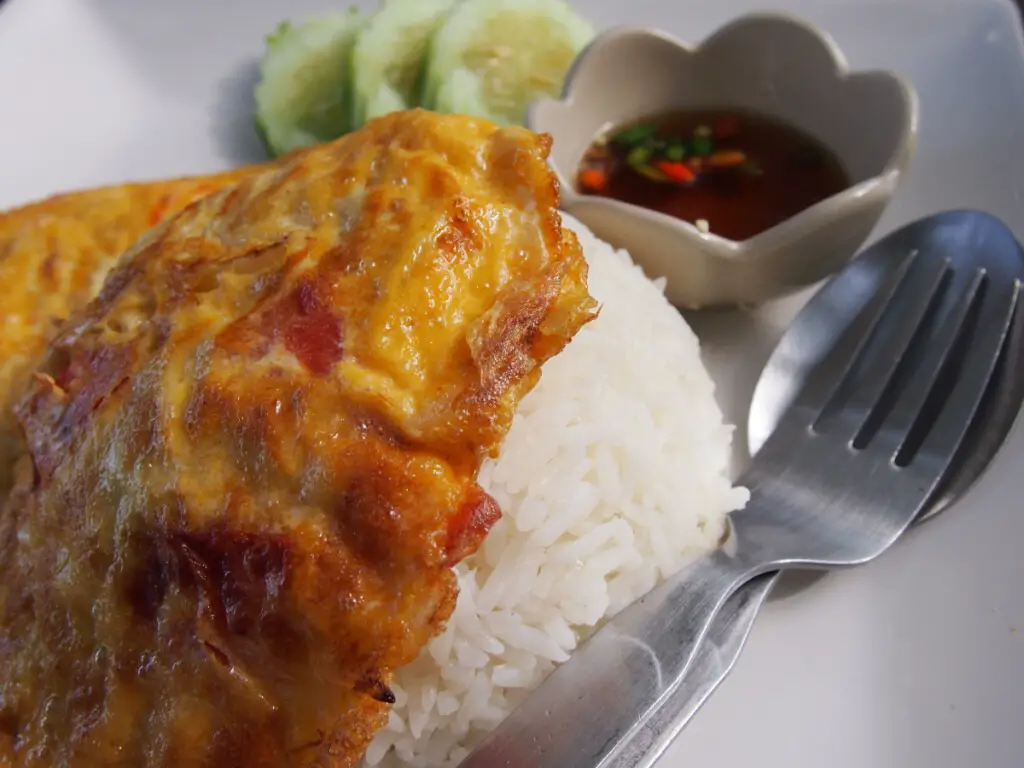 We've eaten at the finest restaurants and in Hill Tribe village homes, but mostly in Thailand, breakfast comes from simple street restaurants, with sit down tables and freshly prepared food.
Find out more about where to eat in Thailand in our post. Don't be affraid to try street food and market stalls, if they're open at breakfast time, they're serving Thai breakfast food.
Thailand really does have some of the best breakfast dishes from around the world.
Breakfast in Thailand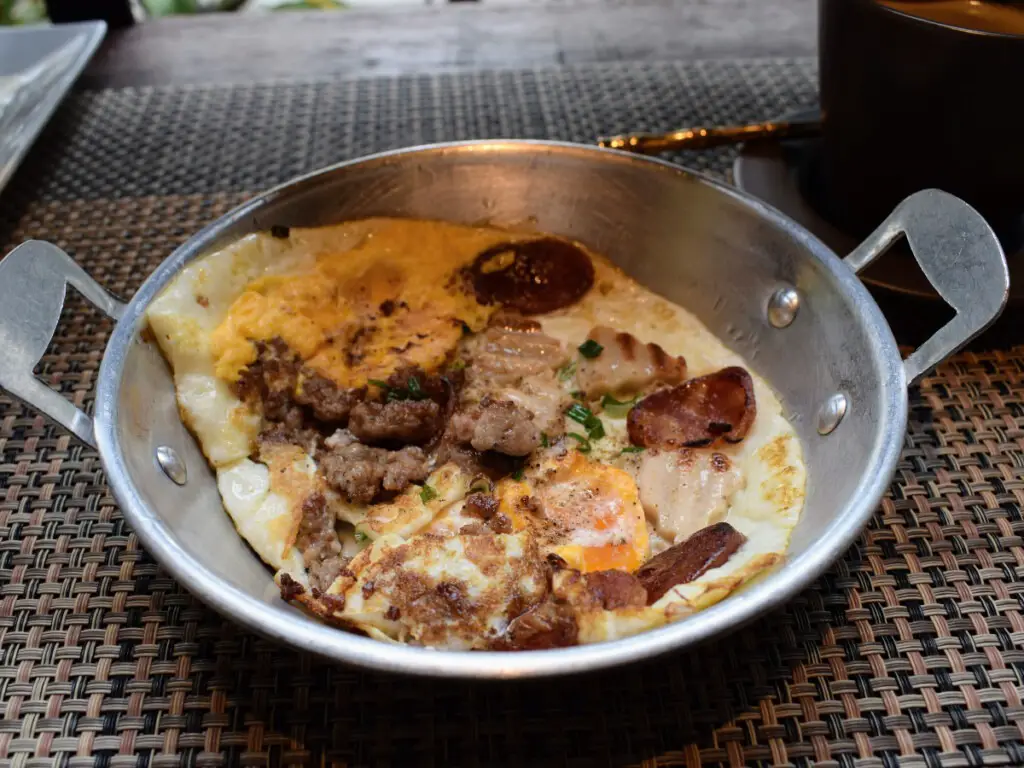 Breakfast in Thailand may be spicy, or it may not be. Some of the best foods to try in Thailand are spicy (read what makes Thai food spicy here), others come without hot chillies so that the diner can add extra heat and flavours to taste.
In Thailand you will be offered a range of condiments if you're eating good, traditional Thai food for breakfast.
These condiments will include sugar, ground peanuts, lime wedges, soy sauce and various preparations containing chillies, vinegar, and fish sauce. I'd say that if you don't see these Thai condiments on the table, eat elsewhere.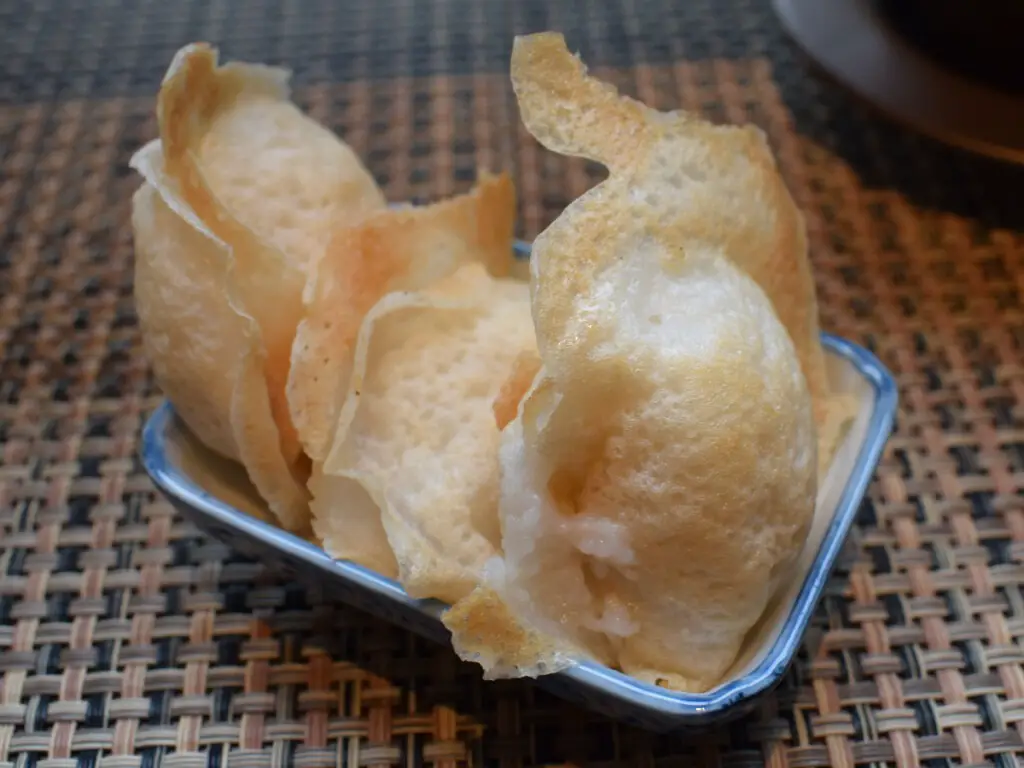 If you're stayiing in a hotel in Thailand with a buffet breakfast you're likely to see Continental breakfast, full English breakfast (often with chicken sausages to make it suitable for most religions) and American breakfast, plus some Thai dishes to try and wider Asian breakfast dishes, depending on which nationalities frequent that hotel. There should be something for everyone if you are a cautious or picky eater.
Thai Breakfast Fruits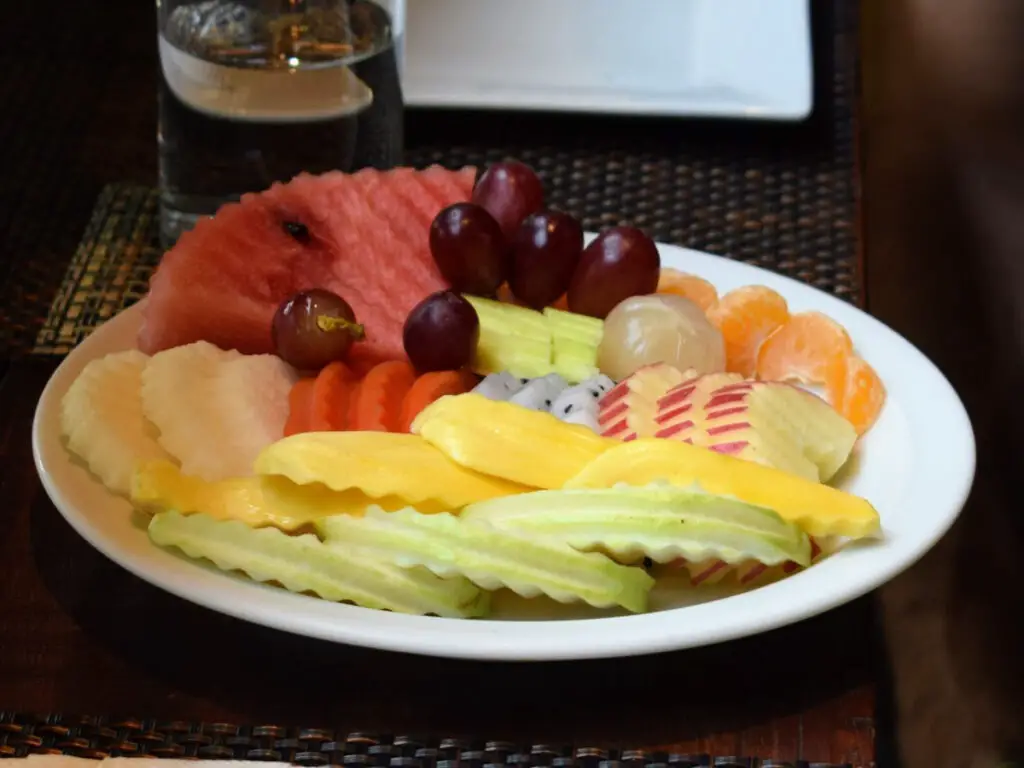 It's very common to eat fruit platters at Breakfast in Thailand and because Thailand's climate is quite diverse, you can expects many different fruits, from the tropical fruits of the south (papaya, pineapple, lychee, rambutan, banana, mango, pomello, pink and white dragon fruit) to fruits that tolerate a cooler climate, like apples.
There are some more unusual fruits which you may see in Thailand too, like Java apple, snake fruit, durian and longan.
IThai Breakfast For Tourists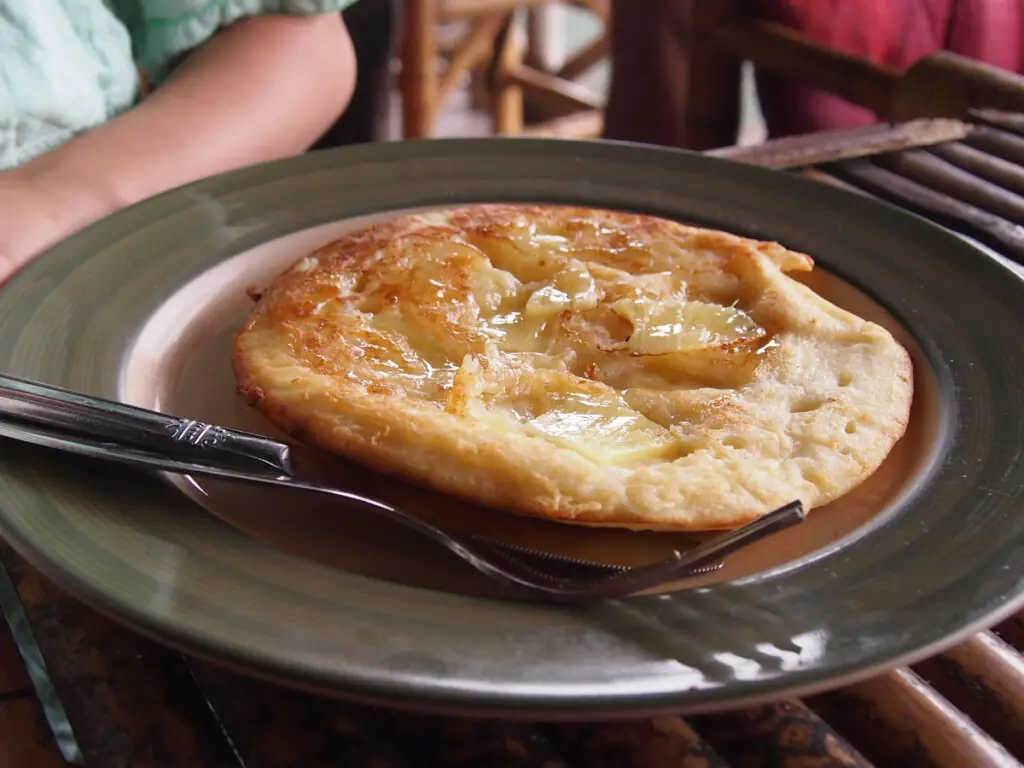 Banana or pineapple pancakes are a Thai breakfast food common on the backpacker trail in Thailand. as Thailand produces so much tropical fruit, with much still being grown in gardens in coutry areas, the fruit should be fresh not tinned. You'll also see simple dishes like fried rice, pad thai and filled roti (often called pancakes) at restaurants targetting backpackers or budget travellers.
More up-market tourists are also well catered for in more expensive breakfast restaurants. Below you can see a Thai breakfast menu from a quite nice klong-side restaurant in Bangko, featuring American breakfast items alongside Thai curries, noodle dishes, fruit juice and French toast.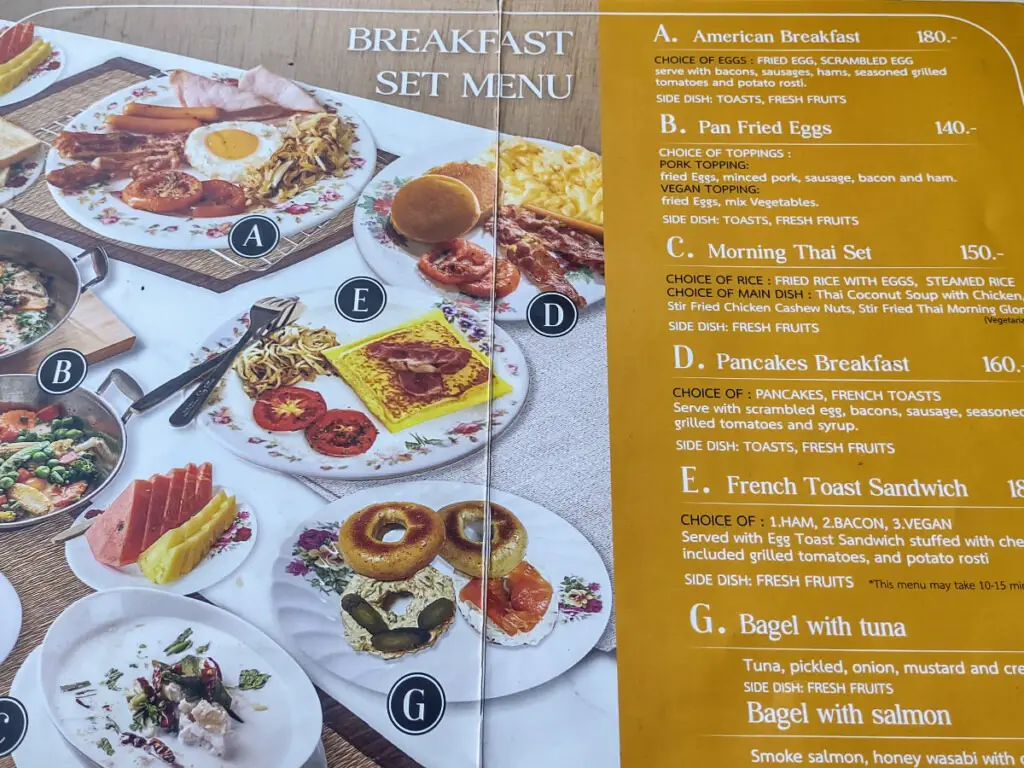 But this post is really about traditional Thai Breakfast dishes, so that's where we're going next.
Traditional Thai Breakfast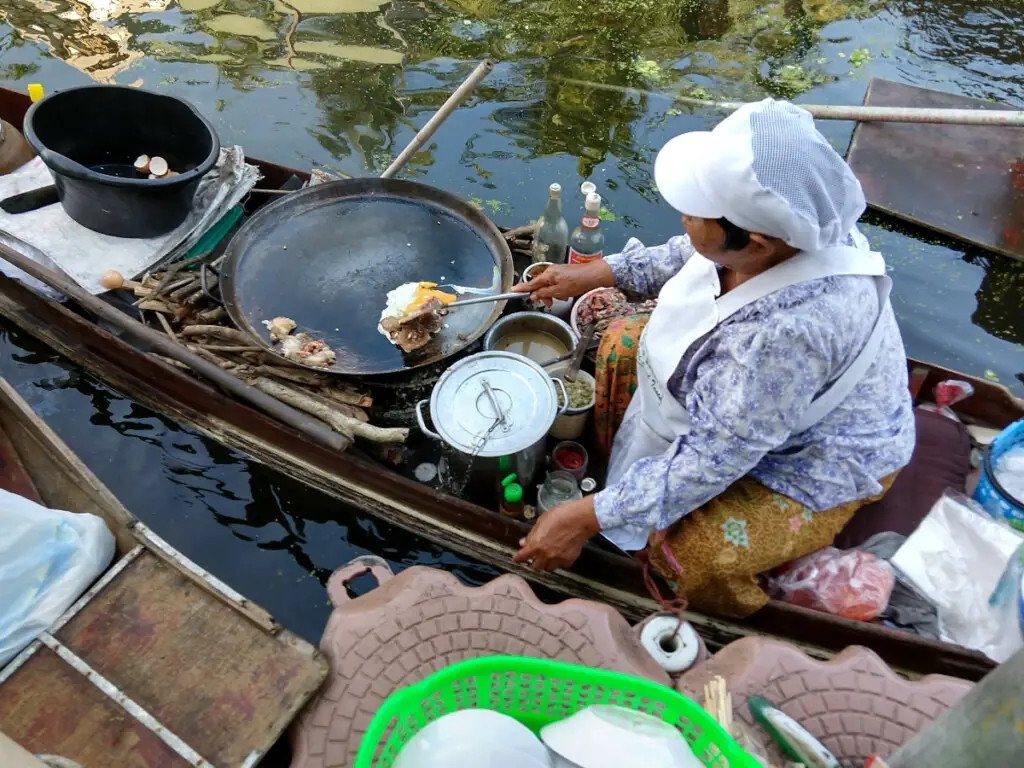 The following Thai foods are traditionall served at breakfast time in Thailand. In our experience just about any dish can be served in Thailand at breakfast time. One of our favourites were the oyster fat noodles you can see being prepared at a morning floating marken. This was Tha Kha floating market, other famous floating markets nearby include Amphawa and Damnoen Saduak. The latter is a good place for a pork based Thai breakfast.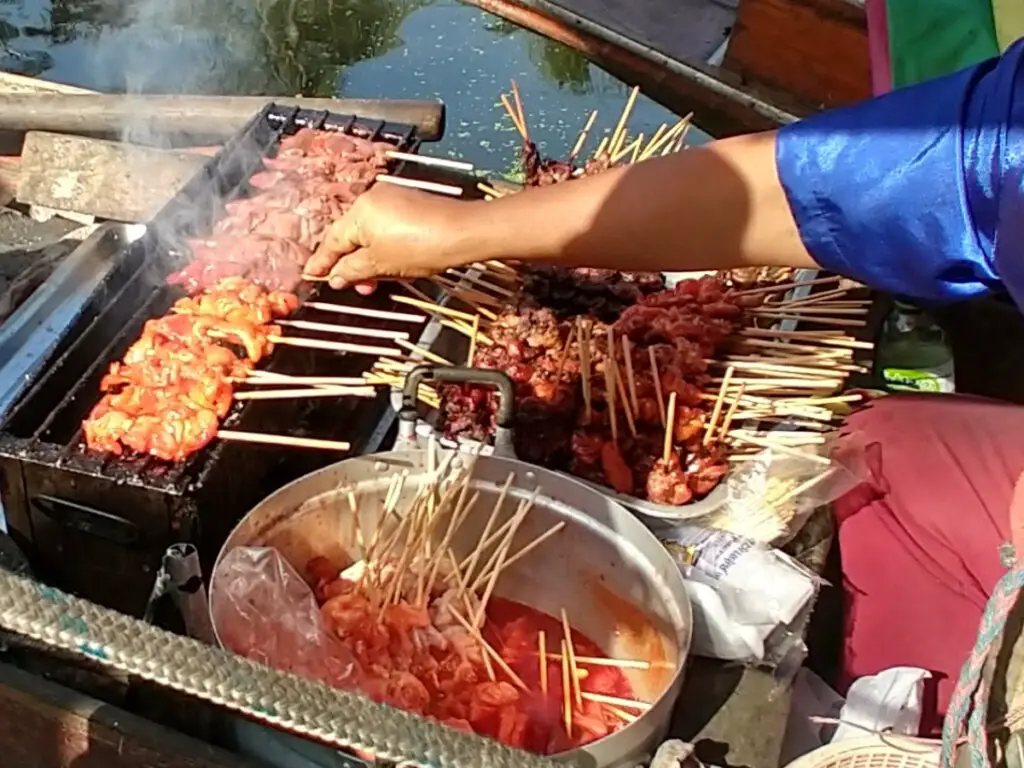 If you use Pinterest we have a board dedicated to Thai food, street food, eating in Thailand and Thai recipes. Take a look here (link opens in a new tab for you). We'd really appreciate it if you would save our pin below. You'll find more on the board.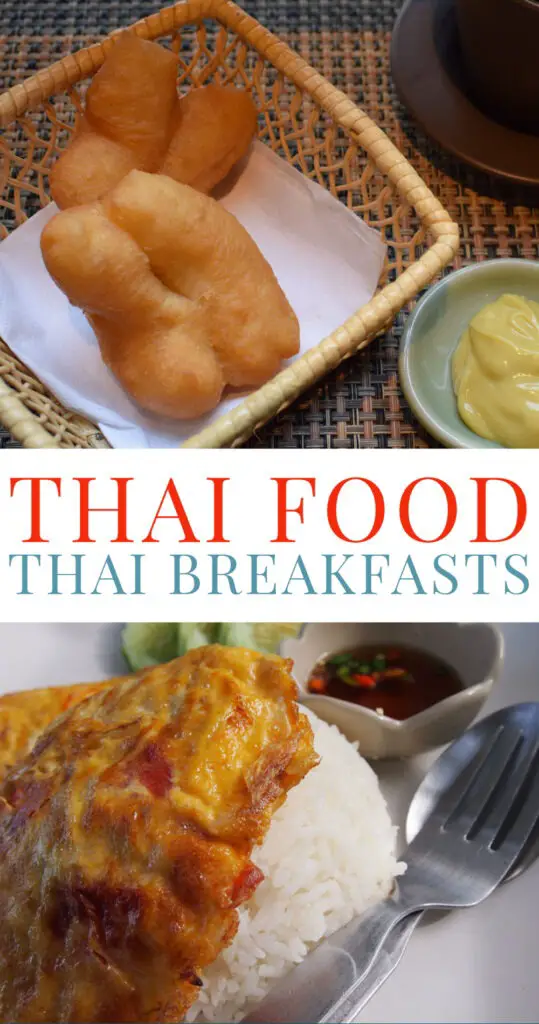 Traditional Thai breakfast dishes are diverse and offer a combination of flavors and textures. Here are some popular options:
Jok (Rice Porridge, congee): Jok is a rice porridge often made with minced pork or chicken, ginger, garlic, and various seasonings. It is a comforting and nourishing dish commonly enjoyed in the morning. Interestingly, you may see congee on breakfast menus in typical fast food outlets in Thailand, suck as McDonalds.
Khao Tom (Rice Soup): Khao tom is similar to jok, but thinner and less porridge-like. Khao tom also comes with interesting toppings like peanuts, chillies and eggs. Like jok, khao tom is a rice-based soup that can be made with various ingredients such as minced pork, chicken, or seafood. It is often flavored with garlic, ginger, lemongrass, galangal and cilantro (coriander).
Khao Neow Moo Ping (Grilled Pork with Sticky Rice): This dish consists of marinated grilled pork skewers served with sticky rice. It's a flavorful and filling option commonly found at street food stalls and at markets. Pork skewers (moo ping) are flavoured with a marinade of soy sauce, garlic, palm sugar, oyster sauce and pepper. The cornflower and sugar make the marinade turn into a sticky coating.
Pa Tong Go (Thai Doughnuts): Pa Tong Go are deep-fried dough sticks made from a simple dough mixture of flour, sugar, plus the secret ingredient, baking ammonia. Baking ammonia gives a crisper donut than bicarbonate of soda and is tasteless. These simple don'ts are of Chinese origin and can be found in Chinatowns in Thailand. They are usually served with kaya jam or sweetened condensed milk. They are typically enjoyed with a cup of sweetened soy milk or served alongside jok or rice soup.
Khao Mun Gai (Chicken Rice): Khao Mun Gai is a popular Thai version of the Hainanese chicken rice which is so common all over Southeast Asia. It features poached chicken served with aromatic rice cooked in a chicken stock. This dish is quite bland, not spicy at all. Chicken rice is usually accompanied by a tangy sauce and a clear soup.
Khanom Bueang (Thai Crepes): Khanom Bueang are crispy and thin crepes filled with a sweet or savory mixture. The sweet version is often filled with coconut cream and shredded coconut, while the savory version may include ingredients like shrimp and vegetables.
Khao Kha Moo (Braised Pork Leg with Rice): Khao Kha Moo is a hearty dish of braised pork leg served with rice, pickled mustard greens, and a flavorful sauce. It's a popular breakfast option in Thailand, especially in Bangkok.
Khao Chao (Thai-Style Breakfast Sets): In many local eateries or coffee shops, you'll find Khao Chao breakfast sets. These sets typically include a combination of dishes such as fried eggs, stir-fried minced pork or chicken, Chinese sausage, and sliced cucumbers, all served over rice.
These are just a few examples of traditional Thai breakfast dishes. Thailand's culinary scene is rich and diverse, so you'll find many more delicious options depending on the region and local customs.
If you'd like to hire a car during your stay, use this car rental comparison tool to find the best deal!

Please check out our Pinterest account for loads of food and recipes from around the world!