This post may contain affiliate links.
What is khao soi? Khao soi is a delicious curry noodle soup from Thailand. This Thai dish is a regional speciality of northern Thailand and khao soi (or kow soy, or kao soi) is normally associated with Chiang Mai.  In fact, you'll find it in most parts of the north of Thailand and it sometimes appears on menus in the south of Thailand, too. You'll find it in Thai food restaurants and street stalls across the city of Chiang Mai, usually containing chicken. This post is about khao soi in the north of Thailand, variations on khao soi and the adapted, easier khao soi recipe we make at home. As always on this site we test different recipes to find one we enjoy, that isn't too fussy to make, and that tastes like the authentic curry soup we enjoyed while travelling. I'm a chef, I love playing with recipes and ingredients from our travels to share with you.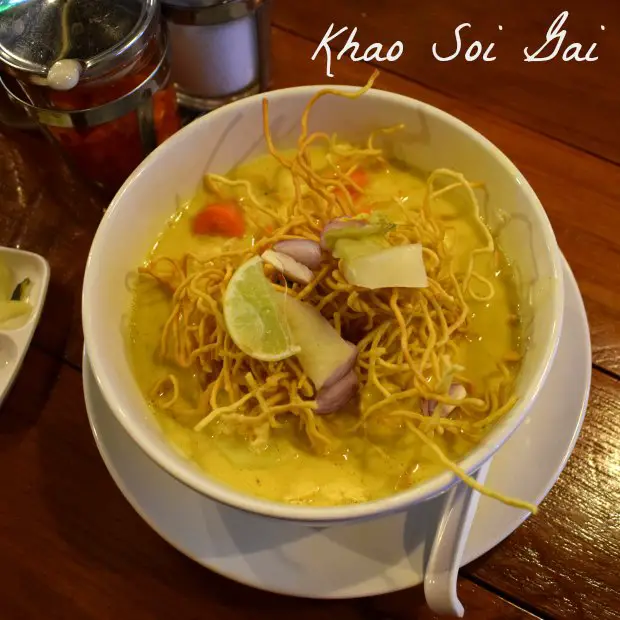 Khao Soi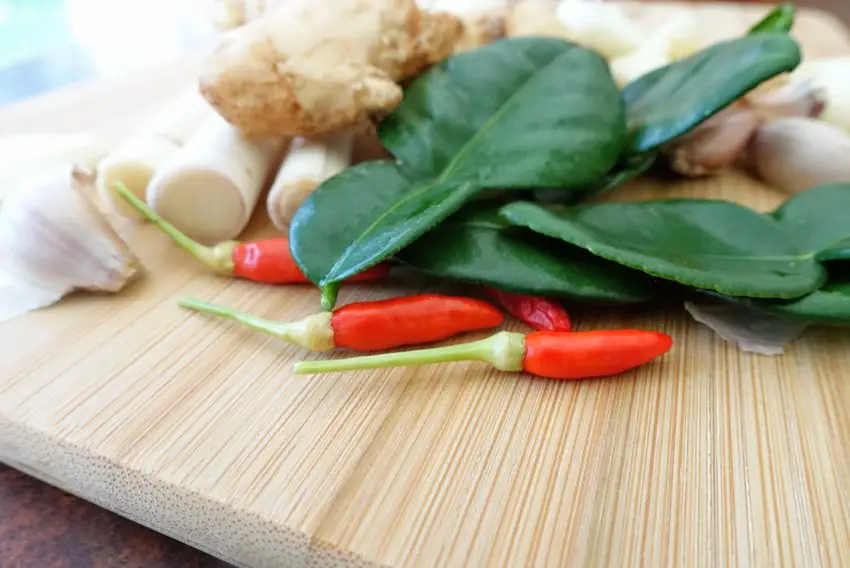 Khao Soi History
Khao Soi originated in northern Thailand via the Yunnanese people of southern China. They migrated down through Burma and Laos and it is thought the name is a mispronouncing of the Burmese word for noodle. The meaning is 'cut rice' and blends Muslim cuisine with Thai cuisine.
Pork is uncommon (khao soi moo) because this dish is of Muslim origin. Interestingly, what Khao Soi most reminded me of was the laksas of Malaysia, for it is based around coconut milk and curry powder, this makes it an unusual traditional Thai Food.
What Does Khao Soi Taste Like?
Springy soft rice noodles hide beneath the full-flavoured soup, the deep fried crispy noodles on top adding an extra layer of textural interest.
The soup is mild, coconut flavoured and not particularly spicy. You can taste the lemongrass and turmeric in particular.
The khao soi comes topped with the crispy noodles and is traditionally accompanied by pickled cabbage or greens, which diners add to taste.
A squeeze of lime juice and a chunk of raw onion (shallot) complete the northern Thai dish.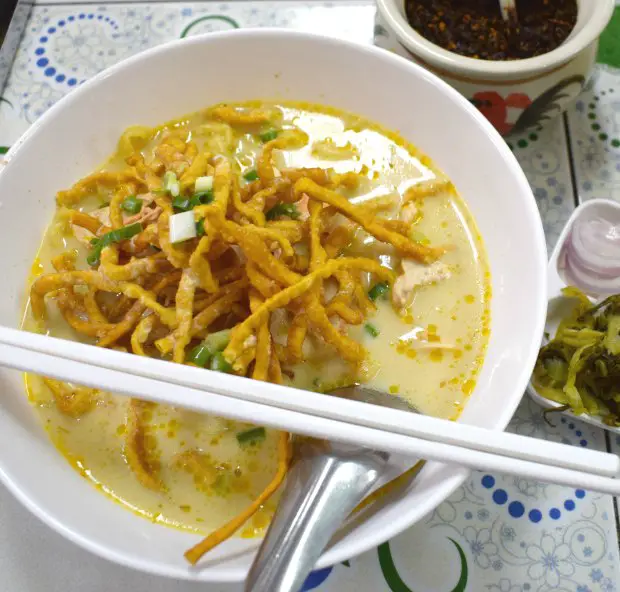 We'll continue our investigations into Chiang Mai's signature dish, and hopefully, be able to tell you where to find the best in town!
We'll make our own version and show you how you can make this wonderful dish at home. Still in Thailand? Check out my guide to where to eat in Thailand.
We have a full guide to Thai food here if you want to know more.
Khao Soi Curry Paste Recipe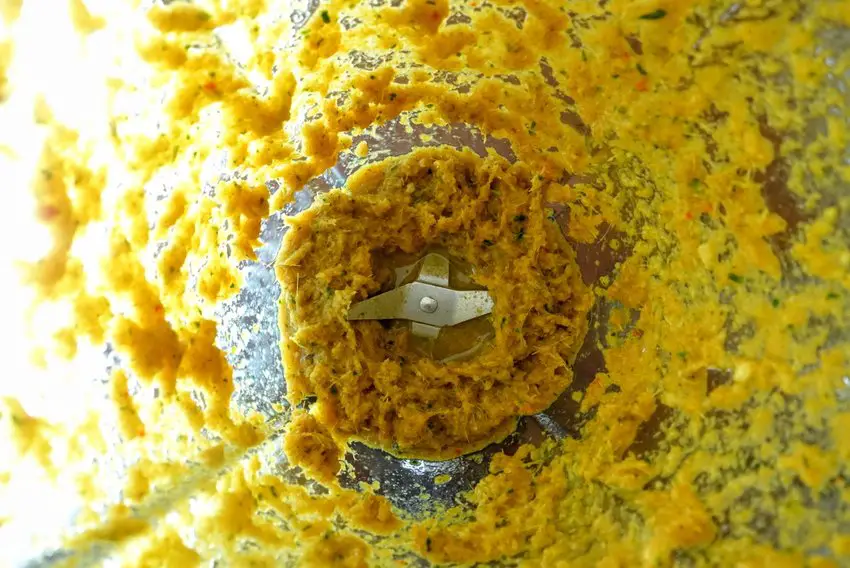 Khao soi is best if you make your own fresh curry paste at home. For those of us who grow lemongrass, kaffir lime and turmeric in our gardens, this is easy!
We don't normally pound our Thai curry pastes (which is obviously the traditional way), we throw everything in the blender. Not authentic, but quicker and easier.
Our paste contains ginger, lemongrass, turmeric, garlic, cardamom, coriander and kaffir lime. You'll find the full ingredients in the recipe card below.
As always, you can substitute fresh for dry and so on, but in my experience always go for fresh lemongrass and fresh kaffir lime leaves.
I have a rule with Thai food, if you have to substitute more than 2 ingredients, make pasta instead.
Chicken or Vegetarian Khao Soi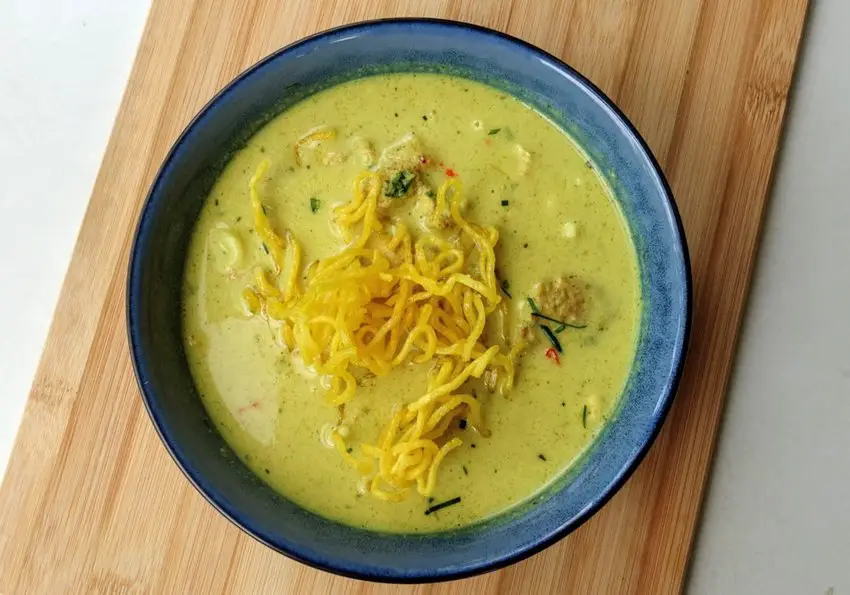 We prefer to eat vegetarian or vegan at home. We have made this dish using chicken breast to research the recipe, but usually, we use tofu. You can also use other meats.
Treat the pieces of tofu in the same way as the chicken and use similar quantities.
To make a fully authentic khao soi gai, use chicken legs, we don't like leg or thigh so we use breast, thinly sliced.
The recipe we use for khao soi at home is an adaptation of various khao soi recipes I've found, changed slightly to produce the khao soi flavours we enjoyed most in Thailand.
Khao Soi Recipe, Ingredients
To make Khao soi you'll need fresh Thai ingredients that you may find difficult to obtain. In particular you'll need fresh lemon grass. If you can buy a khao soi curry paste, you can skip making your own curry paste, but khao soi curry paste is very hard to find.
Ingredients you will need include soy sauce, fish sauce, 2 types of noodle, coconut milk, lime leaf and chicken breast or thight (or tofu, pork, even fish.)
Khao Soi Recipe (Printable)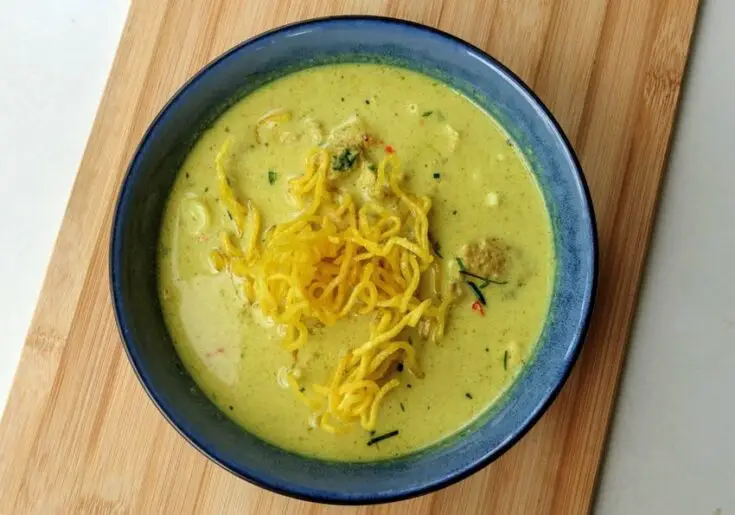 Khao Soi is a dish originating from Chiang Mai in Northern Thailand. It is believed to have been influenced from either China or Mynamar and combines Muslim and Thai flavours. It is a coconut curry noodle soup, topped with crispy noodles and most often containing chicken.
Additional Time
20 minutes
Total Time
1 hour
10 minutes
Ingredients
500grams of chicken breast
2 can of coconut milk ( 800ml)
600ml light chicken stock or water.
500 grams of Chinese egg noodles
1 tablespoon of palm sugar
fish sauce to taste ( 1- 2 tsp)
salt to taste
Vegetable oil for cooking
lime wedge to serve
a small wedge of shallot or red onion to serve
1 teaspoon of curry powder
1/2 bunch coriander leaf
1/2 bunch coriander root
For The Khao Soi Paste
4 large red chilies seeds removed
2 medium shallots (can use small onions if shallots aren't available)
8 cloves of garlic
60 grams of fresh ginger ( about 2 inches)
30 grams fresh turmeric (1 teaspoon of powder if fresh isn't available)
6 sticks of lemongrass, woody parts removed.
1 teaspoon ground coriander powder
1 teaspoon ground cardamom powder
4 fresh kaffir lime leaves, (central vein removed)
Instructions
Cut chicken breast into thin strips and rub with curry powder.
In a dry pan toast the dry spices for the curry paste. ( cardamom and coriander seed ground)
In a blender combine lemongrass, kaffir lime leaves ( central vein removed), garlic, shallot, chillies, corriander roots, turmeric, ginger and the toasted spices.
Keep blending until you have a smooth consistency. If using an electric blender add some water to help with breaking down the lemongrass. Don't worry about adding too much as it will be cooked out when making the dish.
Take a small quantity of the egg noodles (10%) and place in boiling water for a few minutes until soft. Drain and dry off.
In a heavy-based pot heat some oil and fry the dried noodles until crispy. Place on a paper towel to drain off excess oil. Set aside.
In hot oil quickly flash fry the chicken strips and remove and keep for later.
In the same pan add the curry paste and cookout for 5 minutes until all liquid evaporates and it just starts to slightly colour.
Add coconut milk and stock to the pan and bring to boil.
Add the part cooked chicken strips. Finely cut chicken strips will take a minute or two to cook through. depending on how finely you chopped them.
While the soup is cooking, take the remaining egg noodles, place in a heatproof container and cover with boiling water for 5 minutes. Drain and stand until ready to serve the soup.
When chicken is cooked and soup is the correct consistency add fish sauce and palm sugar to taste. It is very important to keep tasting and adjusting. Add the chopped coriander leaf and remove from the heat.
Place hot noodles in the bottom of each bowl, pour over the soup.
Garnish with crispy noodles, Serve raw shallot and a wedge of lime alongside.
Notes
While it is most commonly made with chicken leg or thigh I prefer chicken breast. It is entirely up to you which you'd like. Obviously the leg and thigh take longer to cook and will have a higher fat content.
Be careful not to add too much fish sauce ( we use vegan fish sauce) you can always add more to taste at the table.
Use coconut oil or peanut oil for frying if you have them.
Eat with a spoon and chopsticks to feel like you're back in Chiang Mai.
Nutrition Information:
Yield:
4
Serving Size:
1
Amount Per Serving:
Calories:

1675
Total Fat:

92g
Saturated Fat:

52g
Trans Fat:

0g
Unsaturated Fat:

26g
Cholesterol:

251mg
Sodium:

2990mg
Carbohydrates:

128g
Fiber:

11g
Sugar:

17g
Protein:

96g
The information shown is an estimate provided by an online nutrition calculator. It should be considered as a guide only.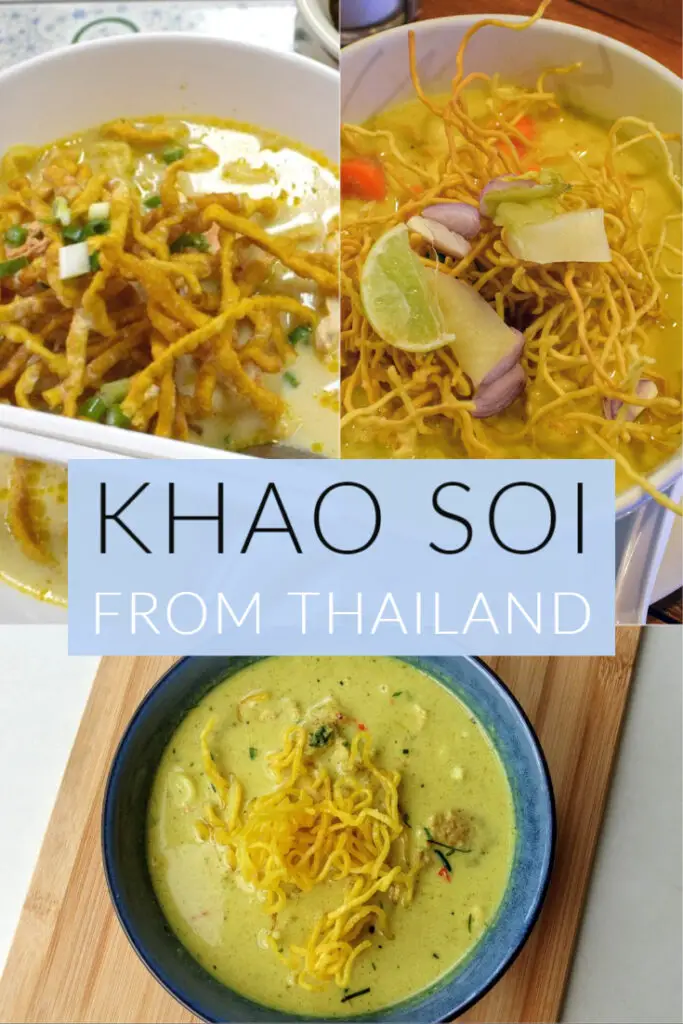 What Does Khao Soi Taste Like?
A khao soi curry noodle soup tastes of coconut, is slightly sweet, with a distinct curry flavour, more like an Indian curry spice mix than the usual Thai curry flavours. It doesn't taste like green curry or red curry. The dish contains a lot of lemongrass, along with turmeric, those two flavours really stand out. Khao soi is not usually a very "hot" dish, it is, of course, "spicy" as it contains spices, but not so much chilli.
If you'd like to hire a car during your stay, use this car rental comparison tool to find the best deal!

Please check out our Pinterest account for loads of food and recipes from around the world!