This post may contain affiliate links.
A Romanian breakfast is fairly typical of European breakfasts or Continental breakfasts, with a few special Romanian foods included. This post is about typical or traditional Romanian breakfast foods to give you ideas for your Romanian breakfast menu and we also give you a few Romanian breakfast recipes.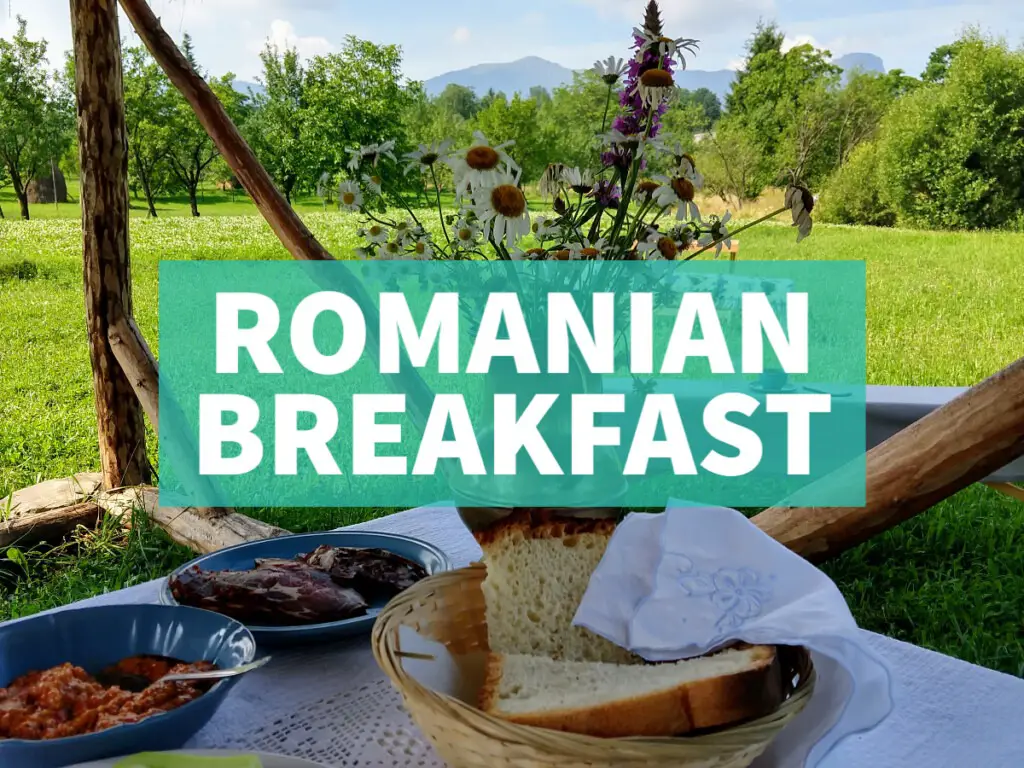 We have a full post on traditional breakfasts from around the world and another on Romanian food in general. This post just covers Romanian breakfast ideas, as served in hotels and restaurants in Romania, featuring typical Romanian produce.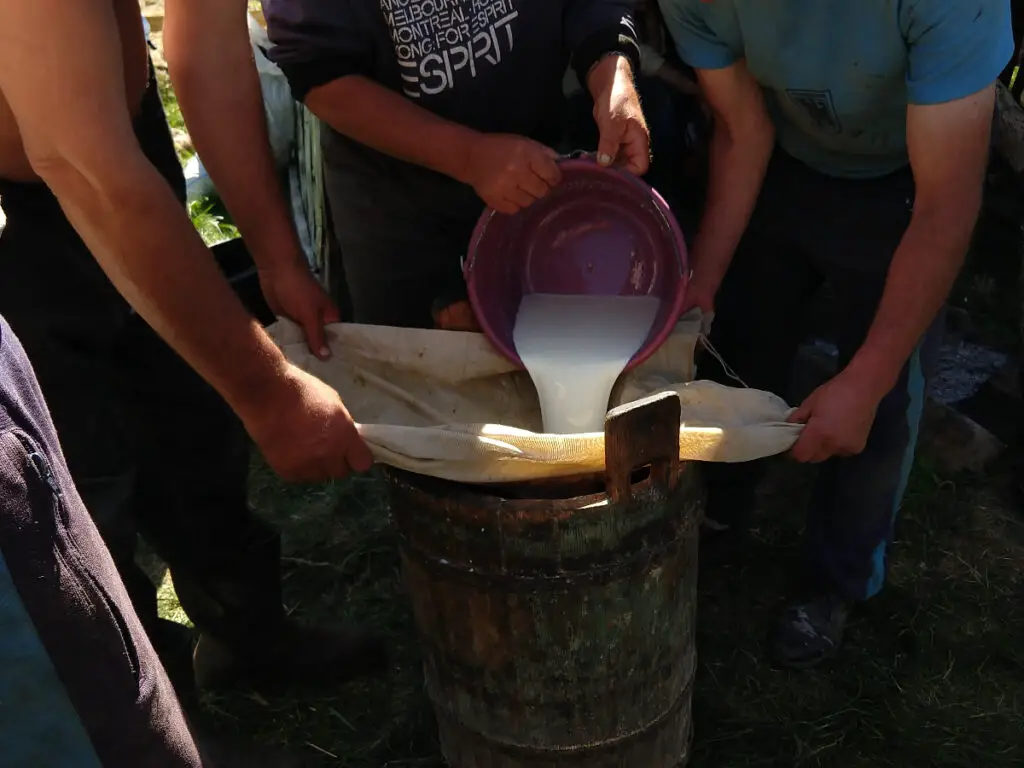 Of course, in Romania you will see all of the commercial breakfast cereals, juices, yogurts and baked goods that you would expect the world over. But what goes into a good Romanian Breakfast? We spent 3 years living and travelling in Romania, cooking in the villages with local women and sampling restaurant food whenever we could. These are the breakfasts to expect in Romania.
I'd sat that generally savoury breakfasts were more common in Romania than a sweet breakfast (such as an American breakfast with pancakes or waffles). Meats, cheeses, eggs, and salads were the norm.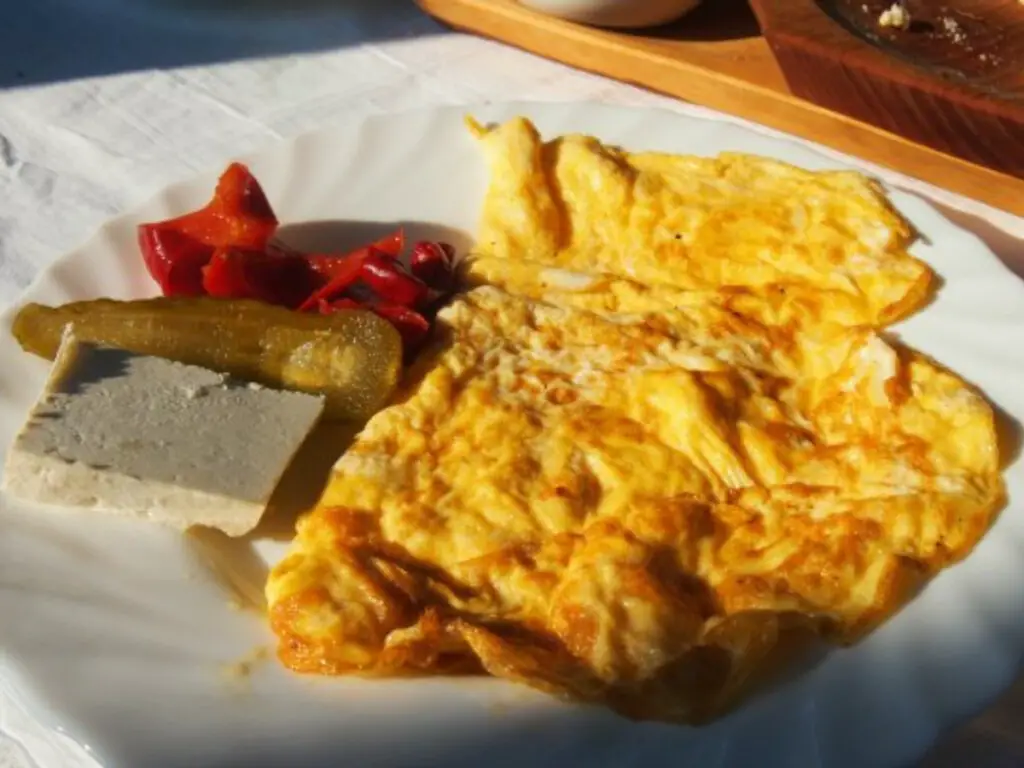 Not too dissimilar from Turkey, Romania gave us cheeses, tomatoes, home-made bread, milk and butter straight from the cow and honey or jams from the fruits in the orchard.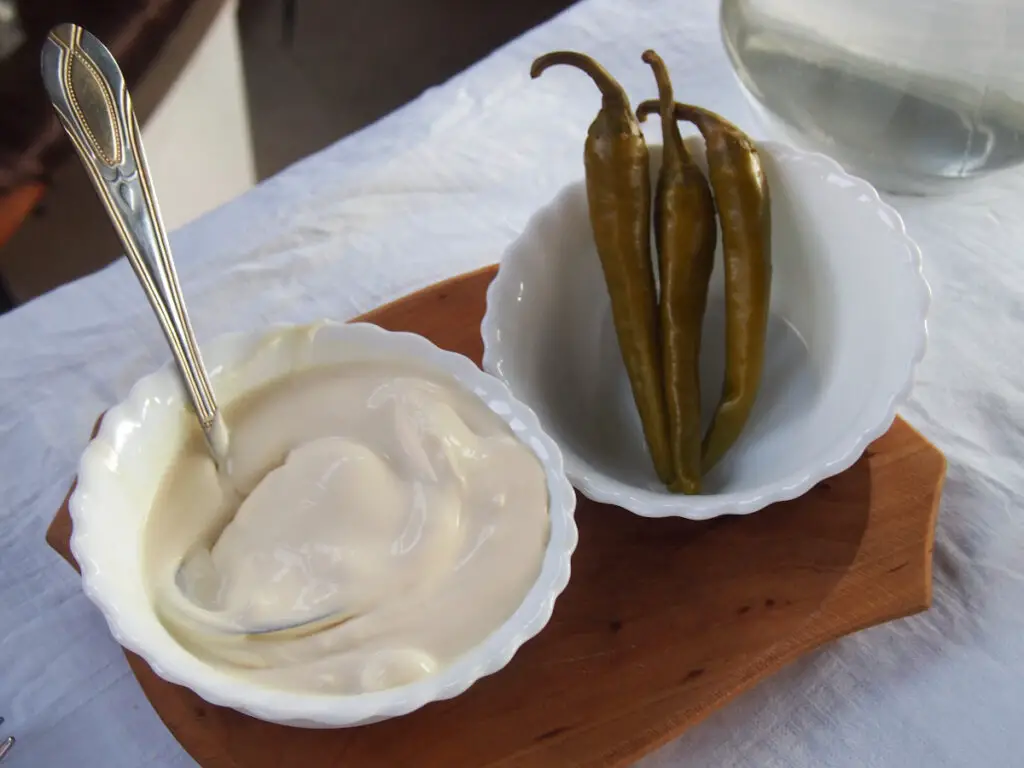 Romanian Breakfast foods, for Pinterest. Visit our Pinterest board for more food and travel using the link at the end of this post.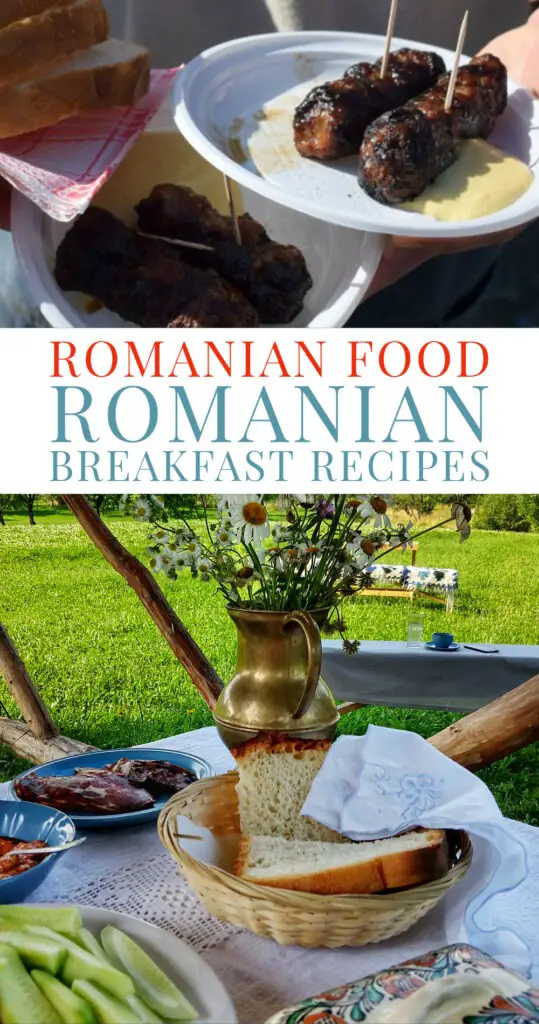 There were a few processed meats and some interesting dishes such as fried hard sheep's cheese. We had our best breakfasts in Romania when we were staying with families in home-stay type accommodations with well-practiced home cooks, passionate about good food.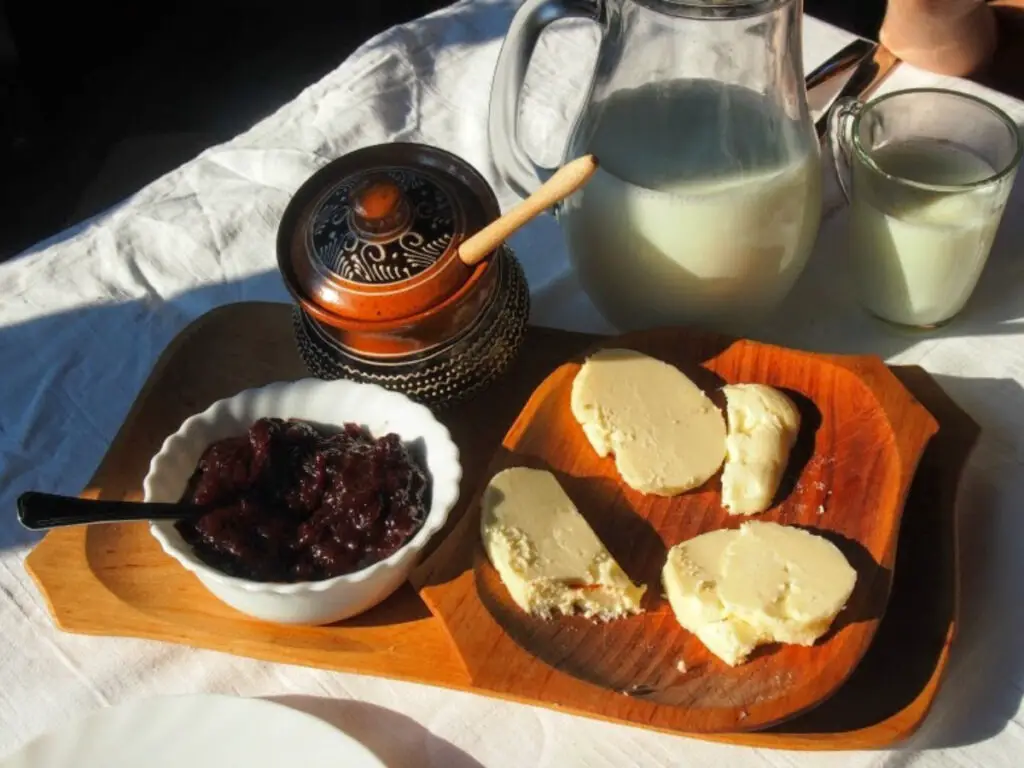 Traditional Romanian Breakfast Dishes
Here is a list of a few more traditional Romanian breakfast dishes, beyond a continental-style cold breakfast or egg-based breakfast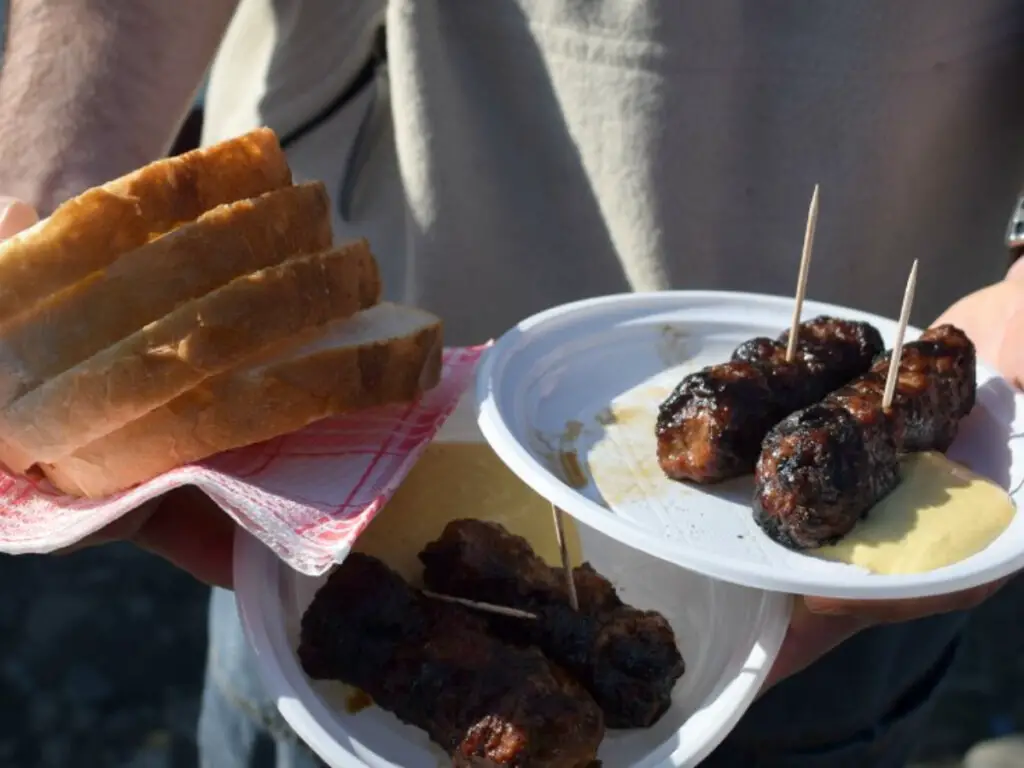 Mici (or Mititei, "little boys") are a Romanian skinless sausage made with mixed meats, caraway seeds (semințe de chimen), if you'd like to make your own Romanian sausages, here is a recipe.
Mămăligă cu brânză și smântână: Mămăligă is a traditional Romanian cornmeal dish similar to polenta. It can served for breakfast with brânză (cheese) and smântână (sour cream).
Clătite: Clătite are thin Romanian pancakes similar to crepes. They can be served with various fillings such as home made strawberry jam, fresh fruits, or cheese, or less traditional chocolate spread.
Ouă ochiuri: Also known as "eggs in a frame" or "eggs in a hole,"even "hobo eggs" this dish is made by frying eggs in the middle of a slice of bread. It's a simple and delicious breakfast option.
Plăcinte cu brânză: Plăcinte are pastries filled with savoury or sweet cheese or other ingredients such as spinach, mushrooms, or meat. They are often enjoyed for breakfast or as a snack throughout the day. Placinte are a common Romanian street food. Dill (mărar) is often used with the branza in placinta.
Covrigi: Covrigi are traditional Romanian pretzels that are typically soft and chewy. They can be plain or sprinkled with sesame seeds or coarse salt and are often eaten with a cup of tea or coffee in the morning.
Pâine cu ouă: This dish translates as "bread and eggs". It involves hollowing out a roll or a loaf of bread and filling it with scrambled or fried eggs. It's a filling and portable breakfast option.
Parjoale: Parjoale are Romanian meatballs made from a mixture of ground meat (usually pork or beef), onions, garlic, and herbs. While they are often served as a main course, they can also be enjoyed as part of a substantial breakfast.
Zacuscă: Zacuscă is a vegetable spread made from roasted eggplant, bell peppers, tomatoes, and onions. It can be spread on bread or toast for a flavorful and breakfast. Zacuscă de Vinete is aubergine (eggplant) zacusca. You can see zacusca on the breakfast table in our Pinterest image. It's the red spread in the bowl. Zacusca picanta includes hot chili pepers. Romanian zacusca is similar to Ajvar, Balkan roasted pepper spread.
Romania's national dish, sarmale, is not normally served at breakfast, it is often eaten as a celebration meal at Christmas and it's absolutely delicious!
These are just a few examples of traditional Romanian breakfast dishes. The actual choices can vary depending on personal preferences and regional variations within Romania
We liked Romania so much we kind of never left, but that's another story! Romanian breakfast can involve eggs, cured meats, bread, jam, butter, pastries, cheeses, and usually some fresh vegetables, often cucumber and tomato.You could also have a cooked dish as in our list above, but most commonly in hotels and guest houses in Romania you will be served a cold Continental breakfast. We experienced many variations on Romanian breakfast during our 3 years in Romania. Also we sometimes grabbed mici (skinless sausages) or placinta, sweet or savoury, for breakfast
If you'd like to hire a car during your stay, use this car rental comparison tool to find the best deal!

Please check out our Pinterest account for loads of food and recipes from around the world!