This post may contain affiliate links.
Of everything we ate in Sri Lanka, it was the Sri Lankan breakfast food that we looked forward to most. It was refreshing to have something so totally different to what we would eat in the west, cooked with care and considerable effort and featuring all the flavours of this magical country. Hoppers, roti, curries, and fresh sambols graced our breakfast table, often with refreshing buffalo curd and a plate of sun-ripe mango or papaya. Of course, there was always fine Sri Lankan tea to accompany our meal.
Below is a table set with a fairly typical array of Sri Lankan breakfast food. We would watch as men and women grated coconuts fresh from garden trees for the fiery raw coconut sambol that accompanied the other breakfast food so well.
In Sri Lanka they have a special tool come seat for doing just this, so great is their coconut consumption. It's really not the sort of thing you could prepare with anything less than absolutely fresh coconut.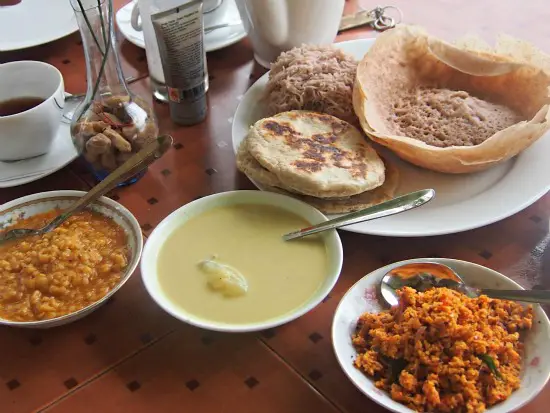 The whole family really enjoyed these traditional Sri Lankan breakfasts. On the large plate we have string hoppers (recipe here), regular plain hoppers, and coconut (pol) roti.
Sri Lankan Breakfast Food
Sri Lankan breakfast food includes curries, which can be fish, meat, egg, or vegetarian, plus fresh spicy chutney and carbohydrate dishes such as hoppers, roti, and rice. Hoppers and roti come in many different forms. Milk rice is a possibility, along with fruit and curd.
Moving clockwise in the photo above, you can see fresh coconut sambol. We would watch as the coconuts were grated every morning, using a simple machine, before spices, lime and chilies joined the pot. ( recipe for pol sambol here)
Next is a mild, coconut and potato curry and a simple dahl.
Egg and coconut curries were also served and meat eaters could enjoy fish or meat curries at breakfast. Something we saw often when dining alongside locals in up-market Kandy.
Where to Find Good Sri Lankan Breakfast Food?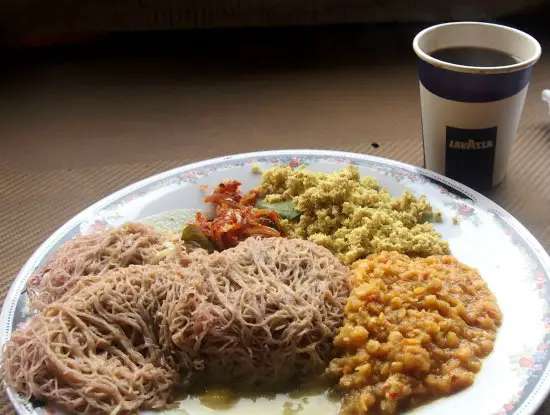 If you're staying in a luxurious hotel, you may well find traditional Sri Lankan breakfast food on the morning buffet.  The image below is from our time at the glorious Eden Resort and Spa on the East coast. Don't be afraid to try.
Smaller hotels and guest houses may cook you a meal like this to order. They normally like you to place that order the night before, as obviously, a production like this takes time and planning.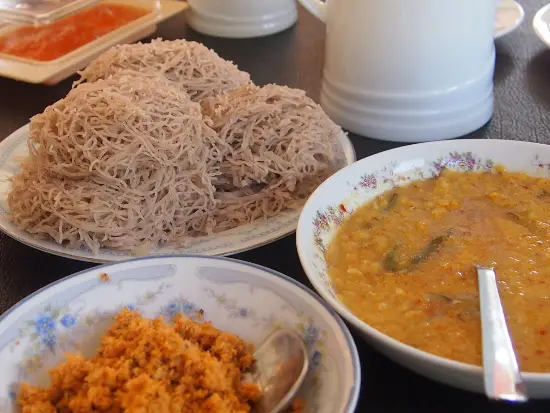 Also look out for small cafes, food stalls and "hotels", the Sri Lankan word for food joint. They may well have an assortment of typical Sri Lankan breakfast foods ready for you to order.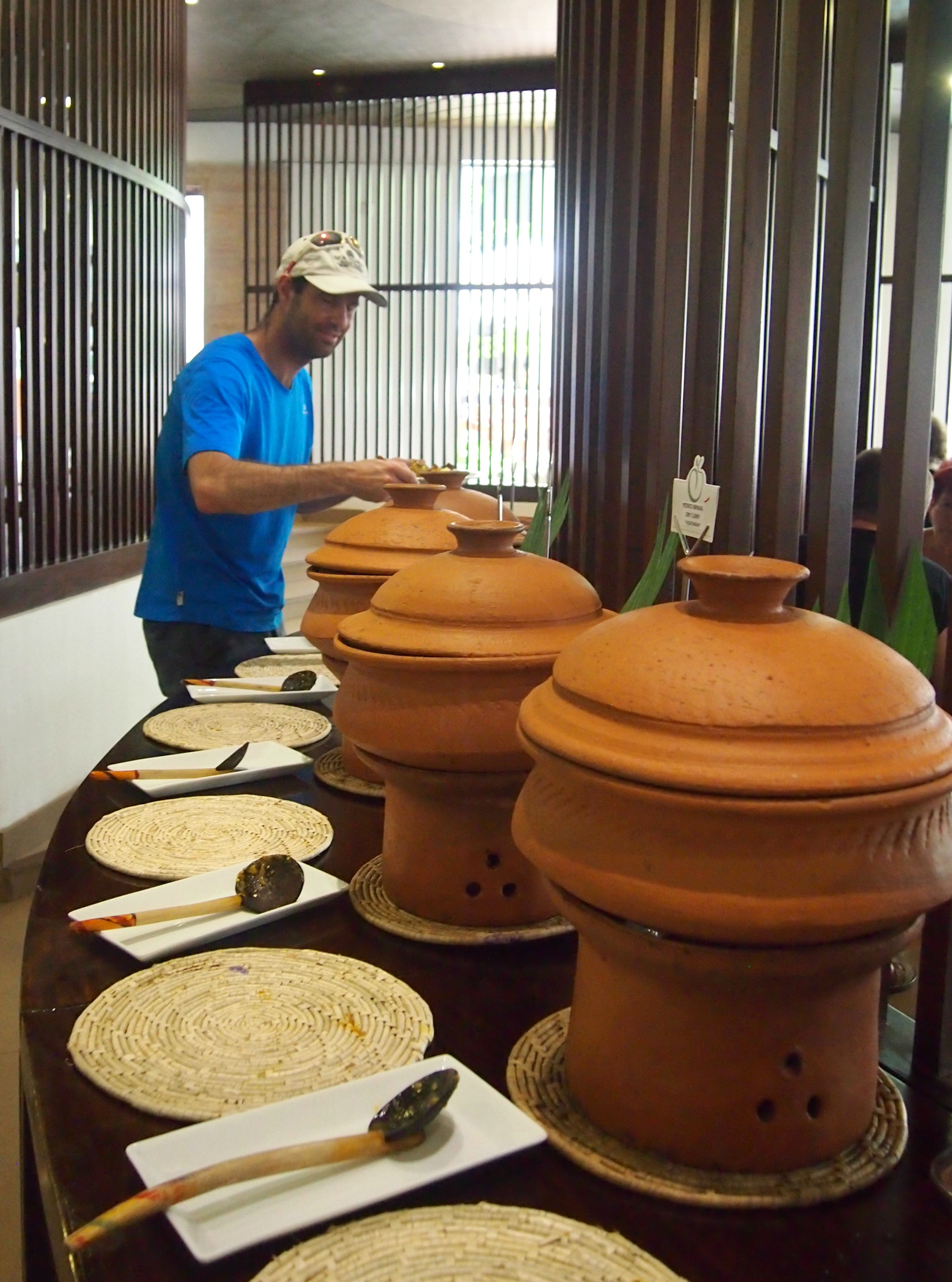 Egg hoppers are not really considered a breakfast food by Sri Lankans, but you will find some private villas and big hotels cooking them to order for tourists. They're certainly a great way to start the day.
You can find little street stalls selling hoppers, plain or with a variety of fillings all over Sri Lanka. These egg hoppers were cooked and served to us by our private chef at the stunning Max Wadiya villa, again on the east coast.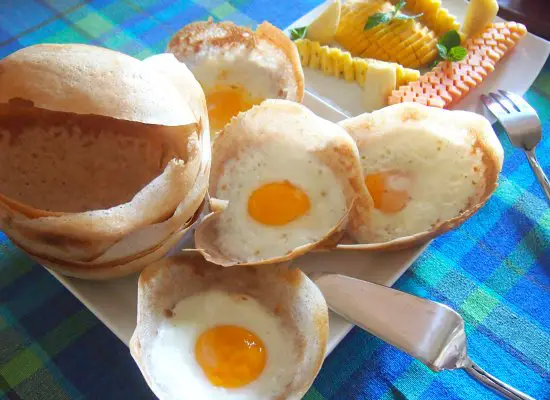 One of the highlights of our travels in Sri Lanka, breakfast, always with pots of locally produced tea. Don't miss your chance to visit the tea plantations high in the hills during your time in Sri Lanka. We checked out a few in lovely Ella. Take a look at  Climbing Little Adams Peak with Children for stunning views and acres of tea.
Recipes for Sri Lankan breakfast dishes and further information on Sri Lankan food, can be found by clicking through the links above.
If you'd like to make idiyappam at home, you'll need a idiyappam maker plus steamer, some idiyappam flour (buy online) and an idiyappam recipe. You can click through for those 3 things.
If you'd like to hire a car during your stay, use this car rental comparison tool to find the best deal!

Please check out our Pinterest account for loads of food and recipes from around the world!