This post may contain affiliate links.
Finding the best family accommodation in Flores, Guatemala doesn't have to be hard. Here I've taken out the guess-work and reviewed 4 great family friendly hotels across several budgets. Gateway to the world-famous Tikal world heritage site, Flores is only 45 km from Tikal but feels a world away. Connected to the mainland by a narrow causeway across lake Peten Itza it is also a gateway to entering Belize in the North East.
Flores is where your family will most likely stay while visiting Tikal. If you need to know how to get from Flores to Tikal, we have a post on that, it's really easy.
The popular Los Amigos hostel in Flores is a great place to eat or drink on the island, it's a really fun place and we enjoyed dining there with the kids. They do have rooms suitable for families, but they come in slightly more expensive than the hotels below. It's worth you taking a look if you enjoy a hostel vibe. See it on Booking dot com here. We absolutely think this is a great place to stay for younger travellers!
Please check and double-check all the information we give you locally as times, places, dates, and services do, as we found, change often. Restrictions and closures may apply.
Best Family Accommodation in Flores
The island of Flores has a varied range of accommodation, ranging from top end hotels all the way down to the cheap hostels and family guest houses so commonly found across Central America. Regardless of your budget you'll find something to suit both your budget and standards.
---
Hotel Casona de La Isla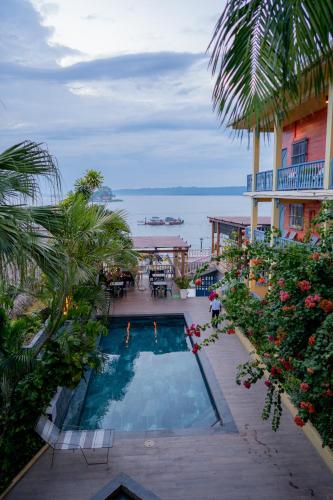 This hotel offers great value and advertises family rooms. With a variety of rooms to choose from this is great for families with younger children, as children under 12 stay free. Some of the on-site facilities include an outdoor pool, Jacuzzi, WiFi , bar and restaurant. Breakfast is available and is excellent. If staying with older teenage children you may need two rooms, expect to pay around $150 for family apartments. Rooms start at $50 per night.
Booking dot com seem to have the best deals and availability on this hotel.
Check Prices and Availability for Hotel Casona De La Isla on Agoda here or Booking.com here
---
Hotel Isla de Flores

– Ramada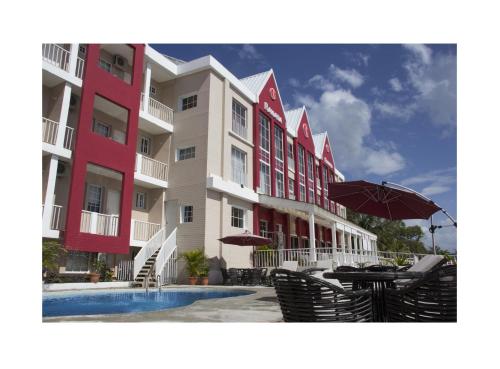 Well located on the beautiful isle of Flores, this Ramada (Wyndham) this hotel offers a terrace pool, WiFi in all areas, water activities, bicycles and air conditioning. During the hotter months this is definitely worth paying for.
Rooms are available with 2 double beds which would suit a family of 4. Flat screen TVs and private bathrooms, plus some rooms have those incredible lake views
The bathroom includes complimentary toiletries. A bar and restaurant is on site . Cost per night should be just under $100 US, if you can find child stays free deals the price may be $60-$70. We last saw this deal on Agoda.
Check Prices and Availability for Hotel Isla de Flores on Agoda here or Booking.com here
---
Hotel Mirador del Lago
This budget hotel was where we stayed on our last trip to Flores, unfortunately, this one may have ceased trading as we can no longer find booking links on any of the usual platforms.
This bargain hostel offers 4 bed mixed dorms. For a family of 4 this would be perfect and at only $7 per person cater to even the strictest of budgets. Twin rooms are also available at $20 per room making taking 2 rooms still cheap and come with private bathrooms. Shared bathrooms as you'd expect for the dorms. The hostel has its own bar and restaurant and some rooms have lake view. Wifi is available in all areas. We stayed here on our trip to Flores and enjoyed the several days we spent here.
Check Prices and Availability for Hotel Mirador de Lago on Agoda here or Booking.com here
---
Hotel

Casazul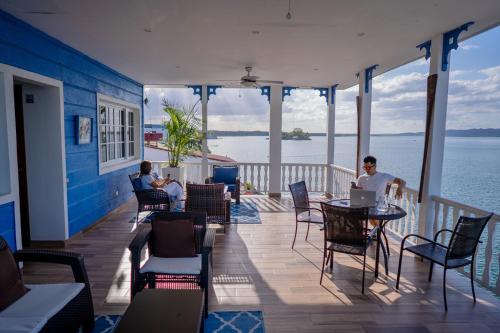 Hotel Casazul has rooms for families and that beautiful terrace overlooking the lake and beach. Wifi is available along with private bathrooms, mini bars, and TVs. There are triple rooms as well as rooms with 2 double beds.
This is a very pretty spot, and Booking dot com had deals at around $60 last time we checked. See it on Agoda here and on Booking dot com here.
---
Check Prices and Availability for Hotel Santa Barbara Tikal on Agoda here or Booking.com here
Its worth noting that none of the hotels include either the 12% Vat or 10% city tax.  This is common place when booking in Flores and I've found no hotels that allow you to pay all of it together.
Click Here for Agoda search engine. Click here for
If you'd like to hire a car during your stay, use this car rental comparison tool to find the best deal!

Please check out our Pinterest account for loads of food and recipes from around the world!