This post may contain affiliate links.
As a Chef I have to try as many dishes as I can from every country I visit, or at least that's my excuse to eating everything in sight. Cambodian food isn't as famous as the local cuisine of its nearby neighbours, but don't discount traditional Cambodian food, this little country with a war-torn past has a lot to offer. Whilst in Cambodia we tried all the Cambodian dishes we could find from lok lak to fish amok. We sampled Cambodian street food and took Khmer cookery courses in between touring the food markets of every town we visited. It was a fascinating culinary adventure. So here for you, our ultimate guide to Cambodian and Khmer food, for absolute beginners.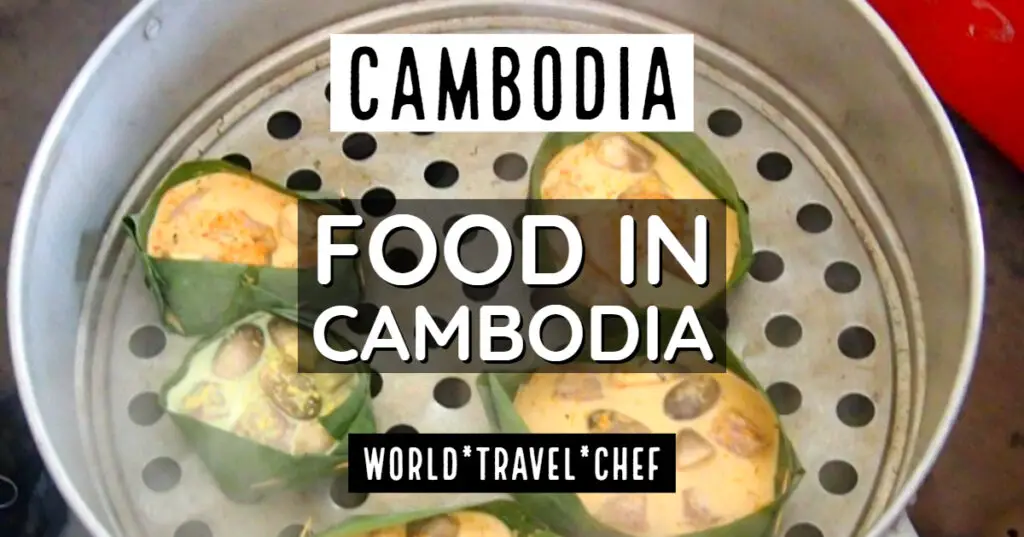 Cambodian Food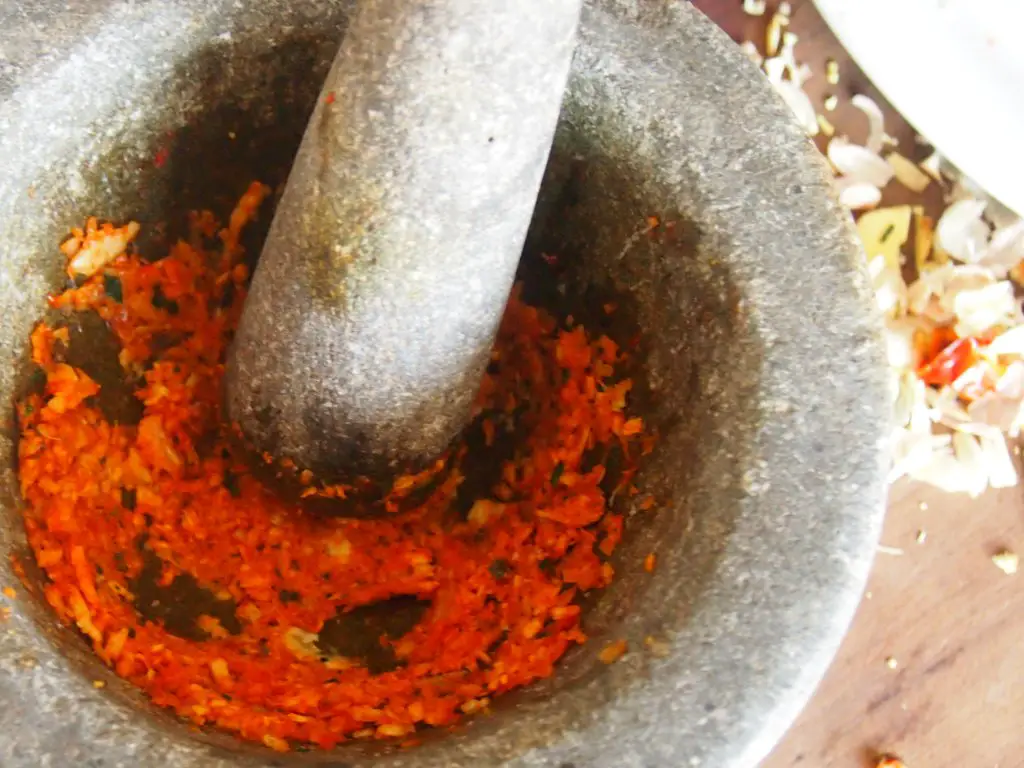 Cambodian cuisine has its own distinct style, some of the most famous dishes in Cambodia are listed below and we'll be talking about them in this blog post. The Khmer people stretched across South East Asia and into Vietnam, but it's only in Cambodia that we've tasted Khmer food, maybe, from times gone by. Cambodian food can be quite different from the food of neighbouring Thailand and Vietnam and unlike Laos, is clearly its own entity.
Bai Sach Chrouk ( BBQ Pork and Rice)
Lok Lak
Fish Amok
Nom Banh Chok ( Khmer Noodles)
Khmer Red Curry
Cambodian BBQ Pork and Rice) Bai Sach Chrouk
A traditional breakfast dish, it's so popular that finding it after 9 am is quite the challenge. The pork is either lightly grilled or in some cases marinated in lemon to 'cook' it ceviche style. Served on rice and with condiments of pickled cucumber, daikon and heaps of ginger. When I've eaten all the parts together it has a taste hard to match. Cambodian chefs all have their own way and a recipe for making this dish so you won't find two the same anywhere.
Cambodian Stir Fry Dish, Lok Lak
Lok lak is a stir-fry dish, made from marinated beef and served with cucumber, tomato, and rice. The beef is marinated in lime, pepper, fish sauce, soy sauce, and occasionally oyster sauce. More traditional serving is with the strips of seared beef wrapped in the lettuce and drizzled with lime and pepper. Lok lak is a dish you can replicate wherever you are in the world as all the ingredients are easily acquired in any country. Sometimes chicken or fish is substituted for beef.
Cambodia's Most Famous Dish, Fish Amok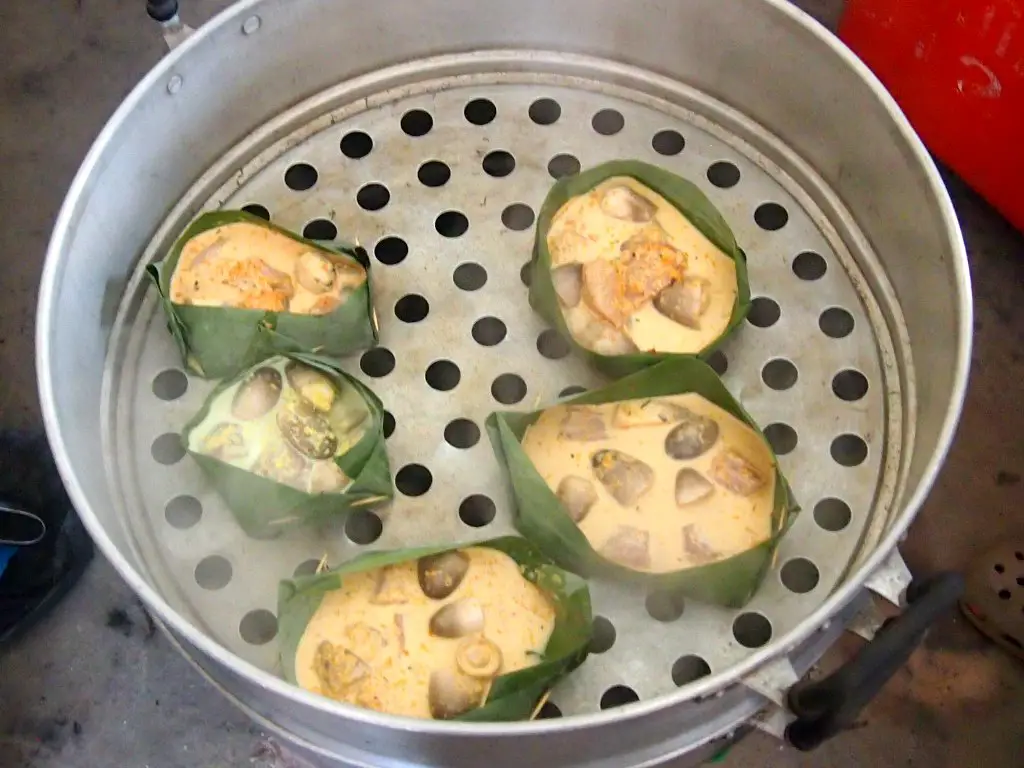 Perhaps the most famous of all of Cambodia's foods. This mousse-like fish dish is a delight to eat. Steamed in a banana leaf with kroeung, a Cambodian curry paste. The finished product is a flavour infused delicate mousse not a piece of fish. The Kroeung is a mix of lemongrass, turmeric root, garlic, shallots, galangal and fingerroot, or Chinese ginger which gives the Amok the excellent flavour.
Cambodian food generally isn't as spicy as Thai food.
Cambodian Noodle Dish, Nom Banh Chok (Khmer Noodles)
Very much street food, this is served by women who carry everything around in huge baskets. They will happily load up your bowl with the noodles and then top it with as many condiments as you like. These toppings include thinly sliced and chopped vegetables and generous amounts of herbs such as Thai basil and coriander. The finishing touch is the lemongrass flavoured fish curry that the vendor will ladle on top.
Cambodian Curry Dish, Khmer Red Curry
Similar to the surrounding countries and their curries but without all the punch. Think a massaman curry without the potato and peanuts. Again this uses the Khmer curry paste, Kroeung not the Thai style curry paste. The flavours are more subtle and it isn't loaded with chili leaving you needed yet more beer. Chicken is the favoured ingredient for this dish. The most noticeable thing with the curry is the accompaniment. It is more often than not served with bread, a hangover from the days of the French colonization.
For Pinterest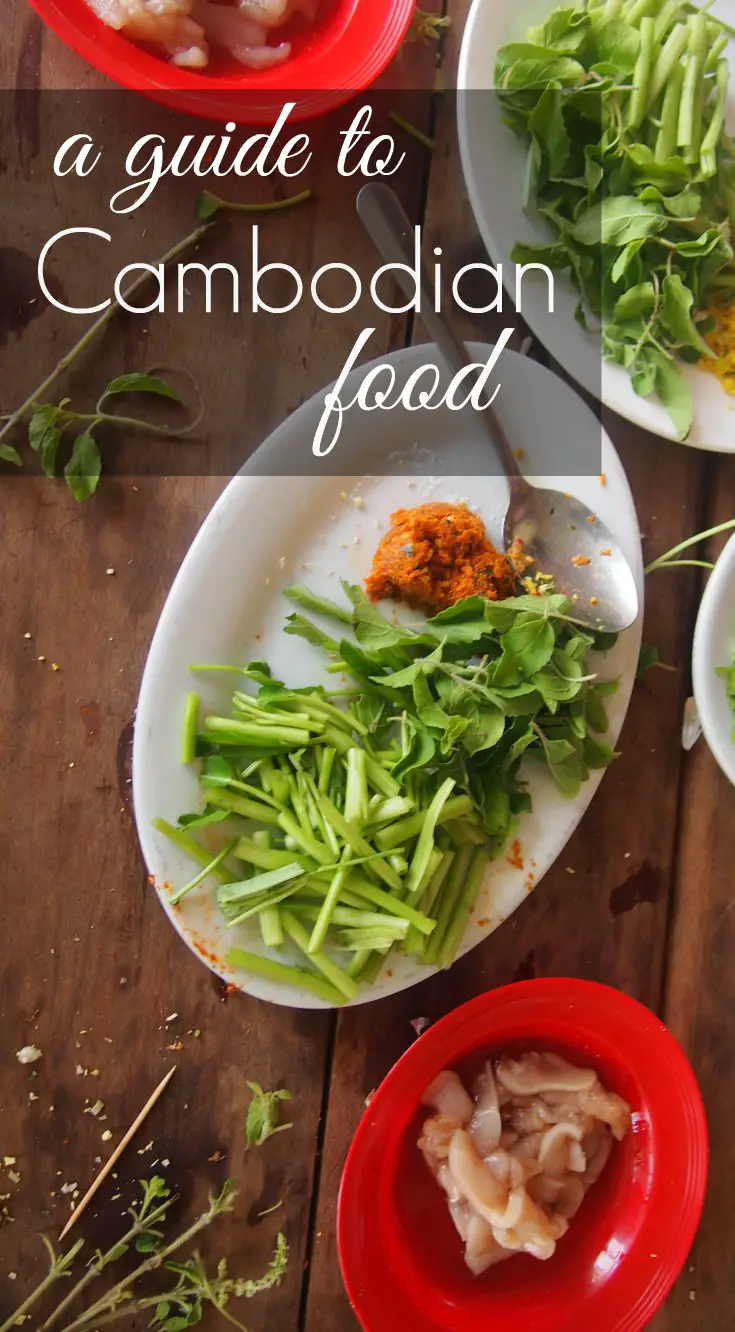 Cambodian Street Food
On the street food stalls in Cambodia, you will find everything from fried spider, grubs, bugs and scorpions to deliciously salted barbecue fish, squid and meat.
Cambodian Food – Eating Spiders and Bugs in Cambodia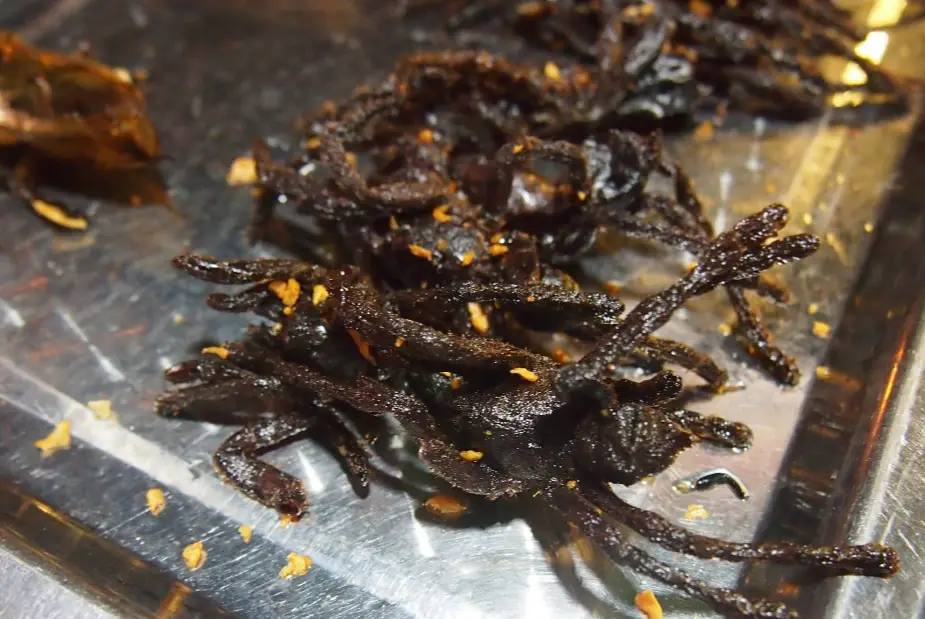 Yes, they do eat spiders in Cambodia. It's not just tarantula, large spiders are fair game. These days you're more likely to see tarantula cooked in dirty oil for tourists around the modern night markets of Siem Reap.
For more authentic fried spider – but still a tourist draw – head to the town of Skuon (Cheung Prey, Kampong Cham Province) where fried spider, a regional specialty, is freely available
If you're in Siem Reap find the Old Market, there are plenty of authentic bugs and grubs on sale there and the vendors kindly let us have a taste. I highly recommend not tasting the deep-fried tarantula in the Siem Reap Night Market, it tasted of dirty cooking oil.
Cambodian Barbecued Fish and Seafood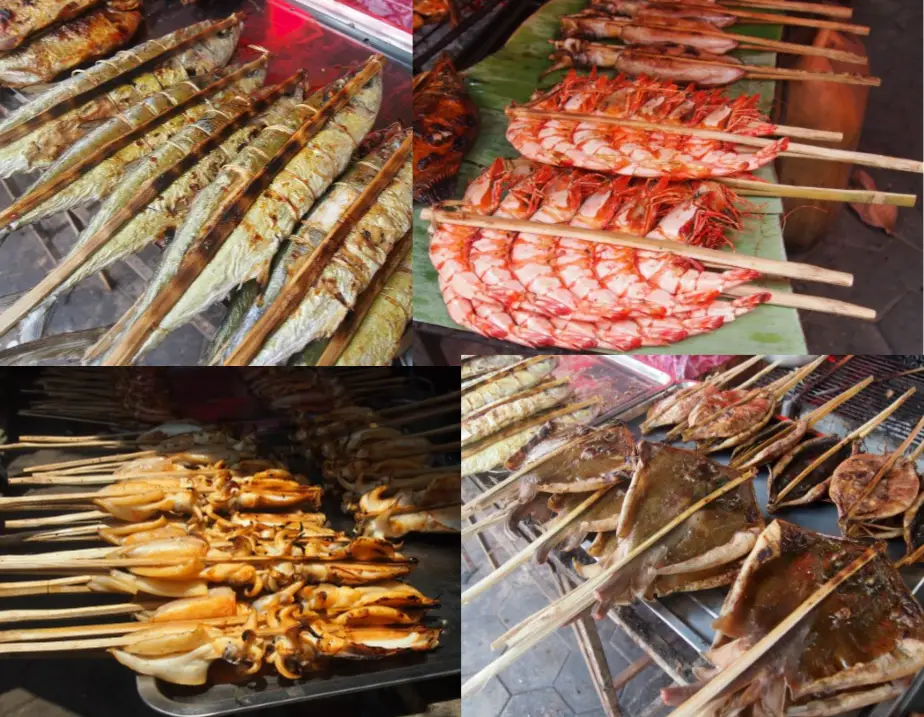 The fish on a stick is varied and too good to pass by. If you'd like to see more of the seafood of Cambodia, try our post on the fishing town and seafood market of Kep..
Cambodian Food Markets
Traditional food markets in Cambodia aren't for the squeamish. I've kept the photos of snakes and such like off this page on purpose if you want to see what food is on sale in a Cambodian country market, head to this post on Battambang Market Cambodia.
I tried and loved the above Cambodian dishes while touring the country. Not a complete list but nearly all travellers will experience these basic dishes as they explore Cambodia if they seek out the local and traditional cuisine. We made a few of these when we did a Cambodian cookery course in Battambang. Admittedly, our usual daily diet in Cambodia leaned more towards standard backpacker fodder of fried rice, noodles, and omelettes, but the traditional Cambodian food is great when you can find it. Want to see our guides to Thai and Vietnamese food?
If you'd like to hire a car during your stay, use this car rental comparison tool to find the best deal!

Please check out our Pinterest account for loads of food and recipes from around the world!