This post may contain affiliate links.
Pembrokeshire street food isn't in abundance. I found this out the hard way during our month exploring South and West Wales. The continued growth of pizzerias and chain restaurants along with the short supply of good chefs these days has limited the places that now sell decent quality Welsh food made with top notch local produce. I found possibly Pembrokeshire's best street food while racing in Ironman Wales. Of course I couldn't stop mid race so we came back the next day to test it out.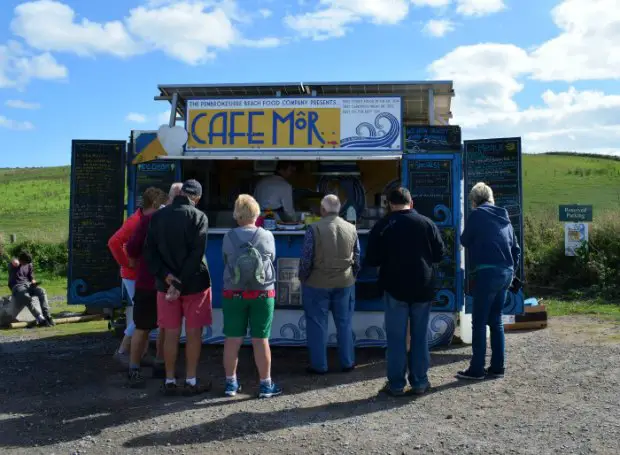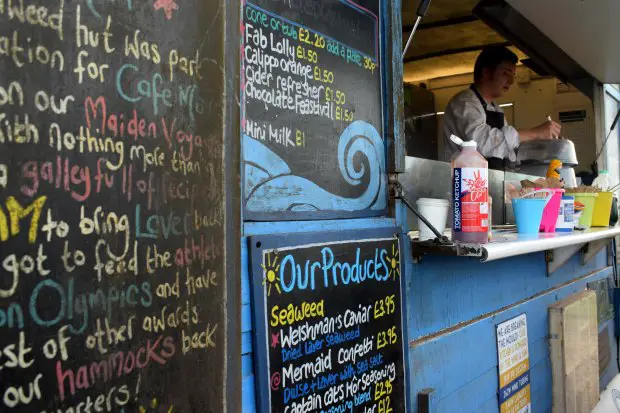 Cafe Môr has won numerous awards for its food including the 2014 BBC Food & Farming award for Best Street Food/Take Away in the UK and earlier, in 2011 was awarded 'Best of the Best' at The British Street Food Awards. This little caravan has pedigree and we weren't going to leave Wales (which, by the way, is a country) without a taste of the local foods they were serving.
Cash is King Even in Wales.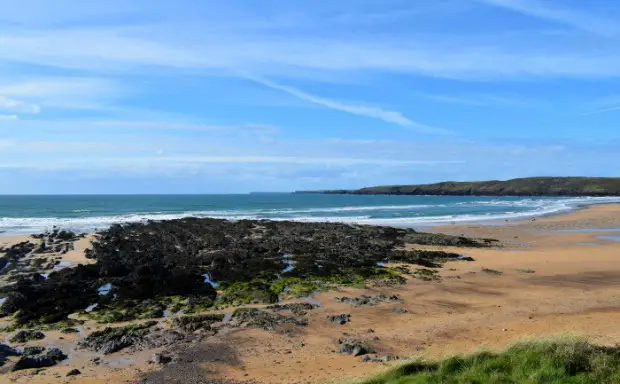 Two days after Ironman Wales  we headed down to the coast to see what all the fuss was about with this little caravan. It's a beautiful drive across the shire and if you're lucky you can even see the tanks practicing on the firing range just up the road. We were and the kids loved the show.Apparently there are only two live firing fields in the UK and the other is in far northern Scotland.
The caravan is located in the car park opposite Freshwater West beach, a lovely windswept bay looking out across the Irish Sea.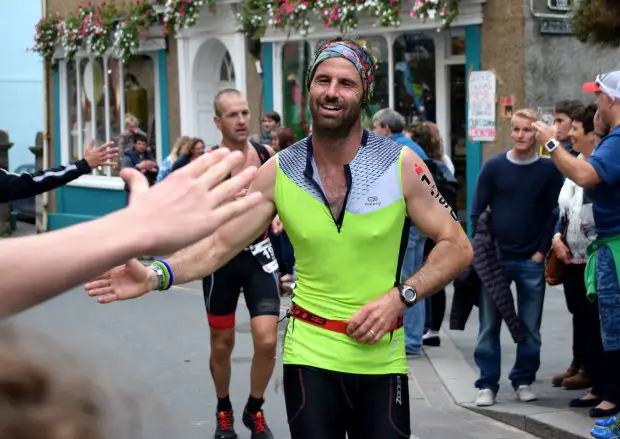 Looking at the delicious menu we decided what we wanted to eat. Placing our orders we found out that they didn't have card facilities. Being remote it's no surprise and I was kicking myself. In London everything is contactless so I've got used to not having cash. Travel fail right there and I should have known better.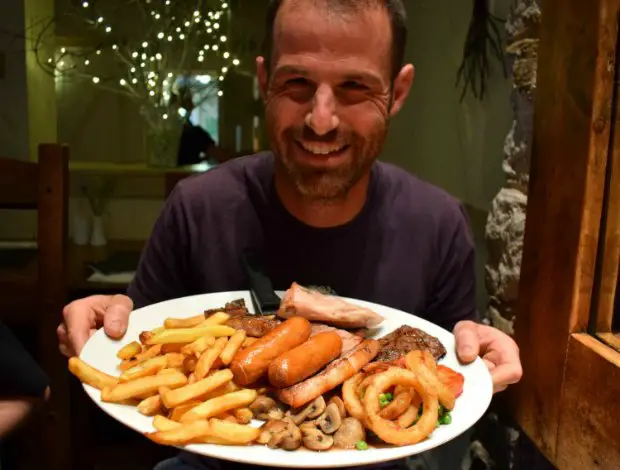 We asked where there was a cash point and the nearest was back in Pembroke docks a good 35 minute drive away. We said we'd be back another day although from his look chef had heard this before and wasn't holding his breath.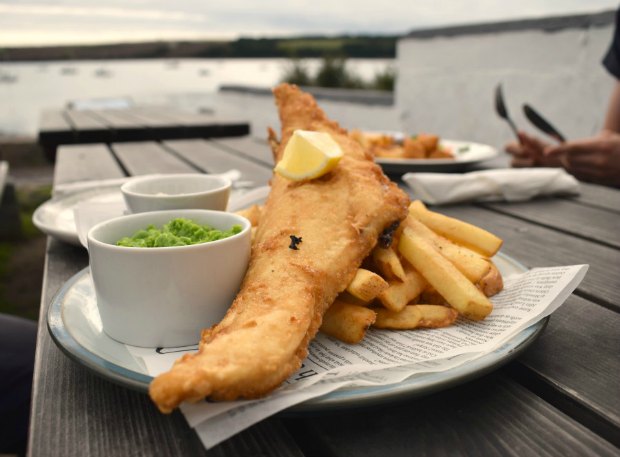 We settled in a 500-year-old pub, The Old Point House, Angle which did have card facilities for a late lunch. The food didn't disappoint and the service was only matched by the views across the bay. Definitely recommend for a meal if you're in the area.
Pembrokeshire Street Food Take Two
Two days later and cash in hand we returned to Cafe Môr at Freshwater West for lunch. Môr means sea in Welsh in case you were wondering. This time the queues were extensive and we lined up to wait our turn.
This caravan only has one chef who works tirelessly to make sure that not only is the food served fast but in the best possible condition. So nothing is pre-cooked and kept under lights or in warmers.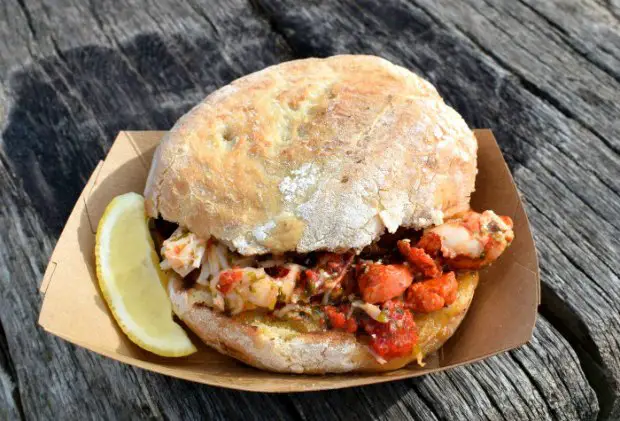 This didn't sit well with one customer who complained that his wait of 15 minutes was too long and could he cancel his order. He claimed it was unacceptable to wait that long for a burger. Chef explained in a professional manner that he was working alone and that all orders are cooked to order. Seriously 15 minutes isn't a long time to wait. Before I could say anything to this jerk a few of the others in line before me voiced their disbelief at the guy and he left pretty quickly.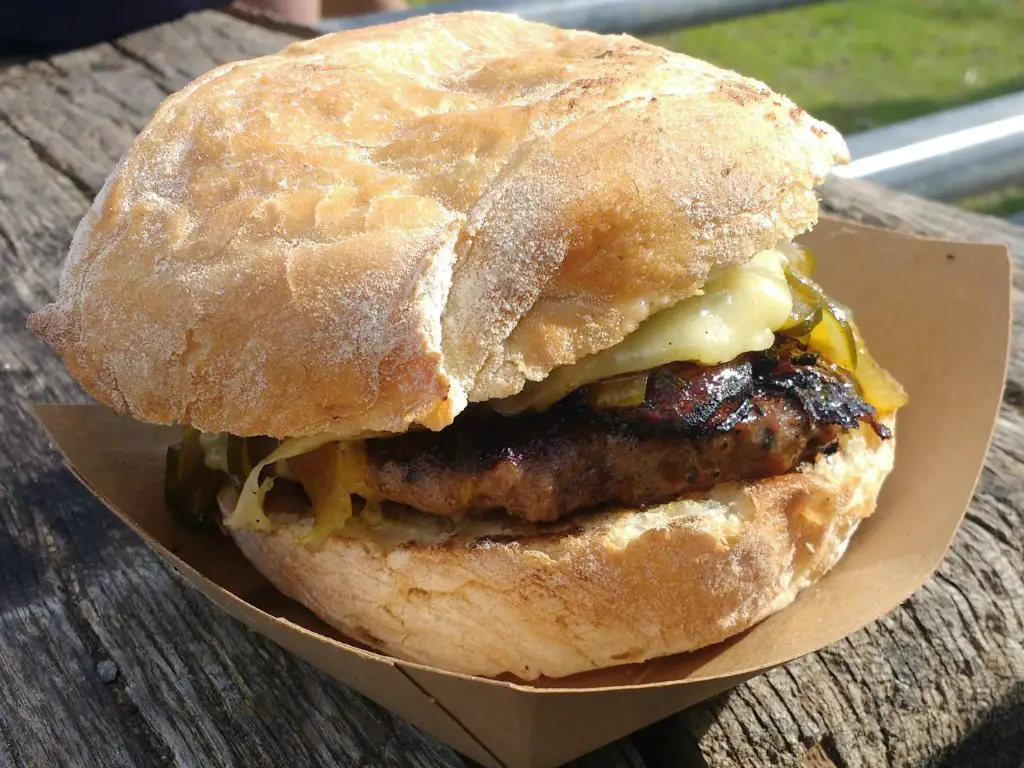 We all placed our orders and watched while chef worked his magic. I chose a bacon and beef burger which made from locally sourced ingredients and with laverbread included for a Welsh twist. We also tried the lobster sandwich with black (lava) butter, which was sensation. I can't recommend the food highly enough and its clear to see why it's won national awards.
For dessert we had a slice of ginger cake, again made with lava, which must have been popular as it was the last one  of the day.
Hats off to the chef here, working remotely always presents challenges and they intensify when you work alone.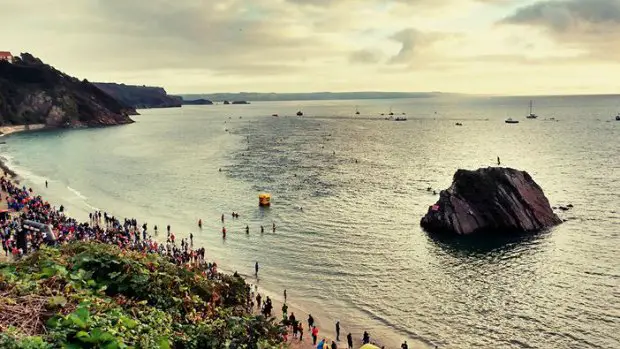 During our time in Tenby for Ironman Wales and for our time on the west and south coasts, we booked family apartments and farm stays online using Booking dot com.
It's a long drive from London but if you ever find yourself in this part of the UK then I suggest that you visit this street food van. Only open between Easter and early October it is a treat not to be missed. My only tip is to bring cash and more than you think. Not because it's particularly expensive but you may want to try more than one dish. We did.
If you'd like to hire a car during your stay, use this car rental comparison tool to find the best deal!

Please check out our Pinterest account for loads of food and recipes from around the world!